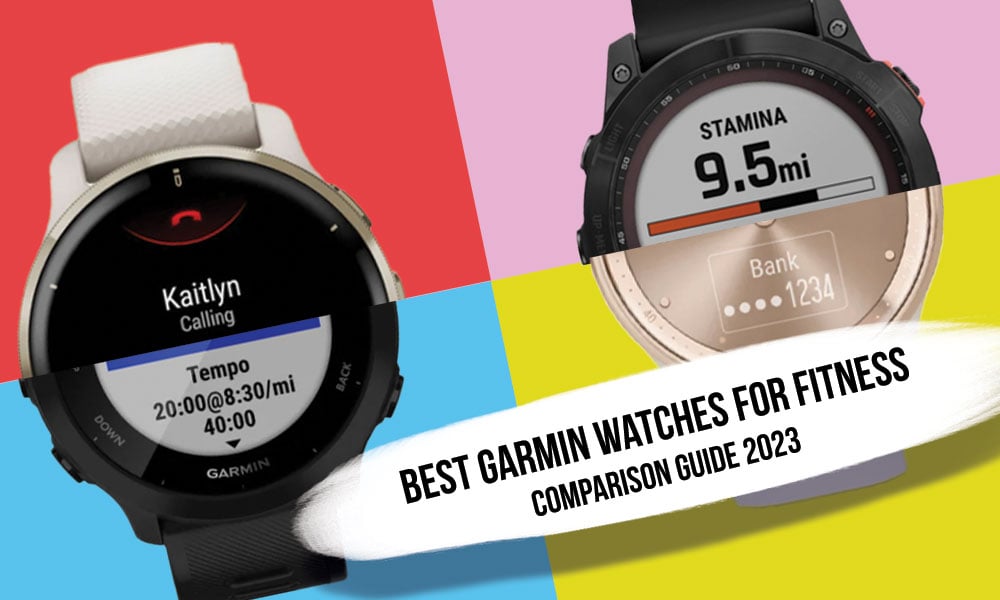 Last Updated on
Garmin has been a major player in the sports watch industry for years, and they've got an impressive line-up that caters to everyone – from the casual jogger to the hardcore triathlete, and everyone in between.
In this guide, we're going to take a deep dive into some of the best Garmin watches for fitness, breaking down what makes each of them unique to help you figure out which one would be your perfect fitness companion.
Best Garmin Watches – Quick List:
Forerunner 55 – Best Garmin Beginner Running Watch
Forerunner 265 – Best Garmin Running Watch
Vivomove Sport – Best Entry-Level Garmin Smartwatch
Fenix 7X Solar – Best Garmin Watch for Adventurers
Venu 2 Plus – Higher-Tier Garmin Smartwatch
Epix 2 – Best Multisport Garmin Watch
Garmin Forerunner 55 – Best Garmin Beginner Running Watch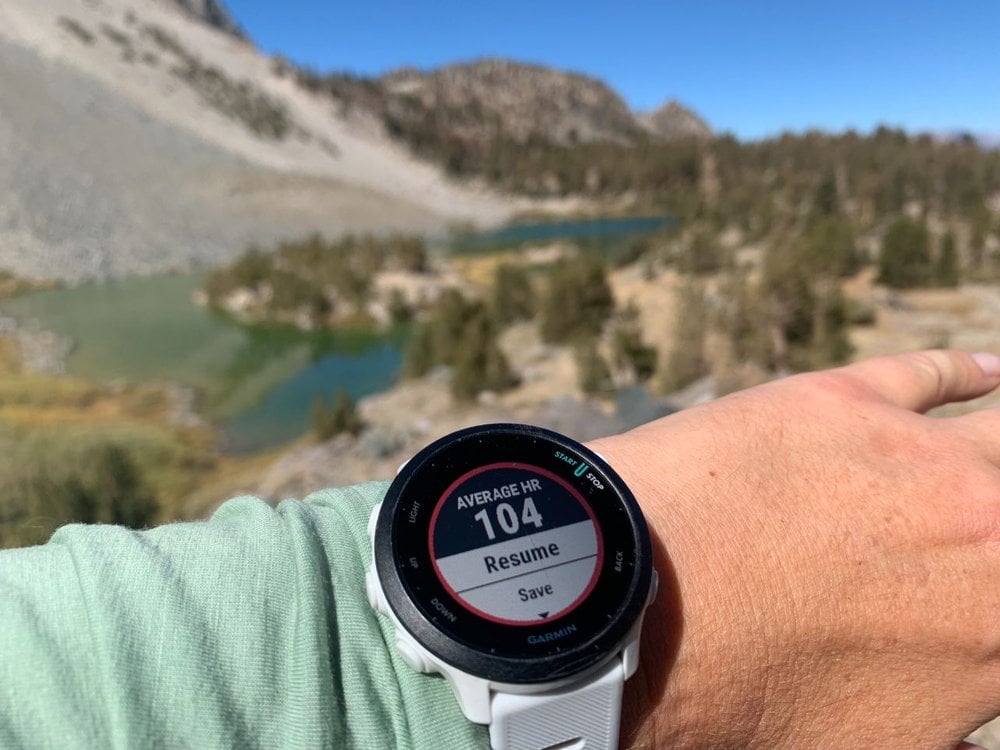 If you're just dipping your toes into the world of running and need a trusty, user-friendly watch to accompany you on those first miles, the Garmin Forerunner 55 might just be your perfect match.
This little gem is the ideal step up from a basic fitness tracker, providing you with all the essentials without overwhelming you with features you might not yet need. It's designed to keep track of your running stats, heart rate, and even your sleep patterns – all from the convenience of your wrist.
Sure, it doesn't have some of the high-end features like Training Readiness Score or built-in music storage. And no, you can't use it to pay for your post-run smoothie. But if you're just starting out, these might not be deal-breakers for you.
As for design, the Forerunner 55 rocks a classic Garmin look, complete with buttons for navigation (touchscreen lovers, this one's not for you). It comes in a single size with a 1-inch display visible under the sun, but keep in mind that it lacks pixel density.
One of the standout features of this model is its battery life. We're talking two full weeks in Smartwatch mode and a solid 20 hours in GPS mode.
As for training features, the Forerunner 55 is here to guide you with its PacePro technology, offering gentle speed and cadence alerts mid-run. It even suggests recovery times and workouts based on your unique training history and fitness level. Plus, you can take advantage of Garmin Coach for free training plans tailored to your goals.
But let's get real. The Forerunner 55 isn't for everyone. If you can't live without your workout playlist, need to record strength workouts, or want contactless payments, you might want to check out the Garmin watches below. However, if you're after a simple, easy-to-use, budget-friendly watch that focuses on running basics, the Forerunner 55 could be the perfect companion to kickstart your running journey. Remember, every great runner started somewhere, and with the Forerunner 55, you're off to a great start.
Garmin Forerunner 265 – Best Garmin Running Watch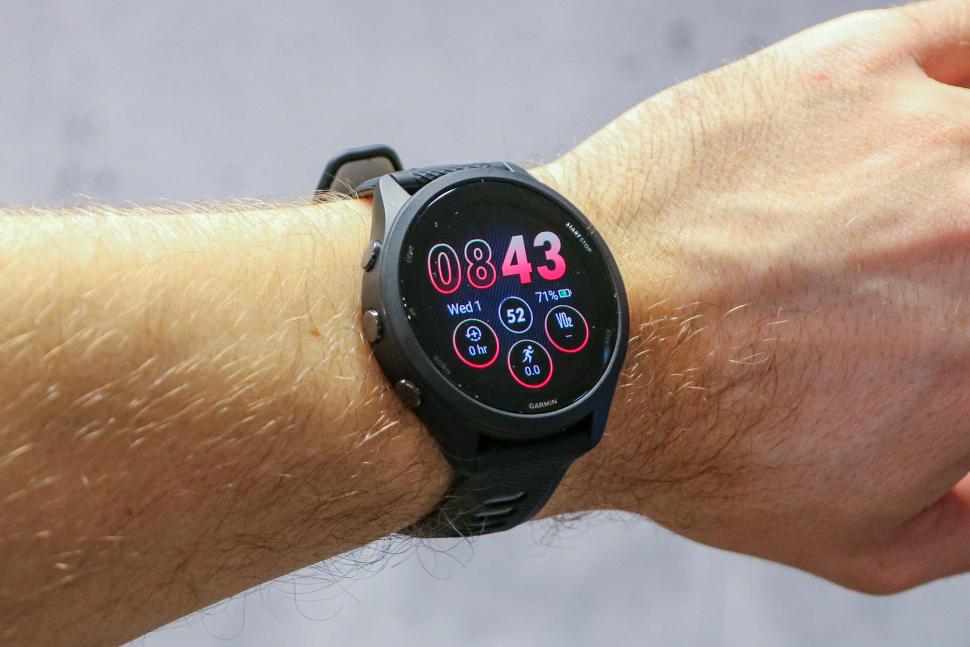 The Garmin Forerunner 265 is the latest addition to Garmin's mid-level watch lineup and a worthy successor to the Forerunner 255.
Let's start with the display. Garmin has swapped out the old screen for a dazzling AMOLED touchscreen that will leave you impressed. The brightness is off the charts, even under direct sunlight! The Forerunner 265 comes with a 1.3-inch display and a resolution of 416 x 416 pixels.
What makes the Forerunner 265 a real charmer is its balance of affordability and advanced features. It offers many of the high-end training tools found in pricier models like the Forerunner 965 (or the older Forerunner 955) but without the hefty price tag.
The design of the Forerunner 265 stays true to Garmin's style. Being lightweight and comfortable, it's a dream to wear, especially for those with petite wrists. In sports modes, the touchscreen is automatically disabled, and you navigate using buttons, meaning you can easily operate your watch when breaking a sweat or wearing gloves.
Despite the brighter display, the battery life hasn't taken a hit. Compared to the 265S boasting a 15-day battery life in smartwatch mode and 24-hour battery life in GPS mode, while the standard 265 offers 13 days in smartwatch mode and 20 hours in GPS mode – it's because of a larger and brighter screen the battery of the larger version lasts slightly less.
What makes this new watch unique is the Training Readiness Score feature. It gives you an overview of your readiness for a hard training day based on factors like sleep, recovery time, HRV status, acute load, and stress. Plus, it includes Garmin's Morning Report feature, offering insights into your sleep, training intensity, and even the day's weather forecast.
Now, who might not love the Forerunner 265? Well, if you're looking for a full-fledged smartwatch experience, consider the Forerunner 965. While the 265 does offer basic smartwatch features like viewing phone notifications, downloading music, and using Garmin Pay, it lacks comprehensive smartwatch functionalities. But if you're after a mid-level Garmin that's perfect for anything from a 5K to an ultra running, with advanced training metrics and a bright screen, the Forerunner 265 could be perfect for you.
Garmin Vivomove Sport – Best Entry-Level Garmin Smartwatch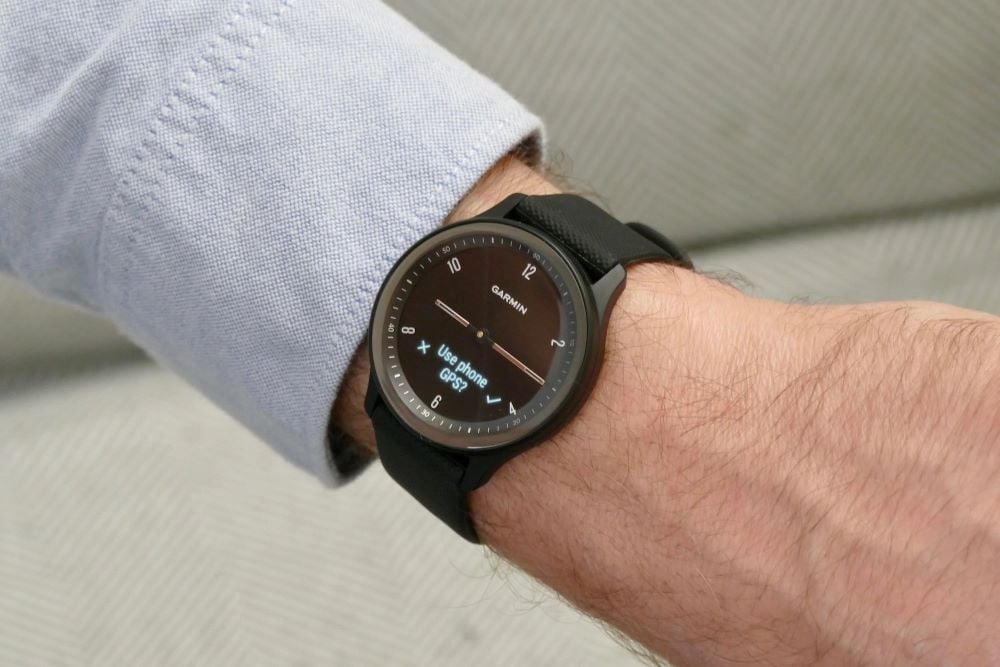 Alright, time to switch gears and talk about a device that's breaking the mold of traditional Garmin watches – the Garmin Vivomove Sport entry-level hybrid smartwatch.
What sets the Vivomove Sport apart is its unique "hidden" AMOLED display. It stays invisible until you need it, keeping the watch's aesthetic clean and classic. It delivers notifications and tracks your fitness activity without skipping a beat.
The Vivomove Sport comes in a 1.5-inch size, making it a comfortable fit for most wrists. It's surprisingly lightweight at just 19g, so it won't weigh you down during your daily activities. The battery life is decent, lasting up to 5 days (plus up to 1 additional day as an analog-only timepiece).
As a fitness tracker, the Vivomove Sport offers continuous heart rate monitoring, blood oxygen level tracking, and even abnormal heart rate alerts. But that's not all. You also get access to more advanced metrics like respiration rate, fitness age, stress, and Body Battery – Garmin's tool for visualizing how well-rested you are. For smart features, it covers all the basics: notifications, alarms, timers, and more.
However, the Vivomove Sport isn't as feature-packed as some top-tier Garmin models. It lacks built-in GPS, instead offering tethered GPS through your phone. And you won't get contactless payments and a microphone for taking calls. But remember, this is a budget pick, and for its price range, it delivers quite a punch!
To sum it up, if you're a casually active person who values style and affordability, the Vivomove Sport could be just what you need. It's a fantastic lifestyle wearable that offers a classier alternative to your typical fitness band.
Garmin Fenix 7X Solar – Best Garmin Watch for Adventurers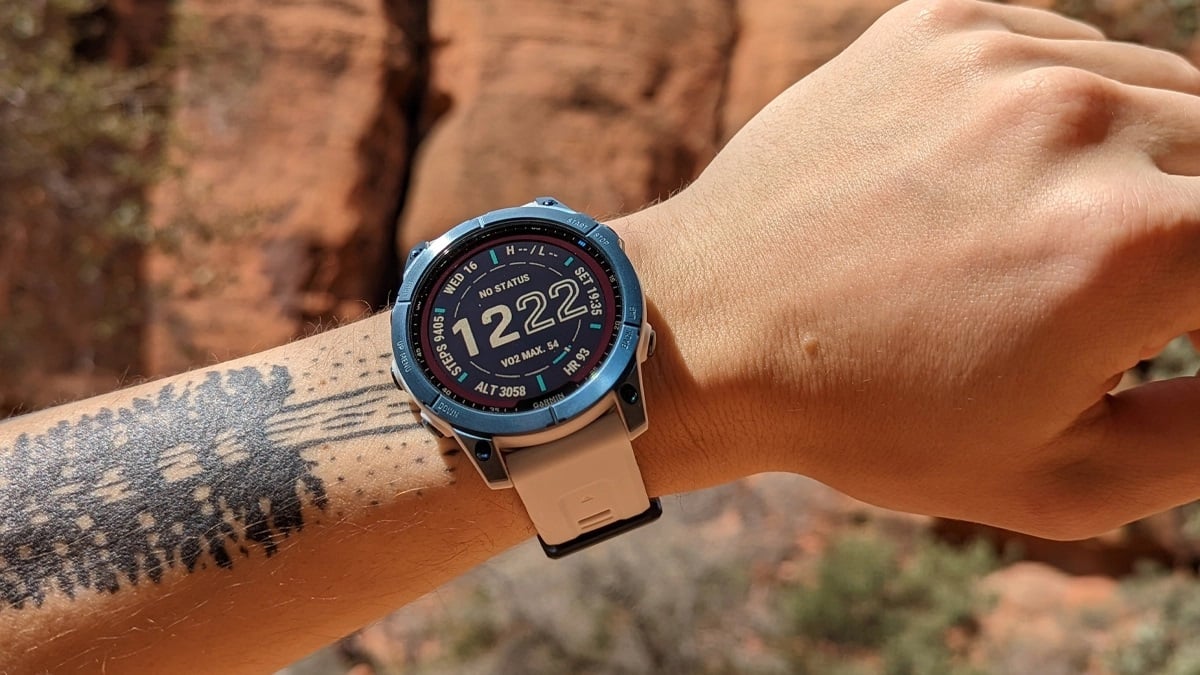 Meet the Garmin Fenix 7X Solar Edition – your perfect companion for thrilling outdoor adventures. This rugged watch is designed to cater to the adrenaline junkies among us, whether you're into scuba diving, backcountry skiing, or multi-day hikes deep into the wilderness.
Weighing in at a substantial 3.1 ounces for the 2-inch Fenix 7X Solar, this watch is pretty heavy. But don't let that intimidate you; it's a trade-off for an impressive array of features like ample storage, remarkable battery life, and water resistance up to 330 feet underwater.
What sets the Fenix 7X apart from its predecessor is the addition of a super responsive touchscreen, making navigation and customization a breeze, even during a downpour.
Unlike the standard Fenix 7, featuring a stainless steel bezel and a reinforced glass screen, the solar edition shares the same bezel but boasts a power glass screen that uses sunlight to extend the battery life. (The Sapphire Solar edition steps it up with a more robust titanium bezel and a power sapphire lens for better durability and longer battery life.)
Battery life is another area where the Fenix 7X outshines its competitors, offering an astounding 89 hours (or 122 hours with solar) in GPS mode. In smartwatch mode, the battery lasts 28 days (+9 days with solar).
The pros of the Fenix 7X Solar Edition are many – solar charging, a wide range of features (Stamina metric, Training Readiness Score, Body Battery, Hill Score, Endurance Score, and more sports profiles than you could ever dream of), and an LED flashlight. However, the price tag is heftier than other models, which could be a con for some.
But if you prioritize battery life and durability and are willing to spend more money, the Fenix 7X Solar Edition could be your ideal match.
Garmin Venu 2 Plus – Higher-Tier Garmin Smartwatch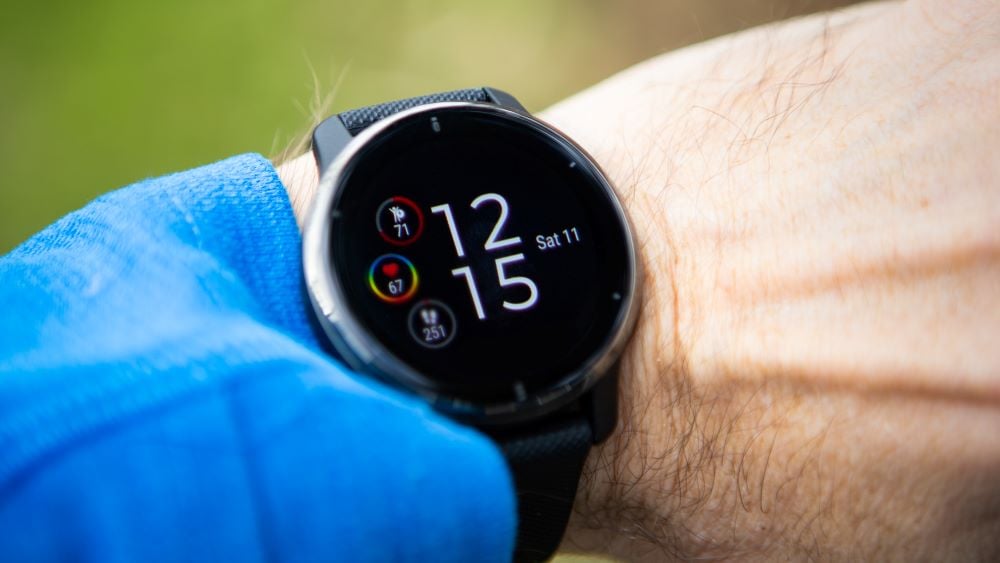 The Venu 2 Plus is a watch that doesn't merely keep time but also keeps pace with your active lifestyle. It perfectly marries the health-tracking features you've come to expect from Garmin with the convenience of a smartwatch, making it an ideal companion for the business-focused athlete. Think mobile payments, notifications, an AMOLED touchscreen (framed by a sleek stainless steel bezel), and music (you can store up to 650 songs). And if you're someone who wants their smartwatch to act as an extension of their smartphone, you'll love the voice assistant features and on-wrist call capabilities of the Venu 2 Plus. The voice assistant works through Bluetooth, and while it's not the same as having Siri, Bixby, Amazon Alexa, or Google Assistant built directly into the watch, it's enough for you to enjoy convenient, hands-free control.
Just like other, more advanced Garmin watches, the Venu 2 Plus has buttons along with a touchscreen offering seamless navigation even when your fingers are sweaty after a workout.
The vibrant 1.7″ screen comes with multiple brightness levels and an ambient light sensor providing optimal visibility by auto-adjusting the brightness.
The battery life of the Venu 2 Plus doesn't disappoint. It boasts up to 9 days in smartwatch mode, up to 8 hours in GPS mode with music, and up to 24 hours in GPS mode without music.
The Venu 2 Plus gives you a nice mix of basic and advanced health and fitness metrics and features. It has Garmin's Body Battery feature that tracks your heart rate, sleep, and activity levels to gauge your body's energy levels. If you experience stress, the Venu 2 Plus will notify you about that as well as alert you of an abnormal heart rate. It also offers animated on-screen workouts (cardio, strength, yoga, Pilates, and HIIT) and 25 pre-loaded activity profiles. However, it doesn't have advanced features like Training Load, Daily Readiness Score, Stamina, or full mapping capabilities.
So, if you're looking for a smartwatch with sports tracking, the ability to make calls from your wrist, or voice assistant capabilities, this could be the best Garmin watch for you. However, if you need full mapping capabilities, are training for a triathlon, or want advanced training metrics, you might want to explore other options.
Garmin Epix 2 – Best Multisport Garmin Watch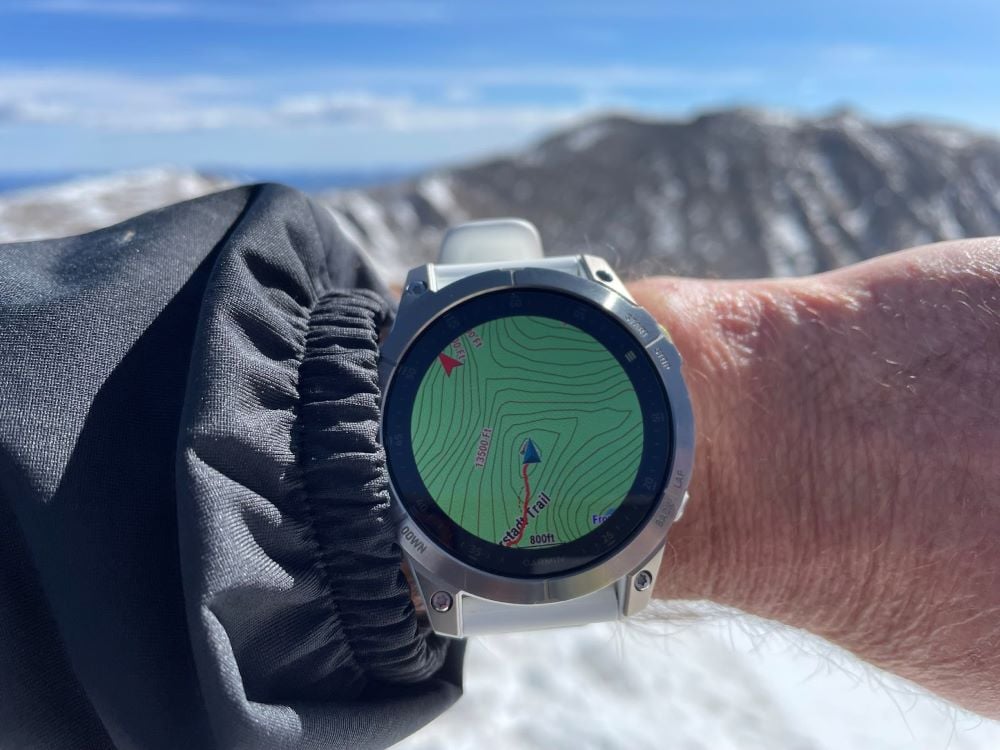 Finally, let's talk about the Garmin Epix 2, a smartwatch that is more than just a timepiece. This high-end, adventure-ready watch has been a hit since its release in January 2022, thanks to its bright AMOLED display, large screen, and impressive battery life.
Essentially, the watch is a lot like the Fenix 7 series, but with an AMOLED display instead of an LCD. It's a lot brighter, so whether you're indoors or in direct sunlight, visibility is excellent.
In gesture smartwatch mode, the Epix 2 works for up to 16 days, and in GPS mode, 42 hours. You can wear it day and night as your go-to smartwatch, sleep tracker, and health monitor, plus use it to track outdoor and indoor activities, from hiking, trail running, and mountain biking to HIIT, weight training, and even meditation. And you know what? The Epix 2 will just keep going!
Though the Epix doesn't quite match the Fenix 7 that lasts 40 days in Expedition mode or 74 days with solar, it certainly won't leave you hanging mid-workout.
As for training features, the Epix 2 matches the Fenix 7 stride for stride. Fitted with heart rate and blood oxygen sensors, it can track everything providing extensive health and fitness tracking capabilities. The Epix 2 comes with a range of built-in sports apps, making it a versatile companion for both outdoor adventures and indoor workouts. With the ABC sensor, you can easily navigate trails using elevation data, weather data, and a 3-axis electronic compass. Want more? If your watch senses something wrong, it sends your location to emergency contacts. The Epix Gen 2 also features smart notifications and contactless payments.
So, the Garmin Epix 2 is more than just a smartwatch. With its impressive battery life, intuitive touchscreen, and bright AMOLED display, it's a worthy companion for your active lifestyle.
FAQ
How does the Garmin Epix 2 compare to the Garmin Fenix 7X?
The Epix 2 and Fenix 7X are both high-end smartwatches from Garmin. The Epix 2 boasts a super bright AMOLED touchscreen display and doesn't have a version that supports solar charging. On the other hand, the Fenix 7X boasts a better battery and has a solar version.
What's the best Garmin smartwatch?
As of 2023, the Garmin Epix 2 stands out as one of the best Garmin smartwatches. It's particularly noted for its bright AMOLED touchscreen, impressive battery life, and extensive health and fitness tracking features. If you want a more sophisticated timepiece, try the Garmin Vivomove Sport or the Venu 2 Plus.
What's the best Garmin running watch?
The choice of the best Garmin running watch can depend on various factors such as budget, specific features, and personal preference. However, the Garmin Forerunner 265 is praised for the perfect balance between features and price.