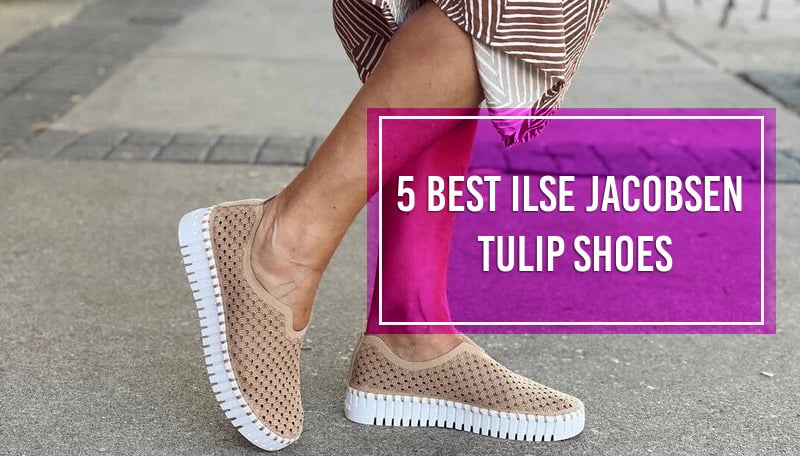 Last Updated on
You only start appreciating breathable footwear when you desperately need it. With summer pushing into its last month, it is still not too late to snatch a pair of comfy shoes. Today, we'll cater specifically to the needs of our female audience and bring one decent brand into the spotlight. Ladies and whoever else found their way here, behold the 5 best models of Ilse Jacobsen Tulip Shoes.   
Table of Contents
Who is Ilse Jacobsen?
     – Classic Tulip 139 
     – Rigid Tulip 314OCB 
     – Lavish Tulip Lux 
     – Solid Tulip 3373 Platform 
     – Solemn Tulip 3865 Flat
FAQs
Who is Ilse Jacobsen, exactly?
Ilse Jacobsen, the Danish designer behind this renowned brand, has been creating comfortable, stylish footwear since 1993. Ilse Jacobsen entered the shoe industry in 1993 with a women's fashion line. However, it wasn't until 1998 that the Ilse Jacobsen brand was officially established. Starting with just ten styles, the brand has grown exponentially over the years to become a globally recognized name. The brand's design universe is deeply rooted in Nordic nature, with a focus on colors and shapes. The brand isn't exclusively dedicated to footwear, but today we will focus particularly on shoes. 
Now, how does a man review women's shoes? Everything you'll read isn't a first-hand experience, I'll tell you that. Luckily, some ladies were quite willing to share their experience wearing Tulip shoes (yes, they are all coworkers and had little to no choice).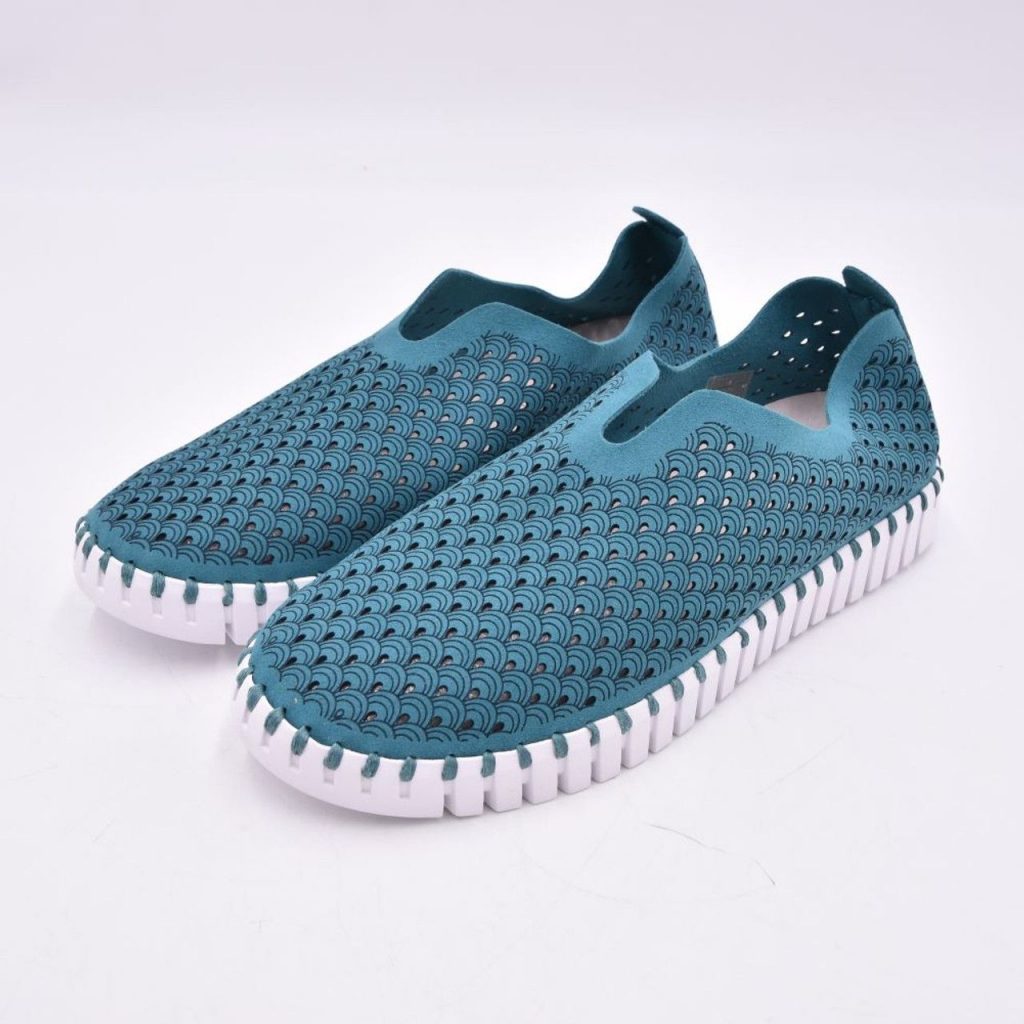 Tulip 139 Flats
The Ilse Jacobsen Tulip Flats are the brand's signature model that comes in varieties so numerous there is no point in counting them. Three words are enough to catch the essence of these shoes: style, comfort and sustainability. I've seen them a few times out in the wild, so to speak, roaming the concrete jungle, and they looked pretty neat. How come? Here're a few reasons.
Distinctive Features
Tulip Flats are known for their lightweight and super flexible natural rubber. Whoever gets to review them ends up using the cloud-walk metaphor, but I won't fall for this trap. We're an outdoors store, after all, so I'll compare wearing them to walking barefoot on pristine, gentle moss (which is not beyond our possible experiences).
The upper of the shoe features all-over teardrop perforations framed by scalloped embossing. A design like that cannot but catch a few eyes if that's something you're interested in. These perforations not only add to the aesthetic appeal but also make the shoes extremely breathable. One colleague of mine says she has been wearing them (with breaks, of course) the whole summer and that she finds them to be a great alternative to sneakers. I can only take her word for it, but I can see where this comes from. The shoes boast padded insoles and textured, non-marking, flexible outsoles that make every step a step of confidence.
When to wear Tulip Flats?
Given their comfort and stylish design, Tulip Flats are perfect for a variety of occasions. They can easily carry you from a workday into a leisurely walk in the park. The wide selection of colors makes it easy to match them with basically any outfit. They are also traveler-approved, making them an excellent choice for those who value comfort during their journeys.
Potential Inconveniences
While the majority of reviews rave about the comfort and true-to-size fit of these flats, they are only available in full sizes. This means if you're a half size, it might be a good idea to size up for the best fit. Also, their perforated design is less suitable for colder weather, but that doesn't make them bad. They are meant to be warm-weather shoes and perform that role perfectly.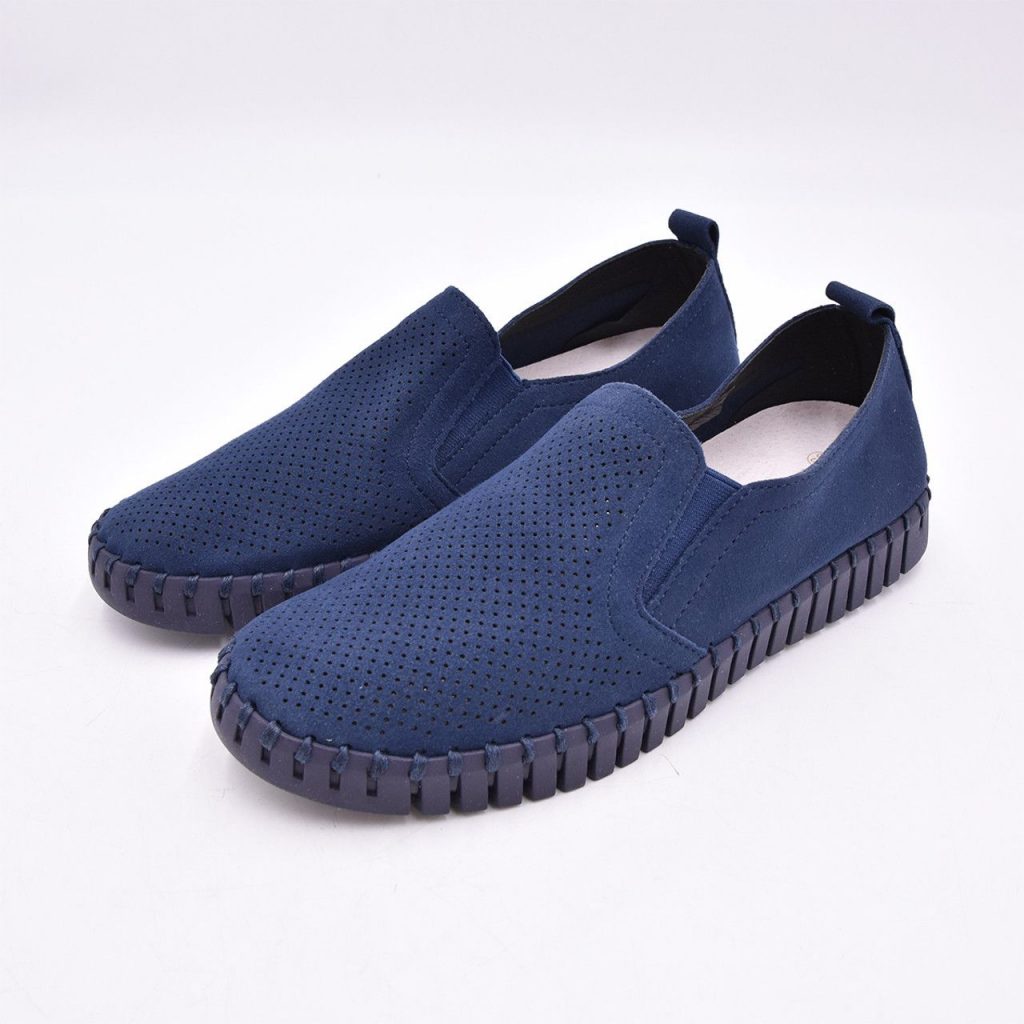 Tulip 314OCB
Another Tulip in our garden bears a somewhat futuristic-robot name: Tulip 314OCB. This model doesn't have the airy design of the Tulip 139 but is nonetheless worthy of your attention. It combines the brand's signature features with a bit of rigidity.
Distinctive Features
The Tulip 314OCB stands out for its slightly higher cut compared to the standard Tulip Flat. It provides more coverage, which makes it an excellent choice for those who prefer a bit more support around their feet. In other aspects, it remains respectful of the Tulip principles. The cushioned sole ensures each step is soft and light. The textured pattern on the upper adds a unique visual appeal that makes this model stand out from the crowd. If you like the design, then rest assured the shoes will serve you well.
When It Shines the Most
The Ilse Jacobsen Tulip 314OCB is a versatile shoe that can be worn for various occasions. It's perfect for casual outings, shopping trips, travel, or even a day at work. Its sleek design pairs well with jeans, dresses, and everything in between. If you expect to be on your feet for extended periods, then you'll truly appreciate the comfort these shoes can provide.
Potential Inconveniences
As usual, be mindful of the sizing: no half-measures here. And while the higher cut provides more coverage, some people might find it less flexible or restricting compared to lower-cut models.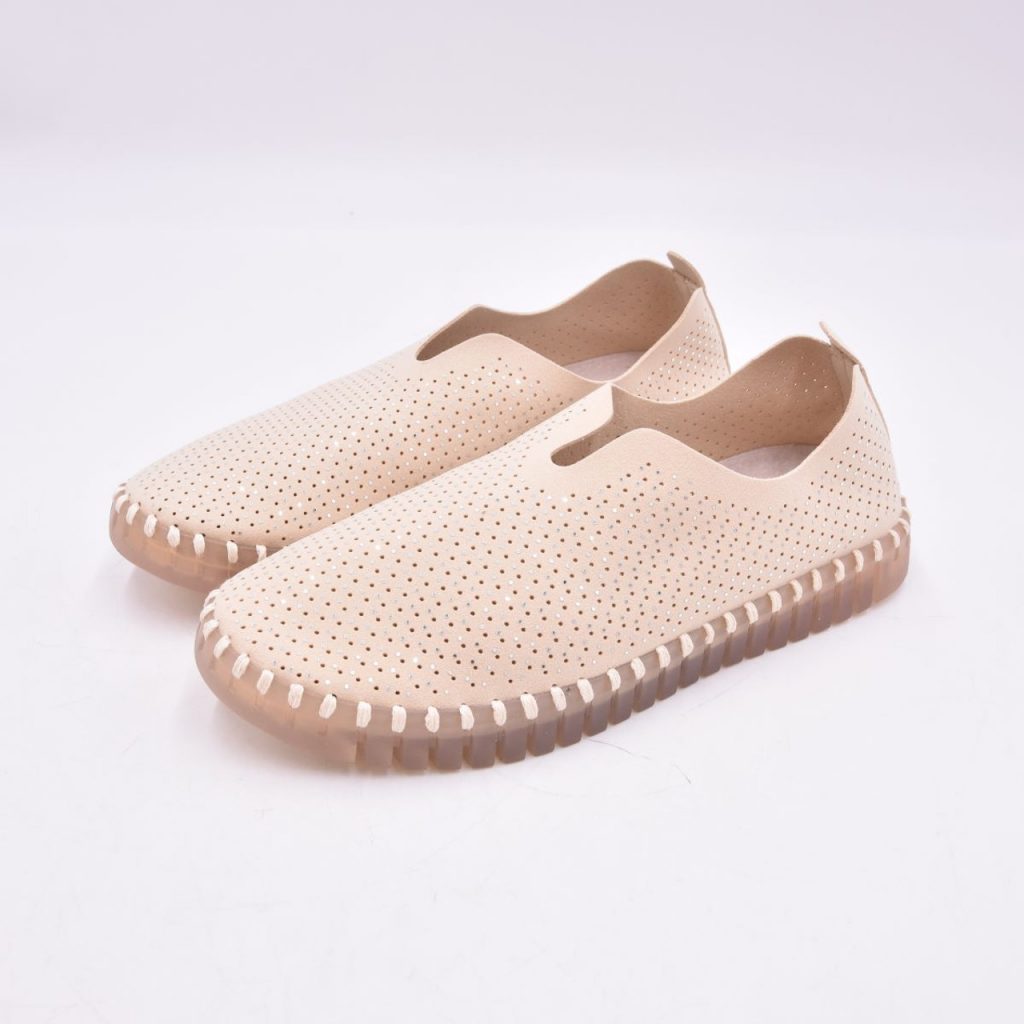 Tulip Lux Flats
The Ilse Jacobsen Tulip Lux Flats are a luxurious version of the brand's classic Tulip design. As usual with Ilse Jacobsen, you can expect nothing less than superior comfort and style.
Distinctive Features
As you can see, the upper was once again altered. For variety's sake, I guess, because even though there are countless models of Ilse Jacobsen shoes, most of them look more or less the same. You can't say the same about the Tulip Lux Flats. They don't have the rigid design of 3140CB but are dotted with similar laser-cut openings.
One of the most distinctive features of the Tulip Lux Flats is their unique flexible sole. A closer look will reveal that the sole is semi-translucent, and no other Ilse Jacobsen models boast this feature. But it's not only about the looks: the sole allows the shoe to bend and flex with your foot as you walk, providing unparalleled comfort. Whether you're running errands, exploring a new city, or simply working (which most of us do more often than the other things), these shoes promise to keep your feet comfortable.
I won't bother you with scenarios and drawbacks since there is nothing new on this matter. Be mindful of sizing and enjoy wearing them wherever you want.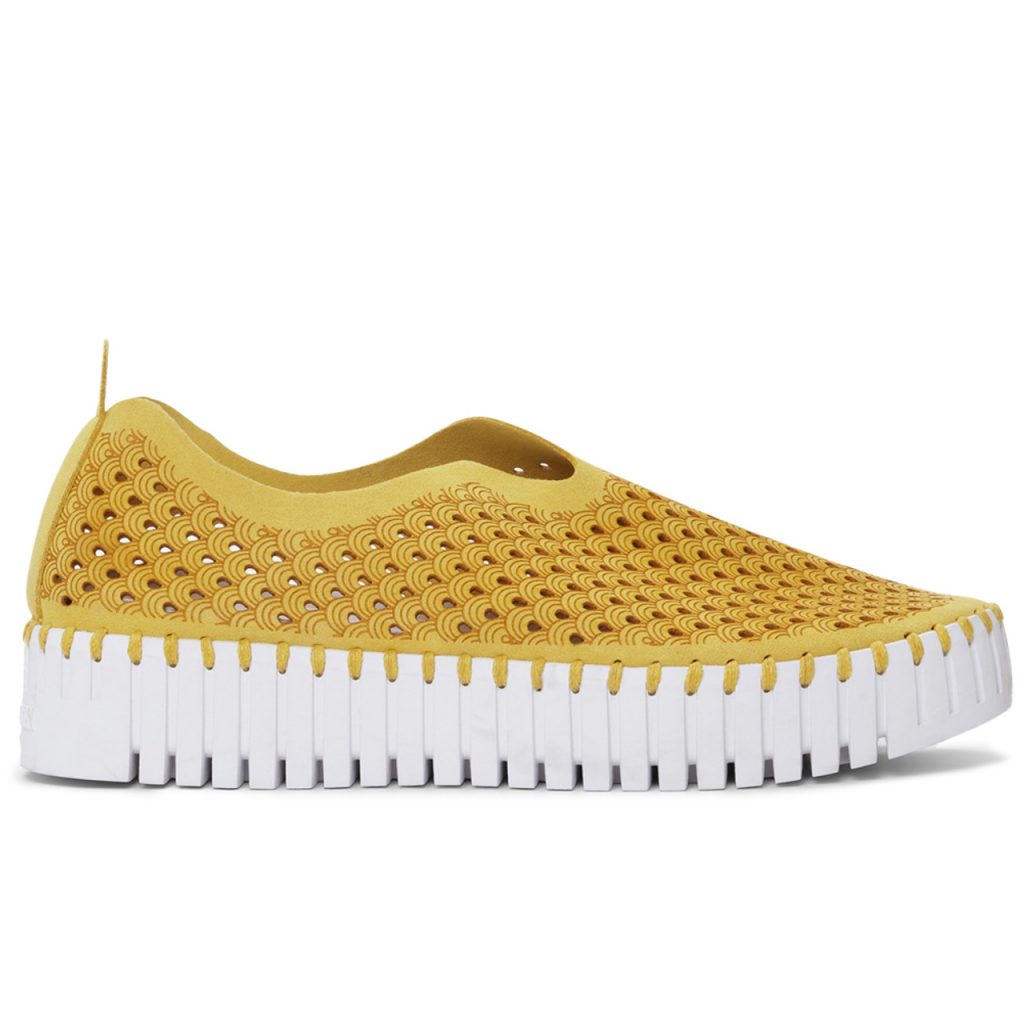 Tulip 3373 Platform
Do you like the delicate look of the Tulip 139 but prefer shoes with a higher platform? Then, gal, have I got the model for you. The Ilse Jacobsen Tulip 3373 Platform will not only carry you through the day but also bring you an inch or two closer to the clouds.   
Distinctive Features
Unlike other models in the Tulip range, the 3373 features a platform sole, which adds a distinctive edge to its design. The 1.5″ platform gives a height boost, making it a perfect choice if you prefer a bit more elevation in your footwear. In all other aspects, it's a good old Tulip, fragrant and colorful. The upper part of recycled microfiber, decorative laser-cut patterns, an abundance of color options and sizes – all that you will see in the Tulip 3373 Platform shoes. If you want to make a stylish statement without sacrificing comfort, these shoes are just the guys for the job.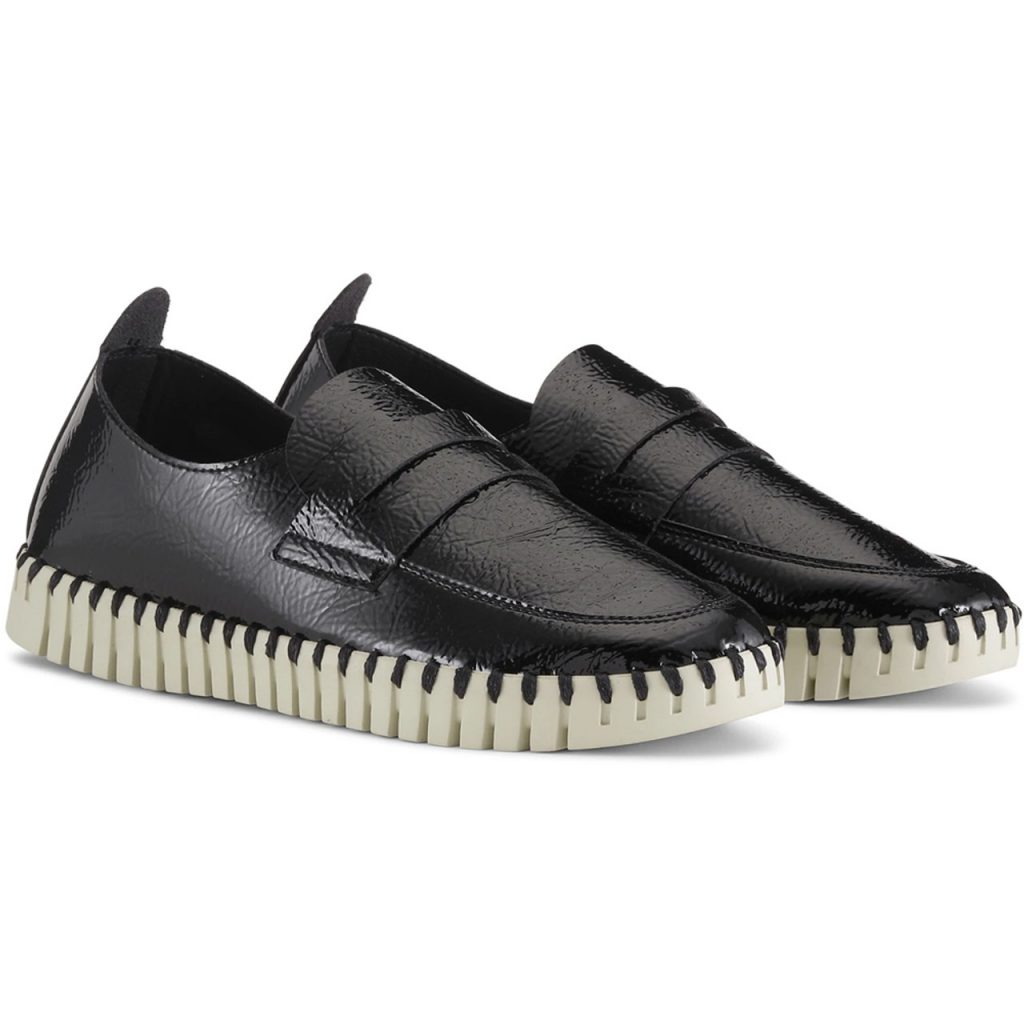 Tulip 3865 Flat Shoes
The last Tulip in our garden stands out from the family, but if anybody were to call it a black sheep, it could have only been justified due to the color. The Ilse Jacobsen Tulip 3865 shoes present a distinct take on the classic college loafer style, setting them apart from other models in the Tulip range.
Distinctive Features
One of the most noticeable differences between model 3865 and other Tulip shoes is the addition of a penny strap. It makes the shoe take on the appearance of a traditional loafer. The rounded toe further adds to this aesthetic. Another distinctive feature of the Tulip 3865 is its upper material, which is made of 100% Microfiber with a glossy PU surface. This differs from many other Tulip models that have laser-cut or perforated uppers.
The iconic Tulip sole seen in other models is still present in the 3865, maintaining the brand's commitment to sustainability and comfort. The sole is made of 75% natural rubber and 25% recycled rubber.
Comparisons with Other Ilse Jacobsen Tulip Shoes
Compared to other Ilse Jacobsen Tulip shoes like the 139 or 140 models, the Tulip 3865 has a more formal appearance, its college loafer heritage unconcealed. While the other models lean towards a casual, sporty look, the 3865 offers a dressier option while still embodying the signature comfort and practicality of the Tulip line. So, if you are in the market for something a bit stricter than regular Tulips, consider taking a look at this model.
In summary, the Ilse Jacobsen Tulip 140 Flat is a stylish, comfortable, and practical shoe choice. Whether you're heading to work, going for a stroll, or packing for a trip, these flats promise to keep you comfortable and fashionable.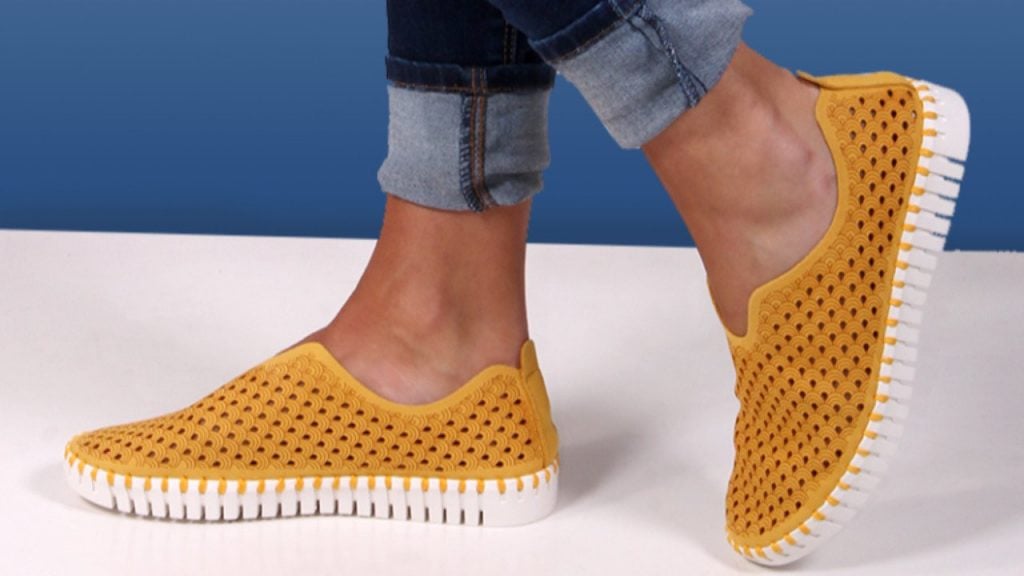 Conclusion
That's what our Ilse Jacobsen flowerbed has to offer. As you can ​see, the women's Ilse Jacobsen shoes collection offers a diverse and versatile range of shoes that ​cater to a variety of tastes and needs. Whether​ you seek a sporty casual design, a comfortable ​everyday shoe, or footwear for​ a more formal look, there's a ​Tulip shoe waiting for you. If you want to read more about choosing casual shoes, give our dedicated article a read.
FAQs
What are ​the key features of Ilse Jacobsen Tulip shoes?
Ilse Jacobsen Tulip​ shoes are known for their​ distinctive laser-cut design,​ lightweight construction, flexible ​rubber soles, and removable cushioned​ insoles. They offer a blend ​of style, comfort, and practicality.
Do Ilse Jacobsen Tulip shoes come in half sizes?
No, Ilse Jacobsen​ Tulip shoes generally​ come in full sizes. If you are a ​half-size, it is usually ​recommended to size up or down, ​depending on the model and your individual comfort preferences.​
What are Ilse ​Jacobsen Tulip shoes ​made of?
The upper portion​ of the shoe is crafted from recycled​ microfiber, which is a blend of 60% nylon​ ​and 40% PU. The sole of ​the Tulip shoes is composed ​of both natural and recycled ​rubber, ensuring flexibility ​and durability. The insole is ​made from 60% EVA and 40% pig skin.