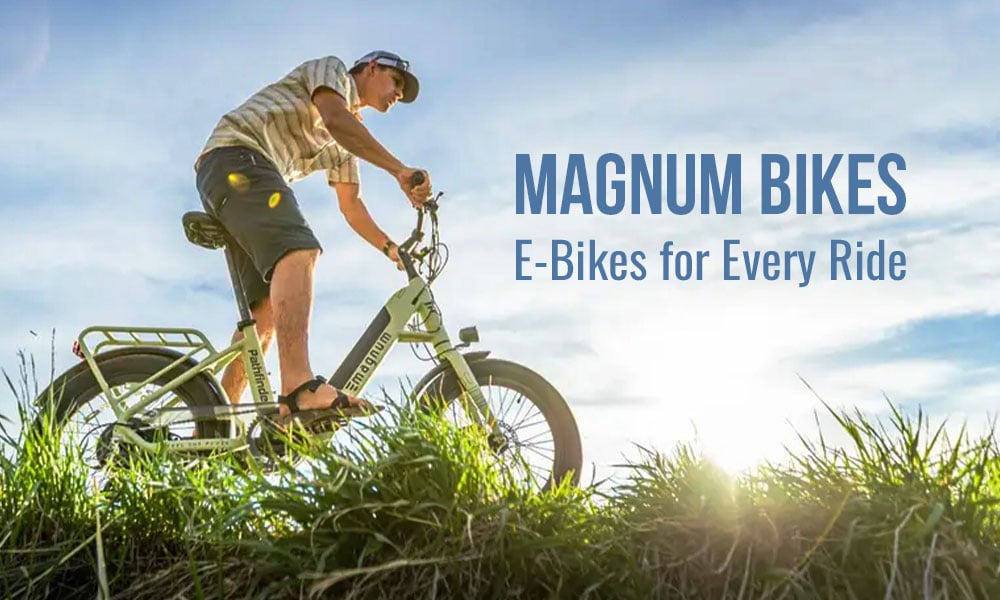 Last Updated on
Since its inception in 2010, Magnum Bikes has relentlessly pushed the boundaries of e-bike building, achieving some truly impressive results. Their signature fusion of retro-inspired design elements and cutting-edge technology has always resonated with me. And now, the moment I've been waiting for has finally come – I have the once-in-a-lifetime opportunity to test ride not one but THREE of Magnum's bikes and provide my unbiased opinion on each. I've given it my all, and I hope you find this review informative and helpful. Let's get started!
Table of Contents
Magnum Pathfinder 500
Magnum Metro X
Magnum Peak T5
Final Thoughts
Magnum Pathfinder 500 Review
A compact e-bike for the whole family.

Geometry & Build
The first thing that jumps out at you when you look at the Pathfinder 500 is a low step-through frame. Generally, a step-through design makes getting on and off a breeze, especially for shorter riders, such as myself, or those with balance and mobility issues. Some say a step-through frame can make a bike a little unstable, but not this one. I had zero stability issues with the Pathfinder 500, and riding it hands-off was easy. I guess this is much to the 3.0″ plus-size tires that did a good job at dampening the ride while also giving reliable traction.
The Pathfinder 500 has smaller wheels (20 inches), which bring the frame closer to the ground. While low ground clearance might typically lead to pedal strikes, this isn't a concern with this bike. Magnum has smartly fitted the Pathfinder 500 with shorter crank arms. So, even in areas where the pavement gave way to gravel and lush greenery, I didn't have to worry about the pedals scraping the ground.
I also liked how Magnum positioned the battery pack – on the top of the downtube as opposed to the bottom mount seen in some Ride1Up bikes, for example. The advantage of this design is clear – the top of the frame isn't as crowded as the back, so there's no risk of accidentally bumping the battery on the front fender. By the way, both front and rear fenders are made of aluminum. I also noticed that the controller was separated from the battery and housed in the metal box that shields it from rock strikes. That's another smart move from Magnum, as this reduces the battery heating. Besides, future battery replacements will be less costly for you.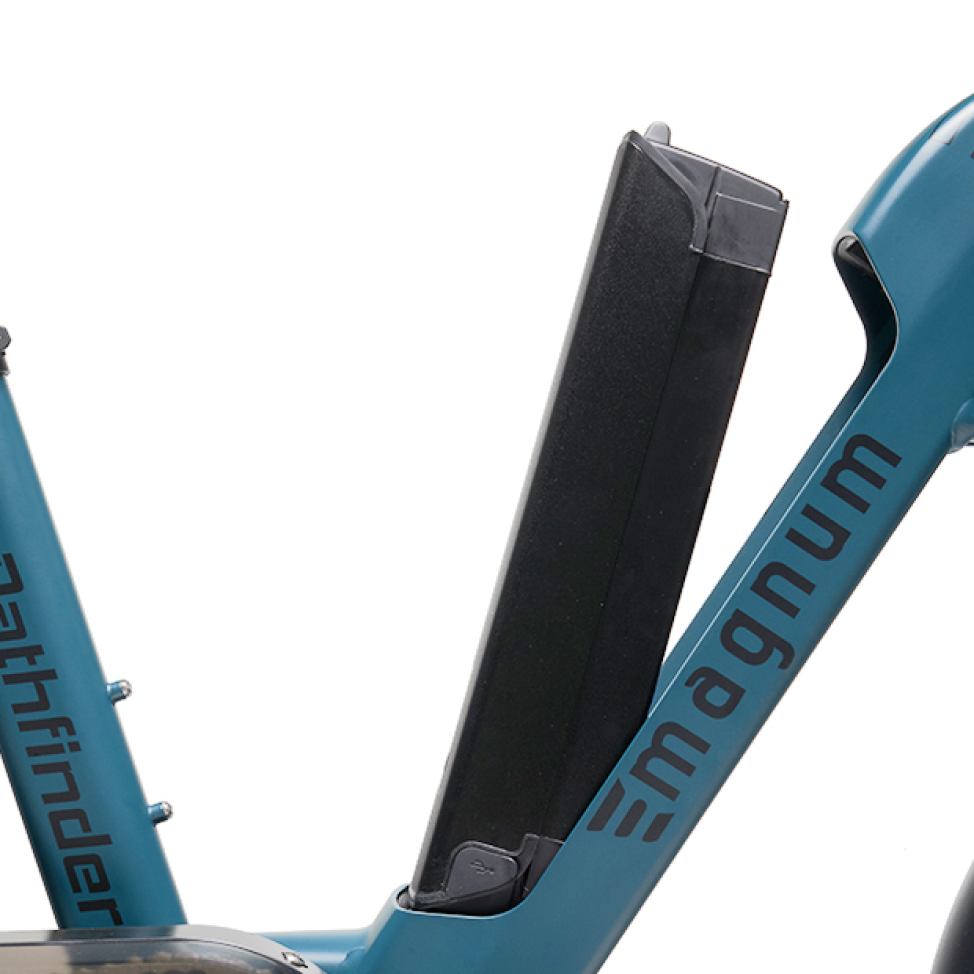 What I didn't like was the positioning of the locking cylinder and charging port. They are too low to the ground and get in the way of crank arms. I'd like them higher up.
One particular aspect that stood out to me was the clean cable management. It gives the bike a neat, uncluttered look and reduces the chances of accidental snags while riding.
The drivetrain is quite basic, with a 7-speed Shimano Altus derailleur. I liked that the chain is shielded with a matte plastic cover – nicely done. The shifter is a thumb shifter, which I personally found a little slow to operate since I needed to reach up. I prefer the trigger shifter under the grip.
Let's get back to the frame again. As someone who stands at 5'7″, I had no fit issues with the Pathfinder 500. But you might be asking yourself "Isn't this bike too small for me?" Well, let me tell you this. Despite a low frame, it comes with a 390mm seat post. This generously long seat post allows for a wide range of saddle height adjustments, making it suitable for taller riders. And even more. The bike also features a 0-90 degree adjustable stem, which means you can adjust the handlebar angle to achieve an ergonomic riding position, reducing strain on the wrists and shoulders.
What about max weight? Well, thanks to a stiff aluminum alloy frame with plenty of reinforcement tubings, the Magnum Pathfinder 500 has a max load capacity rating of 265 pounds, which is impressive.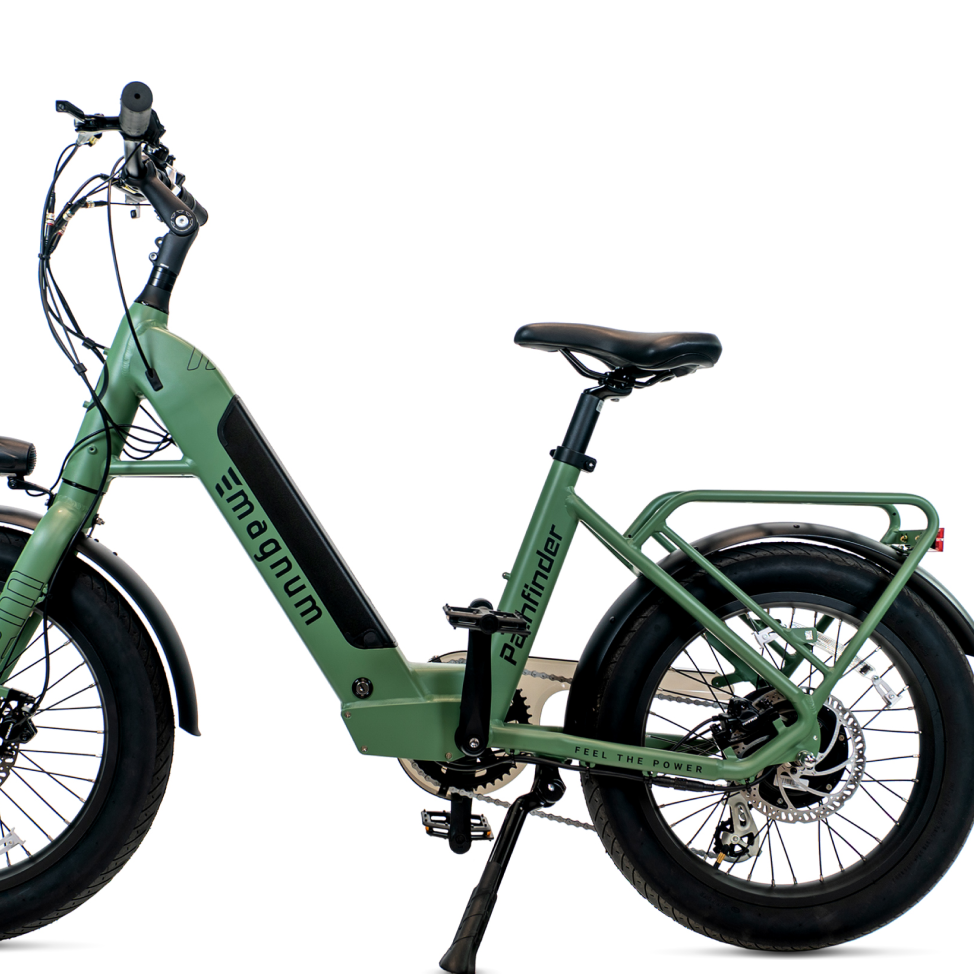 Now, the downsides. First off, the bike is heavy – 62 lbs! For a compact e-bike, that's a lot. And it has no suspension. However, when it comes to comfort, the lack of a suspension system is compensated, to some extent, with fat tires and a nice gel saddle.
And I didn't really like the kickstand position. The kickstand itself is great – tough and adjustable. But it's right at the center and can lock up the crank arm.
Electronics & Display
First of all, the bike can be configured as Class 1, 2, or 3, meaning the bike has both a pedal assist and a throttle. It features a high-capacity long-range 48V / 13Ah / 624Wh battery unit paired with a 500-watt rear-hub motor that peaks at about 650 watts. Together, they create a powerful system in which all components work harmoniously. Since every powerful system needs a reliable and capable safety feature, the Pathfinder 500 is equipped with hydraulic disk brakes paired with 180mm rotors instead of mechanical ones, which are more consistent and easier to operate.
The throttle is limited to a top speed of 20 mph, like in any e-bike with a throttle. The Pathfinder 500 had no issues hitting that top speed, and it even feels pretty zippy getting there. The motor responded immediately. I also noticed how easy it was to ride uphill. It's due to smaller-size wheels that provide a mechanical advantage, making hill climbing more efficient. In throttle-only, the Pathfinder 500 is claimed to ride about 25 miles, while the max range is 50 miles.
The pedal assist has 6 support levels, and in level 6, as Magnum claims, the bike gets up to 25 mph, which mine Pathfinder 500 delivered and maintained easily on flat ground. The pedal assist has only a cadence sensor, which senses whether you're pedaling or not rather than how hard you're pedaling. Some might find the power deliverance less refined. The pedal assist came on about half a pedal stroke, and when I stopped pedaling, it came off with a short delay.
The display panel of the Pathfinder 500 is OK. It's compact, quite user-friendly, and provides information such as speed, distance, and battery level, but I found that LCD screen hard to read in direct sunlight. Plus, it's non-adjustable and non-removable.
Summing Up
The Magnum Pathfinder 500 is a robust, compact e-bike with a stable low step-through frame and a lengthy seat post, perfect for the whole family or those who need a bike for city commuting and light trails. It comes with an integrated rear rack with a bungee cord and can accommodate a front rack and a bottle cage. With its potent 500W motor and a 48V / 13Ah / 624Wh battery, it offers sufficient power and nice acceleration and can ride up to 40 miles on a single charge. Its fat tires provide good traction and stability. The bike also features pedal assist and throttle functions, giving you the flexibility to choose how you want to ride.
However, for a compact bike, the Pathfinder 500 is pretty heavy. It doesn't have suspension, and its battery lock is a bit challenging to operate.
Magnum Metro X Review
A sleek bike for those looking for an all-rounder.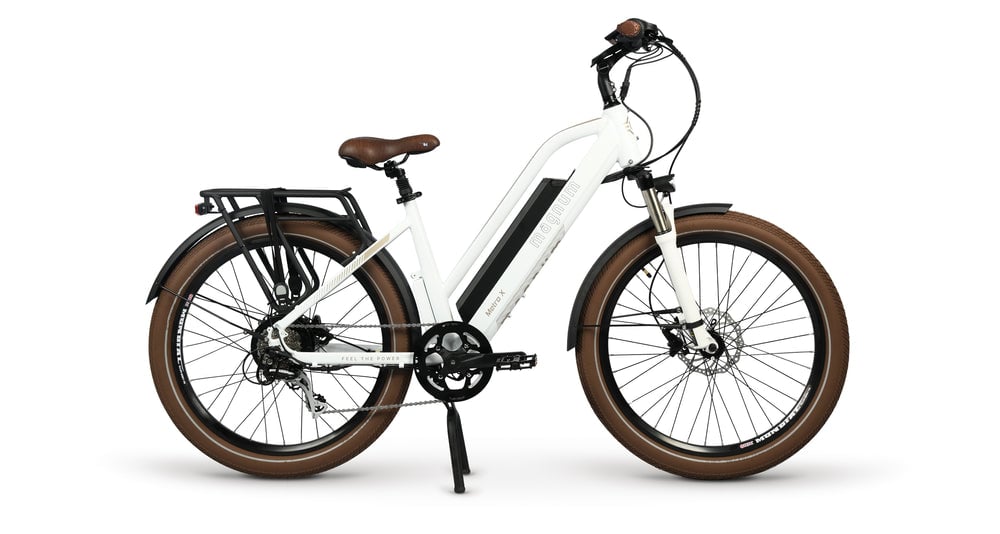 Geometry & Build
First of all, I'm crazy about these brown tires, gel saddle, and faux leather grips and how they give a touch of retro vibe. I'm a huge fan of such things. So if you're not attracted to more futuristic designs, this is the first reason to consider the Metro X.
Generally, the bike was very comfortable to ride. It is the magic of geometry and quality components, I guess. Smooth, stable, cushy… And very quiet.
The Metro X has an aluminum mid-step-through frame and larger 26″ wheels, which adds to the overall versatility. The mid-step frame of the bike is easy to approach and stand over while also being sturdy and balanced. The tires are 2.4 inches thick. They have a lot of air volume and dampen the ride very well. What's also great is that the Metro X features a suspension fork as well as a suspension seat post. They soaked up a good portion of that shock, making my ride very smooth.
Just like in the Pathfinder, the Metro X boasts an adjustable seat post (40mm suspension travel) and adjustable angle stem (0-90 degrees) to accommodate larger-framed riders. The suspension fork comes with a lockout feature handy when riding dirt or off-road and preload adjustment.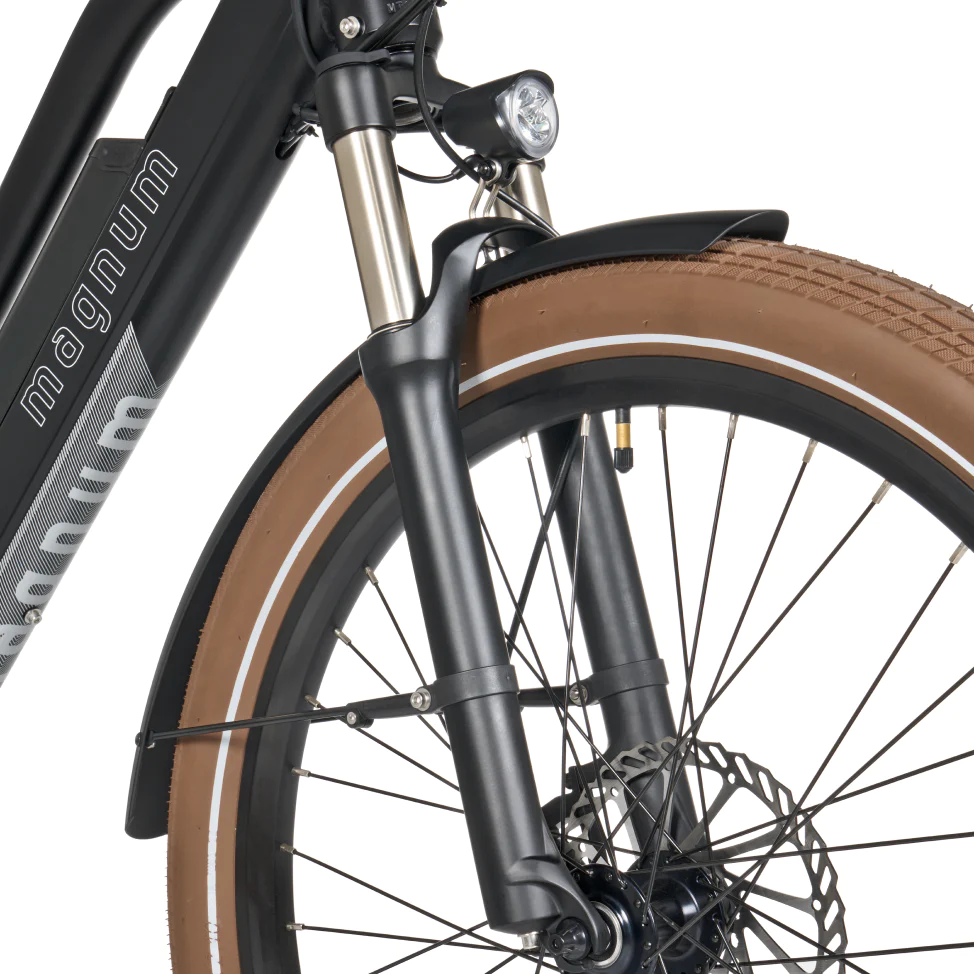 The battery unit of the Metro X is mounted on top of the downtube, not integrated right into it like in the Pathfinder 500. But the Metro's battery is still protected with the top tube and doesn't stick out like a sore thumb. The battery unlocking is also different with this bike, and I liked the process more. The locking cylinder is located high up and doesn't get in the way of the crank arm. Then, the battery has a lever, so you just turn the key, grab the lever, and pull it.
What I found particularly cool is the kickstand, which folds under the bike with a double fork. That's a really nice touch on this bike.
I also liked the grip shifter on the Metro X vs. an oversized thumb shifter on the Pathfinder 500. It was crisp and easy to operate. The Metro also features hydraulic disk brakes and a 7-speed Shimano Acera derailleur. And again, clean cable management – a constant feature in all Magnum bikes.
The Metro X is also a bit on the heavier side. It weighs 62 pounds, like the Pathfinder 500, but note that unlike the latter, the former has spring suspension and generally a larger frame.
Electronics & Display
First off, it comes with a 48V / 15Ah / 720Wh battery and a 500W rear-hub motor that peaks at 750W. While the speed dynamics are the same between the Pathfinder 500 and the Metro X since they both feature a 48V battery, the latter has more capacity and energy that translate into a longer range. On one charge, I can ride over 50 miles, depending on how I set it up. That's more than enough to get me to work or even across my favorite mountain trail.
The bike features both the throttle and pedal assist and can be configured as a Class 1, 2, or 3 with a 20- or 28-mph speed cap. I particularly loved the trigger throttle, which was conveniently placed on the left side of the handlebar (remember, the shifter is on the right). It came in super handy when I needed to pick up speed after stopping at a traffic light or stop sign.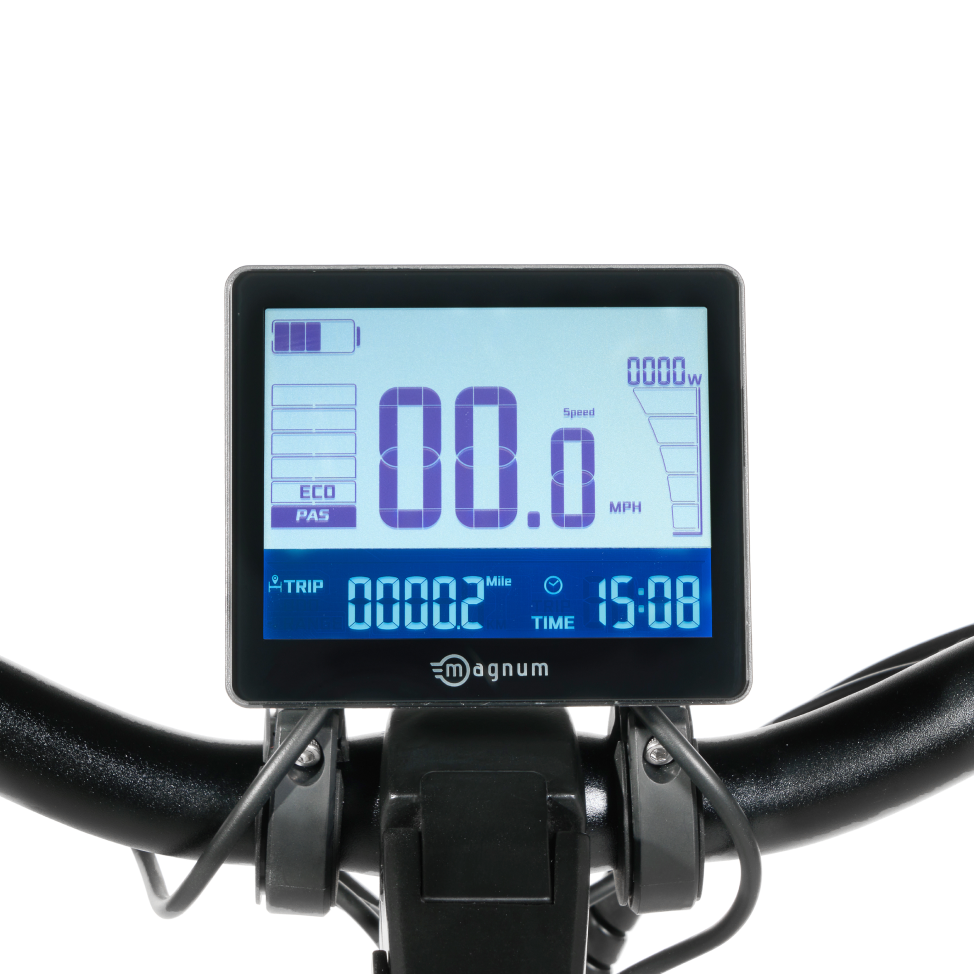 And when I wasn't using the throttle, I had this cadence sensor pedal assist to rely on. I could choose from six different levels of assist, and there was even a zero level for when I didn't want any pedal response. Plus, no matter what level I set, I could always override it with full power using the throttle.
The Class 3 configuration in the Metro X is a true Class 3 because it can hit speeds up to 28 mph before the motor cuts off.
The bike also boasts 90 Nm of motor torque that allowed me to tackle hills that would have left me huffing and puffing on any other bike.
What about the display? I liked it much more than the Pathfinder 500. It's center-mounted, large, and provides a surprising number of readouts, such as current speed, pedal assist level, battery level, trip distance, BMS voltage, power output, timer, and odometer. The display controller is positioned near the throttle on the left. The display also controls the front and back lights.
Summing Up
The Magnum Metro X is an all-around performer, excellent for both urban environments and light trails. It features a mid-step-through frame, adjustable seatpost and stem angle, and spring suspension, has a rear rack with bungee, and is powered by a 48V / 15Ah / 720Wh battery and a 500W rear-hub motor. It can ride up to 50 miles and has a 20 mph throttle and a 28 mph pedal assist.
Magnum Peak T5 Review
A powerhouse among electric mountain bikes.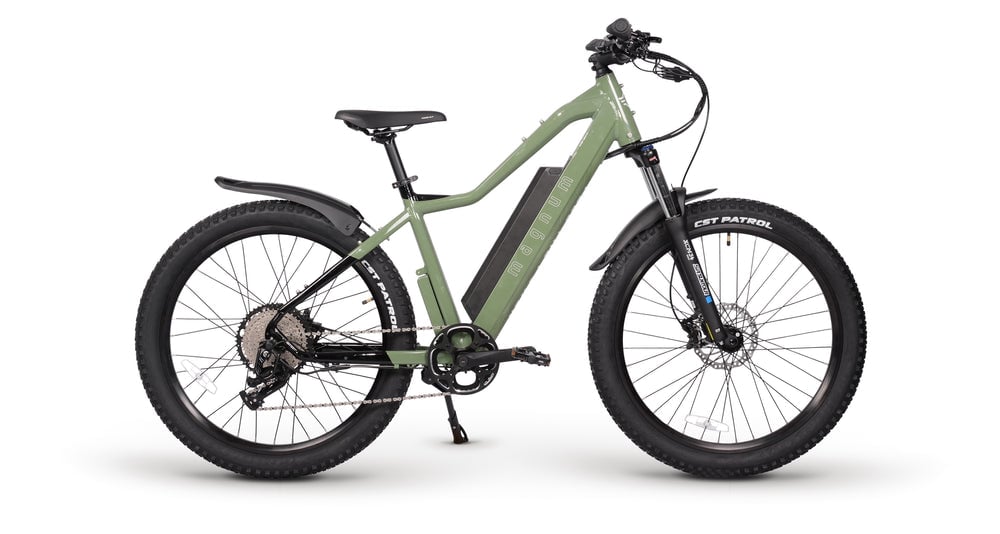 Geometry & Build
Finally, the Peak T5, a top-notch electric mountain bike. Intrigued?
Well, let's start with the frame. Of course, we see a high-step frame here, but it's not a problem because the top tube nicely angles for lowered standover height. The frame is aluminum, sturdy and well-built.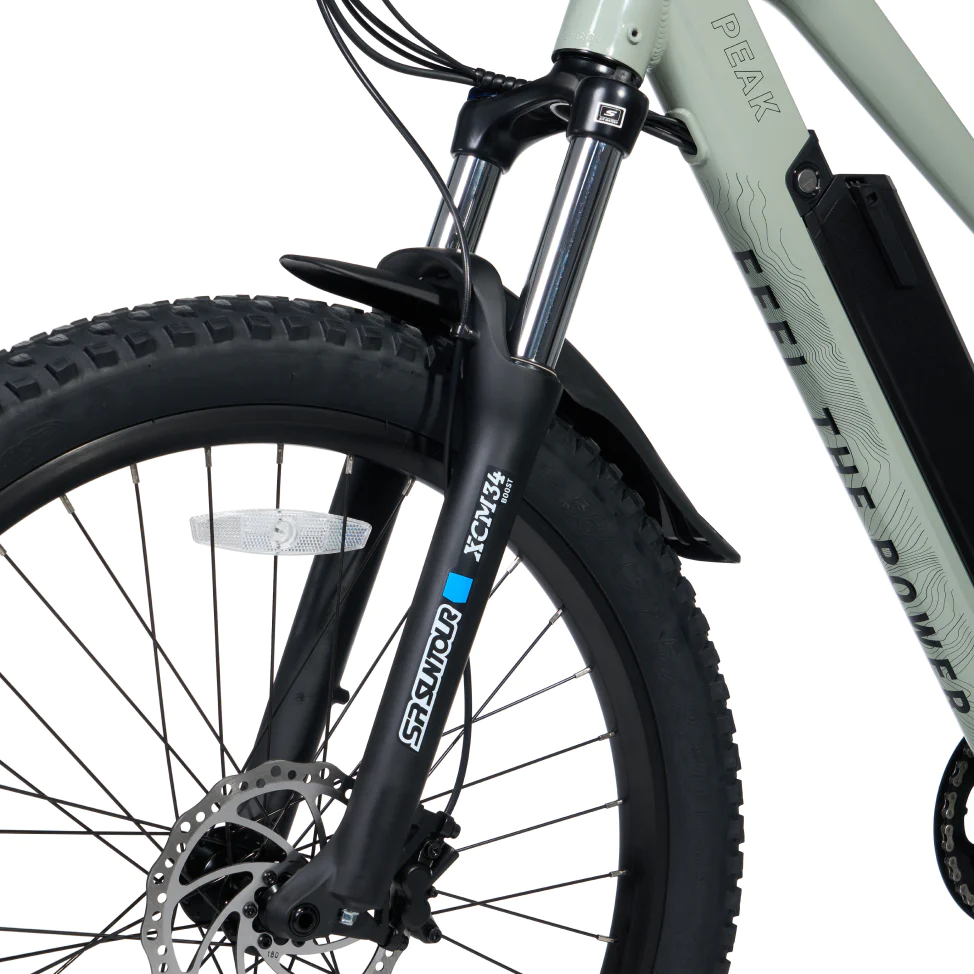 The bike was designed to tackle light and medium trails. That's why Magnum fitted it with a high-quality suspension fork with a 120mm suspension travel to really take the brunt of the impact. Another cool feature of this fork is its adjustable preload and lockout switch. The adjustable preload allows you to adjust the fork's stiffness based on your weight and riding conditions, while the lockout feature lets you essentially 'turn off' the suspension, which can be handy when riding on smooth surfaces or climbing.
The aggressive 27.5 x 2.8 tires performed great on asphalt, gravel, and dirt. Plus, with their large size, they added some sweet balance and extra cushy comfort.
The stem in the Peak T5 is fixed, meaning you can't adjust the angle as in the other two Magnum bikes. This is a compromise made to prioritize a more aggressive, sporty construction. While some might see this as a downside, I see it as a strength. Any moving part on a bike is a potential weakness, and by having a fixed stem, you're eliminating one more thing that could go wrong. It also adds to the overall sturdiness of the bike.
I also liked the MTB-style seat, and the ergonomic grips were easy on my hands. And what also jumped at me is the new cable management tree. It's the best, keeps everything even more organized.
The battery unit positioning is the same as in the Metro X – on the top of the downtube, shielded by the top tube.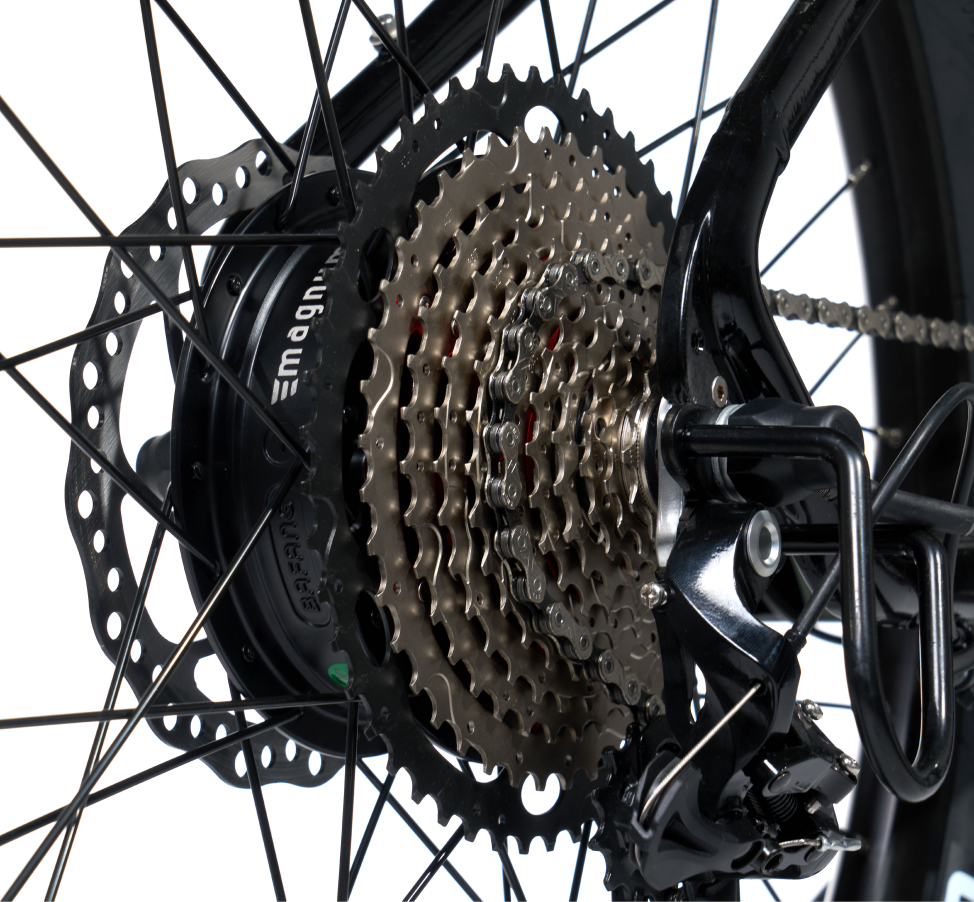 I should also mention the 1×11 wide-range drivetrain. 1×11 means there's one chainring and an 11-gear cassette. 'Wide-range' means that the 11 gears at the back have a large difference between the smallest (11-tooth) and largest (50-tooth) gears.
The Peak T5 features hydraulic brakes that are responsive and powerful. The shifter is trigger-style, which is fairly expected in bikes designed for rough terrain as these are easier on the wrist and allow for simultaneous braking and gear changing. The trigger itself is nicely extended and is very easy to manipulate.
The Peak T5 weighs 60 pounds. It doesn't have a rear rack, but you can still attach a bottle cage and a front rack. The bike also comes with plastic fenders. The only thing I didn't like about the assembly was that the bike comes without the rear light, which means I need to buy one separately, and it won't be integrated into the system.
Electronics & Display
As with the other two Magnum bikes reviewed above, the Peak T5 can be configured as Class 1, 2, or 3, meaning it can have both a 20 mph twist throttle and a 25 mph pedal assist. However, instead of the cadence sensor, this bike features a torque sensor pedal assist. What does it mean? Well, when you're pedaling, the torque sensor detects how hard you're pedaling and sends a signal to the motor to provide the appropriate level of power. This means the harder you pedal, the more power the motor delivers, and vice versa. It makes riding more energy efficient and smooth. The motor only provides assistance when needed, thus saving battery power.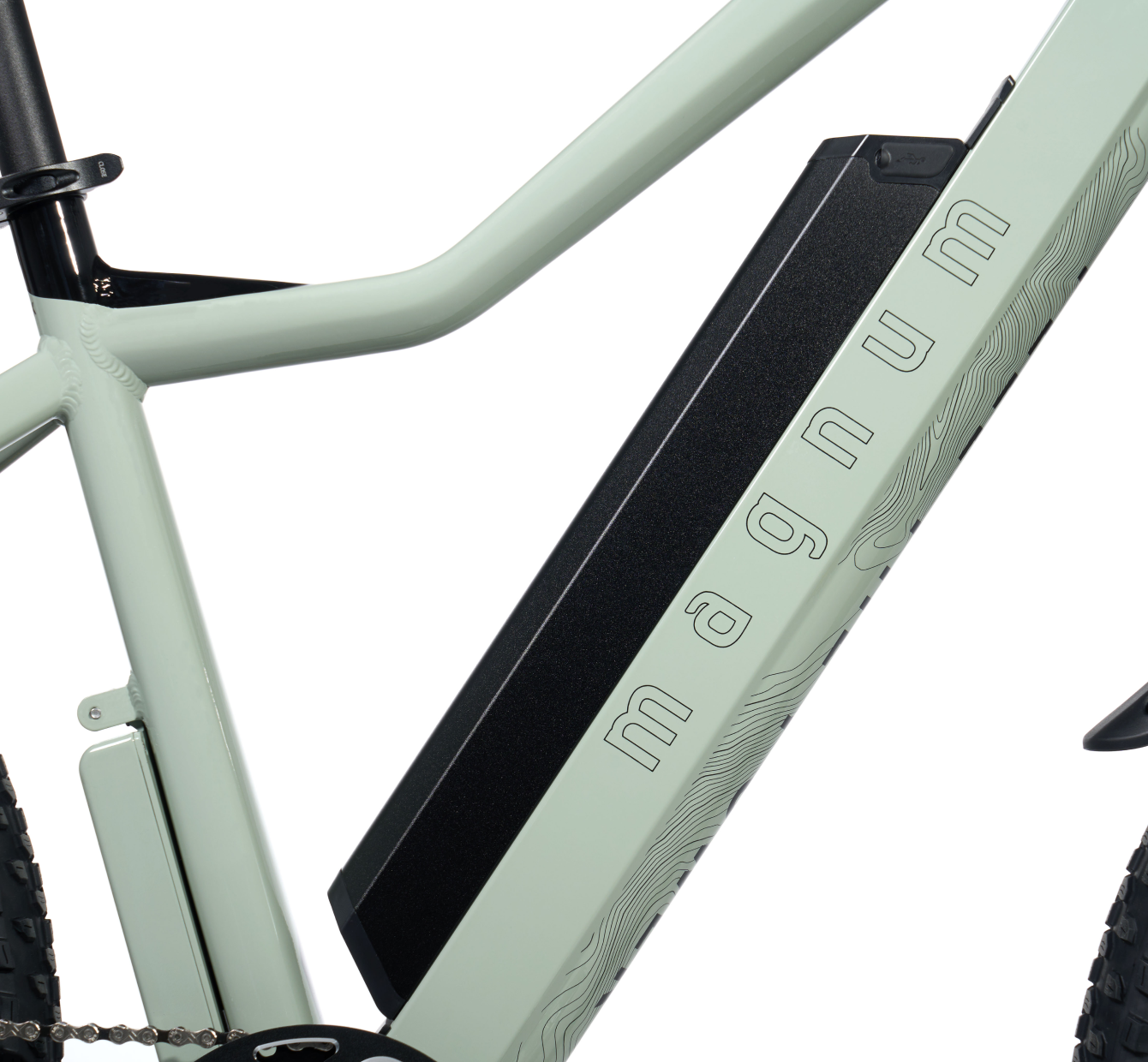 The Peak T5 is powered by a 48V / 15Ah / 720Wh battery and a 500W motor – the same setup as the Metro X, but thanks to a more energy-efficient pedal assist, you can expect to travel up to 60 miles vs. 50 miles with the Metro X.
The display is positioned in the center with a controller on the left side. It's a backlit, monochrome LCD that I found easy to read under direct sunlight. The readouts on the display are comprehensive. They include power output indicator, battery level, speed, assist level, odometer, trip distance, trip time, and battery voltage. The front light is integrated and can be turned on and off from the display.
Summing Up
The Magnum Peak T5 is a fantastic electric mountain bike boasting a 500W motor and a 48V power system. It's fitted with a 120mm suspension fork, can ride up to 60 miles, and features a torque-sensing pedal assist that allows for more efficient energy consumption and a throttle. Weighing in at 60 lbs, it's sturdy enough to handle rough trails while still being manageable for most riders.
Final Thoughts
Each of these bikes shows how much Magnum cares about quality, performance, and making sure you have a good ride. So whether you're just getting into e-bikes or you've been riding for years, there's a Magnum bike that's going to work for you. Here are my thoughts on the reviewed bikes:
The Pathfinder 500 is a fantastic choice for budget-conscious riders looking for a compact and affordable e-bike. It's an excellent fit for short-distance commuters or those who need a basic bike that offers both throttle and pedal assist functionalities. Its low step, adjustable handlebar, lengthy seat post, and comfortable ride make it suitable for the whole family.
The Metro X stands out with its versatility and power. It's an all-rounder that can handle both roads and trails with ease. With a powerful motor and battery that can keep the bike going for up to 50 miles, it's ready to tackle long journeys. Its modern design, large tires, and overall sturdiness make it a reliable choice for any rider.
The Peak T5 is built for strength, durability, and comfort. Reaching a top speed of 25 MPH and offering a range of up to 60 miles, it can handle challenging terrains and long distances effortlessly. The bike's torque-sensing pedal assist system can significantly reduce the strain on your knees, making your ride smoother and less physically demanding. It's also a great choice for athletes with knee injuries.
FAQ
Are Magnum e-bikes waterproof?
The motors and batteries on Magnum e-bikes are sealed units, making them resistant to moisture. However, while they can withstand average rainfall, it's advised against riding in heavy rain for safety and longevity of the bike.
Can I ride off-road with my Magnum Bikes e-bike?
Yes, certain models of Magnum e-bikes are designed for off-road use, such as the Magnum Summit, Peak T5, and Peak T7 mountain bikes as well as the Magnum Nomad and Scout fat-tire bikes.
What is the top speed of my Magnum bike?
The top speed of your Magnum e-bike can vary based on the model and how it's configured. Some models can reach up to 25-28 mph with pedal assist. The max speed for a Magnum bike when using only a throttle will be 20 mph.