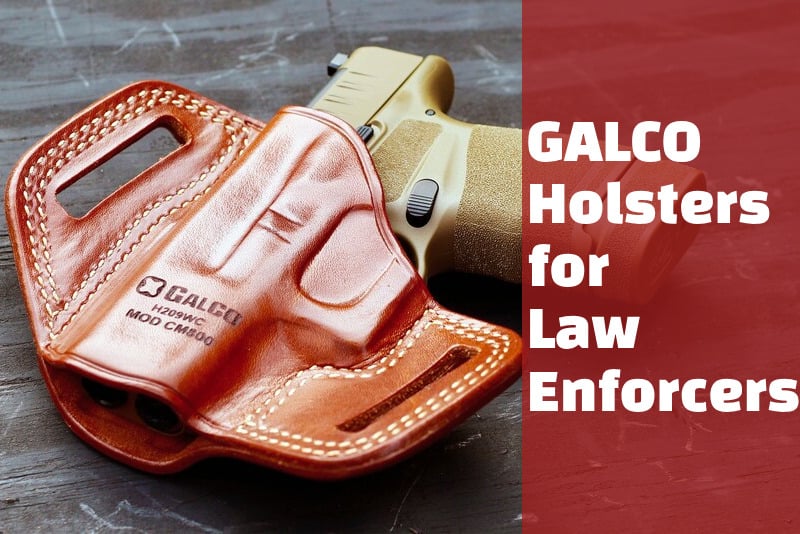 Last Updated on
However often we might envision self-defense scenarios and think our actions through, such situations tend to take us aback. You need to act fast, but also stay safe. What's the one thing that can help you with your mission or stand in your way? It's none other than your holster. The humble holster rarely gets the spotlight, but it's a prized tool in any law enforcement professional's arsenal. And when it comes to holsters, there's one name that stands head and shoulders above the rest – Galco!   
Table of Contents
Galco's History
Three Reason Why Galco
Galco Holster Collection
   IWB
   Shoulder
   Belly Band
   Ankle
   Pocket
FAQs
A Stroll Down Memory Lane
Galco Gunleather has been in the business of making top-notch holsters since 1969. That's over half a century spent honing skills and acquiring acumen. It all started in a small Chicago workshop, where the company was initially known as "The Famous Jackass Leather Company". The Windy City might not be the first place that springs to mind when you think of top-notch gun holsters, but it's here that the foundations of Galco were laid. They quickly gained a reputation for their rugged and reliable holsters.
Galco holsters became incredibly popular among law enforcement professionals and gun enthusiasts alike. One of the brand's most famous products from the early era was the Jackass Rig, a shoulder holster system that was later renamed the Miami Classic, a nod to its frequent appearance on a popular 1980s TV show.
Fast forward to today, and Galco is a household name, revered by handgun owners and users of all stripes. Why? Because Galco never compromises on quality. They've stayed true to their roots, combining traditional methods with modern materials to create holsters that are as durable as they are stylish.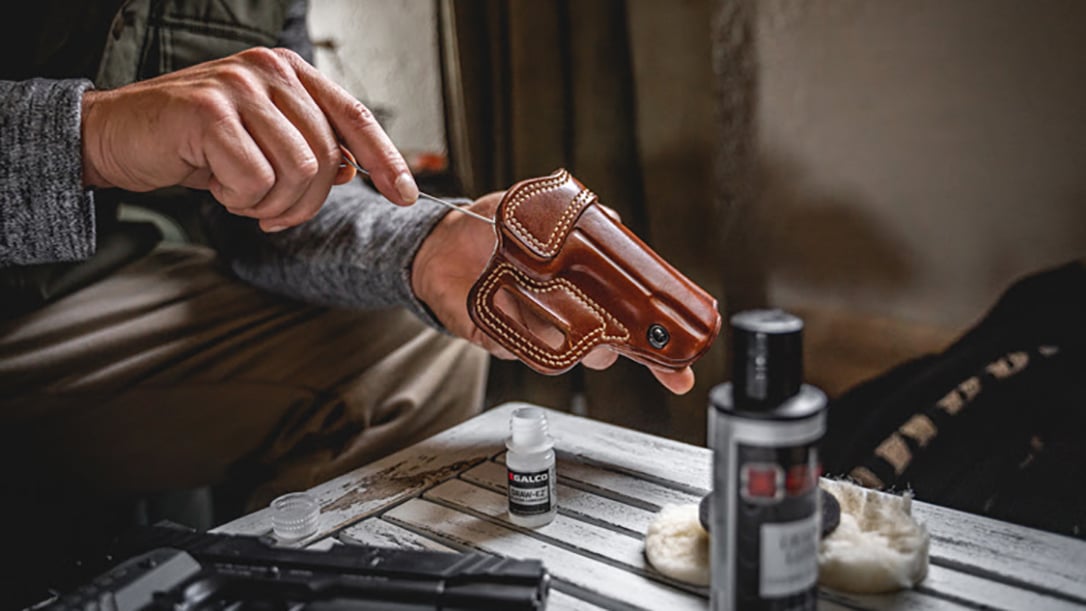 Quality, Safety, and Design – The Galco Way
So, what makes Galco holsters the ultimate choice for law enforcers? It's not just one but at least three exceptional features. Galco holsters are punctiliously designed to provide the perfect blend of comfort, accessibility, and safety.
Quality
Galco prides itself on delivering the highest quality leather gun holsters in the market. They are not just about creating products; there is an idea standing behind every product they make. Each Galco holster is a testament to the company's dedication to quality. Made from premium steerhide or Kydex, these holsters are designed to last and withstand the rigors of accompanying you day by day. 
Safety
Safety is not just a feature at Galco; it's a promise. All Galco holsters are crafted to function safely. The designers achieve this by creating holsters tailored for specific handguns. This customization ensures a secure fit and eliminates the risk of accidental discharge. For example, all Galco holsters for the 1911 model/style firearm with safety straps and thumb breaks are designed to carry the 1911 in the "hammer down, chamber empty" condition. Galco also provides clear safety instructions for each of its products, emphasizing the user's responsibility to maintain the product's serviceability and safety. Their holsters without retention straps ("open top") are designed to carry single-action pistols in all safe conditions of carry as specified by the firearm manufacturer.
Design
Galco's designs blend style, comfort, and practicality to provide a perfect gun-carrying solution. Each holster is forward molded to contour to the hip, making sure comfort for the user remains a priority. The designs also take into account the weight distribution of a heavy pistol, ensuring that a full day of carry won't turn into an ordeal. Galco holsters are available in a variety of designs to accommodate multiple barrel lengths and fit belts of various widths.
A Galco for Every Need
Now, let's dive into the Galco universe and explore the different types of holsters they offer: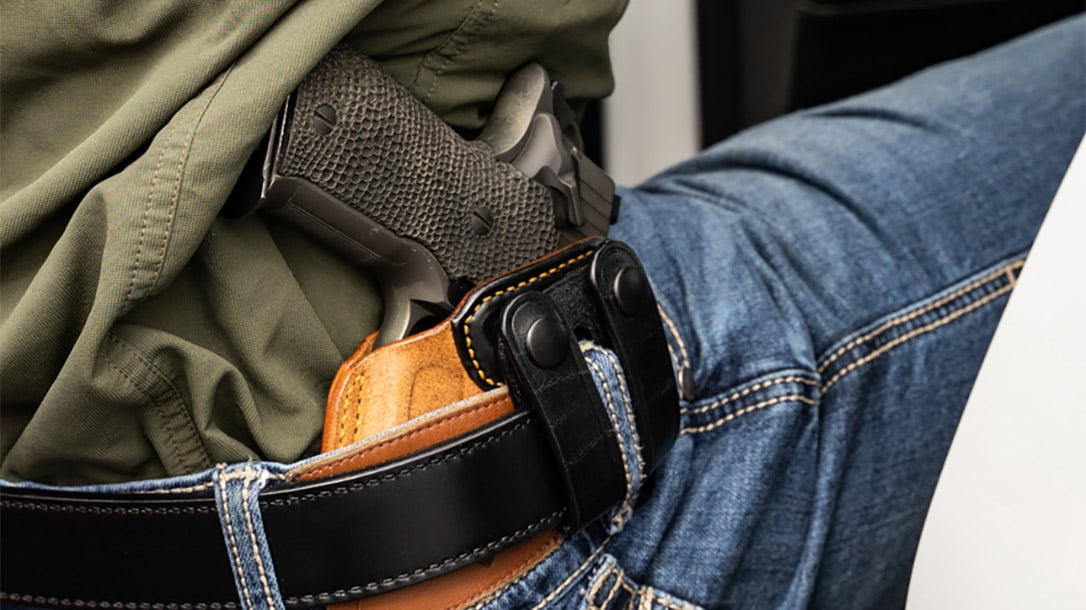 Inside the Waistband (IWB) Holsters
IWB is one of the most popular holster designs in general and Galco's IWB holsters can truly be considered a benchmark. They're comfortable, concealable, and perfect for covert operations. The holsters are adjustable for both angle and height, allowing for a more personalized fit. Plus, many of them are made with Galco's patented injection-molded belt clips for ultimate durability. If t
The Galco Stow-N-Go IWB Holster is one good example. The holster is often praised for its comfort and ease of concealment. Its leather construction, while prone to retaining water, has reportedly never posed any issues, even in wet conditions.
One of the key features you're bound to appreciate is its fast draw capability. This feature, combined with a smooth and easy return to the holster thanks to the reinforced mouth, makes the Galco Stow-N-Go a top choice for any Glock owner (the holster fits Glock 19, 23, 32, 36).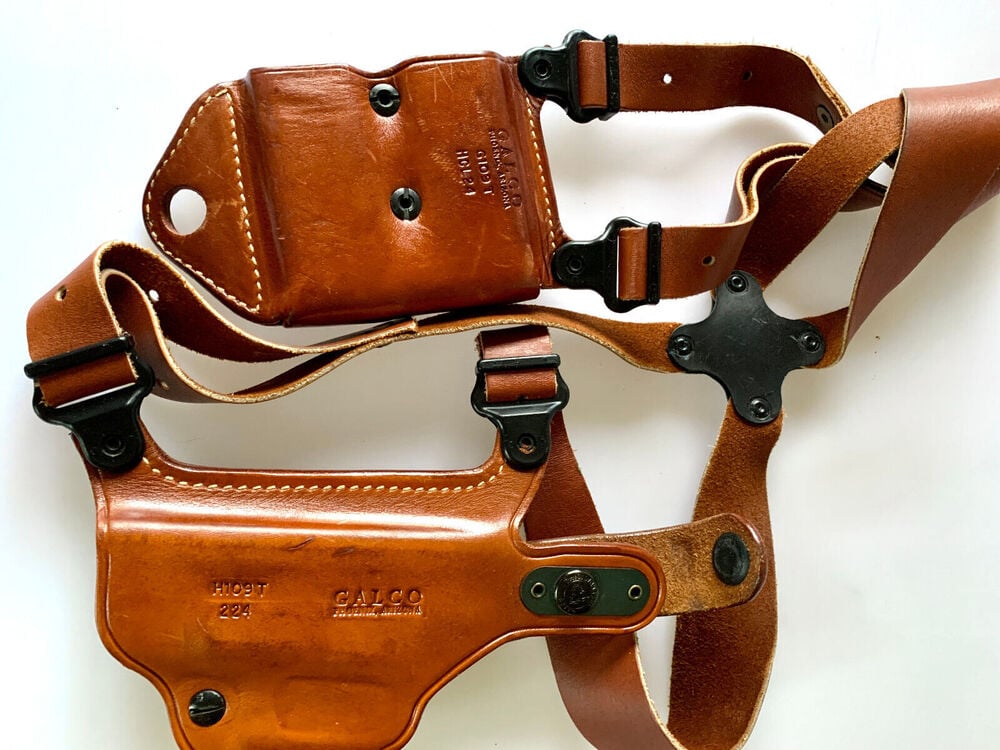 Shoulder Holsters
Galco's shoulder holsters will help anyone to try on the guise of a secret agent. These holsters evenly distribute the weight of your firearm across your shoulders, making them ideal for all-day carry. And guess what? They're adjustable, ensuring a perfect fit regardless of your body type.
The Galco Miami Classic II Holster for S&W M&P 9/40 is the brand's signature item that enjoyed huge popularity in the 80s. This holster isn't just a tool; it's a statement. The tan leather construction exudes a vintage charm while offering the exemplary durability of a modern holster.
One of the standout features is its unique spider harness, which provides excellent weight distribution across the shoulders. It's also one of the reasons why Miami Classic is one of the most copied shoulder holster systems in the world. This design ensures optimal comfort, even during extended periods of use. Users have often noted how this design allows them to wear their firearm all day without feeling weighed down or uncomfortable. And what's more, quick draw capability is still there. At the same time, the secure snap closure guarantees your firearm stays put when you're on the move.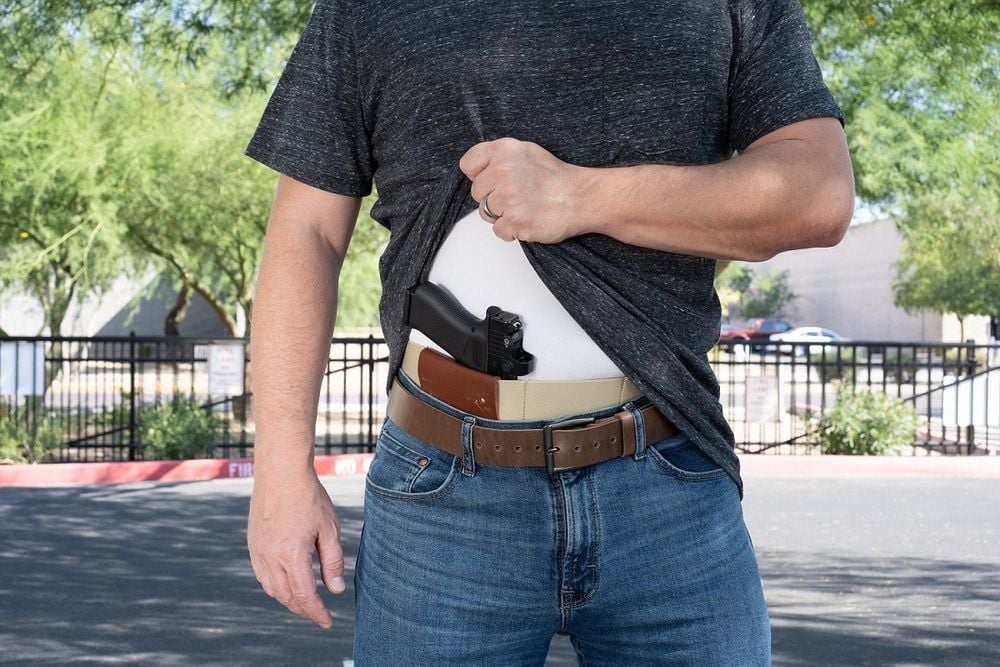 Belly Band Holsters
Galco's belly band holsters are the true embodiment of versatility. They can be worn in multiple positions, giving you the flexibility to carry your firearm in the most comfortable and convenient way possible.
The Galco Underwraps 2.0 Belly Band Holster is a game-changer in the world of concealed carry. This versatile holster provides an innovative solution for those seeking a comfortable, adaptable, and discreet carry option.
One of the standout features of this belly band holster is its ambidextrous design. Whether you're right or left-handed, Underwraps 2.0 has got you covered. This design also allows for multiple carry positions, including strongside, cross-draw, and appendix carry. The holster is made from a breathable, elastic material. So you can rest assured it will stay secure without being too constrictive.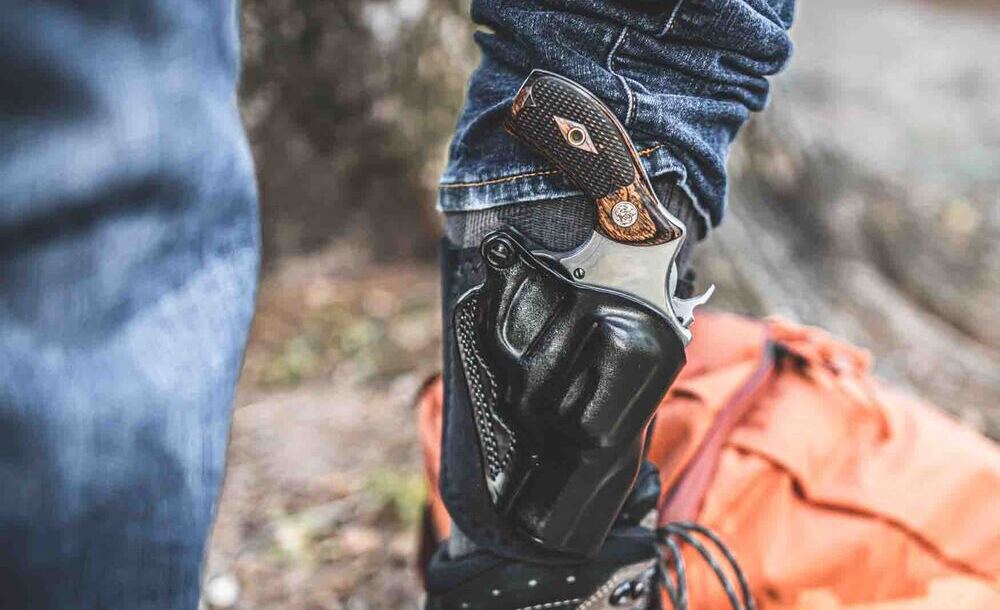 Ankle Holsters
Galco's ankle holsters are the epitome of discreet carry. They're lightweight, comfortable, and secure, making them perfect for backup guns. With their neoprene ankle bands and Velcro closures, these holsters stay put, no matter how much you move.
The Galco Ankle Glove Holster is a fantastic piece of concealed carry equipment that doesn't compromise on comfort or security. Made from premium steerhide, this holster is robust and durable. It's designed with a wide neoprene band and Velcro closure, which not only ensures a secure fit but also offers extended wearing comfort.
One of the standout features of this holster is the reinforced thumb break retention strap. This feature allows for even quicker, smoother draw, which is crucial in high-stress situations. Another commendable feature is the genuine sheepskin padding between the holster and your ankle. This provides an additional layer of comfort, making it ideal for long-term wear.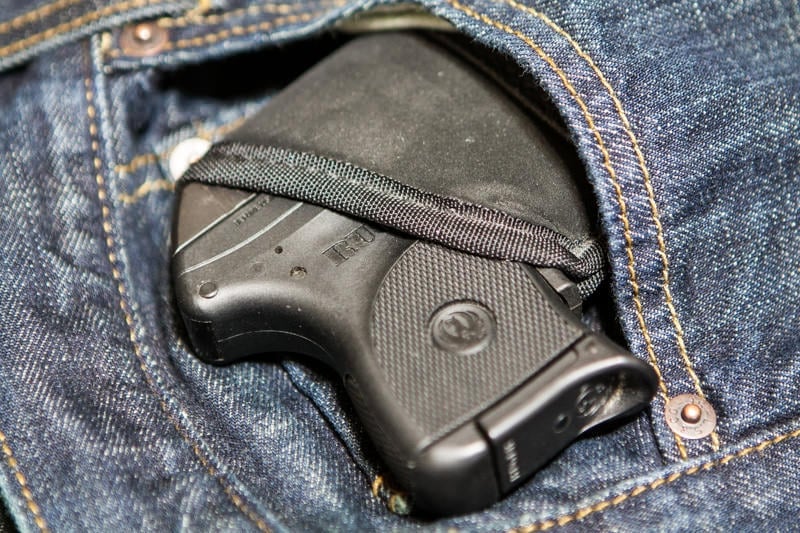 Pocket Holsters
Last but certainly not least, we have Galco's pocket holsters. These little wonders effectively conceal small handguns in trousers or jacket pockets. They're designed to prevent 'printing' and provide a quick, smooth draw.
The Galco Pocket Protector for S&W J is an exceptional tool in the world of concealed carry. This holster offers a blend of convenience, comfort, and subtlety that's hard to match. With its ambidextrous design, it caters to both right-handed and left-handed users. The holster also boasts a premium center-cut steerhide construction, offering both durability and a smooth, comfortable feel. Users frequently praise its quality and the secure grip it provides on the firearm.
Conclusion
And that's pretty much it. As you can see, Galco holsters represent everything you might want from a holster: quality, innovation, security and comfort. The brand's commitment to meeting the needs of law enforcement professionals and regular gun enthusiasts is commendable. Whether you're a rookie officer or a seasoned veteran, trust me, you can't go wrong with Galco. If you were looking for a sign to get a new holster, here it is. 
FAQs
Are Galco holsters suitable for both on-duty and off-duty use?
Absolutely! Galco offers a wide variety of holster models that are suitable for both on-duty carry, such as their duty holsters, and off-duty carry, like their concealable holsters.
How does the quality of Galco holsters compare to other brands?
Galco is known for its high-quality materials and craftsmanship. It found its way on TV and not every holster can boast that kind of recognition. Each model is designed with attention to detail and built to last, making them stand out when compared to other brands.
Do Galco holsters offer models for different types of firearms?
Whereas holsters themselves are made for pistols and revolvers, Galco offers a broad range of holsters designed to fit various handgun models, including but not limited to Glock, S&W, and 1911-style pistols.
What safety features do Galco holsters incorporate?
Galco holsters come with several safety features like reinforced thumb breaks, safety straps, and specific designs for specific handguns. These features ensure secure carry and help prevent accidental discharge.