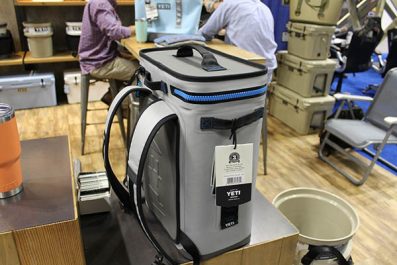 By Pete Rogers
The Archery Trade Association wrapped up its annual trade show in Indianapolis, IN this past week and the floor was full of new products for 2018. The future looks bright for everyone who loves archery.
Yeti – Backflip 24
The engineers at Yeti have done it again. With the introduction of their Tundra over a decade ago, Yeti revolutionized the way the outdoors are lived. Now with a wide array of products, Yeti is still opening new horizons. New for 2018 are a host of products. The one that really caught my attention for hunters is their "Backflip 24" a soft sided cooler with built in shoulder straps. Designed to be carried on your back, the Backflip is taller and narrower than the current Flip, but with the straps included. Capable of carrying 24 cans and plenty of ice, this is a great cooler to take to places you have to walk long distances.
When I first saw this cooler I immediately thought of our family trip to Walt Disney World a few years ago, when I used a soft cooler with homemade shoulder straps to carry our food and water. What a great solution. Trips to the beach, ground blinds for early season Antelope or deer, and backcountry fishing, the uses are endless. The Backflip 24 is an ideal mate to the current Flip and Hopper. Yeti has done it again, and I am sure this will be a huge hit with the consumers.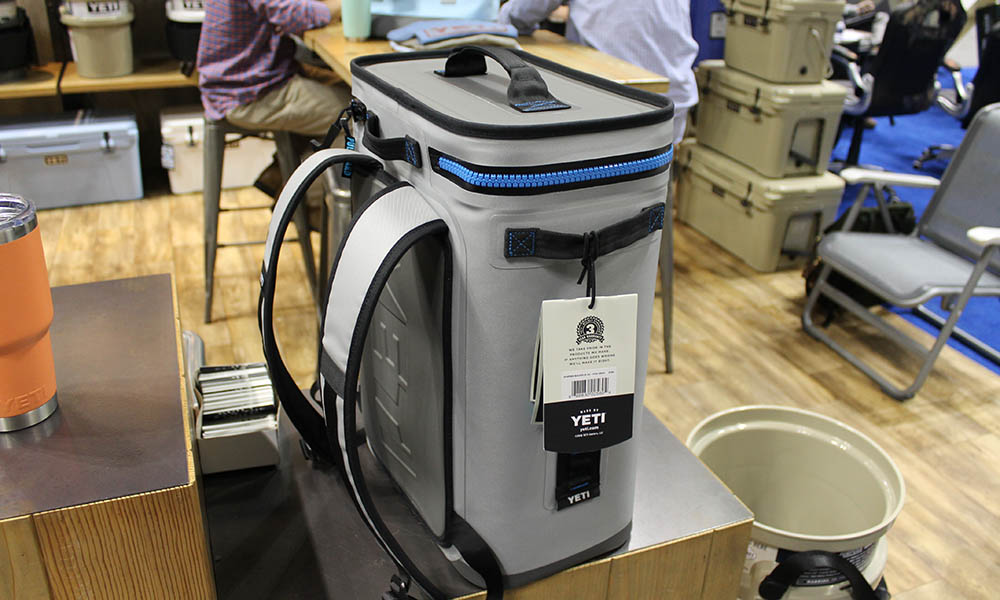 Sitka Gear Early Season Whitetail – Hot Weather Hunting for Whitetail
For years dedicated early season hunters have been asking for the premier clothing companies to make something that will meet the need of early season hunters. Dealing with the heat is a difficult task in full clothing. Finally Sitka Gear listened by introducing their Early Season Whitetail system (ESW). Complete with their Polygiene® odor control technology and quiet fabrics that follow the traditional body mapping that Sitka is known for.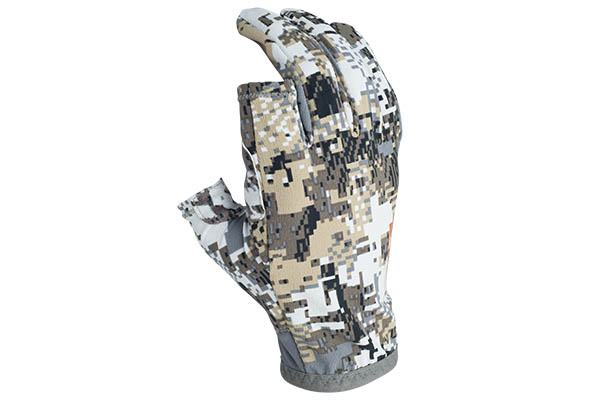 The ESW is the lightest system Sitka has ever produced for the whitetail hunter. The total system includes pants, shirt, gloves and hat. All in Gore's popular Elevated II Optifade pattern.
Killer Gear Turkey Decoys Portable lightweight Turkey Decoys – Jake and Full
I have never really been a "decoy" fan when it came to hunting turkeys. Preferring to run and gun as opposed to sitting in a blind all day or around some foam birds. Don't get me wrong, I have seen decoys work magic on young birds and a few older ones. But the limitations they present do not fit my style of hunting turkeys.
When I saw the Turkey Fan by Killer Gear at the ATA show, I was enthralled with its simplicity, mobility and effectiveness. The traditional fan is housed on an umbrella shaft with fast one button release. When the button is pressed the fan immediately opens full and provides total concealment. A see through port also helps to see the birds coming to the fan. In addition, Killer Gear realized the need for hunters who want to film their hunts to have that ability and they also include a port for your GoPro. When moving, the total fan collapses and weighs only ounces.
New for 2018 is their Jake Fan. This fan is different in that it is taller to provide a little more concealment. Using the wings of a strutting Jake, the decoy sits higher. Along with a silicone 3-D head, the realism is excellent. Included with this decoy is a retractable stake that hides inside the main handle. Attached with a bungie cord, this stake allows you to position the decoy stationary while getting ready for a shot. The custom window atop the decoy has a three-way zipper allowing a wide array of options. Zipped all the way down it offers a gun rest and good visibility as well as enough room to shoot your bow at the unsuspecting turkey. The Jake comes with a carry pouch and is very lightweight and portable and fits easily into your vest. For the run and gun hunter, either of these decoys from Killer Gear are a must.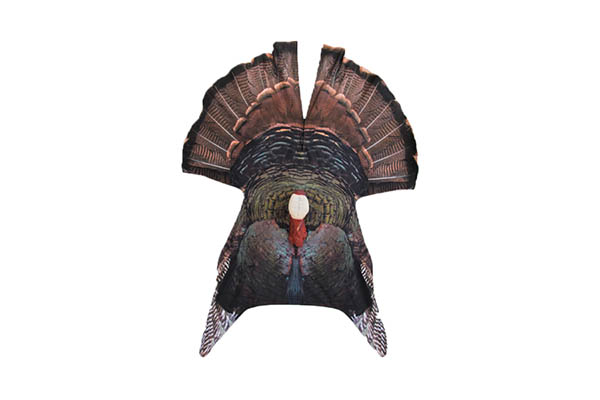 Primos Surround View 360 Blind
All of the buzz at the ATA was around the new ground blind from Primos. The engineers at Primos have really gone where no one could have ever thought. Hunters who use ground blinds are going to be enthralled with the new blind. The Primos Double Bull Surround View is available in a 360, 270 and 180 degree option. The Double Bull blind features a patented one way see through screen that allows hunters to see out and the animals to not see in. While this may sound like old school with the "shoot through mesh." I assure you this is nowhere near the same thing. First of all, it is not a mesh. It is a one-way see-through screen that is printed on the outside in camouflage. Even on the show floor while standing inches from the screen peering in, I could not see my colleague inside the blind. Measuring a full 60x60x70, this is a full sized blind that will easily hold two hunters.
Personally, I like the 270 degree blind with the solid black wall – it just makes me feel more hidden. With several ports to shoot through, this blind is a game changer for those who love to hunt from the ground. Additionally, the price point is on par with their current Double Bull blinds.
Hurricane Safety Systems: Treestand Power Lok
The ATA is an overwhelming place for broadheads and treestands. Just when you think you have seen more treestands than you ever care to see, someone comes along and revolutionizes the standard old product. Hurricane Safety Systems has two. One is their leaning forward ladder, but the one that caught my attention was the Treestand Power Lok.
This device locks any treestand to the tree, emphasis on ANY treestand. Strap on or ladder stands can be safely attached to the tree with a strong chain. No more worry if the strap is going to break. Has a squirrel chewed on your strap? Did you not get the time to inspect them after season? The PowerLok kit comes with a 72" weather resistant chain and universal brackets that is guaranteed to fit (all) treestand makes/ models. The kit includes a 5″ stainless steel ratchet wrench to make assembly and fastening a breeze.

The proprietary asymmetrical clutch in the locking device prevents over-tightening and under-tightening – PowerLok secures treestand to tree at 300lbs load force Hurricane Safety Systems are focusing on safety and making it easier for hunters to return home after a hunt. This is a must for treestand hunters who leave their stands in the woods year after year. Simply loosen the power nut and the stand is ready to spend the offseason afield.
When season returns, tighten the power nut and you are ready to resume hunting. PowerLok is not a replacement for your strap, it is a safety device to aid the strap and to protect from stand failure.
More ATA new products are coming tomorrow in Best of Archery Trade Association 2018 – Part 2.