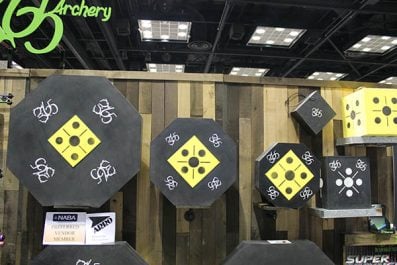 By Pete Rogers
Continued from: Best Of ATA 2018 – Part 1.

365 Archery – Trio Archery target
Archery Targets come and go, and few offer the full range of need and desire of archers. Over the years the layered foam and sealed foam manufacturers have made their targets smaller and smaller, making it difficult for beginning archers to hit the target. Finding a full size 48" target is very difficult. While walking the aisles, I discovered a target I had not seen before. The Trio Target System by 365 Archery. This foam target utilizes a patented center core that allows the shooter to use all six sides of the core before replacing. Unlike other targets with replaceable cores, the Trio Target can rotate the core to six different sides for a longer life.
Two models and four sizes are available. Four sizes in the center core and a five core 48" model provides five different shooting areas – all with a six sided core. This target will last for years and years. To add to the impressiveness – all of the 365 targets are rated for every bow and crossbow on the market. This truly is the one and only target you will need.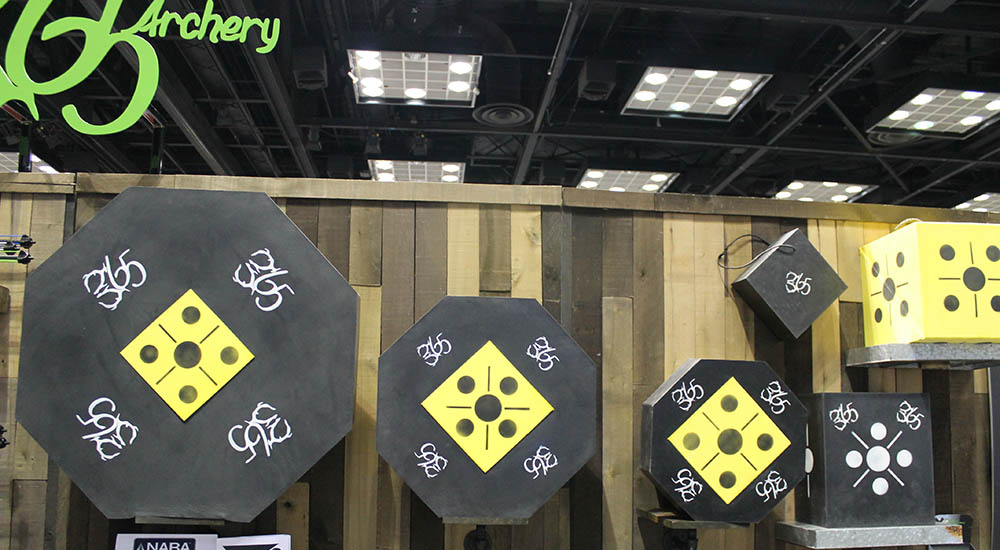 Kinetic Broadheads: KinEtec – 100 Grain Broadhead
While wandering around the halls of the Indianapolis convention center, I was introduced to Paul Young. Paul has a new and exciting broadhead design that really caught my attention. The KinEtec 100 grain broadhead meets a growing niche in the industry. More and more young shooters and females are entering the sport. Some of these shooters are shooting light pound bows. (By light, I am referring to below 50 lb. draw weight). Shooters who want to use a mechanical broadhead have been unable to find a reliable broadhead that can deploy consistently when using a light weight bow. Traditional mechanical broadheads use kinetic energy to deploy the blades causing a loss of energy at impact.
Paul saw this need and went to the drawing board and invented the KinEtec 100. This patented mechanical broadhead carries kinetic energy in the head. The patented spring loaded broadhead automatically deploys with its built-in kinetic energy maximizing the cutting efficiency of the blades and kinetic energy of the broadhead.

These broadheads use less than 5 pounds of energy to deploy the blades, and they are .039 thick and made of stainless steel. The blades are locked closed in flight using internal spring. No washers, no O-rings, bands or clips, which provides field tip accuracy in a cutting head. When deployed the blades offer a 1 ¼" cutting surface. This truly is a revolutionary broadhead everyone should consider.
TenPoint Crossbow – Stealth NTX
In the world of crossbows, one brand stands above them all. TenPoint has long been considered the best of the best. This year proves that this will continue with their introduction of the Stealth NTX. This crossbow shoots a blistering 410 FPS, delivers 138 FP Kinetic energy and weighs only 7.3 pounds. The Stealth NTX comes in with a 6 inch – (yes you read that right), SIX inch width when fully cocked.
The Elite package includes: EVO-X Marksman Scope, ACUDraw PRO cocking device, Quiver, Three EVO-X CenterPunch premium carbon arrows and 100 grain field points. It also includes a noise dampening system and a TenPoint hard case to protect your investment.
Crossbow enthusiasm has not waned in recent years, and advancement in archery technology is leaping in this market. The TenPoint Stealth is a great buy and a great product.
FireDisc
Traveling hunters and anglers are always struggling with feeding themselves. Gas stoves, firewood, and other options that are really not very feasible. Until now. The FireDisc is a premium portable propane cooker. FireDisc is an extremely well-built, high-performance cooking device designed for outdoorsmen. It gives you maximum portability and cooking versatility but with minimum effort. Its simple dished design allows for multiple cooking surfaces at once. With the heat centered in the middle, the edges offer a controlled slower cooking surface. Also, allowing you to deep fry without having to fill the entire disc with oil. The FireDisc is easy portable and easy to store. In a few seconds it breaks down into three parts and sets up in seconds.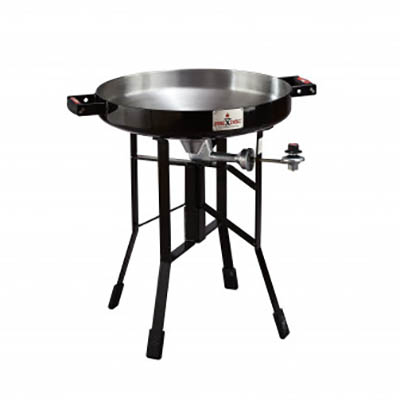 One of the biggest features of this full size cooker is that it accepts the small disposable propane bottles and will burn for approximately two full hours on one cylinder. But for those choosing, it can also be adapted to larger propane tanks as well. With a host of accessories, this is one cooker that you will want to have at your hunting or fishing camp. The FireDisc is available in a 24" and a 36" model with taller legs being the only difference. It is available in both red and black.