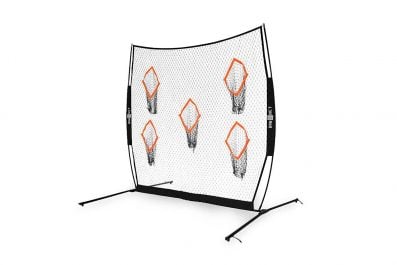 Quarterback practice like you've never done it before.
Aspiring athletes everywhere know that regular training is the key to success, and this includes football. The things you need for the most basic football practice sessions are a football (obviously) and something to throw it at. This can be a pain in the neck for some users though. Chasing every bad shot wastes the time you could spend throwing more balls, and it can lead to frustration that may cut the training session short. But there is a solution to sports training scenarios in the form of products from Bownet Sports.
Bownet makes sophisticated training devices for football, soccer, baseball and more. When it comes to complex football training equipment, the Bownet QB5 Training Net is just the right solution. It's compact, easy to install, and can take the most powerful shots athletes can throw. Better yet, it aids in pinpoint training and throwing techniques with its five sock training pockets that serve as five separate targets. Let's learn more about the Bownet QB5 Training Net.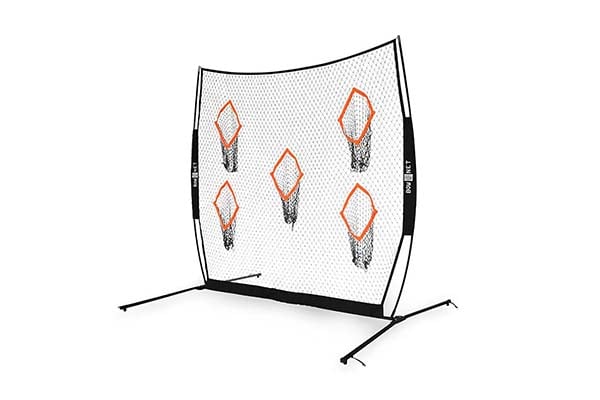 How To Solve Football Retrieval Issues
What if there was no need to run after every poor shot? With the Bownet QB5, you don't have to anymore. There is no more searching for the football after every bad shot. The Bownet QB5 houses footballs until your ready for your next throwing session. Whether you use it in the backyard or at the practice field, Bownet provides a reliable solution to solo football training.

The whole point of this training net is to catch your throws. If you hit the target properly, the football stays in the sock pocket. If you miss, the football bounces off the net and falls to the ground (unless you miss really wide). This net allows for you to maximize
Quarterback Practice: Learn To Quickly Aim!
While it's great to complete a hail mary throw at long distance, the majority of quarterback training involves short, precise throws. But throwing  with precision is often not enough. On the field you don't usually know where you'll have to pass. Your teammates are constantly adapting to the evolving play, and they are constantly moving as you look for open passing lanes. The whole course of the game can change so dramatically you'll have to run, decide and aim at the same time!
With the Bownet QB5 training net, you can aim for any of the five sock training pockets and switch between them as you simulate different passing scenarios. When you know you'll have to pick targets, aim, and throw within a split seconds, training with multiple targets found in the Bownet QB5 can really give you an edge.
Suitable For All Ages
This training solution is suitable for everyone from beginners and children to college football and NFL-level athletes. The Bownet QB5 features the EAS or Energy Absorption System. The net and the frame are designed and calibrated in a way that spreads your shot's energy throughout the whole net. It reduces the tension and lets your Bownet Training Net last many seasons to come.
Add to this steel frame construction, and the Bownet QB5 is extremely durable when compared to cheaper plastic training nets. Whether you want a training net for your kid or if you're a high level pro, this Bownet Training Net can handle the toughest training regiment. As an added bonus, the Bownet QB5 features rubber coated feet on the frame so it can be used indoors as well without damaging your floors.
Train Anywhere, Anytime With The Bownet QB5 Training Net
You can set up football training anywhere you want with Bownet training products. The QB5 can be assembled in less than 2 minutes, and it measures 50" by 9" by 6" when packed and weights 29 pounds. That's a complete training net! With it you can set up training camp anywhere, anytime. Better yet, it helps develop the "No Excuses" attitude that is necessary to success in both sports and beyond.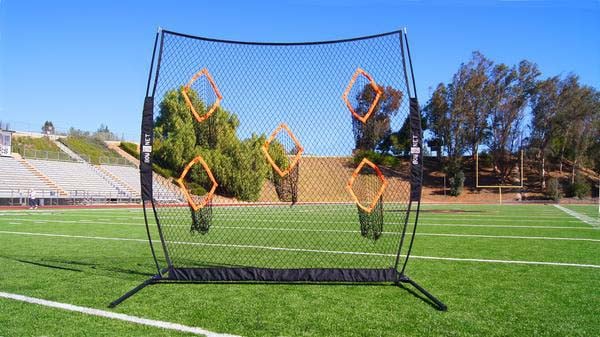 Features
Here are some specifics to help you make up your mind as you decide on your next training device:
Sets up in 90 seconds
No additional tools required
Weighs 29 pounds
Size when packed: 50" x 9.5" x 9"
Includes QB5 netting, stakes, ground frame and carrying bag.
Final Thoughts
Quarterback and football skills training has never been easier with Bownet products and the Bownet QB5 Training Net. It is versatile, durable and portable so you can carry your training environment wherever is convenient for you. Better yet, the QB5 will keep you training no matter where you are including your home, the gym or the practice field. Aspiring athletes and pro quarterbacks alike need to have the Bownet QB5 in their training arsenal.