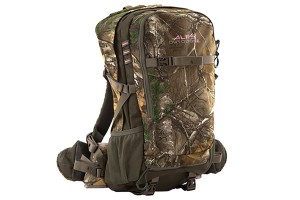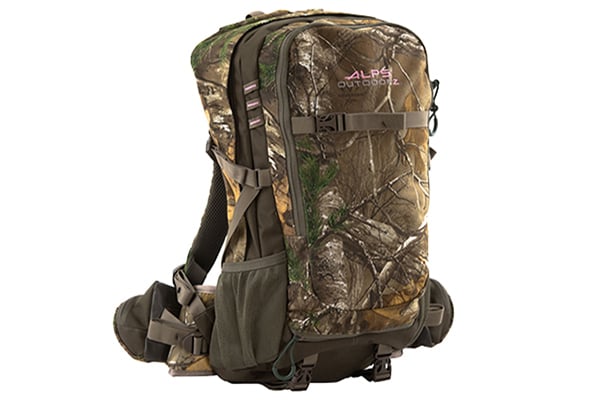 Using a backpack that is improperly fitted for the female hunter's torso length can cause shoulder fatigue, back, and/or hip pain. It is not only vital that your backpack fits your body type properly; it is also important that the pack is designed for the type of hunting you plan on participating in.
Backpack sizes are measured in cubic inches (cu in) equaling the area available that gear can be stowed. Backpacks are specific to their intended use; for instance, a daypack is usually a smaller pack under 2,800 cu in, a multi-day pack is usually 2,900 to 4,400 cu in, and week-long or pack-out frame packs are usually 4,500 to 7,000 cu in, or larger. It is not likely that one pack can serve all types of hunting. If you are hunting shorter hunts, a smaller fanny pack or daypack can suffice. If you are scouting or treestand hunting, a daypack or multi-day pack will work well for most. However, if you plan to hunt backcountry for large game and will be scouting all day, possibly staying out overnight, you will need a much larger pack, and if you plan to pack out your harvest, you will need a pack designed with a frame built for that purpose.
Many "hunting specific" packs are not designed for the female user; very few offer torso adjustments like many of the hiking and camping packs. This often leads to female hunters settling for an ill-fitting pack. For the sake of brevity of this writing, the backpacks made for day or multi-day hunting will be covered. This is the most popular size and can be used for stalking or treestand hunting.
Fitting the Backpack
Most daypacks and all multi-day packs are designed with padded hip belts. Hip belts are often the same size on each model but often some have more adjustment than others so it is important to find one that will adjust to fit you properly. The hip belt is designed to be worn resting on top of your hipbones, one inch above the iliac shelf. You should be able to secure and adjust the hip belt to have at least one inch of room between your body and the pad but not enough that the hip belt falls below the hip bones or does not hold the weight of your back snugly above your hip bones. Technically, 65% of the pack's weight should be on the hips.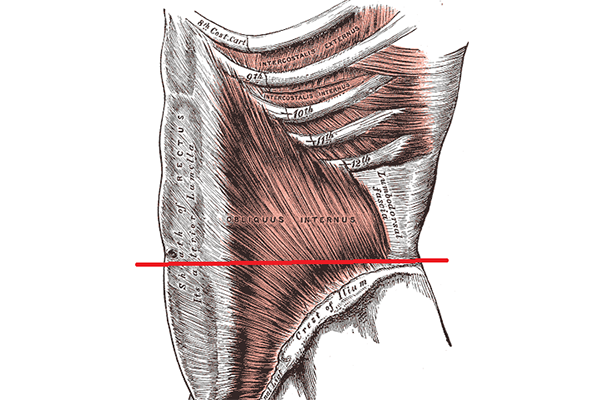 The padded shoulder straps, when adjusted properly, should contour your shoulder without any gaps. The shoulder straps are designed for support, not load bearing. If the shoulders get sore, it is likely that the shoulders are carrying the weight of the pack; the hip belt needs to be adjusted to carry the majority of the weight.
The sternum strap is intended to keep the shoulder straps from falling to the outer part of the shoulders. It should be adjusted to be snug but not tight enough that it pulls the shoulder straps into the neck of the user. Likewise, the sternum strap should not be loose enough that it allows the shoulder straps to rest into the arm and armpit area. The sternum strap seems to be a strap that is often overlooked, however it does serve an important purpose in the proper fit of a backpack and should always be used.
Some backpacks, especially the larger packs, offer load straps at the top of the pack to properly adjust the weight and angle of the packs load by adjusting the load strap to a 45° angle. Most, if not all, frame packs will have load straps and a few other adjustments designed for carrying larger, heavier loads that tend to get unbalanced.
Measuring for Torso Size
An adjustable torso on a backpack is very useful in fitting the variety of shapes and sizes of the female physique. Petite women are often out of luck when searching for a properly fitted backpack. Unfortunately, there are very few companies out there that have designed "hunting" backpacks with adjustable torsos for females. There are several designed for hiking/camping but they are not designed for hunting.
To measure your torso length, you will need a pliable measuring tape to measure the distance from the C7 vertebrae, which is the boney lump you feel at the base of your neck, to the iliac shelf (mentioned above). Knowing the length of your torso will give you an idea as to the proper fit of a backpack by measuring the length of the backpack from shoulder strap to the bottom of the hip belt.
Convenient Features
Considering that a backpack will have to withstand various hunting conditions such as mud, rain, briars, thick brush, slides down creek banks or slopes and hanging the pack from a hook in your stand, it is important to look for packs made of a quality, quiet material that is tear, burr and water resistant. It is also important that the fasteners, compression straps, and zippers are quiet to use. Velcro is always a bad idea for hunting gear unless it is limited to features like a Molle rail pack/pouch that the Velcro is used to secure a pouch and that pouch is not accessed through the Velcro.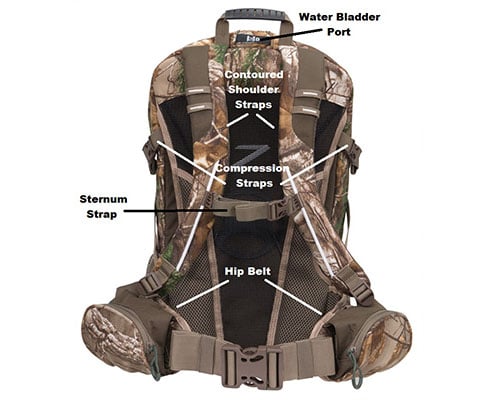 The style and features of a backpack are usually a personal matter. The features can vary of a variety of sizes and number of pockets, compression straps, tie straps, pouches, mesh pouches, interior organizers, water bladder compatible and a variety of other features. With the nature of hunting, it is crucial to have all of your gear handy and accessible. It doesn't take long for a user to get accustomed to where everything is stored in their personal backpack.
Backpacks Available for the Female Hunter
Fortunately, there are a few manufacturers currently offering backpacks designed for the female hunter. Other manufacturers are sure to follow in the near future as the number of female hunters and the demand for quality gear is steadily on the rise. A few of those companies offering backpacks designed for female hunters are Tenzing Outdoors, Badlands, and Alps Outdoorz.
Tenzing Outdoors offers the Women's Day Pack (TZ 1215W) that is a 1,215 cu in pack with an internal aluminum frame stay, slim padded shoulder straps, and padded hip support designed for women. The TZ 1215W offers a total of nine compartments and pockets, a bow/gun carrying boot, a rain cover and is water bladder compatible. There are two lower compression straps for attaching additional gear or to stow those extra layers you take off when the day gets warmer. The TZ 1215W is available in Realtree Max1 or Realtree Xtra.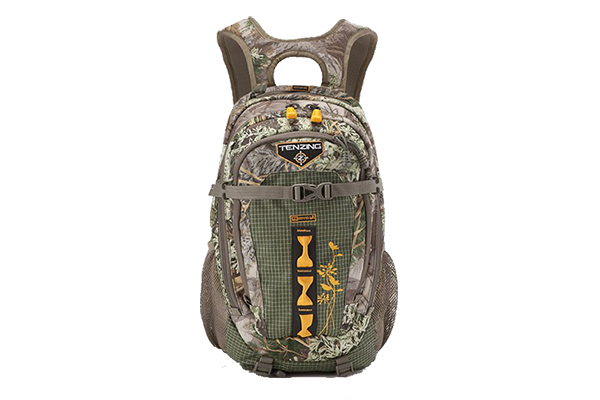 Badlands Kali Day Pack was one of the first women-specific backpacks to hit the market and its longevity in retail holds true to its reputation. The Kali daypack offers 2,500 cu in storage with a shorter torso, heat hardened steel frame, Hypervent Suspension, contoured shoulder straps, an angled padded hip belt designed to fit the natural curvature of women's hips. The pack offers several interior mesh pockets, two on the hip belt, water bottle/side pockets, and is water bladder compatible. The Kali is available in Ultra Quiet KXO-32™ fabric in Realtree Xtra and Realtree AP.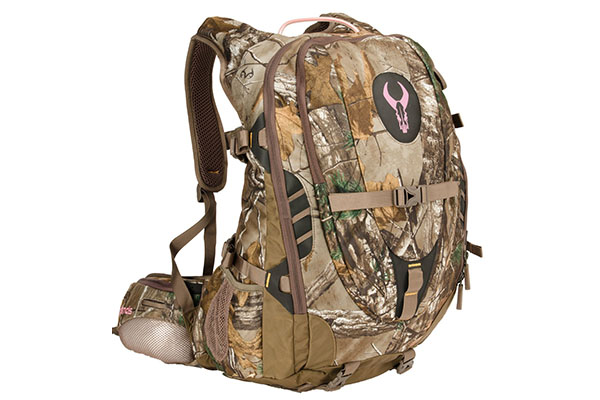 The updated Huntress backpack by Alps Outdoorz is designed for women and features a vented back for maximum airflow with a tubular lightweight frame and a thinner design padded waist belt with two pockets. The 2,200 cu in Huntress is designed with an organizational sleeve in the front pocket, water bladder compatible with a hydration port, side mesh pockets, a bow/gun drop-down boot, a blaze orange rain cover and side/bottom compression straps. The exterior is a quiet brushed fabric in Realtree Xtra.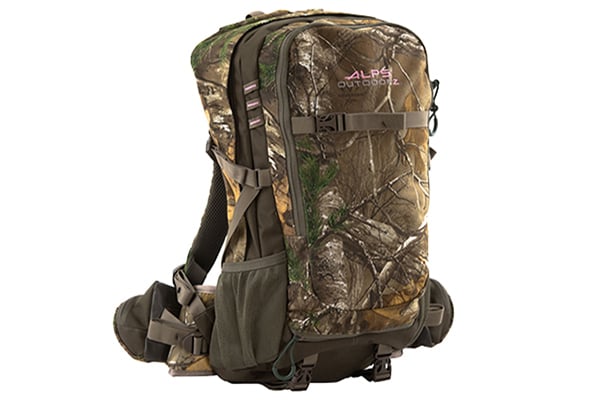 You should invest as much as you reasonably can in a good quality backpack for your intended hunting style; splurge if you can. A quality backpack is going to offer you many seasons of good use and will protect your gear, electronics and field supplies. The most important factor in backpacks designed for female hunters is not only to purchase one that fits you properly but also to wear it correctly when you use it. Granted, a 100 yard walk to your stand may not cause an issue with an improperly worn or fitted backpack, but properly wearing the backpack on a longer walk to your stand or a stalk hunt will not only alleviate a sore back and shoulders—it can also make a big difference in being mobile, especially so you can quickly act and place a successful shot on unexpected game that you may encounter along the way.
Endorsement Disclosure: Per the guidelines of the Federal Trade Commission, the products reviewed or mentioned within this writing is an endorsement and the writer may or may not have been compensated by "in-kind" payment to review the product. Logos and photos are the sole property of the rightful owner and used within this writing solely for the promotion of products herein as requested by the product's manufacturer or in efforts of product exposure for the manufacturers.