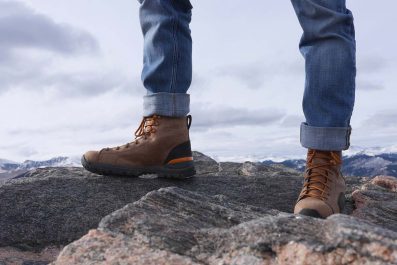 By David Link
Work or play, the Danner Stronghold excels in style and comfort. If your day
to day takes you into either the job site or the outdoors, the Stronghold is a great place to start.
Frankly work and recreation blend together as far as footwear goes in my life. I own several pairs of reliable boots, but none of them are earmarked "work" or "recreation" specific boots. This is because I believe in regularly wearing boots that can do it all. I need to be comfortable, protected and mobile. Of course, when I face deep snow, my boot of choice may change, but for daily use, I want something I can trust. It should be noted I am not regular contractor or on the job site everyday, but I'm no stranger to hard work either. So when I first came upon the Danner Stronghold Boot, I was intrigued by its outdoor styling and work-first focus.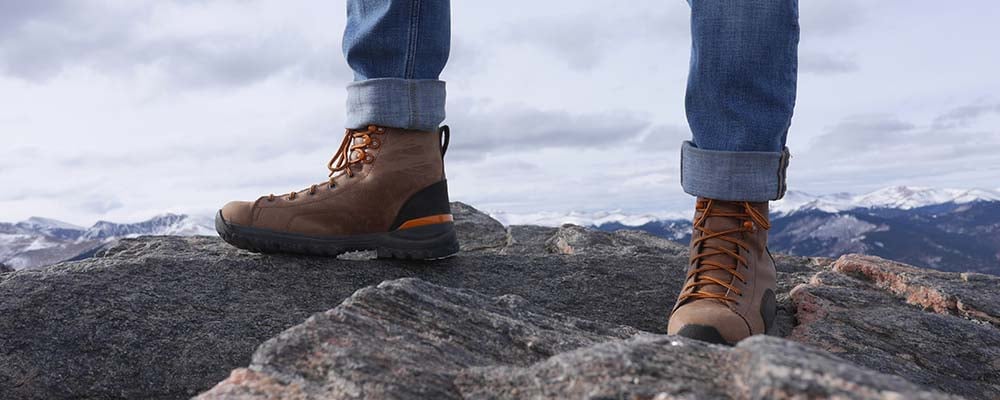 First and foremost, nothing catches the eye like the classic boot look, and I would argue no one does it better than Danner. Founded in 1932, Danner embodies the storied history of quality Pacific Northwest craftsmanship also found in other legendary brands like Leupold and Benchmade. While so many footwear brands have moved to flashy hybrid designs and athletic-focused concepts in their boots, Danner has always honored the classic boot style. Simply put, when I see a pair of Danner Boots, I immediately think "rugged," and I'm certainly not alone. Let's take a closer look at one of Danner's most popular models for 2018 / 2019, the Stronghold 6″ Boot.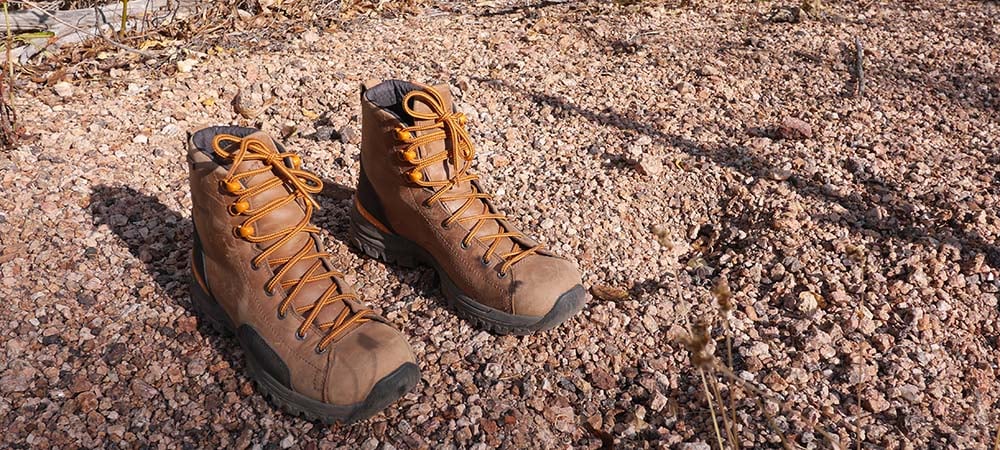 Basics
The first thing you'll notice about the Danner Stronghold Boot is the beautiful brown full-grain leather upper. Danner takes great care to select their leather materials, in fact I've seen it first hand at their factory. They will even trace key areas of a full sheet of leather with visible lasers to ensure they get the strongest pieces for each boot. They have leather selection down to a science, so much so that I couldn't accurately convey it in this article. Suffice it to say my tour of the Danner Oregon Factory was unforgettable.
While the Stronghold isn't recraftable like some of the true works of art coming out of their Portland, OR factory, it is essentially the next best thing, and it comes at a more friendly price point. My first instinct upon opening the box was to take the new Danner Stronghold Boot out on a hike, and I did just that, even with the work boot focused features. Unsurprisingly they performed just like the other pair of Danner Mountain 600 Boots I have. But then I started to use the Danner Stronghold Boots in my normal day to day exploits, and that's when this model really started to shine.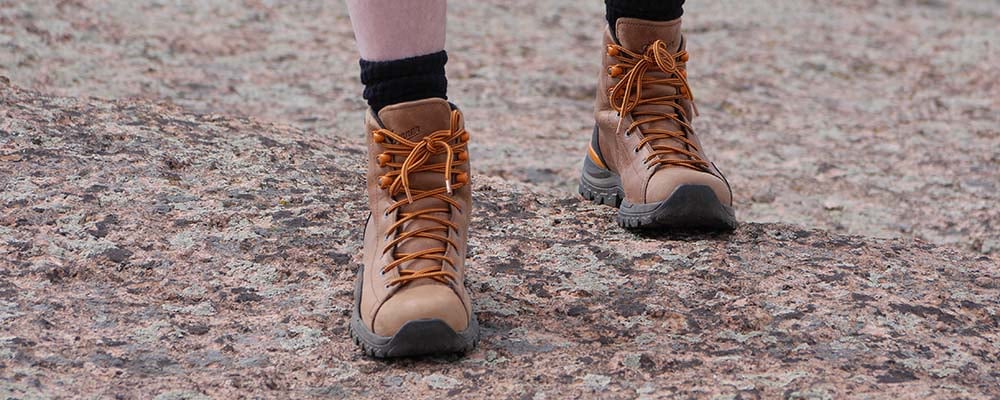 To be clear, Danner manufactures their boots all over the world, and the Stronghold is imported. It is not a made in Oregon model. Before you click away from this review, let me argue that Danner's imported models are finer than 99% of the other imported models you'll find on the market. This is because, again, Danner has a craftsman-forward approach to boot manufacture, and that will shine wherever their footwear is made. So while the Stronghold isn't a $300+ model made in the US, it's without a doubt the next best thing, coming in at sub $200 and looking like any legitimate work / lifestyle boot should.
A big introductory feature of the Danner Stronghold is a "no break in" design. They have selected a soft leather and an ultra-generous footbed design to create a boot that's ready to go right away. Trust me, I tested that concept with a straight seven mile day right out of the box. When I took them off waiting for that classic "break in" hurt, well it never came. Bonus points for Danner. After all, if you need a reliable boot right away, you shouldn't have to suffer through two to three break in periods. Let's take a closer look at what the Danner Stronghold has to offer.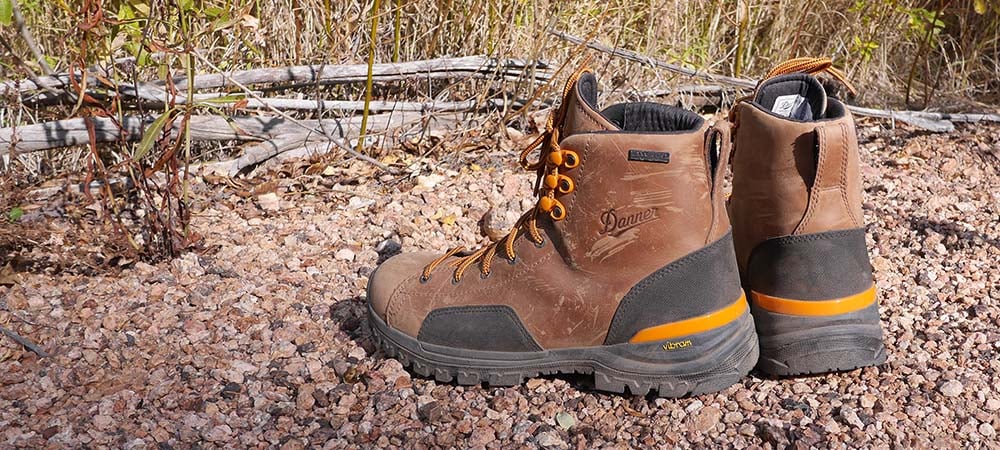 Specs
Boot Height: 6 inches.
Weight: 43 ounces per pair, 21.5 ounces per boot.
Upper Material: Full grain leather upper.
Environmental Resistance: Waterproof and EH (Electrical Hazard) Certified.
Boot Liner: Danner Dry.
Midsole: Vibram SPE Midsole with rubber construction for comfort and longevity.
Outsole: Vibram Stronghold with Oil And Slip Resistant Design.
Footbed: Ortholite Footbed Included.
In The Field
I've had the pleasure of wearing the Danner Stronghold Boots for several months now, and they've quickly become my go-to universal work boot. Again, I'm an outdoor guy, sometimes this boot ended up in "less than work and more outdoor" environments. Honestly that is all part of this boot's workload. From mud to concrete and back again is how I envision the marketing for this boot, and that's how I utilized them. After all, Danner envisions this as a work site boot as well. Truly a work boot knows no boundaries. Their favorite way to represent the boot is on the jobsite in a large utility-scale solar job. Truly it makes a lot of sense. A progressive boot on a high-tech job site which still has plenty of dust and mud to trudge through.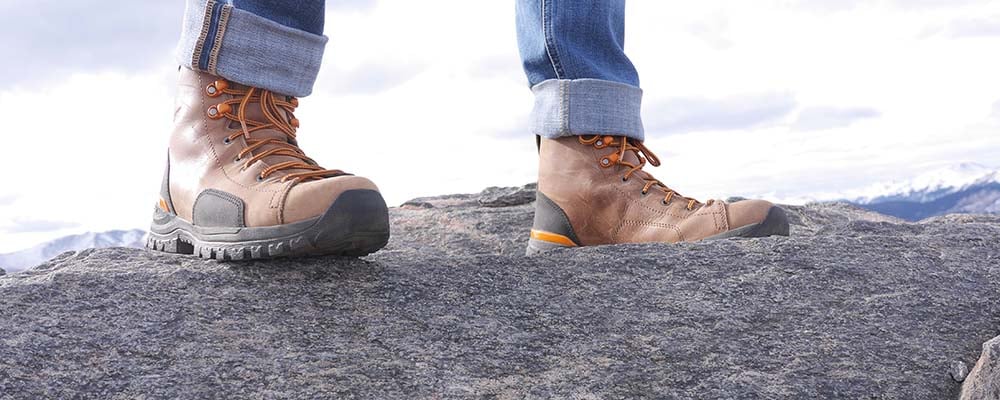 Leather And Tongue
It's no secret the leather Danner has selected for this boot is beautiful. It's a rich full grain leather treated with Danner's waterproof resistance. Below a signature Danner Dry liner ensures your feet won't get soggy even when the weather doesn't cooperate. Of course the leather does require regular care to keep it shining like it comes out of the box. Even after one day in the field with scrub brush and muddy trails, the boots looked a little rough when I got back home. When it's time to clean and condition the boots, Danner makes their own line of boot care products.
SPE Midsole
Quality support is key in a work boot, and Danner has paid special attention to this in the Stronghold. As a result, they've moved away from the traditional EVA midsole (most footwear brands utilize this material) and instead they've selected a tougher rubberized EVA composite. EVA is a popular material because of its cushioning properties, but it's also rather cheap, which means it breaks down easily. This is certainly not ideal in a work boot. Instead Danner has strengthened the EVA structure with a rubberized composite so you get the same support, but with better durability. The rubberized EVA component is heavier than the traditional EVA, but this isn't a deal breaker in a work boot like this. The boot itself doesn't feel too heavy for me.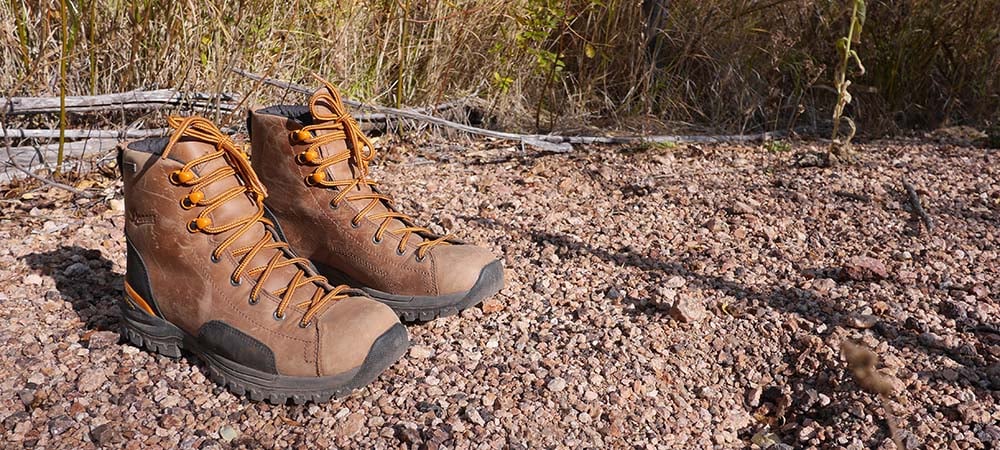 Oil And Slip Resistance
Oil and slip resistance is not always a feature offered an outdoor / work hybrid boot. Yet Danner has included this as part of their feature set in the Stronghold, and it may just save your hide on slick pavement or concrete.
Determination
Danner has yet another winner on their hands in the Stronghold Boot. First, the look of this boot will impress anyone right off the bat. Classic orange laces set against stylish full grain leather and a rugged black outsole, it doesn't get much better than that, and certainly is an unbeatable look for the price point of $190 MSRP. As a bonus, you can get the Danner Stronghold with our without a composite toe, and it's available in women's 5″ models with or without the composite toe as well. Danner has taken great care to cover the needs of all end users, both men and women, which is great to see.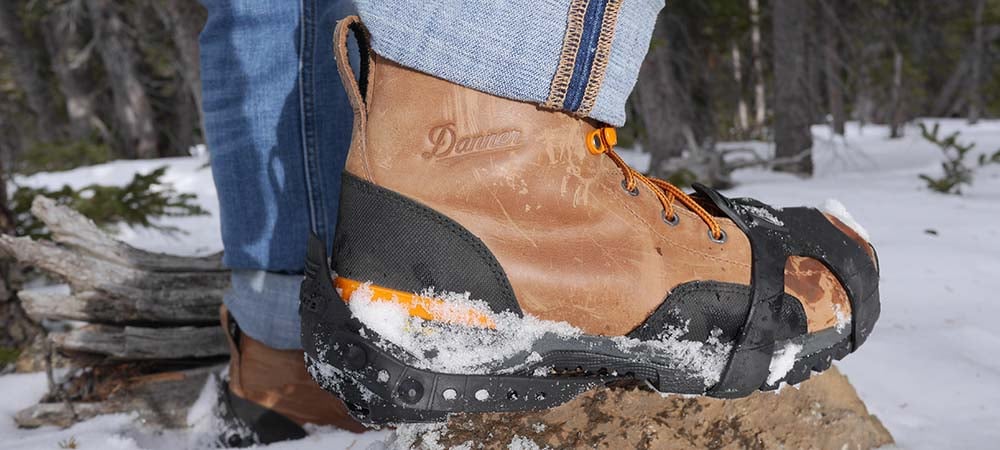 My biggest issue with this boot is really no issue at all. Danner has added an orange accent above the heel of the boot, and I feel it looks a little out of place given the traditional look of the rest of the boot. Again, it's pretty hard to miss if you're not looking for it, especially when worn with jeans or work pants.
In addition, the outsole of this boot isn't engineered for serious mountaineering. Danner has other models for that, and I recommend focusing on those if that's your end purpose. They certainly handle themselves well in mud, grave and rock, so no worries there. In addition, the breathable non-insulated design isn't very conducive for winter work in my opinion. Even when I wore them in the snow, my feet felt a little chilly to be honest. It's outsole doesn't perform exceptionally well in snow either, but it's enough to get you by. Again this isn't the primary purpose of the boot, so take it with a grain of salt. Finally, if you're looking for a top tier work boot, I would probably advise a more expensive Danner work model over this one. Remember keep in mind your end use, a work / outdoor hybrid boot isn't the same as a top tier recraftable work boot.
For a reasonably priced work hybrid boot, the Danner Stronghold is an excellent choice. It's packed full of great work features like oil and slip resistance and electrical hazard protection, and it wears like a comfortable outdoor boot without requiring much if any break in. Give it a closer look next time you're in the market for a pair of boots.