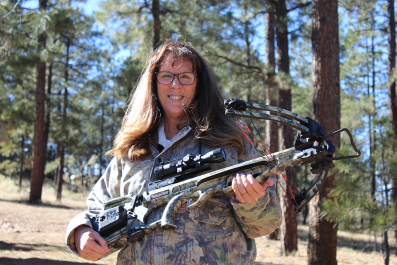 By Linda M. Gilbertson

Hunting wildlife is a sport enjoyed by both men and women. In the past, you've heard the story of the guys going hunting and the wives remaining at home. If you were to pick up any general magazine, featured articles would mention golfing, hiking, and water sports as fun activities to do together. But rarely would these magazines mention hunting and attribute the word 'FUN' to stalking prey and lying in wait for the kill. You'd have to find a specific hunting magazine to deal with this topic. Hunting has always been treated differently than any other sport.
New equipment in the hunting industry and a change in society's view on acceptable women's activities has been instrumental in making hunting a couple's sport and a family sport. Women enjoy putting food on their own table, and the clothing and firearms industry has finally gotten on the "band wagon" to promote female hunters. Men and women can discover a new adventure that caters to both. Women can be physically comfortable while hunting with new and improved clothing. With new and improved compound bows, crossbows, blinds, tree-stands, animal calls, and proper training, women find that their hunts are gratifying. With a rangefinder and new and improved broadheads, hunts are more successful and ethical.
Jennifer And Ron Way
Let me introduce Jennifer and Ron Way of Overgaard, Arizona. I met Jennifer when she came to me to learn how to shoot a pistol. Little did I know that she was already an avid hunter with her husband. I spent several hours with them recently, learning all about their journey hunting wildlife using a compound bow and a crossbow. The emphasis centered around scouting, wind direction, where to position stands or blinds or how to approach or stalk depending on the terrain. We also discussed wind direction and waiting for the right moment for the animal to present a good shot opportunity.
Ron retired after 30 yrs. in the Aerospace Industry. He was the manager of Research & Development in the Instrumentation Lab at Honeywell. He owns four patents, one most recently is a broadhead called the Hypodermic NC (no-collar) Mechanical Broadhead. It has blades that stay locked back in flight to allow the fletching's to stabilize the arrow, and then the blades open upon contact to penetrate the target. The blades are razor sharp. The purpose of this design is to have the arrow impact where you're aiming and quickly kill the game.
Jennifer retired after 26 yrs. as an accountant of a school district. For the last ten years of their 46-yr. marriage, Jennifer has learned from Ron both archery and rifle hunting. Their love of both forms of hunting has taken them abroad as well as around the United States enjoying many different species of game. As a result, their freezer is full, and their home reflects the passion of their adventures.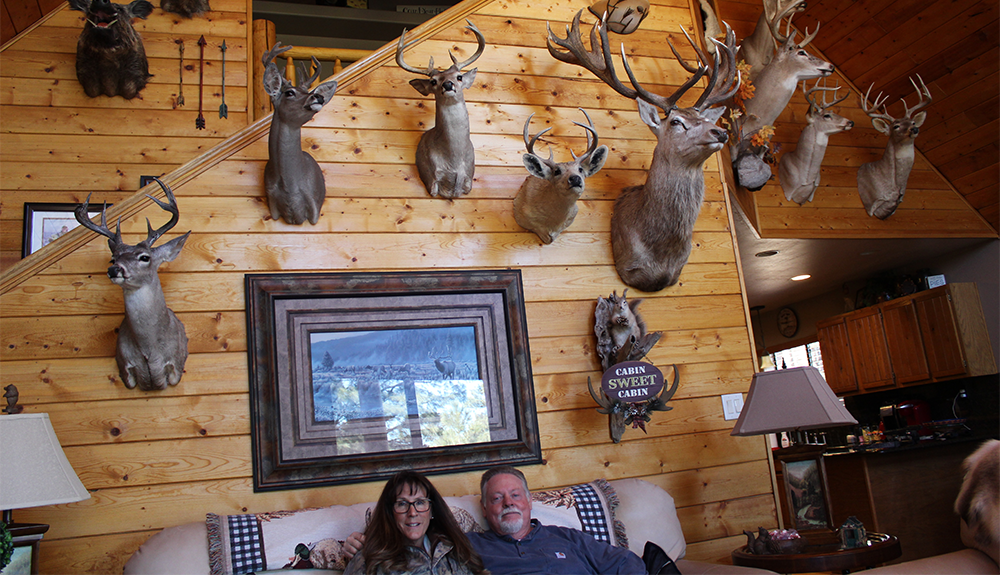 Jennifer recently purchased a crossbow. She also owns a compound bow but has found she no longer has the strength to pull the adequate poundage to humanely kill large game animals. With her crossbow, the TenPoint Titan SS with the ACU attachment andRon's prototype of the Hypodermic NC Broadhead, she took this White Tail Deer in Oklahoma at 40 yards. The TenPoint Titan SS was Jennifer's choice for a crossbow.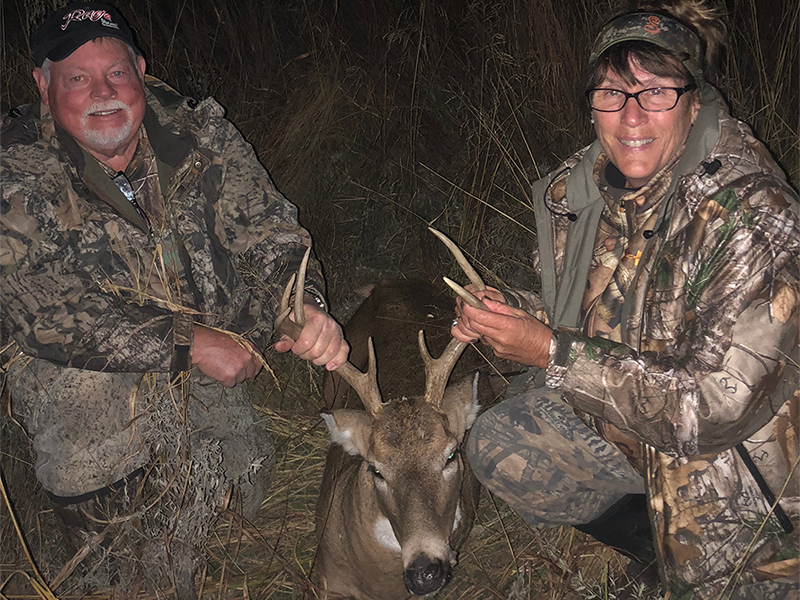 TenPoint Titan Specs
• Adjustable Fusion S stock.
• 18.5-inch bow assembly powered by 175-pound HL limbs.
• Lightest, shortest and fastest version of the all-time best
selling Titan crossbow.
• 340 FPS/95 key, 175 lb. Draw.
• Mossy Oak Tree-stand Finish.

Included with the crossbow is the TenPoint's 3x Pro-View 2 Scope mounted on a machined aluminum 7/8-inch Fixed Dovetail Mount. Also included are three-pack of TenPoint Pro Elite carbon arrows with 100-grain practice points. The TenPoint Titan SS weighs only 6.7 lbs. and has a length of 35".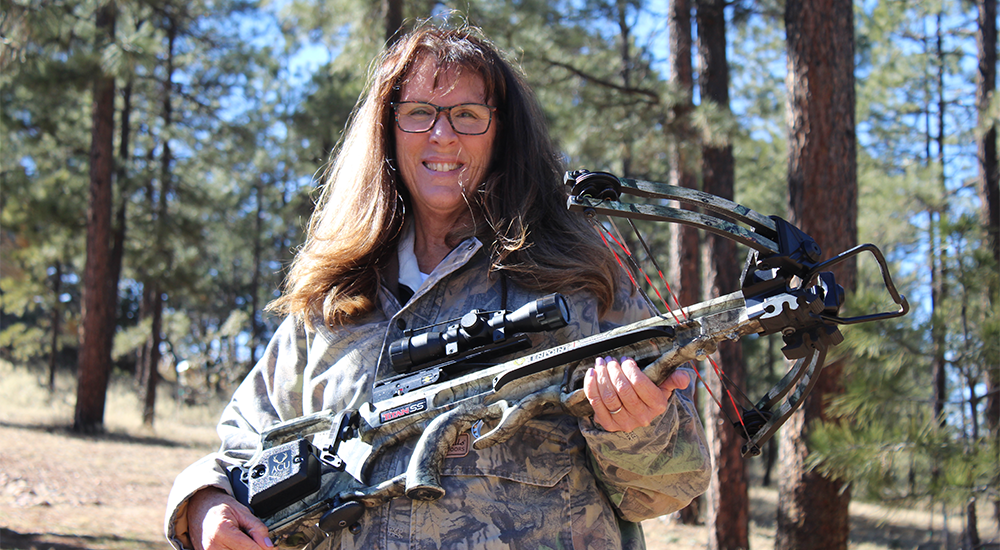 Talking Gear With Jennifer And Ron
Ron is an avid bow hunter and uses a compound bow called the Bowtech Destroyer. He has been archery hunting for over 55 years. Ron believes that continuous practice is needed to make sure that when the opportunity arises, you have a better chance of making a good shot. Ron recommends the use of a rangefinder to accurately determine the range to target. He uses the Leupold RX1300 TBR.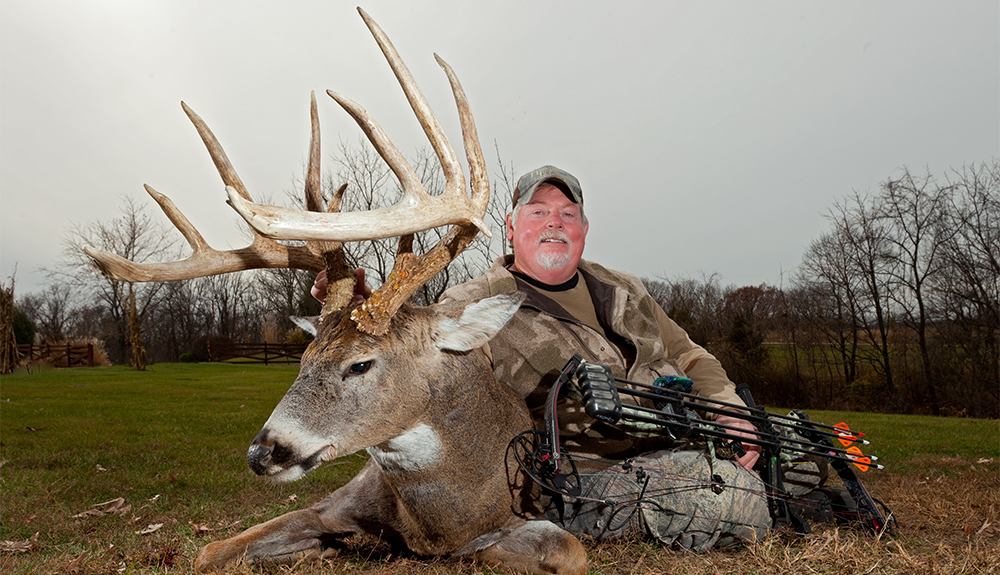 In the US and New Zealand with the Bowtech, Ron has taken many big game animals. Among them cous deer, mule deer, elk, a black bear, whitetail deer and red stag ranging from 15-50 yards. He shot a trophy whitetail deer taken in Illinois at 24 yds., and a trophy elk taken in Arizona at 35 yds.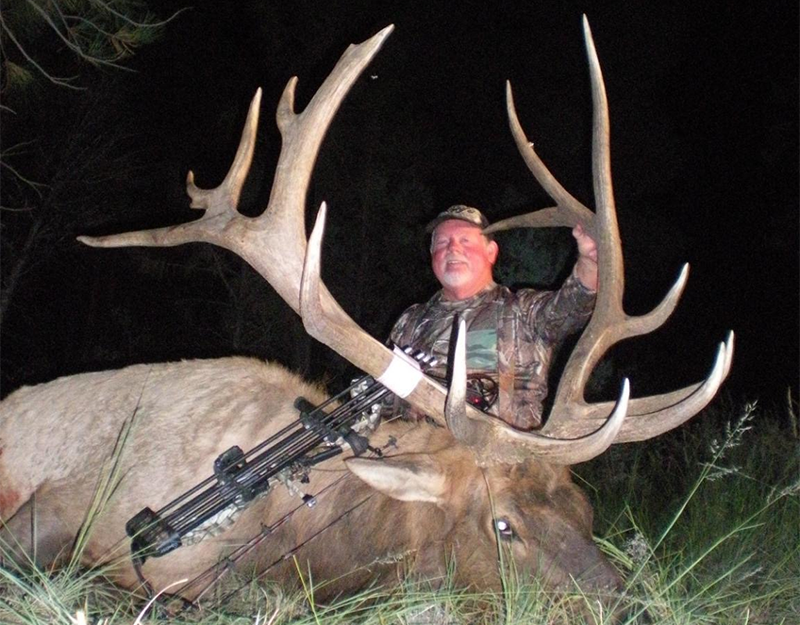 When the discussion turned to hunting clothing, both Jennifer and Ron mentioned that they have a variety of clothing, dependent upon the area in which they're hunting but it must be soft and quiet. Primary concern was their footwear. As an example, hunting in Oklahoma necessitated wearing insulated Muck Boots because of the footing they encountered and to take your human scent off the ground. The Muck Boots which have lasted for 15 years are able to handle the mud and snow. Their other boot of choice is the Danner Pronghorn which is also durable as well as practical for rugged terrain.
As I wrote in an earlier article on archery: "Throughout history there has been a love affair with the bow and arrow. It continues today in archery competitions and hunting. If you want to join the millions who shoot archery for fun and sport, purchase a good quality bow from a respected and reliable source. Next, have it properly fitted and learn from an experienced competent instructor who'll steer you in the correct direction to start your love affair." To add to this quote, please consider practice, practice and more practice to perfect your aim as straight and true. Practice and the right equipment lend itself to becoming an ethical archery hunter.