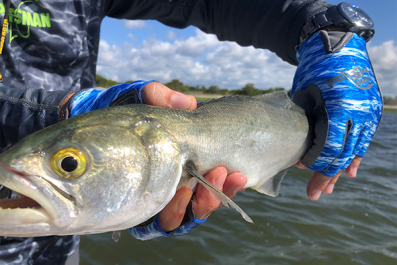 In a few days, I will hit my next birthday where I will be 45 years old. And for nearly all my life, fishing has been a part of my culture living in eastern South Carolina. From the mountains of Montana to the Gulf Coast of Florida, fishing runs in my blood.
When I first saw fishing gloves come onto the market several years ago, I was a little skeptical of why you needed gloves for fishing. Sure, gloves may come in handy during the winter when its 34 degrees outside. I didn't understand the need for gloves for everyday fishing, until last fall when I field tested the Fish Monkey FM 11 stubby model. I loved them and continued to wear them fishing all winter long. I stopped wearing my FM11's back in April because I received a package in the mail with one of Fish Monkey's newest editions, the FM 21 Pro 365 Guide Gloves. I gladly switched them out to see how well the new model performed.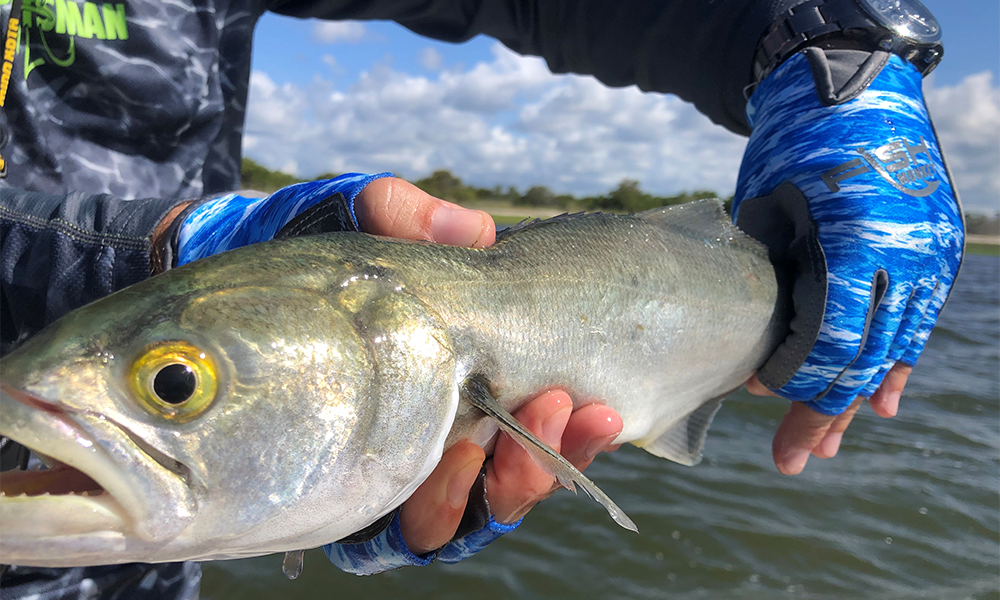 Fish Monkey FM21 Pro 365 Guide Glove
The FM21 PRO 365 Guide Glove is very similar to the FM 11 stubby model and carries all the benefits of the FM 11. The major addition with the FM 21 is the full covering of synthetic leather on the palm-side if the glove. It adds additional grip, comfort, and support. And I can tell you when you handle several dozen slimy fish, the full covering of synthetic leather provides the additional grip needed. The FM 21 also has an extended cuff to provide additional UV protection and it really provides a more comfortable fit.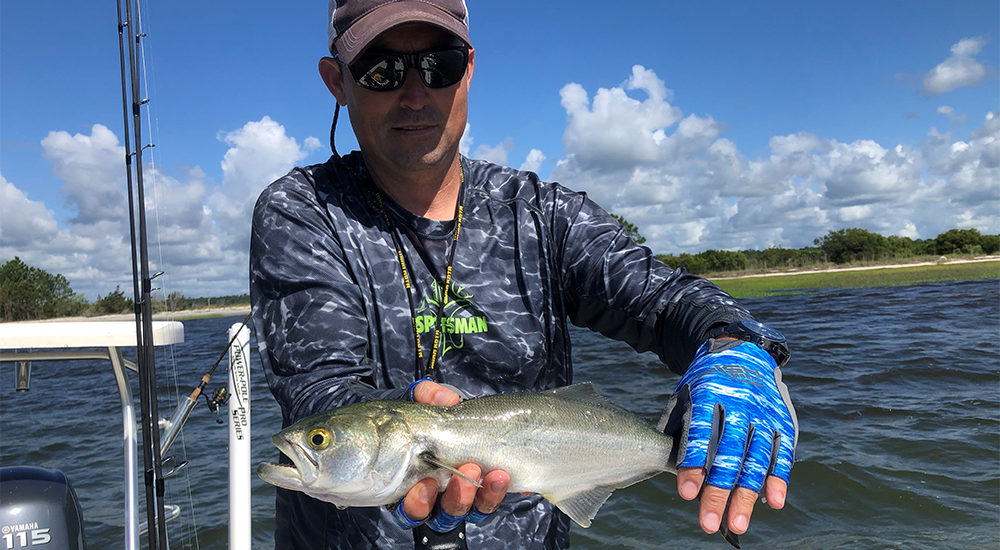 Fish Monkey sells a wide variety of warm weather fishing gloves from full fingered to fingerless models that improves comfort while fishing. They provide excellent protection from the sun, abrasions, and other potential hazards while on the water.

In addition to handling fish, the gloves provide comfort and protection while doing other boating tasks such as: retrieving anchor rope and poling from the platform. Poling the skinny waters for redfish and snook can be very exciting, but it also can come with issues. Many poling shafts are made of fiberglass and the small glass filaments often splinter and get lodged inside your hands. Fish Monkey's gloves provide the perfect protection against fiberglass injuries. And not to mention, wearing gloves make poling through the marsh much more enjoyable with the added grip and abrasion resistance.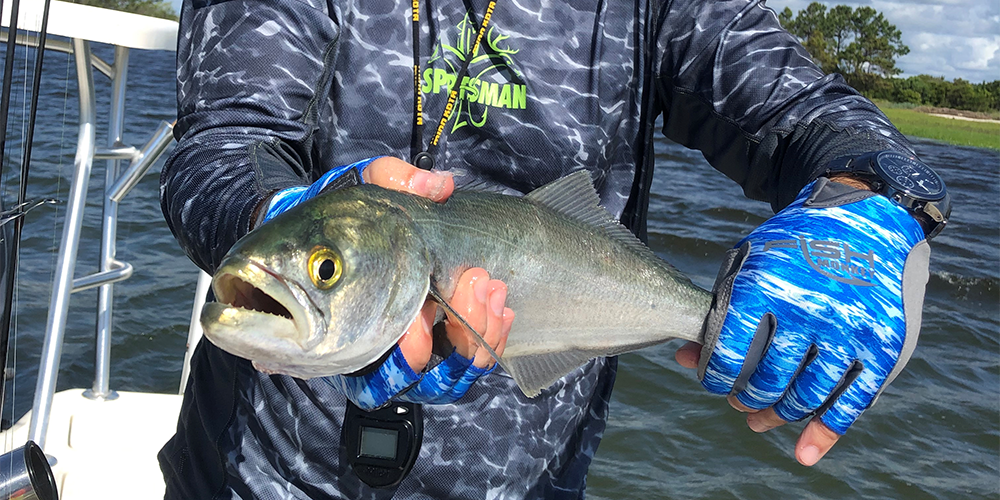 Fish Monkey continues to impress anglers with their new innovations. And their new lineup for 2019 hasn't disappointed anybody. The FM21 PRO 365 Guide Glove comes in four colors, including two new colors, the blue water camo and tarpon.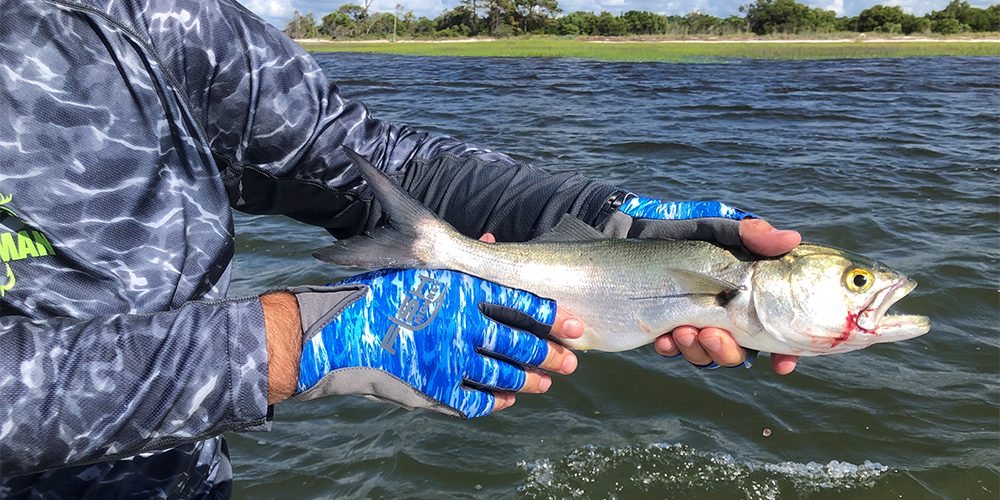 Fish Monkey FM13 Fillet Gripper
Cut Resistant Glove
Fish Monkey makes all kinds of gloves to assist anglers wiring in a 600-pound blue marlin or for reeling in spadefish on a reef along the Atlantic seaboard. But, they also make fish cleaning gloves that provide superior grip and ultimately resist knife abrasions. Their fish cleaning model is called the FM 13 Fillet Gripper Glove.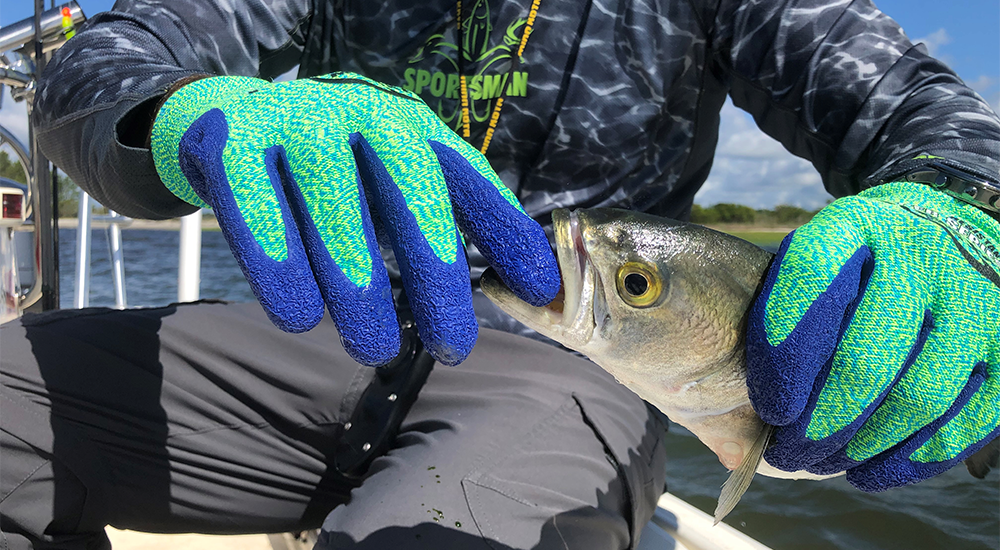 I recently fished with my friend, Mitch Steines from Camden, South Carolina. We went out of Little River Inlet and caught several dozen sheepshead and black drum. I was excited about using the FM13 Fillet gloves to clean these fish, and I was again very surprised at how much I liked using the gloves. After trying them on the first time, I wasn't too worried about cutting through them. I was more concerned with the grip abilities when trying to fillet the fish. I had no problems gripping the fish fillets nor did I have any issues guiding the knife blade across the fish's spine. In fact, I had so much confidence in the cut resistance, I used the gloves to help me guide the blade where I needed it to make the ideal cuts.
Besides using the gripper gloves for cleaning fish, they are great for handling fish because most fish have sharp teeth, spines, or gill plates that can be devastating to your hands.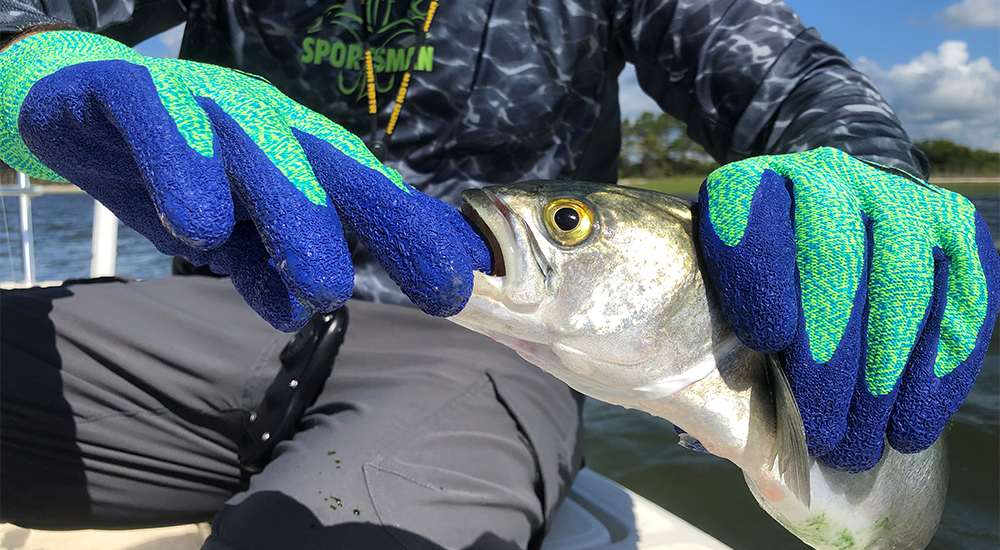 I wanted to test them out with some toothy fish and see how they performed in an unforgiving environment. I chose to bring them on another inshore trip where we were catching two to four-pound bluefish on every cast. Bluefish have teeth and they will snap down on anything that comes anywhere close to their jaws. I slipped on the gloves when I caught my first bluefish that day and I had no issues getting the fish under control and dehooking the fish. I was surprised at how well the gloves grip the bluefish. These fish typically have thick slimy coatings and they can be a challenge to handle, especially when you know there are two rows of finger removers inches away from your hands.
Just for fun, I put my finger inside the bluefish's mouth to see if he could puncture the glove's 13-gauge knit/ANSI 5 cut resistant construction. As soon as the fish clamped down, I immediately flinched, but all I felt was a little pressure. These gloves are perfect for dehooking and handling toothy fish. I am not sure I would test out the bite mechanics of a bull shark, but for small toothy predators, the FM 13 Gripper Gloves are great for de-hooking.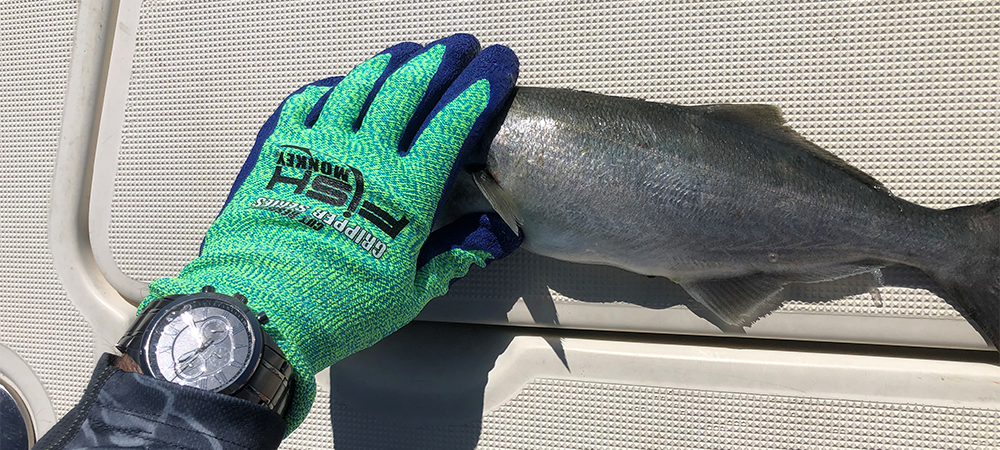 Another benefit I detected from the FM 13 Gripper Gloves is the snug fit. Most fish cleaning gloves have a loose fit that will quickly cause wrinkling up and disconnection between the fingers and the fish. These gloves do neither. They are snug and fit similarly to the FM 18 and FM 21 fishing gloves.
Fish Monkey Face Guard (New for 2019)
Fishing isn't supposed to be a contact sport. But fishing in the hot sun all day provides the angler with plenty of harmful contact. While the sun may warm you up on a cold day, it can make you hot, burn your skin, and even send you to the grave with skin cancer. It's easy to cover up most of your body except for your face. Anglers get exposure from the sun from above and from the reflection down below. The only way to prevent exposure is to cover your face. But, who wants to cover up your face when its 95 degrees outside?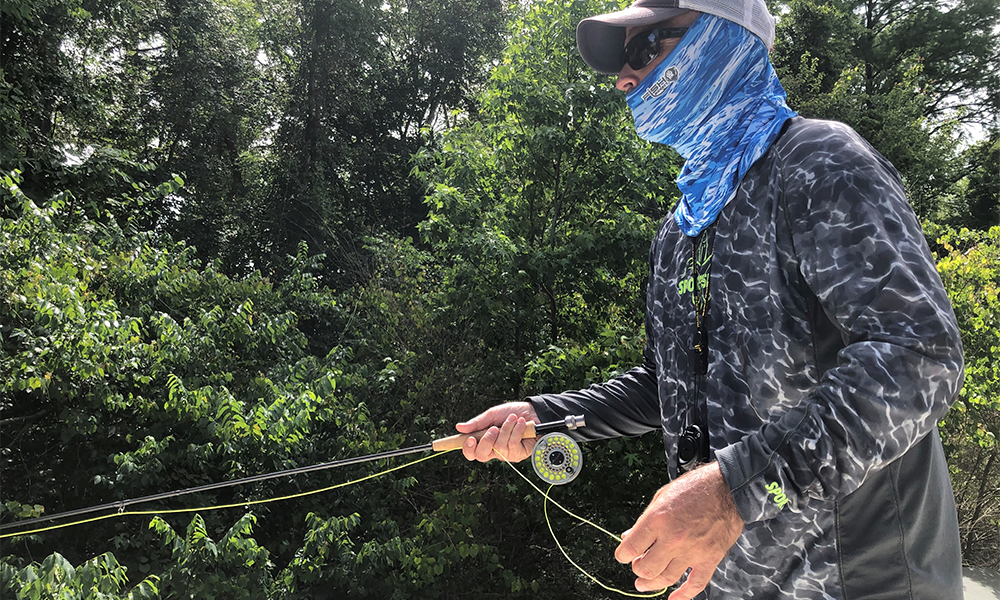 For the last few years, several companies have started making lightweight buffs made of thin, breathable materials. These buffs are constructed of stretchy, synthetic materials to provide UPF coverage in a breathable package. Beginning in the spring of 2019, Fish Monkey decided to improve these buffs by using their own technologies to produce the most functional, lightweight, comfortable, face-protecting product on the fishing market. And that is exactly what they did!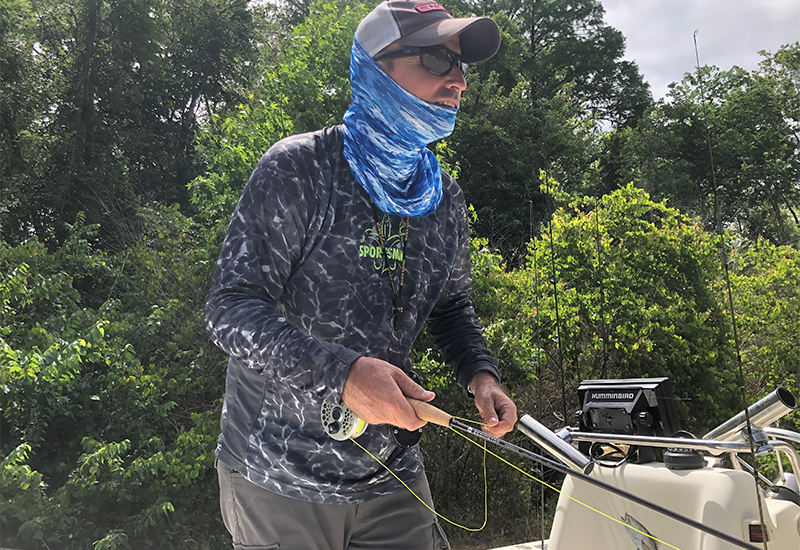 The Fish Monkey Face Guard features a featherweight product constructed with the latest in sun protection technology. It has a vented mouth to reduce sunglass fogging and a flared bottom to provide coverage to the back of the neck where many other buff manufacturers fail.
I wore the Fish Monkey Face Guard on several trips in the South Carolina sun and it was very comfortable to wear for a long day on the water. I typically wear a hat, long sleeves, and long pants on most of my fishing trips anyway. There was a time when I took off my shirt and tried to get a suntan. But, I have learned, the sun will not only give you cancer, it cooks your skin and will make you very hot and uncomfortable. Covering your skin will make fishing and other outdoor experiences much more enjoyable in the long run. And the Fish Monkey Face Guard is a good way to keep your skin protected and to make your outdoor adventure continue.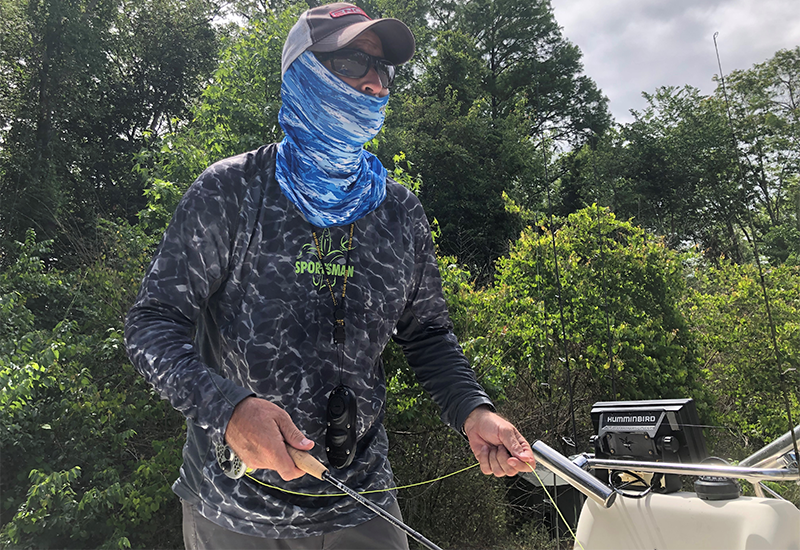 The Fish Monkey Face Guard comes in 14 eye-catching colors from a redfish or tarpon scale design to the mesmerizing Voo Doo swamp neon purple that will turn heads anywhere.