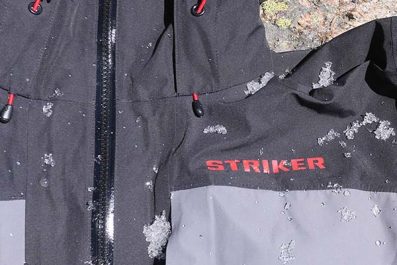 Last Updated on
Striker's new eVolve Rain Gear system is rugged Jacket and bib system built to resist the worst nature can throw at you.
By David Link
Striker Ice is famous for their ice fishing gear, especially the SureFlote technology built into their ice fishing apparel like the Striker Ice Predator Jacket. SureFlote uses closed cells in the membrane of the jacket and bibs / pants to keep users alive and afloat for up to two hours if they fall into the ice. Needless to say Striker is familiar with designing game-changing protection against the elements. Recently Striker has turned their attention to a new form of raingear known as the eVolve system. This jacket and bib combo (new for 2019) utilizes eVent fabric that offers an exciting alternative from a GORE-TEX heavy outerwear market. Let's learn how eVolve and eVent Direct Venting works and take a closer look at how the eVolve jacket functions in the field.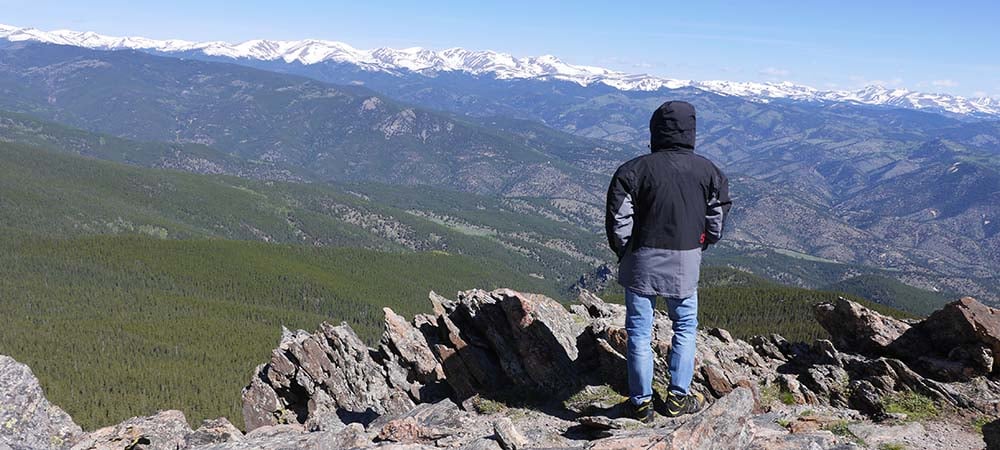 eVent Direct Venting Fabric
The focal point of the new Striker Ice eVolve system is eVent Direct Venting Fabric. At this point we've probably all heard about moisture wicking, breathable apparel. You can find it in every type of garment from underwear all the way up to heavy duty parkas. These days a lot of performance footwear is outfitted with the technology as well. The goal of this tech is pretty simple. As you are active and work, hike, or whatever, this builds up heat which creates sweat. In items like jackets, the heat and sweat can become trapped and create some pretty uncomfortable situations for the wearer. They can become soaked with sweat and uncomfortable, or worse the sweat can cool their core temperature when activity diminishes to create a potential hypothermia scenario. Simply put, if you're looking to buy performance outdoor apparel, it had better vent heat and moisture, otherwise you're going to have a bad time.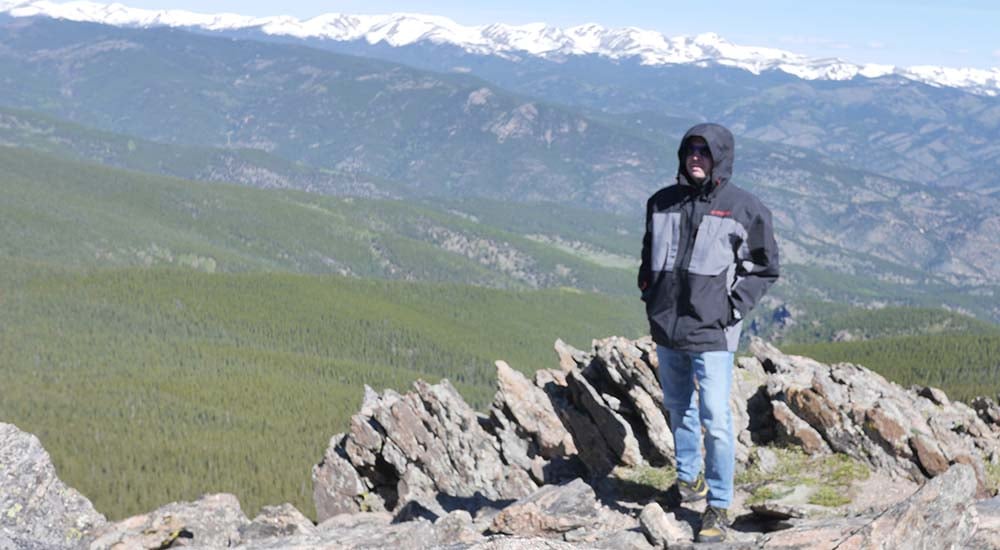 How brands achieve this venting of heat and sweat is less simple. It revolves around creating different membranes to control the flow of heat and moisture. A garment must keep water molecules from penetrating into the core of the wearer with an outside membrane, but also allow water vapor and heat to leave. When you get down to the science of things, this is more intuitive than you think. Water molecules are larger than water vapor, so all you need to do is create micropores that let water vapor travel up and out (for example heat from activity) but keep the larger water molecules (rain drops) from seeping into the pores.
eVent Fabric is designed to do just that, but it has a distinct advantage over competitor fabrics. eVent does not need to warm up to a set temperature to vent heat. This is something I actually just learned using the Striker eVolve system. Up until now I didn't know my jacket needed to be a certain temperature to wick moisture. This is a huge advantage that eVent can provide. This allows the wearer to benefit from moisture wicking right away, which lessens any possibility of discomfort. As a nice bonus, eVent should be washed regularly to work at an optimal rate, so you don't have to worry about it breaking down after a few washes. So how does Striker utilize eVent in the eVolve system?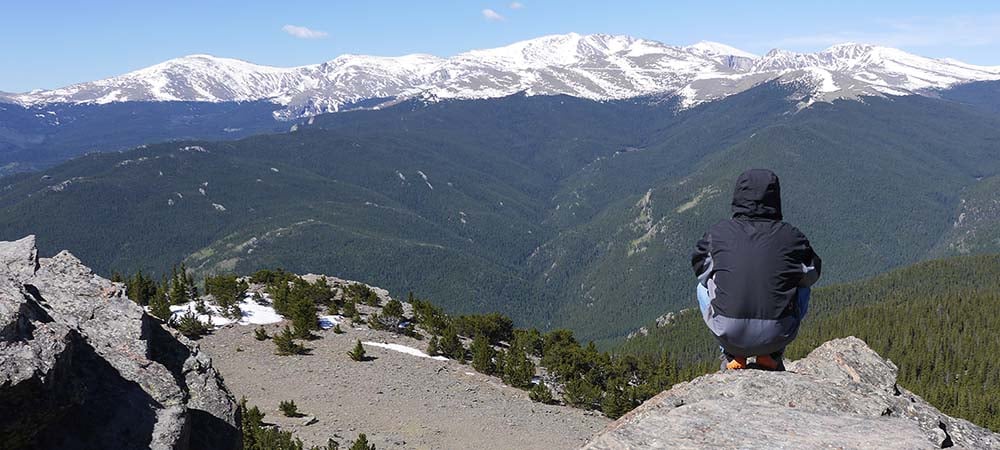 eVolve Jacket Basics
There are two distinct components in the Striker Ice eVolve system. There is the Striker Ice eVolve Jacket and Striker Ice eVolve Bib. Let's take a closer look at the key features of both.
Striker Ice eVolve Jacket
Waterproof 20,000mm and Breathable 20,000g.
100% Polyester 3-Layer Design.
100% Seam Sealed Waterproof Construction with YKK Waterproof Zippers.
DWR Finish for water resistance.
Salt Water Corrosion Resistant Materials.
Safety Reflective Points on cuff and back shoulders.
3-Position Adjustable Hood as well as Adjustable Hem and Cuffs.
Four Exterior Storage Pockets and Two Internal Storage Pockets.
Two Kill Switch Attachment Points.
Oversized Fleece Lined Collar
Striker Ice eVolve Bib
Waterproof 20,000mm and Breathable 20,000g.
100% Polyester 3-Layer Design.
100% Seam Sealed Waterproof Construction with YKK Waterproof Zippers.
DWR Finish for water resistance.
Salt Water Corrosion Resistant Materials.
Waterproof Knee-High Zippers.
Oversized Water-Resistant Cargo Pockets and Fleece-Lined Inner Pockets.
Safety Reflective Points On Center Back.
Adjustable Suspenders, Waist and Lower Leg Cuff.
Articulated Seat and Legs for Increased Mobility.
eVolve System In the Field
Since eVent technology is the highlight of the Striker eVolve apparel, the burning question is how does it work in the field? Honestly my opinion was formed pretty quickly. The eVent concept is not just another marketing ploy, this stuff really works! I recently tested the eVolve Jacket on a strenous hike to see how it would breathe and vent heat. I don't live near the coast, so there would be no saltwater test, but my home state of Colorado is a good testing ground in itself. It was a typical CO spring day when I first tested the jacket. This means blue sky in the early morning, clouds at late morning and storms in the afternoon. The trail I selected is also at high altitude culminating at an overlook just above the treeline. This would provide me the opportunity to test the jacket in sun, high winds at the summit, and rain on the way back down.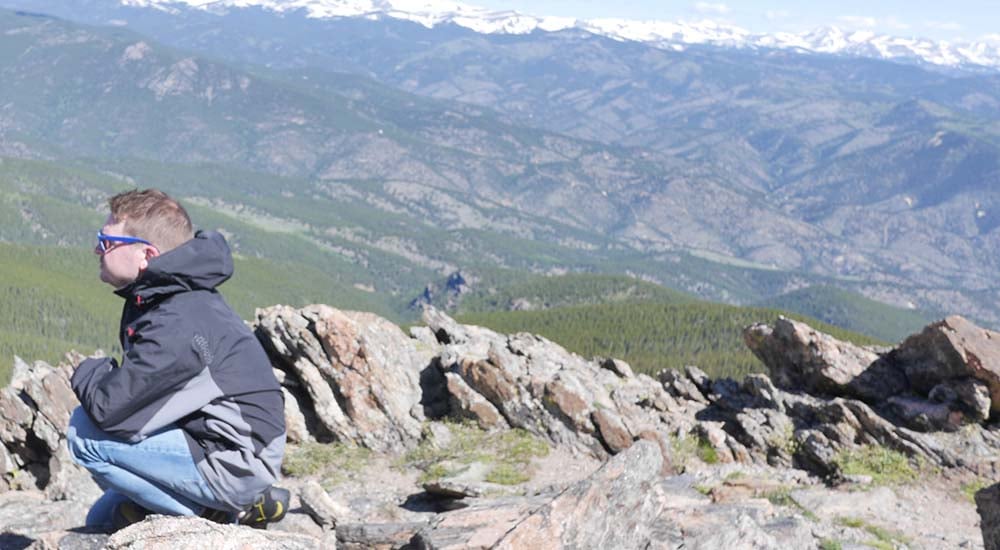 As it was a chilly morning, I began the hike wearing the eVent jacket. The first section of the trail is pretty brutal, just switchback climbs at a steep grade. This was a perfect opportunity to see how breathable eVent is right off the bat, especially since the garment would be cold. (Remember other breathable tech needs to heat up to a certain point to begin venting heat and moisture, however eVent does not and vents as soon as you zip it up). After a couple minutes it became clear that I was not overheating like I was accustomed to on a strenous trail while wearing a jacket. A few minutes later when the sweat should've started building up, especially when I hiked through patches of bright sun, well nothing. It is truly remarkable technology, and I've got to get more eVent Fabric into my gear collection.
The high winds were another great testing point for me. As the heavier clouds started to roll in, the wind really picked up at the summit of the trail. I flipped the hood up to protect my head and face from the 50 MPH wind gusts, and the jacket really stood stout against the high winds. (As you can see in a couple of the photos, the wind was really whipping the jacket around). The hood remained in place and the hood adjustment points were a great bonus, especially in the high wind conditions. I didn't feel any chill through the coat either, so it stands up to wind quite well.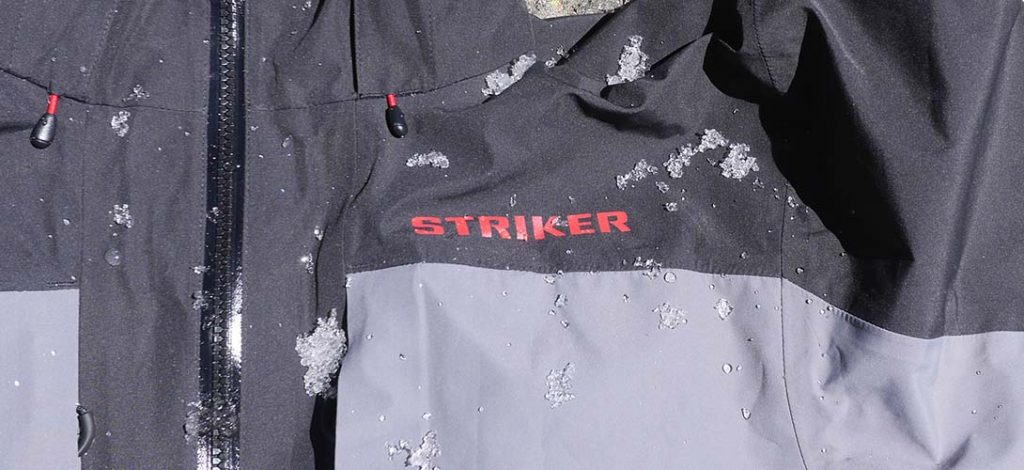 Finally the trek down, bring on the rain! As I anticipated, a cold steady rain began to fall through the trees as I descended the trail back to my truck. This time of year you never know what is going to fall out of the sky in Colorado. Could be a gentle rain, torrental rain or even hail. Usually I would hurry my pace, but with the strong outer shell of the Striker eVolve Jacket, I didn't feel any panic. As expected there is no soaking of the garment after significant rain, and it is just as breathable in rain as it is in clear weather. I'm interested to see how performance of the garment will change once I wash it a few times.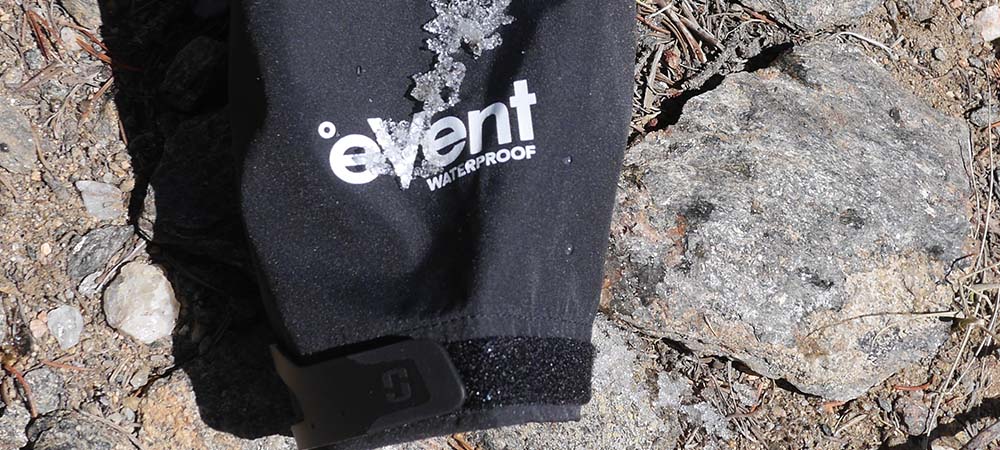 Determination
Ultimately there are three end users that need quality durable rain gear year in and year out. Hunters need rain gear for long days in the field where the elements are uncertain, but we're not talking camo today. Runners need rain gear, but theirs is more the variety of lightweight, breathable apparel that isn't going to brush against rocks or trees too often. Finally, outdoor enthusiasts (including fisherman) need quality rain gear because eventually they're going to get caught in the elements and need gear that is both durable, warm and breathable.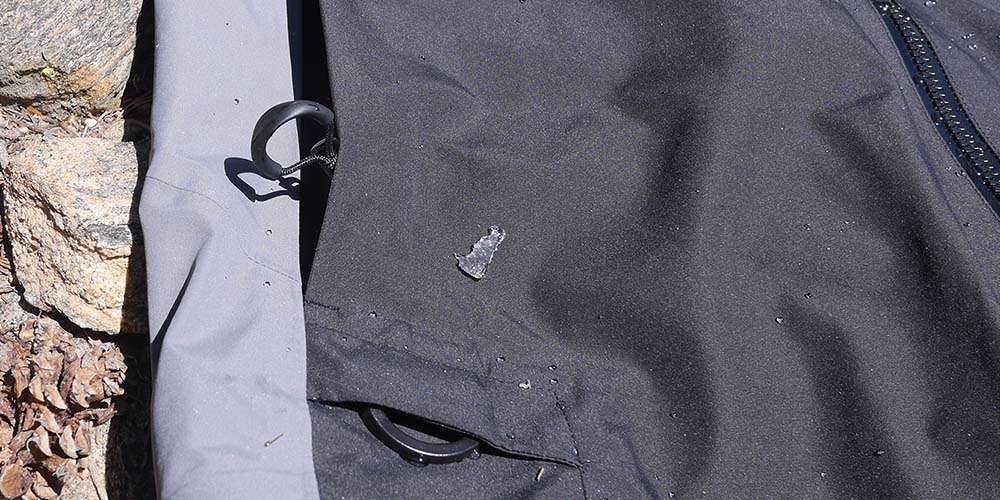 Yes Striker Ice eVolve system is fishing focused, but I would feel extremely secure hitting a long trail with the threat of rain knowing the eVolve Jacket is in my pack. As a bonus, the jacket is stylish and would fit in nicely during a rainy day in the city or a damp worksite during a stormy day. It's packed full of intuitive features you won't see in most rain gear as well including an adjustable hood, hem and sleeve cuff, reinforced zipper pulls, and plenty of clever pockets for your gear. Don't forget, because this is a fishing-focused jacket, it is also resistant to saltwater corrosion, a nice bonus for those that live near marine environments.
Truly my only con around the eVolve system comes in sizing, as a medium is a little too large for smaller builds. That said, there is ample room for layering should you wear it in colder temperatures. In addition, I'm sure we will see added sizes and women's versions in the coming months. If you're going to face some serious rough water and rain, either fishing or elsewhere, the new Striker Ice eVolve Jacket and Bib should be your starting point for protection from the elements.