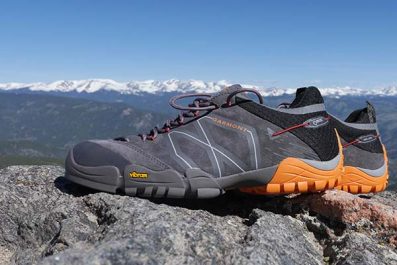 Last Updated on
By David Link
Why do we hit demanding rocky trails, scramble up boulder fields, or edge along a wall to the tantalizing next view? In writing my most recent review of the Garmont Sticky Cloud and Garmont Sticky Stone GTX Approach Shoes review, I found myself considering this all over again. This originated from a mistake – in one testing session my camera batteries died (my own fault), and I was unable to photograph any of the experience for this article. Suddenly I found myself with pounds of temporarily useless camera gear and a head full of frustration.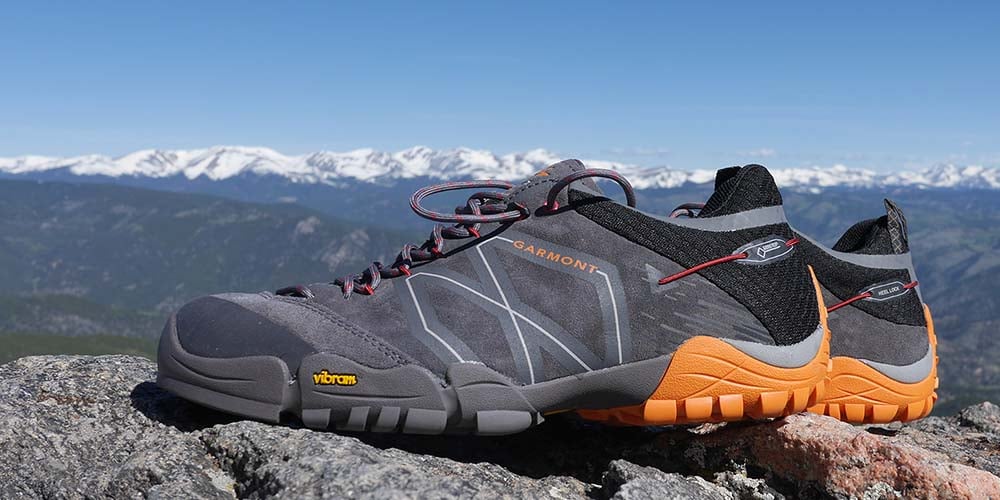 What did I do with this experience? How did I handle this failed photography attempt? I decided to stop, sit down, drink some water and admire my surroundings for a bit. Just then, a pair of Mountain Chickadees landed nearby, chirping away. Finally, it dawned on me why I do all this. It is for the escape and the quiet moments just like this. I looked down at the item I was testing, Garmont Approach Shoes, and admired how fitting they were for a day like this. Moments later I rose, grabbed my pack and set a new course to some nearby rock features. At least I could still scramble about in the warm sun and get lost for a while tackling boulder after boulder. Suddenly no other problems existed in my mind, and that can be a rare thing these days.
Garmont Approach Shoes
For someone like me, an approach shoe is must-have gear. Personally I'm not a technical climber, but the trails and locations I select are usually challenging. If I tackle a boulder field on my way up a trail, I need a streamlined, nimble and durable shoe for the job. Since many of my hikes don't involve heavy backpacking, approach shoes fit my chosen pack loads well. So what is an approach shoe and why should you consider one if you're not familiar?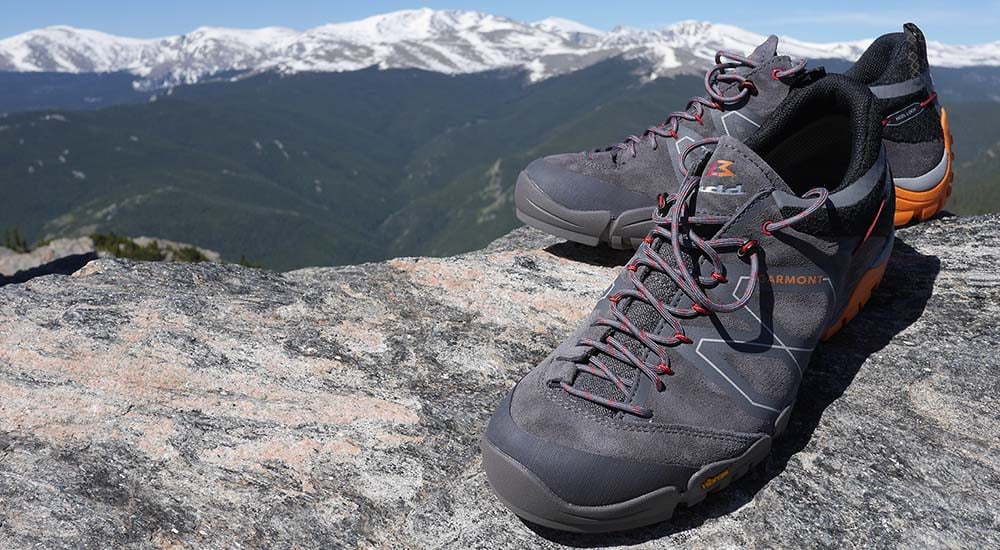 An approach shoe is essentially a hybrid of a hiking shoe or boot and a technical climbing shoe. It's not suitable for heavy backpacking or climbing vertical rock walls, but it excels at tasks in between. The primary feature of an approach shoe is a sticky sole that helps you keep traction when bouldering or tackling talus and when smearing, or ascending or descending a steep, flat rock. Today companies like Garmont design specialized sticky soles just for the purpose, which we'll get into later. An approach shoe should also be nimble with a precision toe that you can place on small footholds or ledges. Finally they should have a rugged upper as the fabric of the shoe is going to get beat up on a lot of rocks.
So now that we've covered approach shoe basics for beginners, let's see how the Garmont Stick Cloud and Sticky Stone GTX meets these requirements.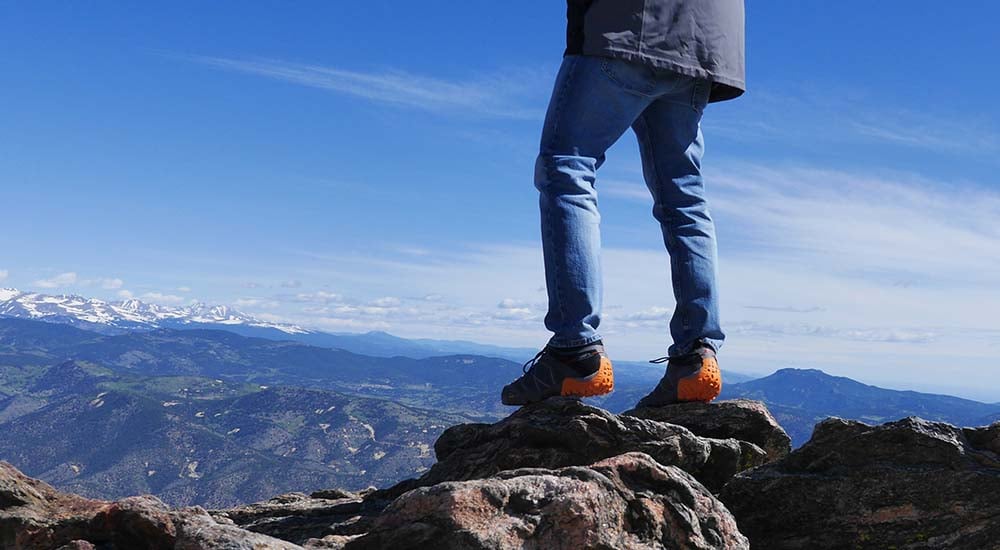 Sticky Cloud vs. Sticky Stone GTX
While the Garmont Sticky Cloud and Sticky Stone GTX look remarkably similar aside from color, there is one big difference between the two of them. The Sticky Cloud features 1.8mm 3D Mesh construction with a Mircofiber upper while the Sticky Stone GTX sports 1.5mm water repellent suede with an engineered mesh design. What does this mean for you if you're trying to decide between the two? Essentially the Sticky Cloud is a more breathable, dry environment shoe. If it's going to be a hot, sunny day, you'll want to opt for the Sticky Cloud. The 3D mesh design increases breathability as it is tailored for maximum venting for the user.
The Sticky Stone GTX on the other hand is tailored for dry to wet environments. It features a GORE-TEX finish and a water repellent suede on the upper. So if your outing involves snowmelt, rain, or crossing the occasional stream, the Sticky Stone GTX is your better bet. This said I've gotten both shoes pretty wet on hikes (and while cleaning them afterward), and they both dry exceptionally fast for an outdoor shoe.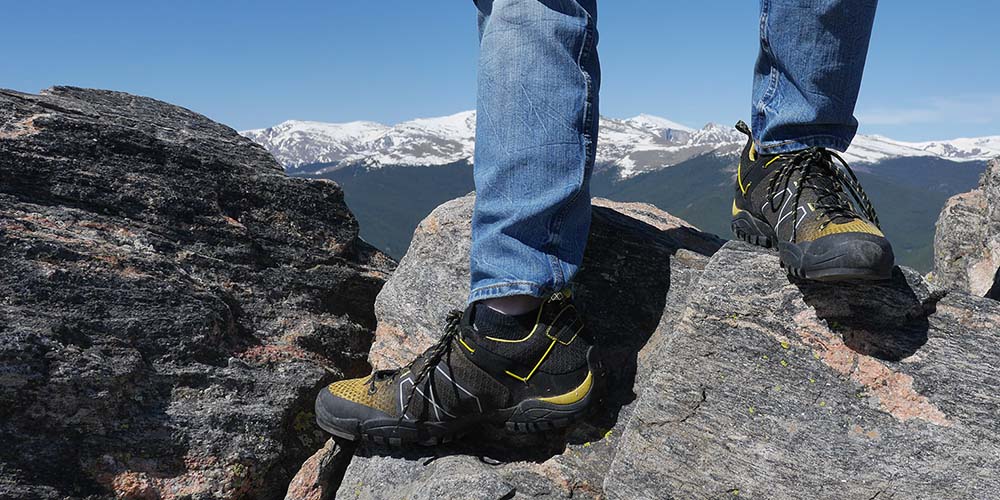 Specs
Aside from the differences listed above, the Sticky Cloud and Sticky Stone GTX share several similar specs:
Vibram wrapped outsole for added grip and foot protection.
erGo-last footwrap to closely mirror the natural shape of the foot, especially around the heel and bottom of the foot.
PU Footbed that manages moisture and odor to keep you fresh on longer outings.
Vibram Extended outsole with Megagrip compound that aids in traction on both wet and dry surfaces.
Double Damper Construction – While many brands feature only a one part midsole, Garmont has designed a two part system that consists of a complete EVA midsole for comfort and an added internal shock absorber to dampen heel impact.
Garmont proprietary Heel-Lock technology that keeps your heel in one place in the shoe during both ascents and descents. Heel-Lock helps prevent blisters as well.
Alpine Fit that features a wrapped fit for your foot with a slightly larger toe box.
Asymmetrical Ankle Cuff – The ankle cuff is higher on the inside and lower on the outside for better scrambling and bouldering performance.
Anatomical Tongue – Like the Asymmetrical Cuff, the tongue is thick on the outside and gradually thins as it gets to the inside. This ensures the tongue fits with your natural foot shape.
Precision lacing system for the perfect fit.
Basics – Garmont Sticky Cloud / Sticky Stone GTX
As you just saw above in the specs section, there is an impressive amount of features into these approach shoes. Garmont has really thought out how to match an approach shoe to the distinct anatomical needs of your foot. The design is really quite impressive, and as soon as I first slipped on the shoes, I could tell they were vastly more technical than other approach shoes I've worn. I am impressed at how secure everything feels and the way my heel and ankles fit into the shoe. In addition, these shoes are remarkably light, and I felt very little fatigue after longer hikes that included substantial bouldering.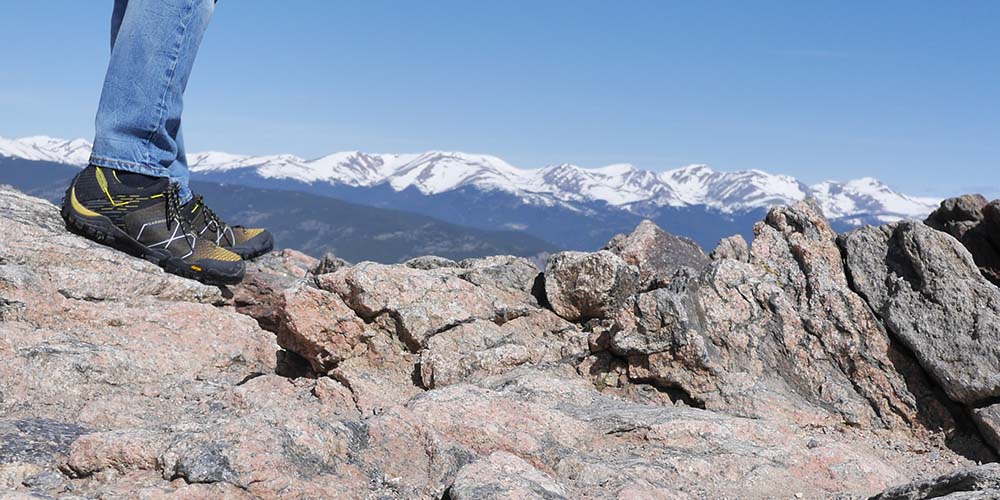 Two big features I want to elaborate on are the Vibram Megagrip Compound and the Double Damper Midsole. First, the Megagrip feature is a huge reason to purchase this shoe. If you're scrambling up rocks or slowly ascending down a steep decline, you want an outsole that will help maintain your grip. Megagrip works as advertised, and I'm impressed at just how well this compound functions in the field. I experienced very little slippage while hiking or scrambling, and the compound works well on both dry and wet surfaces. In addition, I was surprised at how the compound grips on snowpack. Really I should've had crampons for the snowpack I tested these shoes on, but the Megagrip was a suitable replacement and kept me secure even on the slick snow.
Next let's look at the Double Damper as this is a gamechanger in approach shoes. Garmont has taken real care to reduce fatigue and impact with this two part system. This is important as these shoes will encounter a lot of jagged rocks throughout their lifespan. I've actually seen a Sticky Stone GTX shoe cut in half to illustrate how this system works. Essentially you're relying on three key areas to absorb shock. First there is the primary EVA midsole which does a lot of the "heavy lifting" so to speak. Next there is the internal shock absorber around the heel that greatly reduces any fatigue from heel impact. Finally, the outsole itself has a mesh support structure under the toe box / front of the shoe. All this adds up to a design that can really handle impact, both on the trail and when scrambling and bouldering.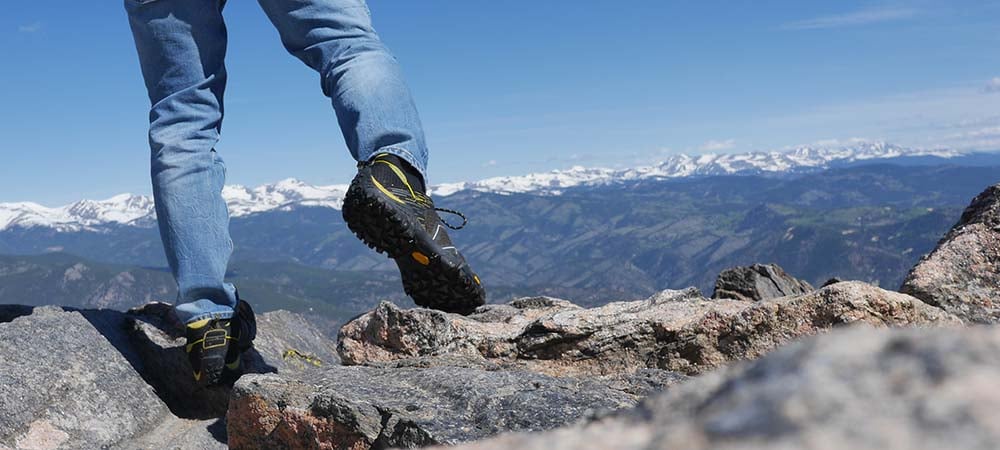 Field Testing
One of my favorite places to test footwear is a rugged trail located in the front range of Colorado. It presents all the typical challenges you'll encounter while wearing approach shoes. The beginning part of the trail is snow packed throughout most of the spring and early summer, and this section presents the perfect chance to test footwear against slick areas and tight, rocky trails. As you get higher up the trail, it is a true mountaineering hike complete with some tricky bouldering up to a summit located above the tree line. There are also plenty of areas to test critical tasks like edging.
As I previously mentioned, the Megagrip compound works great on sections where snowpack flows into melt with precarious boulders sticking up throughout. This can actually be a good place to turn an ankle as you can slide down three to five foot snowpack embankments into an awkward section of trail littered with small boulders. The precision toe and nimble performance of the Garmont approach shoes is huge in a section like this.
Higher up the trail, the snowpack disappears and it turns into a rugged above the tree line trail. Here the Sticky Cloud and Sticky Stone GTX fulfills the need like any hiking shoe, except the Double Damper feature really shines and keeps you from feeling fatigue on the long climbs to the summit. However it is at the top of this trail that the Garmont approach shoes really shine.

In Colorado, most summits are not clean, smooth embankments higher than the other terrain around. Instead they are rugged rock features that often require scrambling, edging and medium to heavy bouldering. This summit is no different, and it's not a climb for everyone. Naturally this is the area where the Sticky Cloud and Sticky Stone GTX really shines. For much of the climb there are toe holds of a couple inches or less, and at times it is a big jump from toe hold to the next placement. The precision toe and erGo-last wrap are excellent features for terrain like this, and although these shoes are lightweight, they never feel flimsy as you traverse rocky foot placements.

After a few minutes I was at the top extremely pleased with how easy it was to navigate the route up. Even when I had to edge or use the side of the shoe for support, I never felt uncertain of its grip. As I traversed the rocky crags of the summit, my testing was complete and I was sold on Garmont's impressive approach shoe design.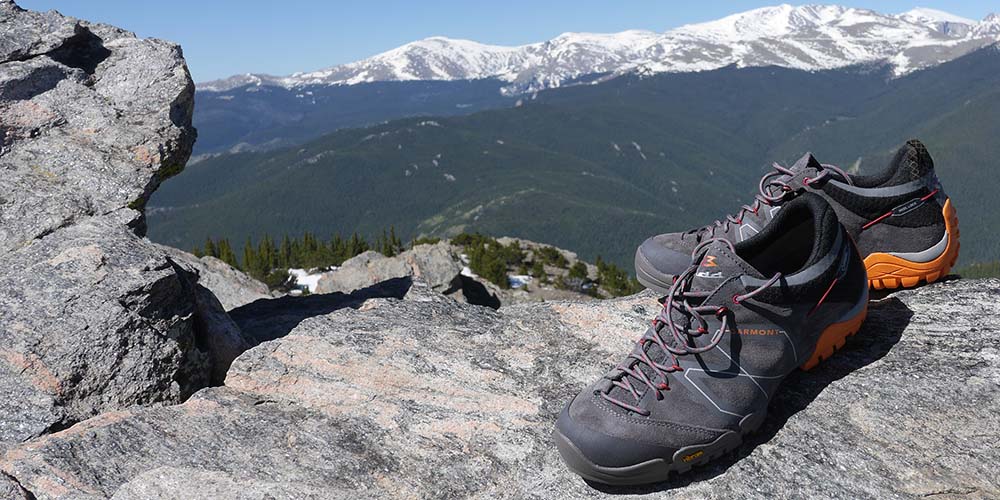 Determination
Since 1964, Garmont has designed premier mountaineering footwear. Their expertise in creating models that integrate with the natural shape of the human foot is not to be overlooked. The advantage you receive in models like the Garmont Sticky Cloud and Garmont Sticky Stone GTX is expert ergonomic design with no critical feature overlooked. After all, if you're relying on an approach shoe to get you up a demanding route, you want something that feels like an extension of your foot, not a bulky trail shoe.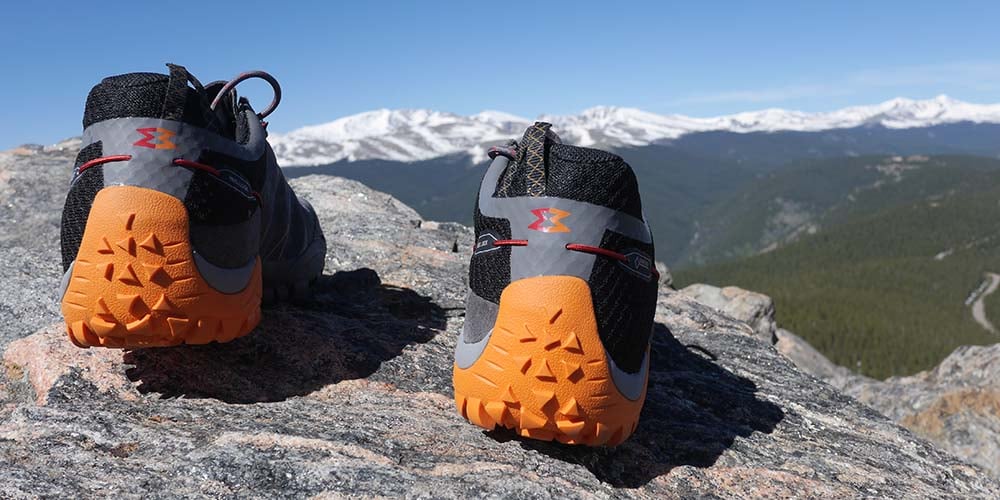 If you tackle a lot of tricky trails, like to boulder, or need an approach shoe that can safely get you to the climbing route, both the Garmont Sticky Cloud and Garmont Sticky Stone GTX are excellent options that won't disappoint. As a bonus, these shoes have excellent design and really stand out from the crowd. Just look at those slick orange heels above, these are unforgettable shoes. Click on over to Gritroutdoors.com and check out the model that best fits your needs today.