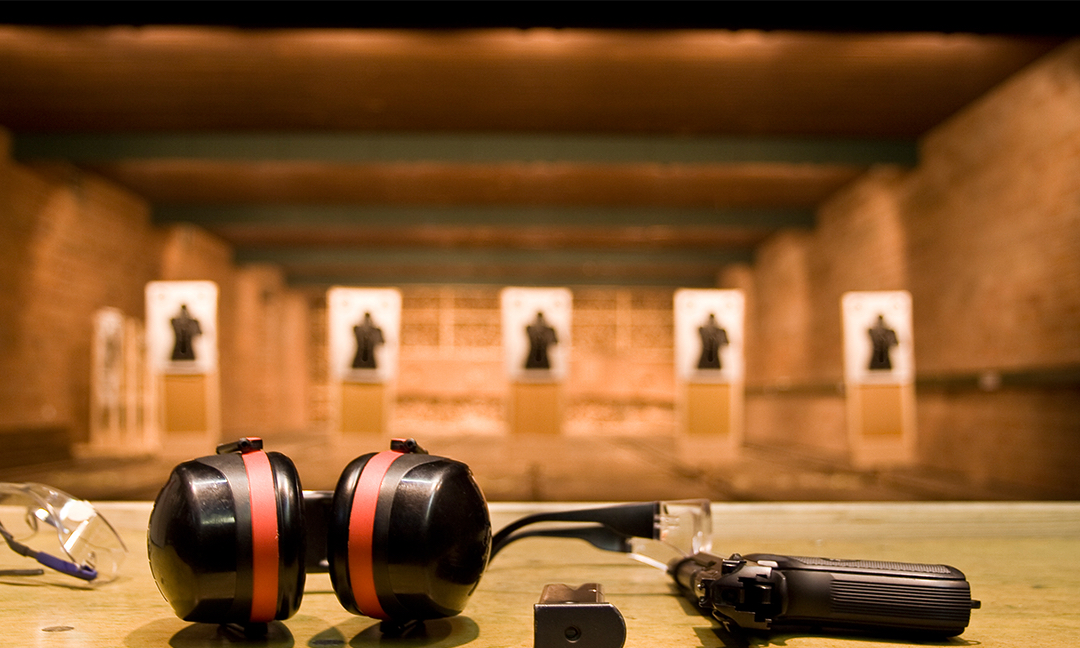 Safety is paramount. People hear it all the time, in whatever activity they engage. Safety is beyond paramount when it comes to firearms. When gun owners talk about handling firearms, they often mean general safety rules that involve keeping the gun pointed in a safe direction, keeping your finger off the trigger until ready to shoot, and others. But what about personal protection?
Many people often overlook personal protective gear when packing for their adventures. While range officers instruct newcomers on that matter, hunters and anglers can simply have no one to stress the importance of wearing protective gear. So we hope this article reaches as many outdoor enthusiasts as possible.
Why You Need Eye and Hearing Protection
Continuous exposure to the noise of firearms adversely affects your hearing. Firearms are very loud. Even the .22 LR, the quietest round in use, reaches a 140dB level at which immediate damage to hearing starts. Other rounds are fired at even higher noise levels of up to 165dB. The sound energy doubles every 3dB. So imagine how much louder these more potent cartridges are.
The tricky thing about hearing damage is that the effects of continuous exposure to loud sounds are cumulative. Your hearing can decrease a little each time until one day you notice your auditory acuity has diminished. The results of continuous exposure to loud sounds may be tinnitus, the inability to hear high frequencies, and hearing loss.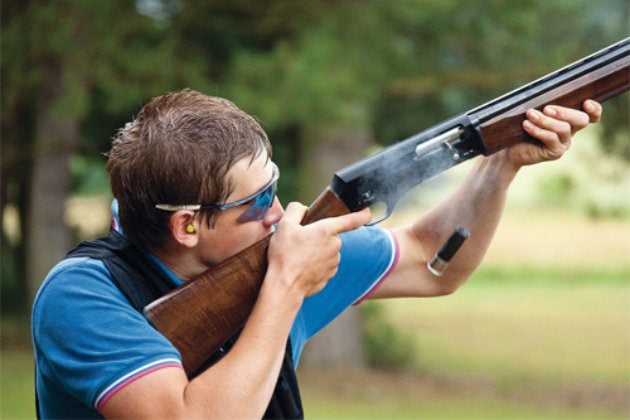 Hearing damage is an irreversible condition. Your ears have inner sensitive hair cells that detect vibrations and transform them into electrical signals. Once damaged, those hair cells don't regenerate.
The noise level of up to 85dB is considered satisfactory. And to achieve it when shooting, you need to wear hearing protection.
Shooting eye protection glasses are far less intuitive but still preferable. Ejected cartridges, ricocheted airgun pellets and bird- or buckshot, pieces of targets, debris, powder, and other items can get into your eyes and cause serious problems.
Besides protecting your eyes from physical impacts, eye protection shields you from sunlight. Sunglasses not only allow you to effortlessly focus on a target, resulting in better accuracy for shooters and higher sight acuity for anglers watching bobbers. They also block UV-rays, continuous exposure to which can result in cancer. The capability to block UV-rays is even more valuable to fishers because sunlight is intensified, bouncing back off the water surface. Thus, they get a double dose of ultraviolet.
Now let's consider what protective gear is available to hunters, shooters, and anglers.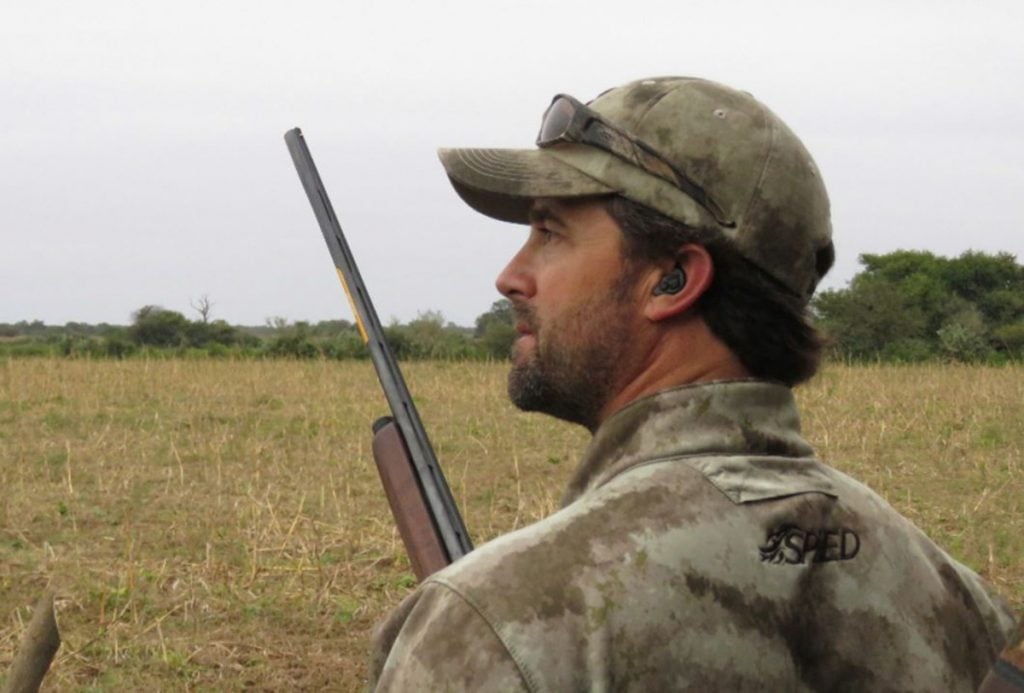 Hearing Protection
The first thing you should pay attention to when choosing shooting hearing protection is NRR (Noise Reduction Rating). It represents the maximum number of decibels by which noise can be reduced. So a higher NRR means better protection.
Hearing protection for shooters is classified into on-ear and in-ear hearing protection. On-ear protection includes passive and electronic earmuffs that cover your ears like a pair of headphones.
Passive earmuffs simply reduce all noises, whereas electronic muffs are more finesse. They offer active hearing protection by compressing dangerously loud noises detected over 85dB and allowing surrounding sounds at normal or enhanced levels.
Earplugs slide into the ear canal. Plugs vary from simple one-off foam plugs to active earplugs with a plastic band that allows you to wear them around your neck.
Earplugs are hard to fit because of varying ear anatomy, and some people find them uncomfortable. But they are lightweight and provide better noise reduction compared to earmuffs. Muffs are easy to fit and remove, but they are bulky and can cause inconveniences when paired with glasses or used in cold or hot environments.
If you want to achieve maximum hearing protection, consider wearing both plugs and muffs.
Eye Protection
When choosing protective eyewear, pay attention to the ANSI (American National Standards Institute) compliance. ANSI-rated glasses are safety-approved. So check the exact conformity standard they are compliant with and make sure the glasses possess all needed features.
For example, ANSI Z87.1 certified glasses can withstand high-mass and high-velocity impacts and, thus, are great protective eyewear for shooting.
Choose lens tints according to the application. Gray lenses effectively block glare. Amber tints are good when there is limited lighting. Cold-colored lenses better distinguish contrast, which makes them suitable for hunting.
Best Hearing and Eye Protection Products
SUREFIRE EP7
Surefire is one of the most prominent producers of tactical hearing protection and other tactical products like illumination gear and suppressors. The EP7 earplugs have filter caps that can be inserted for maximum noise reduction or removed when hearing ambient noises and conversations is vital. This feature allows them to be used as hunting hearing protection. The maximum NRR is 28dB with caps inserted.
The earplugs also employ proprietary retention rings with seven contact points to lock them in place and prevent them from shifting. The tips are made of soft memory foam that assists with the effective blocking of noises. Roll out the tips and insert them into the ears. The foam will take the shape of ear canals and provide all-day comfort.
A low-profile design allows you to pair the EP7 with earmuffs, which makes for a better hearing protection system for shooting. The earplugs are provided with a polymer lanyard.
WALKERS GAME EARS Razor Patriot
These electronic earmuffs have an effective NRR of 23dB. They have two omnidirectional microphones that can amplify ambient sounds up to 5 times your normal hearing. With them, you'll hear the game approaching and range commands clearly.
Their low-profile design prevents them from interfering with firearm stock and gives a comfortable shoulder position. An ergonomic headband keeps earmuffs in place, and the ear cups feature a rubberized coating for an enhanced handling experience.
The Razor Patriot earmuffs also have an external battery door for quick access and replacement of AAA batteries.
BERETTA Safety Pro
If you need simple, affordable, and efficient hearing protection gear, the Safety Pro passive earmuffs from Beretta are the best choice.
They have the protection of 25dB SNR (Single Number Rating). SNR is the EU's standard. There's no formula to convert SNR to NRR, but the former's values tend to be 3dB higher. Roughly speaking, 25dB SNR equals 22dB NRR. SNR also contains HML values. The Safety Pro blocks high frequencies by 32dB, medium by 22dB, and low by 13dB.
Beretta's earmuffs are great for range and field shooting.
OAKLEY SI Ballistic M Frame 3.0
Oakley SI is known for the exceptional quality of its eyewear. The Standard Issue department produces glasses and other equipment for law enforcement agents, police officers, firefighters, and emergency medical service professionals. So if you need glasses that perform at the highest level, you need Oakley.
Plutonite lenses provide high purity of the image and block all UVA/UVB rays and blue light up to 400nm. The glasses meet the high-mass and high-velocity impact requirements of the ANSI Z87.1. Thin stems are compatible with on-ear protection.
The clear-lens glasses come with two pairs of quickly interchangeable tinted lenses.
BERETTA Basic Glasses
Beretta's Basic Glasses are what the name suggests. They are simple and don't have the cool features Oakley sunglasses have. They will suit people who need only sun protection and basic element protection.
These ANSI Z87 certified glasses filter all of UVA and come in different tints. Wide polycarbonate lenses allow for a wider field of view and ensure increased protection.
LEUPOLD Katmai
Leupold's Katmai sunglasses are universal. They have ANSI Z87+ rating, which means they withstand ballistic impacts and extreme stress. Diamondcoat technology protects the lenses from scratches and contributes to durability, whereas Guard-ion hydrophobic coating wicks dirt and water, providing a clear and crisp image.
The proprietary In-Fused Polarized technology uses polarization film between lens layers. Such design allows the polarized film to endure and not deteriorate over time. Polarization also reduces glare, which makes Katmai sunglasses suitable for both in-the-field and on-the-water applications.
We hope this article convinced you of the importance of eye and ear protection for shooting, hunting, or fishing. Pick something from our list or look for protective gear based on the information provided in the first part.