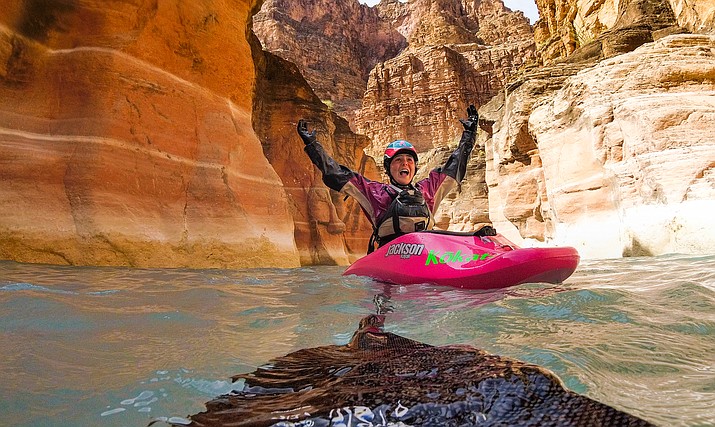 Last Updated on
If you were looking for a kayak drysuit review and the providence guided you to this page, we welcome you to the world of Gritr Outdoors, where every outdoor enthusiast can find something for themselves. Today's specialty is drysuits and, to be more precise, Kokatat drysuits.
Why would you need a drysuit in the first place? You don't need to be an expert in water outdoor activities to guess that the chances of you getting wet sooner or later are approaching the 100% mark. Even if the sport doesn't involve direct immersion, you are still surrounded by water, and occasional splashes or unexpected kayak floodings are unavoidable. One thing is to be wet when swimming, after all, that's part of the deal. But getting soaked in water while wearing clothes or specialized gear is an experience far from pleasant. It spoils the whole experience, bringing closer the moment your paddling trip comes to an end. Besides, kayaking and canoeing are not exclusive summer activities, and there is nothing you'd want less than getting ill after kayaking because the wind was too strong. That's why you need apparel that can solve these problems – keep you dry and protected from the wind. Producing such clothes is Kokatat's specialty, and in this article, we want to cover several items that might be of use to you. Call it a Kokatat review, if you may.
Kokatat has been producing paddle sports apparel and gear since 1971, which gives them more than half a decade worth of experience in the industry. Being a company permeated by the spirit of the outdoors, Kokatat made sustainability one of the pillars of its philosophy. Because of the water's wondrous ability to erode all things if given time, Kokatat's products are designed to remain durable and reliable for as long as possible. From materials to patterning, from features to construction techniques – everything is aimed at increasing the longevity of the goods. The company has also developed an original Hydrus fabric featured in the majority of the brand's products.
Let's get down to the list. We've included different items for you to get an idea of the variety of products the brand produces. 
KOKATAT Neptune Life Vest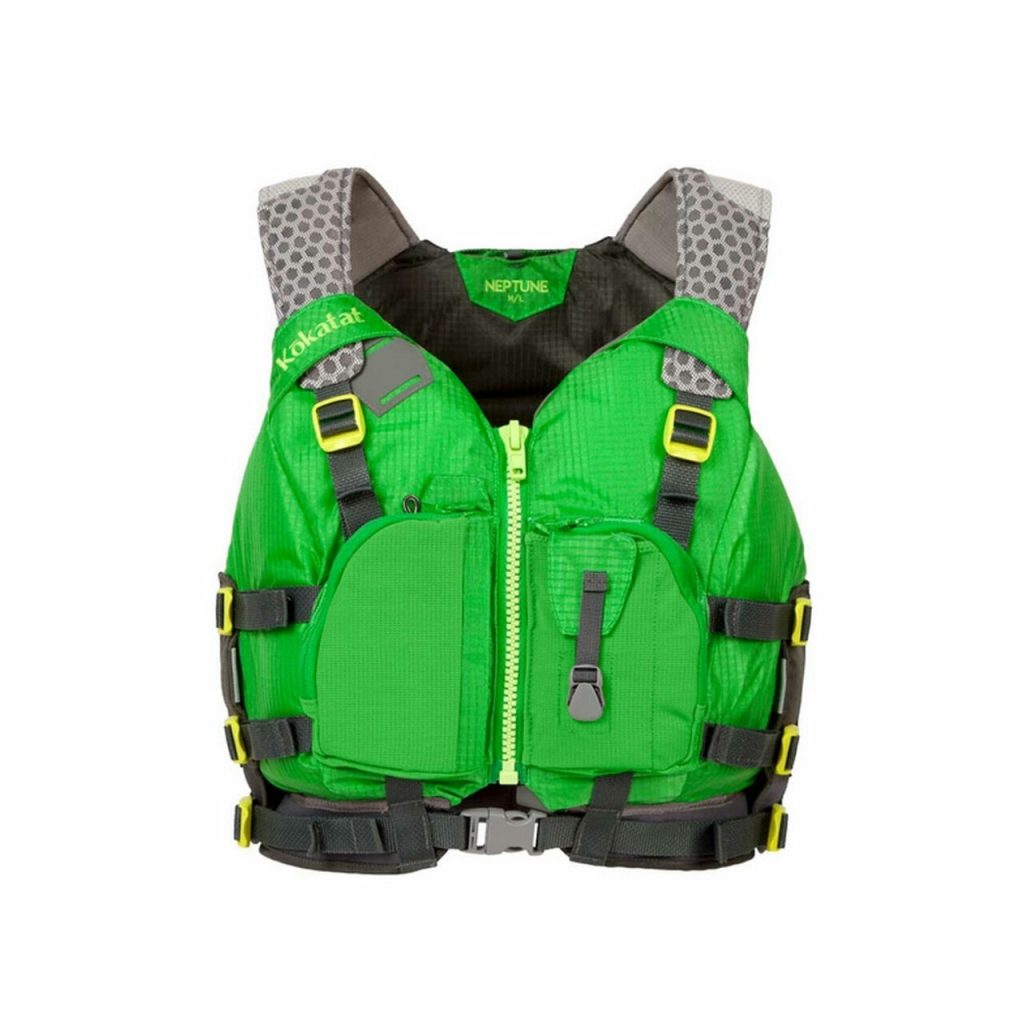 As you can imagine, life vests received their name for a reason. Many a life has been saved by this humble-looking piece of clothing, and many a life ended because of a lack of one. It's hard to overestimate the importance of a life vest for water sports, kayaking and canoeing included. Kokatat Neptune Life Vest is a worthy member of a life-savers family that will keep you afloat in any water, however treacherous it may seem. Featuring 210 High tenacity rip-stop nylon and Gaia PVC-free foam, this vest is the ultimate personal floatation device that doesn't restrict your movements when paddling. As if the unparalleled safety level wasn't enough, the designers added enough pockets to store a compact survival kit there. There are compartments for a VHF radio, folding knife and hydration sleeves, and attachment points for a strobe and knife (yeah, with this vest, you can carry a bunch of blades on your person). Like all other Kokatat life jackets, this vest is equipped with front-and-center adjustment straps for quick and easy adjusting. That's a must-have for any water sports enthusiast.
KOKATAT Men's Supernova Semi Dry Suit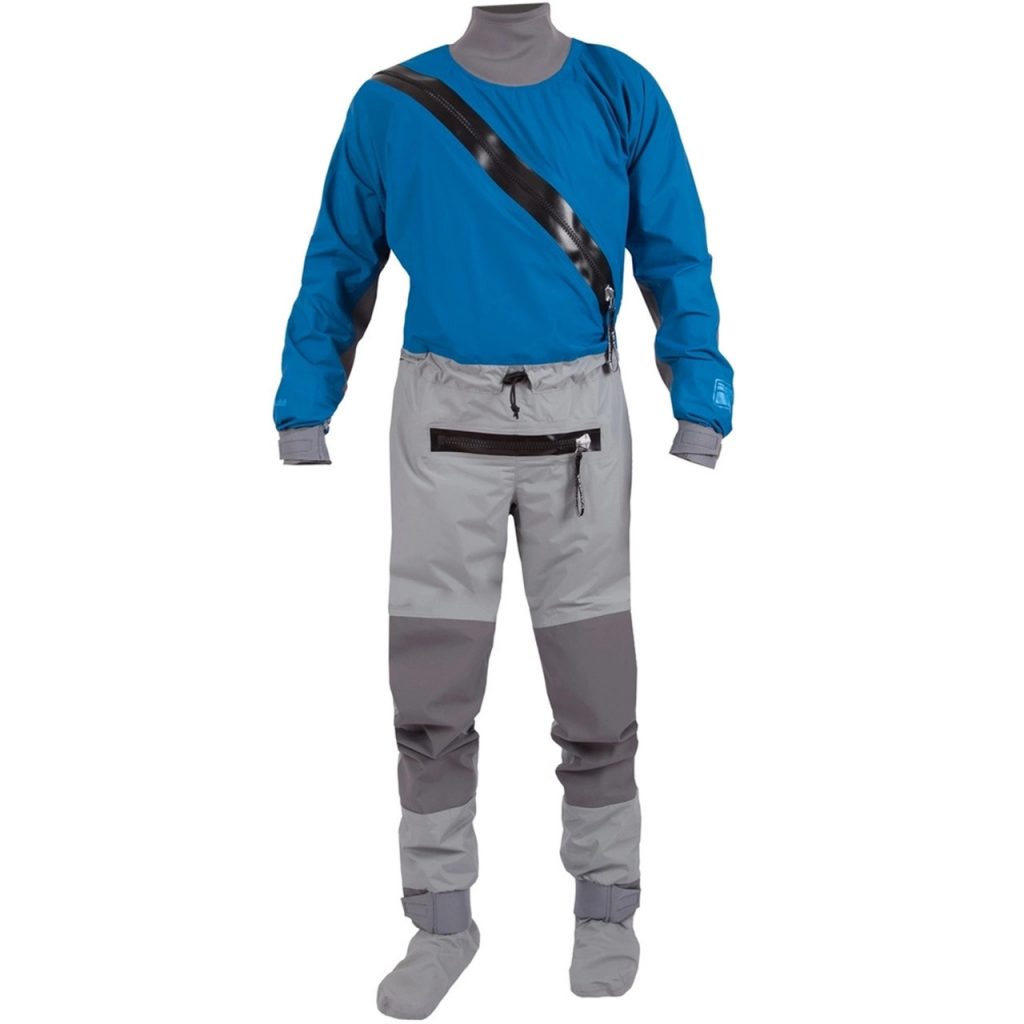 If you are looking for a way to keep all your body dry, a mere life vest won't suffice. You'll need a complete dry suit, and a Kokatat Supernova is an exemplary one. The waterproof Hydrus 2.5 fabric is breathable, ensuring your undersuit space won't turn into a sauna during kayaking. The Kokatat Supernova semi-dry suit is a great alternative to less comfortable wetsuits and paddling jackets. It is equipped with all features that ensure the most comfortable wearing experience while keeping you dry and not restricting your movements. Kokatat Hydrus Tough seat, knee and elbow reinforcements, factory sealed seams, and Nylon waterproof zippers ensure the integrity of the suit's water defense. Neo cinch collar and adjustable bungee drawcord waist add to the comfort of wear. In short, this is the best semi-dry suit for those who want to remain dry and comfortable.
KOKATAT Scout High Top Neoprene Black Shoe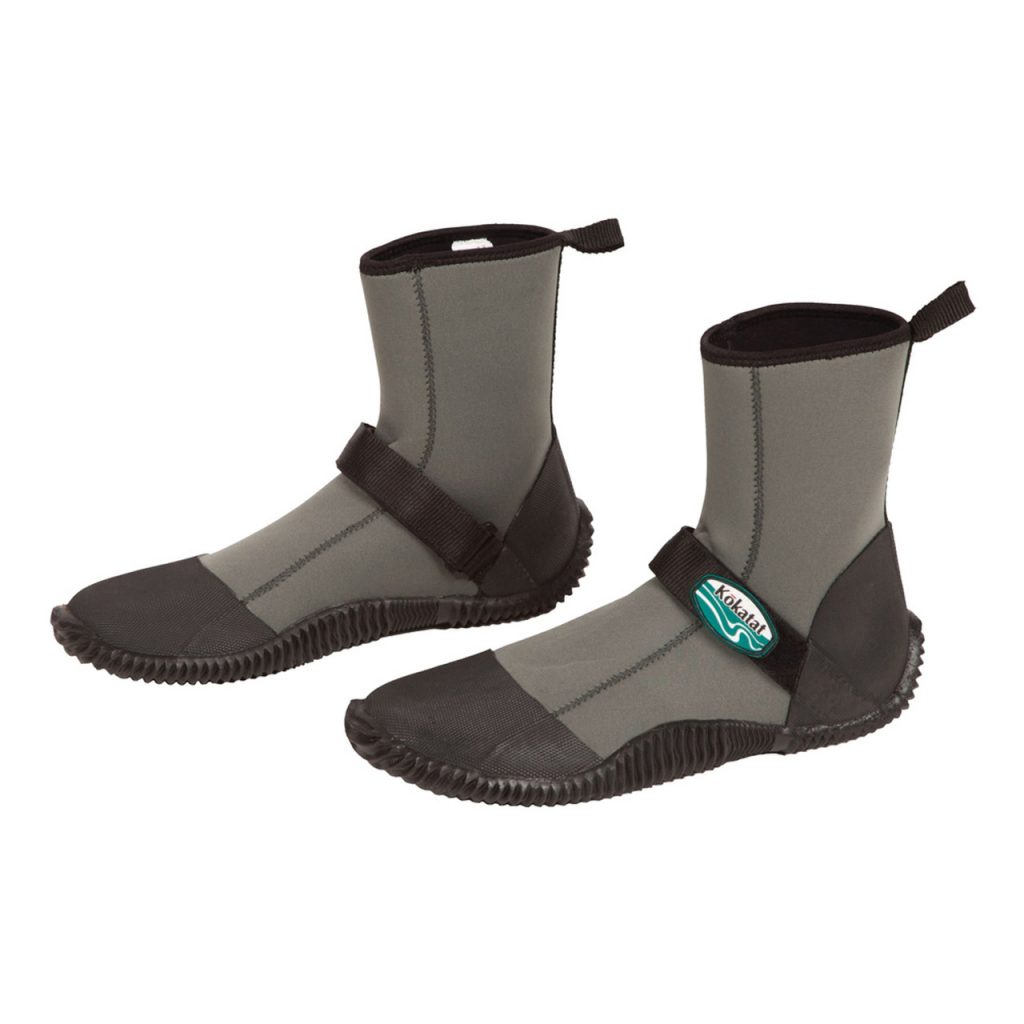 You are bound to get your feet wet when kayaking. Wearing knee-long rubber boots sounds like overreacting and wouldn't be of much help anyway, and leaving your feet defenseless is a last resort measure. Kokatat offers you a way out with its Scout Neoprene shoes. Lightweight and supporting, these shoes are the best option a water sports pursuer can get. The comfort they provide kicks in not only in a kayak or canoe but also when hiking or portaging. Vulcanized rubber outsole and toe cap ensure traction on slippery surfaces while protecting your feet. Glued blind stitch construction closes the ranks preventing water from seeping through. It would take a while to find a better pair of water sports shoes unless it's another Kokatat pair. 
KOKATAT Men's Jetty Jacket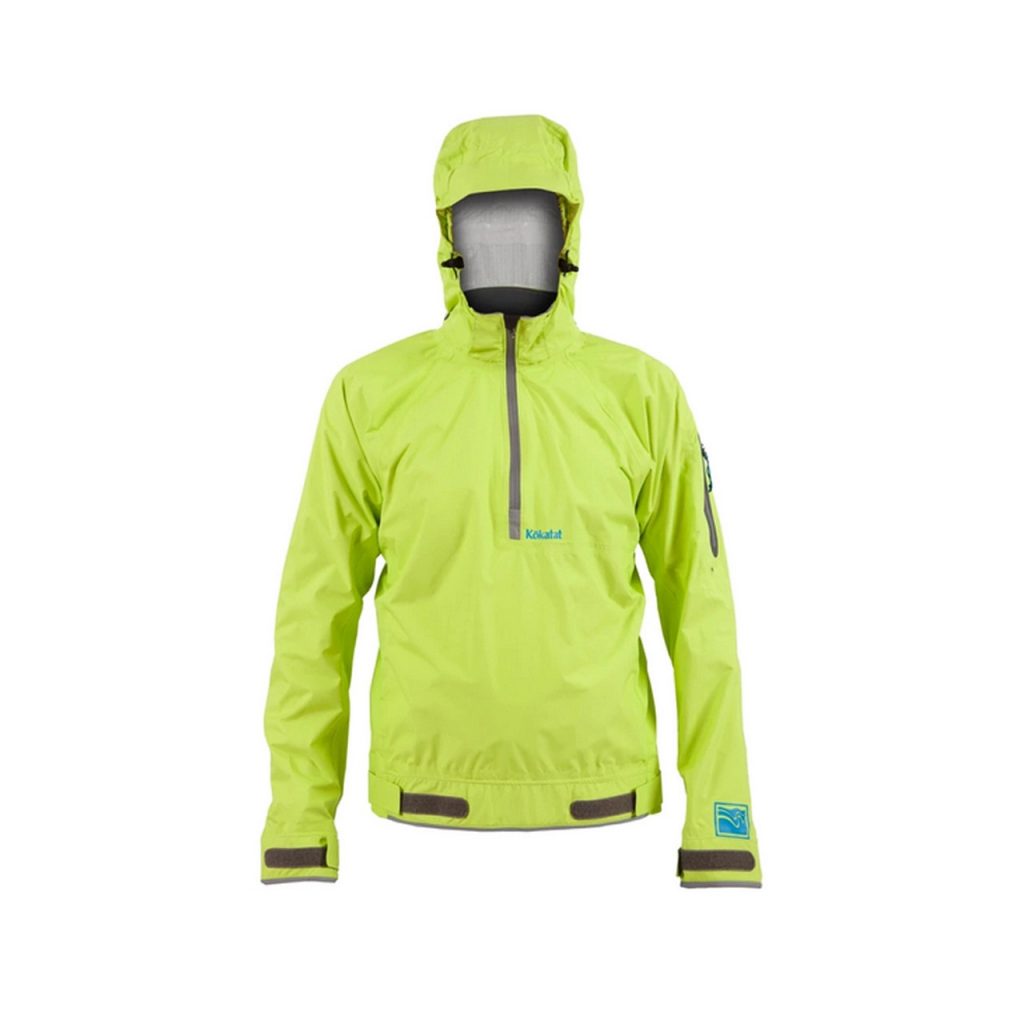 If you are looking for a more affordable option to keep water at bay, a paddling jacket might be what you need. They are not completely waterproof, but maybe you don't need them to be. Splash jackets are designed to prevent water from soaking the upper part of your body and protect it from the wind. By counteracting the two elements that cause excessive heat loss, the Kokatat Jetty jacket keeps you warm from late spring to fall. The hook and loop wrists and waistband tabs secure the closures to avert water breeches. This jacket is an asset for rafting since it's not particularly great at sealing water out, but should water get you, just pull back the waistband to let the water out.  
KOKATAT Men's Stoke Hydrus 3L Dry Top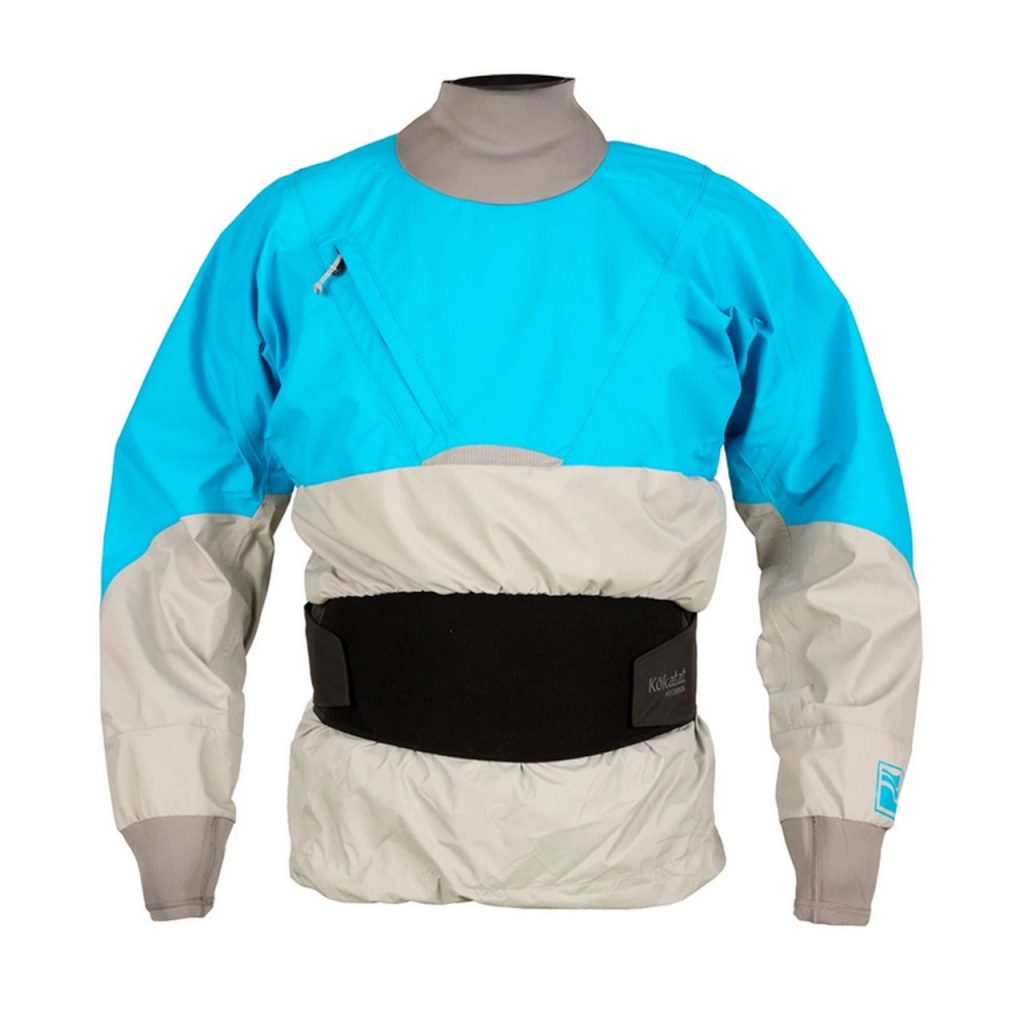 Kokatat dry tops are standard-setting pieces of waterproof clothing assessed and appreciated by thousands of water sport enthusiasts. Featuring proprietary 3-layer Hydrus fabric, the Stoke provides unparalleled performance. Tough Nylon outer layer keeps water out, while polyurethane middle layer and soft polyester inner layer manage interior moisture. Latex wrist and neck gaskets together with hook & loop incorporated in the outer skirt greatly contribute to the waterproofness of the dry top. No water shall pass the barricade of this dry top, that we assure you of.
Plenty of Kokatat pfds and drysuits are currently available on Gritr Outdoors – those are but a few examples of the brand's fine work. Whether you are an avid kayak enthusiast or are in the process of preparing for your first river descent, there is definitely something that might pique your interest.