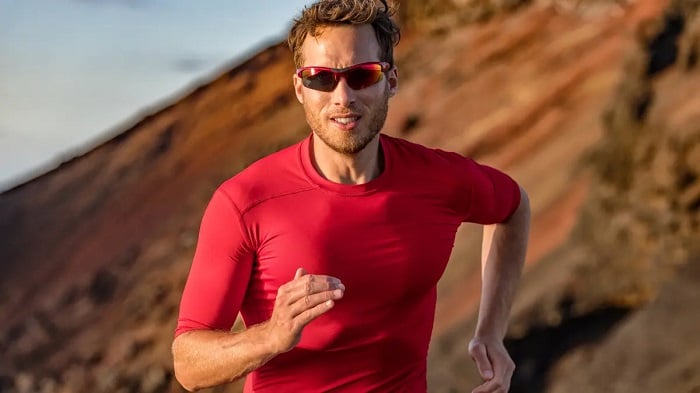 Last Updated on
We owe much to the sun, our very existence included. If we go away from its primary achievement like making living on our planet possible, it also lets us see things and warms us. Very nice of it indeed, but sometimes the sun can be pretty nasty. Especially in those cases when it tries to bring someone skin cancer, sending a cavalry of malicious UV-rays to assault our innocent skin. We fight back, covering ourselves with layers of lightweight fabrics or sunscreen, and stay strong in our determination to enjoy summer days (when solar attacks are the most frequent). But if protecting the skin is a relatively easy and not cumbersome task, there are very few things one can do to protect the eyes. Sunscreen won't do, and covering your eyes with a piece of cloth might not be everybody's thing. But it is not only eyesight that is challenged – the sun makes us frown and brings closer the moment wrinkles start to embellish our noble foreheads. Is there a way to escape this fate of a frowny passer-by? Of course there is, you've seen the title, we won't whip things up.
Frames
The backbone of the sunglasses frame is the part that is in constant contact with your face. A pair of sunglasses with intact lenses is still hardly usable if something's wrong with the frame. Even if it's not necessarily broken, it might be poorly chosen and not fit your head the way it should. That's why it is a factor that should be carefully considered.
Temples
Depending on the type of sport you do, you might need sunglasses with different types of temples. If you do something that involves wearing a helmet, like cycling or maybe even horseback riding, sunglasses with straight temples allow a comfortable fit between helmet and sunglasses. For sports that don't require any headgear, bent temple sunglasses are a better fit, as they offer a more reliable grip. Finally, there are sunglasses with adjustable temples that are built mostly for climbers and mountaineers. Such sunglasses sit tightly over hats and straps, and a specialized bridge design prevents them from fogging up. 
Materials
Frame material heavily influences the durability, weight, and convenience of the glasses. Metal frames are the least suitable for active sports: even though they are easier to adjust, such frames are less durable than other types. Metal is also more temperature-sensitive, which means a pair of metal-framed sunglasses left in a car under a blazing sun is bound to turn into a red-hot torture tool. Leave metal for casual-style sunglasses, and turn your attention to nylon. It is a lightweight durable material that doesn't break the bank. Some nylon frames are further reinforced for high impact resistance, which makes them an excellent choice for active sports.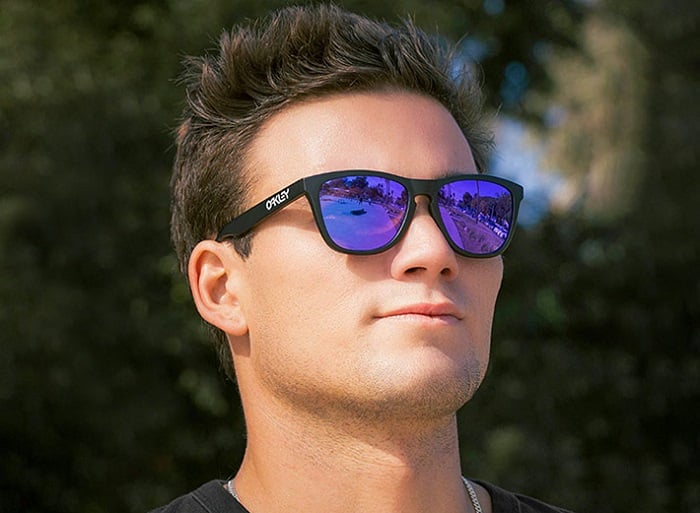 Lenses
Lenses are the second element of the sunglasses that does the job of blocking sun rays. Your visual experience depends heavily on the quality of your lenses, and for many people, they are the primary criterion when choosing sunglasses. Lenses are thought to be very fragile, and most are, but sport sunglasses break this rule.
Material
The traditional material for lenses is glass, but it's a poor choice for active sports. Even though they are not likely to shatter upon impact, "webbed" lenses impede your vision immensely. Polyurethane and polycarbonate are two impact-resistant materials with excellent optic clarity. The first is more expensive than the second, but it is also more scratch-resistant. 
Color
While most casual sunglass lenses are dimly colored, their sport variants can boast a whole range of vibrant colors. But it is not only aesthetics that determine this decision: lens color affects how much visible light reaches the user's eyes and how well you will be able to see contrasts and other colors. Dark colors like gray, brown, and green excel in moderate-to-bright lighting conditions, eliminating glare and reducing eyestrain. Light colors, including yellow, amber, gold, and rose, are indispensable in moderate-to-low lighting conditions and are especially appreciated by the pursuers of winter sports. They enhance contrast and provide users with unparalleled depth perception. 
Features
There are many technologies that sunglasses utilize to block UV-rays and reduce glare, all beneficial in different situations. Polarized lenses substantially reduce glare that is caused by light's scattering against surfaces like water and snow. The best polarized sport sunglasses are an integral attribute of all avid water and winter sports enthusiasts, as well as people who are susceptible to glare. However, if you do a sport that calls for attention to detail, it might be not the best choice. Such glasses are also not particularly good for ball sports since they affect the depth of perception. If you can relate to the last two points, consider getting sunglasses with mirrored lenses.
Transition lenses, also known as photochromic, are chameleons of the optics world. They adjust to changing lighting conditions by either getting darker in bright places or brighter in darker ones. If you want one pair of sunglasses for all occasions, this might be the way to go. But such sunglasses don't work for drivers since UV rays can't penetrate your windshield, so they will always be in one mode. 
If you got here and are still holding, you have our respect. We are wrapping things up already, and there is only one thing left: Ultra Objective Top 5 of the Best Sport Sunglasses for Men and Women. A fancy title for a relatively humble list of the best Oakley and Gill sports sunglasses. There is really not much one can tell about a pair of sunglasses in addition to those points we already covered, but at least you can enjoy pictures.
OAKLEY Men's Jawbreaker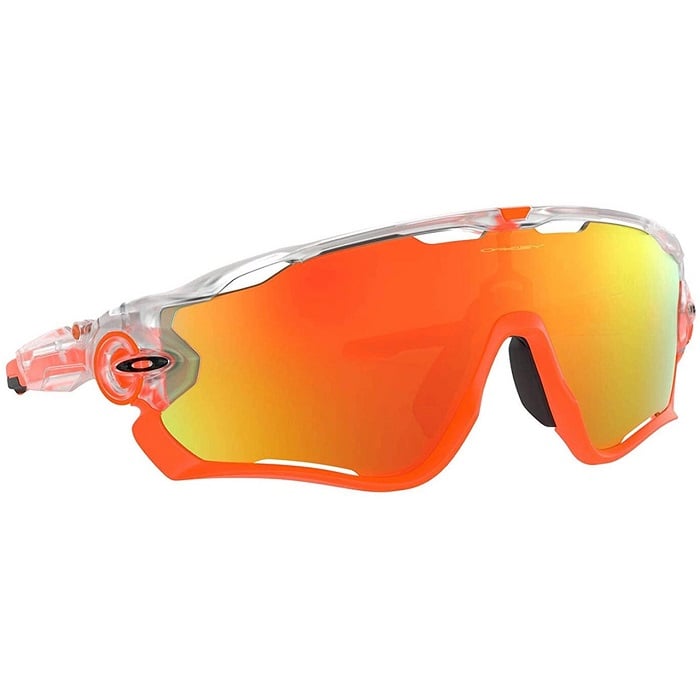 These sunglasses received their name due to their stunning looks, and definitely not because people tend to break their jaws while wearing them. These shield-framed sunglasses feature Oakley patented high definition optics that ensures optical clarity and razor-sharp view. Tall and wide contrast-enhanced flame-colored lenses block 100% of all UVA, UVB, and UVC rays. Nose bombs and earsocks keep the frame secured on your head even when you sweat. Temple length is adjustable, allowing for a custom fit.
OAKLEY Holbrook Minnesota Matte Black/Prizm Black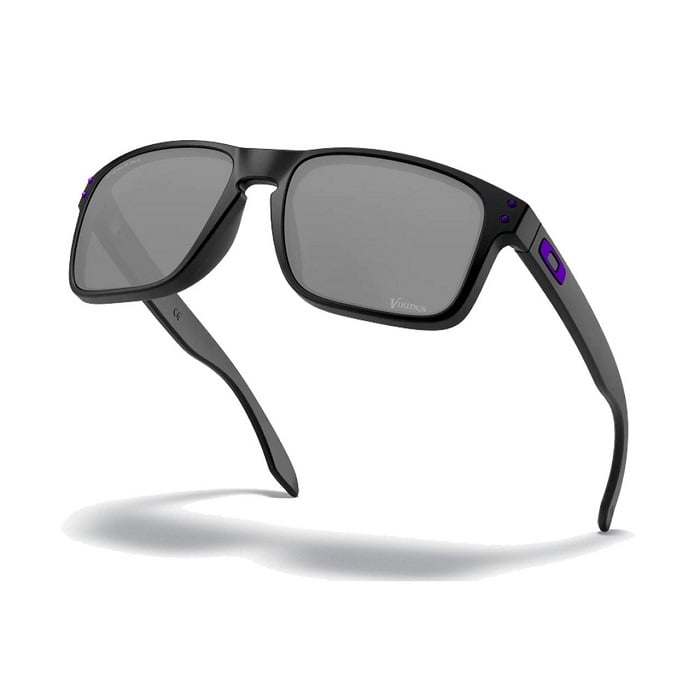 Featuring a plastic frame and polycarbonate lenses, this pair of sunglasses embodies a timeless classic. Combining the traditional style of the mid-20th century with modern technology, Oakley imbued them with the spirit of exploration and adventure. Bent temples ensure a secure grip, while Oakley's signature Plutonite lenses block all ultraviolet light rays that may come your way. The bundle includes Oakley's Lens Cleaning Kit and Large Black Leash Kit. 
OAKLEY Men's SI Flak 2.0 XL Sunglasses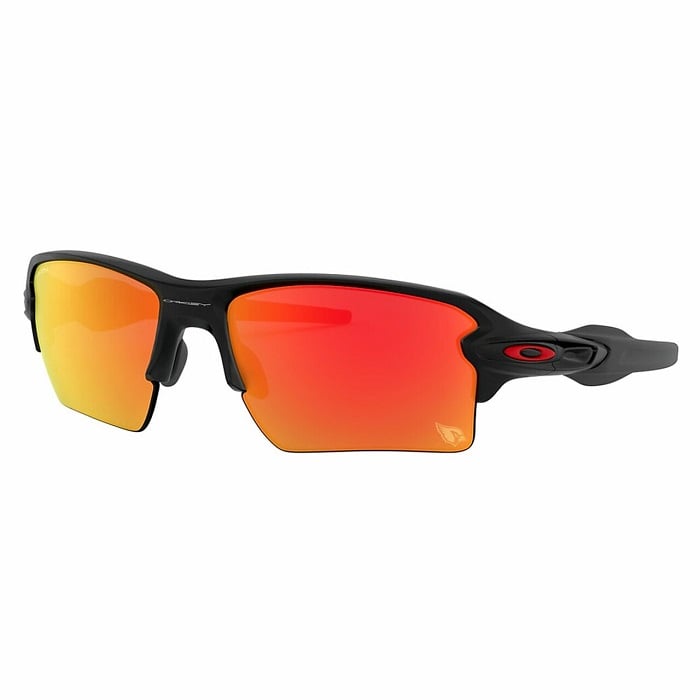 These semi-rimless sunglasses withdraw the spark of adventurousness from their wearer and color the lenses with it. Resilient and lightweight, they are optimized with the patterned Prizm Technology for the uncompromising vision. This pair features the already mentioned High Definition Optics technology that ensures lucidity of view and impact-resistance of lenses. The variety of models is indeed fascinating: there are Polarized options, sunglasses with Iridium or Prizm lenses, and over a dozen color solutions.
OAKLEY Eye Jacket Redux Shift Collection Planet X /+Red Iridium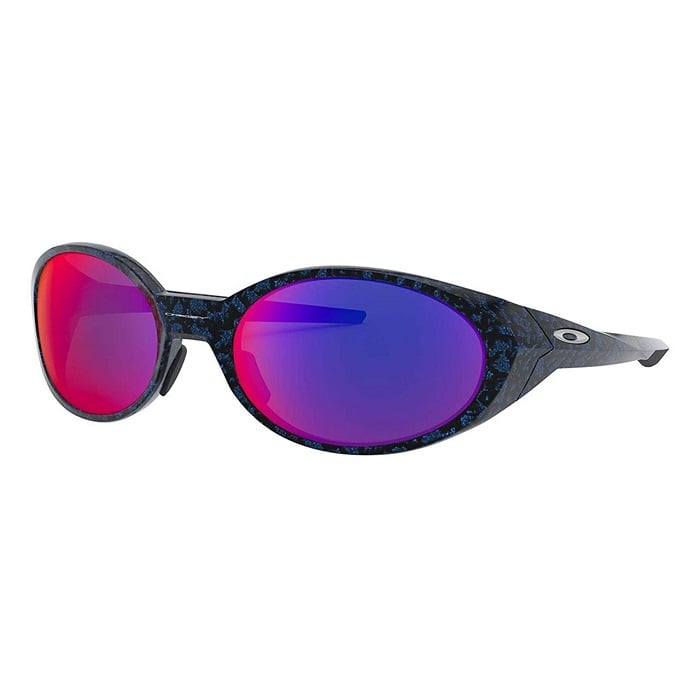 Men or women, this pair of sunglasses will match any face. Reinforced with Unobtainium nose pads and temples for ultimate grip, they are installed with Prizm lens technology for enhanced color fidelity, contrast, and details. The design features the same bold oval silhouette as the original Eye Jacket series. Balancing between sport and lifestyle, this pair is embellished with eclectic, artistic patterns unique to every pair.
GILL Race Fusion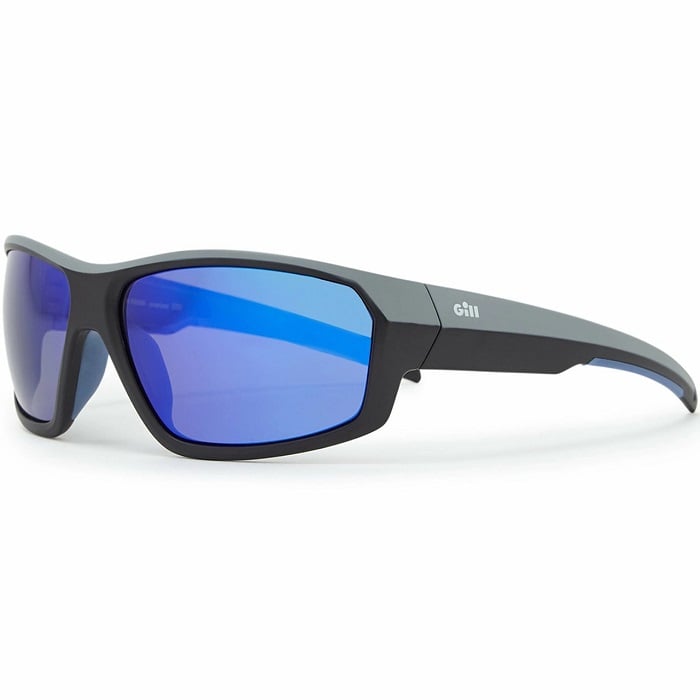 Gill crowns our list with a pair of azure blue sunglasses for your water adventures. Be it blocking glare from water, protecting the eyes of a driver, or sitting neatly on the face of a fashionista, these sunglasses perform every task with excellence. The inbuilt floatation technology won't allow your sunglasses to sink into the blue depths, while hydrophobic lens coating repels water and reduces salt residue. If you like getting active on and around the water, Gill Race Fusion is an absolute must.