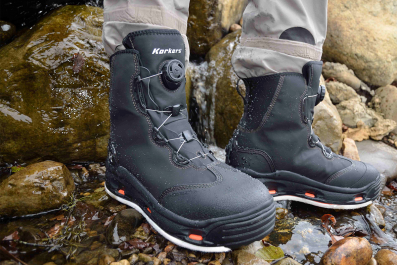 Last Updated on
For striped bass anglers navigating the slick jetty rocks along the North Atlantic to diehard duck hunters busting through ice-covered rice fields in Arkansas, wading gear is necessary equipment for the outdoor enthusiast where negotiating inundated lairs is part of the game. I recently got a chance to incorporate Korkers Devil's Canyon Wading Boots into several of my outdoor excursions. To be honest, I have an entire closet full of wading boots from high end models to economical versions I picked up on sale. But, this is my first pair of Korkers and after wearing several times in and out of the stream, I now wonder why I ever used anything else.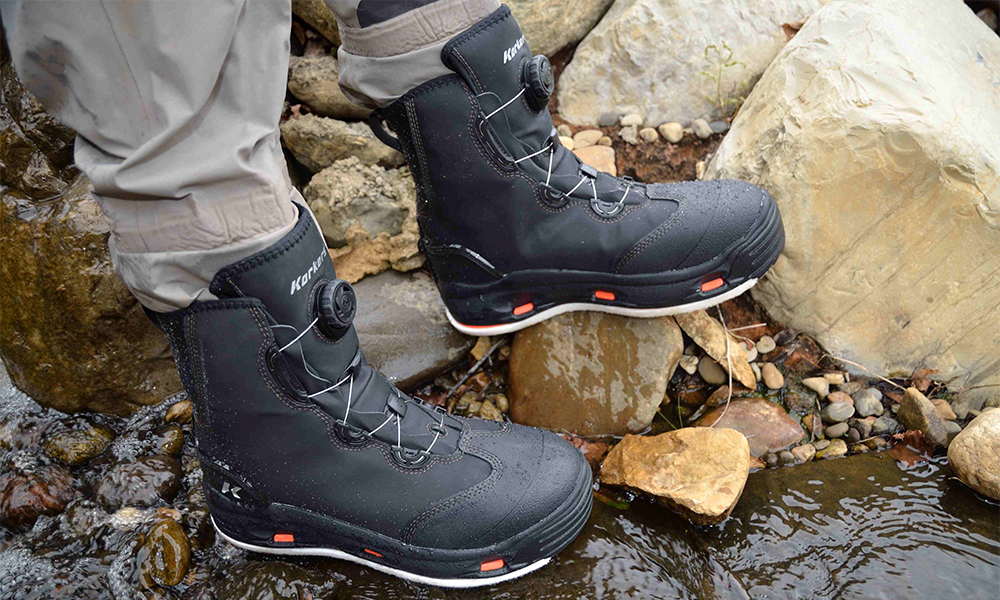 My Background
I am an avid hunter and angler where a flooded environment goes along with the territory. Wading has been a part of my life ever since I was a child. I remember like it was yesterday when Santa Claus brought me my first pair of Red Ball boot-foot rubber waders. I was only 10 years old and they practically swallowed me up. But, they were absolutely necessary for me to trail behind my father and two brothers into the black water swamps of Bladen County, North Carolina in hopes of firing a few shots off at an early morning flight of wood ducks. Ever since then, I have purchased dozens of waders, including, both boot-foot and stocking-foot styles from 5mm neoprene to super thin, ultra-light nylon versions.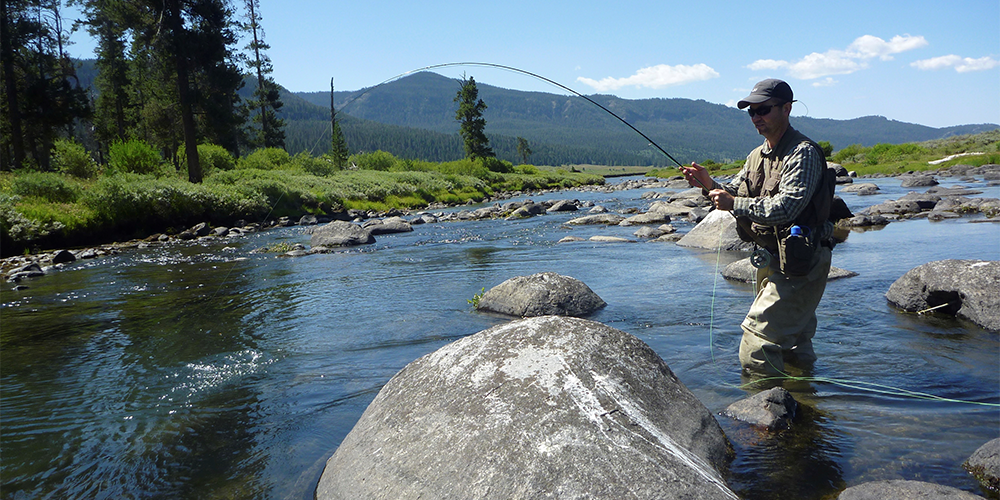 While there are specific uses for both boot-foot and stocking-foot wader models, stocking-foot wader versions are preferable because it provides increased versatility and stability in variable conditions. When using stocking-foot waders, wading boots are essential, where boot-foot waders are one entire piece. The stocking-foot wader style allows the user to interchange both waders and boots. There are few outdoor environments where all conditions are exactly alike, and versatile equipment can make difficult conditions pleasurable. Waders provide access to places hunters and fisherman wouldn't otherwise be able to go.
Stocking-foot wading systems provide the most options in versatility. And Korkers wading boots take the versatility factor to another level to make the ultimate wading boot system. While many outdoor companies manufacturer an entire lineup of fishing-related gear, Korkers sticks to its roots and only manufacturers wading boots and a few accessories to go with its wading boot system.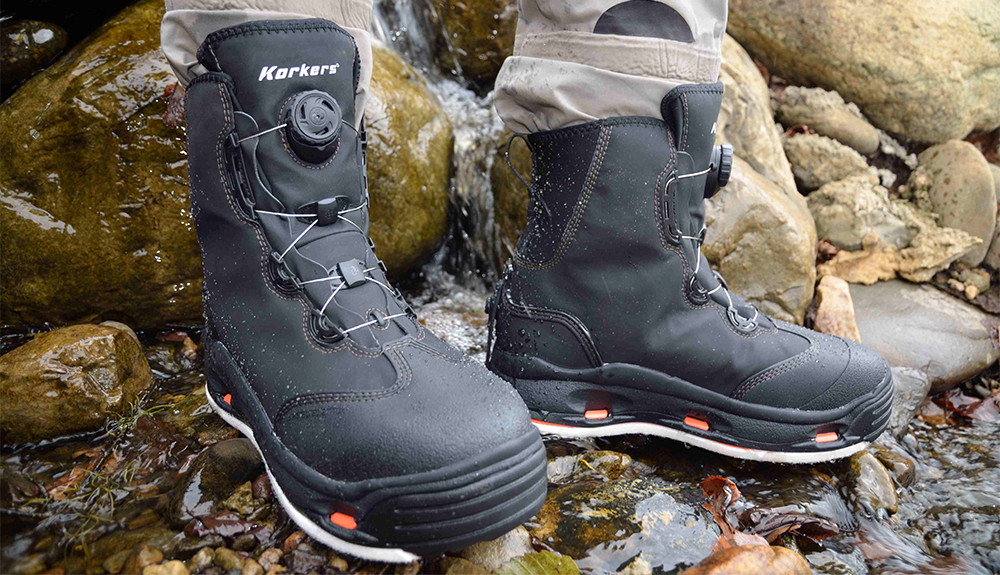 The Devil's Canyon Wading Boot
Korkers is a fishing boot manufacturer with several models available from both stiff to flexible and normal top-entry to rear-entry styles. From my experience in the river and hiking through unstable environments, any boots that resemble a normal shoe or hiking boot is the most preferred. The Devil's Canyon model is both lightweight and flexible, and they excel in versatility. These boots combine to form the perfect mix for a wading boot that can easily double on terrestrial terrain. In my experience, there are very few angling opportunities that don't begin and end with a hike to reach the lesser-touched waters where oversized trout call home.
The Devil's Canyon model is named for the famous Devil's Canyon along the Lower Deschutes River in Oregon. Named for its rocky cliffs and treacherous ravines, the Devil's Canyon wading boots are the perfect fit for anglers looking to navigate both terrestrially and aquatically to get to their fishing spot.
Fit
At first glance, the Devil's Canyon boots fit snugly and felt much more like my hiking boots than a pair of wading boots. Just as they advertise, the Devil's Canyon fit just like a glove with the wrapped cuff and forgiving materials. All wading boots are inherently stiffer than a common hiking shoe, but this model definitely gives a more comfortable fit than my other wading-boot options. And after several trips to the stream, the boots loosened up and became even more comfortable.
Drainage Ports
In addition to the comfortable fit, the boots are made of waterproof materials to shed water, and the large integrated drainage ports allow water to freely flow outward. Many wading boots grow heavy after getting wet, and this can generate fatigue after a full day on the water. At only 3.5 pounds, the Devil's Canyon will not get any heavier after a full day on the water when it's time to hike back to camp. This is a major plus in my book. The majority of other wading boots always seem to soak up water and make the trail back home less than comfortable.
BOA Lacing System
Probably my favorite attribute of the Devil's Canyon boot is the BOA Lacing System (BOA). Lacing systems of any boots can be tricky, but Korkers has incorporated BOA into this model for easier lacing. This feature makes it extremely easy to adjust for the perfect fit and to get on and off.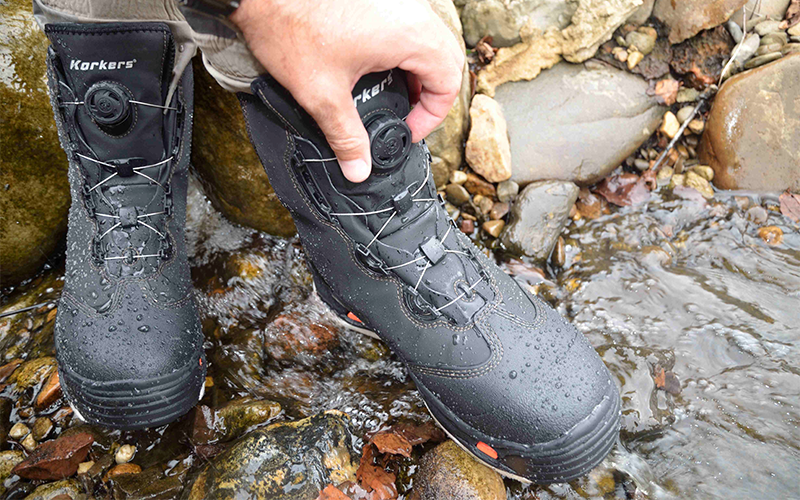 Laces on boots of all kinds are always problematic. Traditional laces must be adjusted several times from getting them loose enough to slide in your feet, tightening them with feet inside, and then getting them back off. Not to mention, laces typically loosen or break after a couple dozen encounters with sharp rocks and in-stream debris. The center dial allows anglers to make small adjustments with one hand to gain the perfect fit. After using this lacing system this summer on several trips to the water, I can't ever imagine using traditional lace-up boots again. It's ingenious!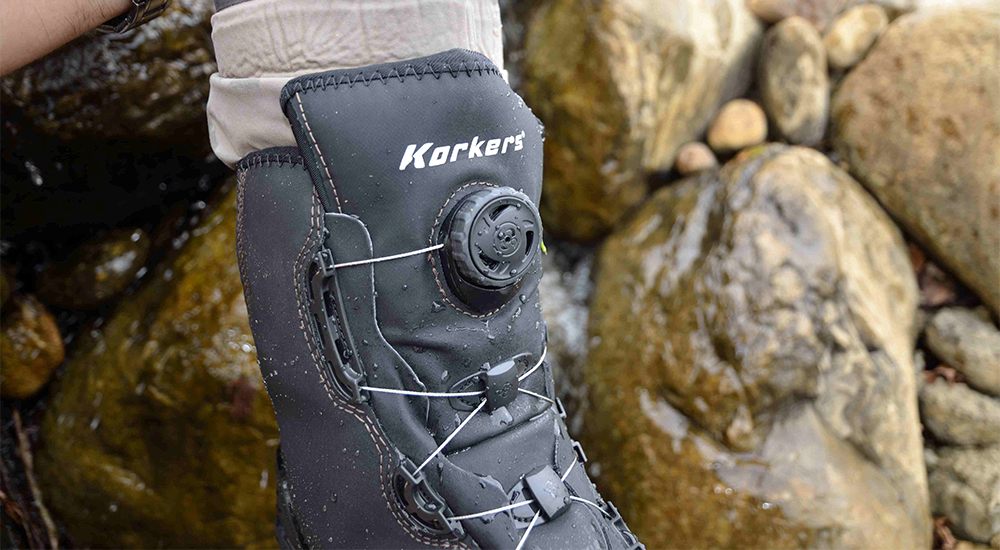 The Korkers Devil's Canyon wading boots are my new favorite for sure, but I haven't covered yet what sets Korkers boots aside from every other wading boot company on the planet—the OmniTrax Interchangable Sole System. Every model of Korkers wading boots comes with the OmniTrax Interchangable Sole System that truly sets Korkers apart from all other wading boot manufacturers.
Korker's OmniTrax Interchangeable Sole System
For nearly a half century, Korkers has built wading sandals and boots to tread through the unforgiving aquatic terrain in many places around the globe. As such, different types of gear are often needed to meet difficult challenges in the field. Anglers must choose gear that matches their environment, and Korkers OmniTrax Interchangeable Sole System allows anglers to use their favorite boots in every condition available. All Korkers wading boots come with the interchangeable sole system that alone makes the Korkers boots rise to the top among competitors.
Benefits Of Interchangeable Soles
Initially, the interchangeable sole system may look like a gimmick to attract gadget heads in the angling field. But, this couldn't be further from the truth. The interchangeable soles provide anglers with adaptable traction and several different options to improve their performance on the water. Korkers produces 10 sole options from a traditional felt sole to a sticky rubber with an array of metal stud configurations.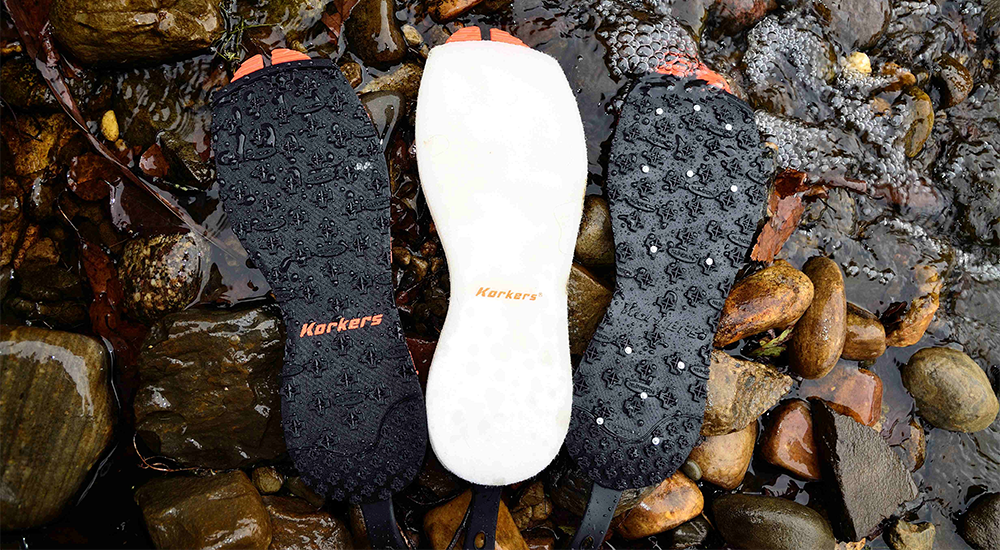 I got to test out the traditional felt, Kling-On, and studded Kling-On soles. In most cases, the traditional felt soles are preferable for me, especially when I have a short walk to the water. In addition, most of my fishing waters are covered in slick algae. The felt routinely gives me extra traction in these situations.
But, these days, I am making longer treks to access more remote places. I routinely encounter several miles of hiking through rocky canyons, steep cliffs, and unstable ground to get to my fishing waters. The Kling-On versions are the perfect match for this type of use. Not only will the rubber soles give me terrestrial traction hiking in, the sticky component of the cling-on sole doubles for a perfect in-stream use, especially in places where felt soles are prohibited.
Testing All Three Interchangeable Soles
I got a chance to put all three of my soles to use on the Nantahala River in Western North Carolina this summer. As I expected, the felt soles worked well, and the Kling-On soles work like a sticky rubber when in the water. However, it was the studded version that really got my attention. They gave me that extra traction in the algae-covered rocks I encountered on my trip to the Nantahala. Felt soles are typically my favorite, but the sticky rubber with the studded soles gave me an unbelievable amount of traction I didn't expect for a rubber-soled shoe.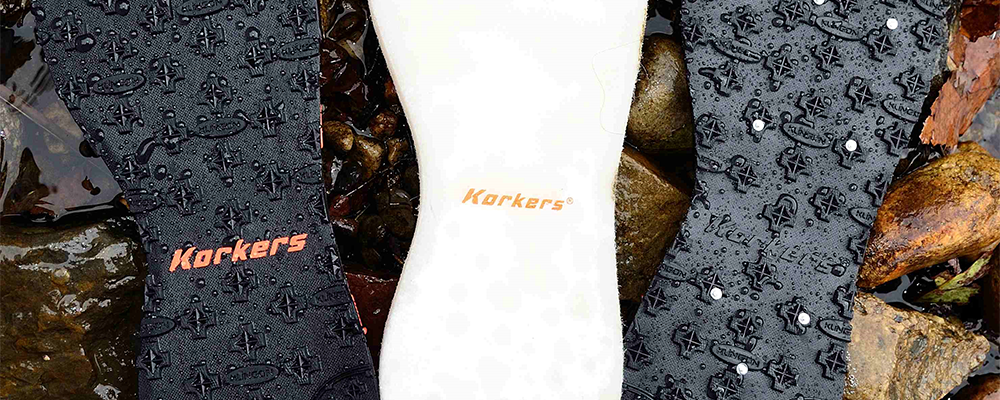 One of my concerns with the OmniTrax was the potential for soles to become loose or fall off the boots while in the river or treading in rocky terrain. The places I normally fish usually have very swift currents, and I was worried about a sole becoming free. But, Korkers has obviously explored this aspect to the highest degree because the methods the soles lock in prevent the soles from getting away. The soles have two tabs on the front, six tabs on the sides, and a rear strap to fully secure the soles to the boot. Never in my three months of testing did the soles become loose or did I fear the soles were going to fall off.
Longevity and Warranty
For over 60 years, Korkers has produced wading products for anglers across the globe. Every year, Korkers looks for solutions to common problems with wading boots, and they tailor their product lines to allow anglers to enjoy their crucial time in the outdoors. From the BOA Lacing System and the OmniTrax Interchangeable Sole System to the various custom styles for every condition out there, Korkers strives to make a better wading boot. Materials are hydrophobic, abrasion-resistant, and triple stitched at the seams. It's no secret that wading boots get put to the test every time they get strapped on. The unforgiving waters and rocky terrain wading boots are routinely used in can really take a toll on footwear.
In my experience, the Korkers Devils Canyon Boots are solidly built with little appearance of wear after several trips to very unforgiving environments in the North Carolina mountains.
Of course, manufacturing defects happen occasionally, and Korkers stands behind their products against manufacturing defects and workmanship with a one or two year warranty. The Devil's Canyon and the other higher-end models have a two year warranty from the date of purchase. Even so, I can't imagine Korkers gets too many warranty claims. These boots are solidly built with attention to detail from every angle.