By Guy Sagi
Nikon's hard-earned reputation for camera gear rugged enough to thrive in hostile environments, yet precise enough to capture some of history's most iconic images, has an unintended consequence. The company's sport optics division will probably always operate in the shadow of its counterpart, despite delivering the same reliable performance and value.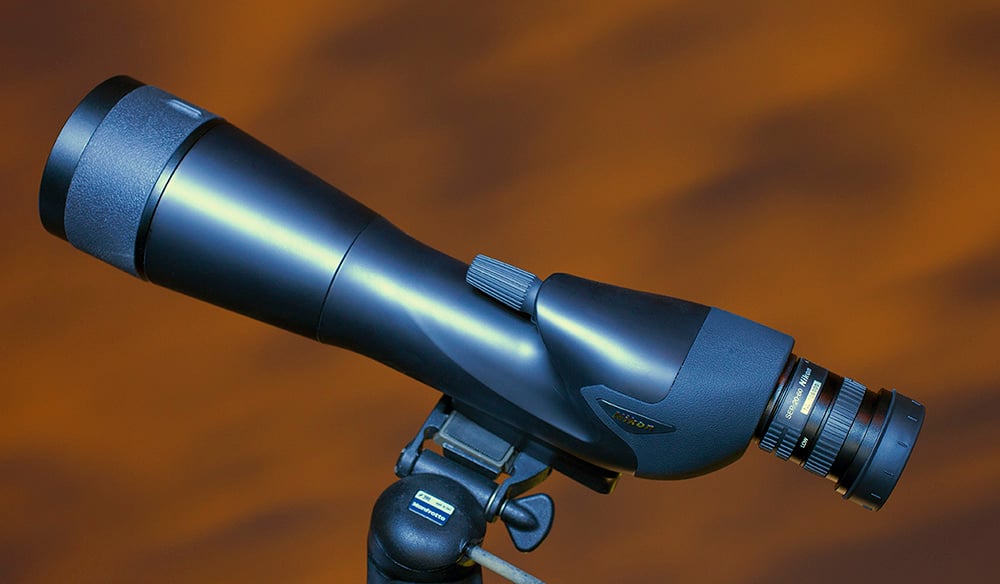 The name "Nikon" is nearly synonymous with cameras and lenses for most consumers, but the company, which formed in 1917, rolled out its first binocular back in 1921. It makes good business sense, since the laws of physics apply regardless of the collected light's final destination—whether it's film, digital sensor, or an outdoorsman's pupil.
Unfortunately, perception is reality. Photographers monitor every move the company makes, while wildlife enthusiasts, birders, campers and hunters relegate the firm's products to second-tier status—good enough to consider, but not a first choice. What a mistake.
The paradox hasn't escaped Nikon management, either, so it launched a separate sport optics division more than a decade ago in the hopes that a focused effort could increase market share. Don't think for a moment that move translates to abandoning the cutting-edge stuff coming out of the camera side, though. In fact, when I visited its New York headquarters four years ago they were still in the same building (albeit its counterpart's offices dwarfed sport optics) and the flow of information from the photographic side, along with the expertise, was constant.
Nikon quality and longevity goes into everything the company produces, including the PROSTAFF 5 20-60×82 mm Fieldscope, which is why the first thing that struck me about the scope's main body is its light weight. I'll acknowledge the Porro-prism design shaves ounces, but I own several spotting scopes from competing companies that feel like anchors in my backpack. The main body weighs 2.05 pounds. Add the separate eyepiece at .5 pound, and total heft comes in at 2.55 pounds. There are other quality scopes just as light, however, Nikon's pride in producing rugged gear made this a pleasant surprise, one still backed by its 25-year limited warrantee.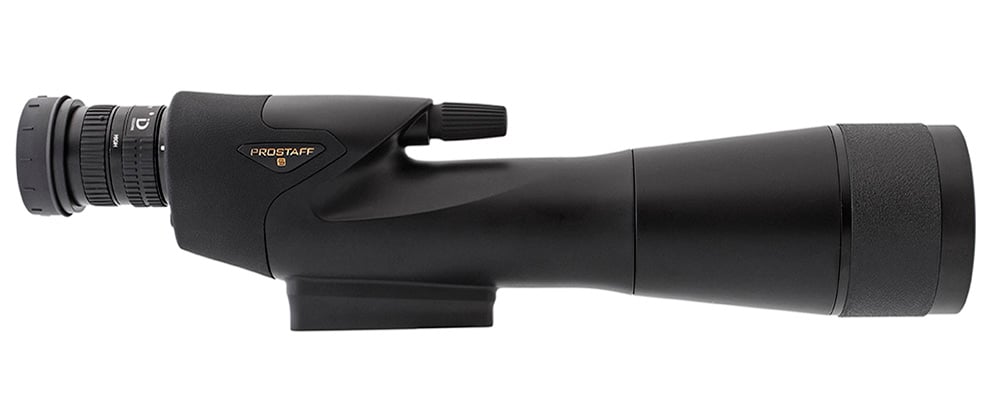 The main body is 14 7/8 inches long, however, when its sliding sun shade is deployed, overall length increases to 16 1/4. If you've ever battled glare when viewing wildlife or watching a target, you understand the feature's virtues, and with a generous 82 mm light-collecting objective lens, it's going to come in handy. With the eyepiece attached, and shade retracted, length increases to 17 3/8 inches. Width at the objective 3 5/8 inches, although when measured from the bottom of the base to the top of the focus housing it's 4 1/4 inches tall.
The base provides a pleasant surprise—two tripod-mounting locations. Both are standard size and it's another nice touch on this model. Birders who need to better balance the optic when looking up at a steep angle may appreciate it most, but hunters will find a choice of locations ideal when glassing in steep country. The threads are separated by 2 1/2 inches, and having the option of either made me much more confident the optic wouldn't take a terminal tumble during testing.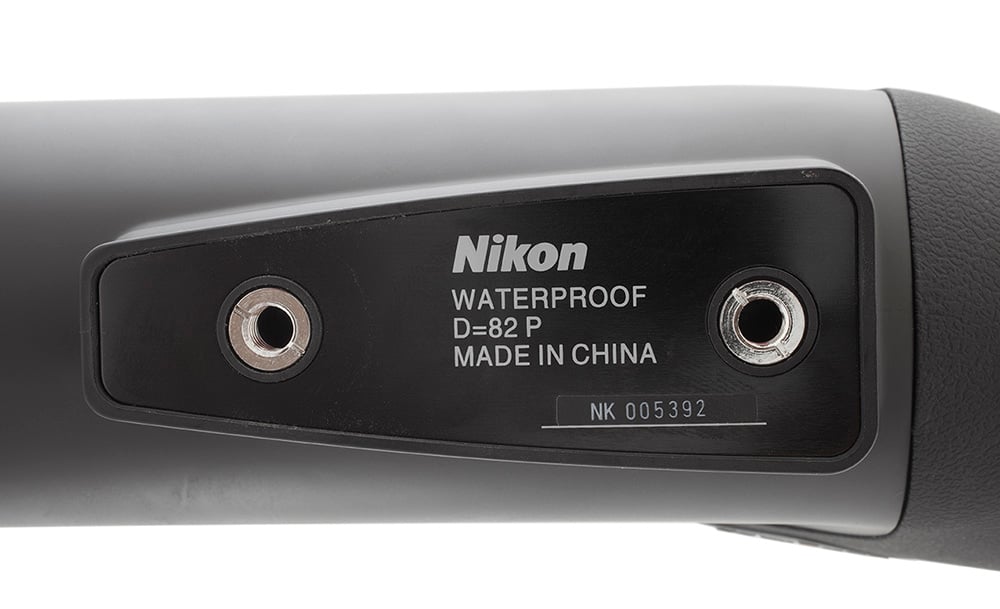 It's waterproof (up to 1 meter for 10 minutes), but with a separate eyepiece it was begging a serious test. The spotting scope was left in a steady rain for four hours. There were no leaks and it did not fog, even at the three-lug bayonet mount that mates the body and eyepiece. Obviously, there's good reason Nikon made the tolerances there tight enough that the pair couples stingily.
The scope is nitrogen purged to minimize the chances of fogging. The test is cliché, but often produces surprising results, so the PROSTAFF 5 20-60×82 mm Fieldscope spent two hours in a freezer, then subjected to 68 degrees with 63 percent humidity. Bear in mind, virtually anything that cold introduced to enough moisture in the air will quickly cover with ice and frost, which the scope did. It's the same principle that ensures frost on a beer mug pulled from the fridge.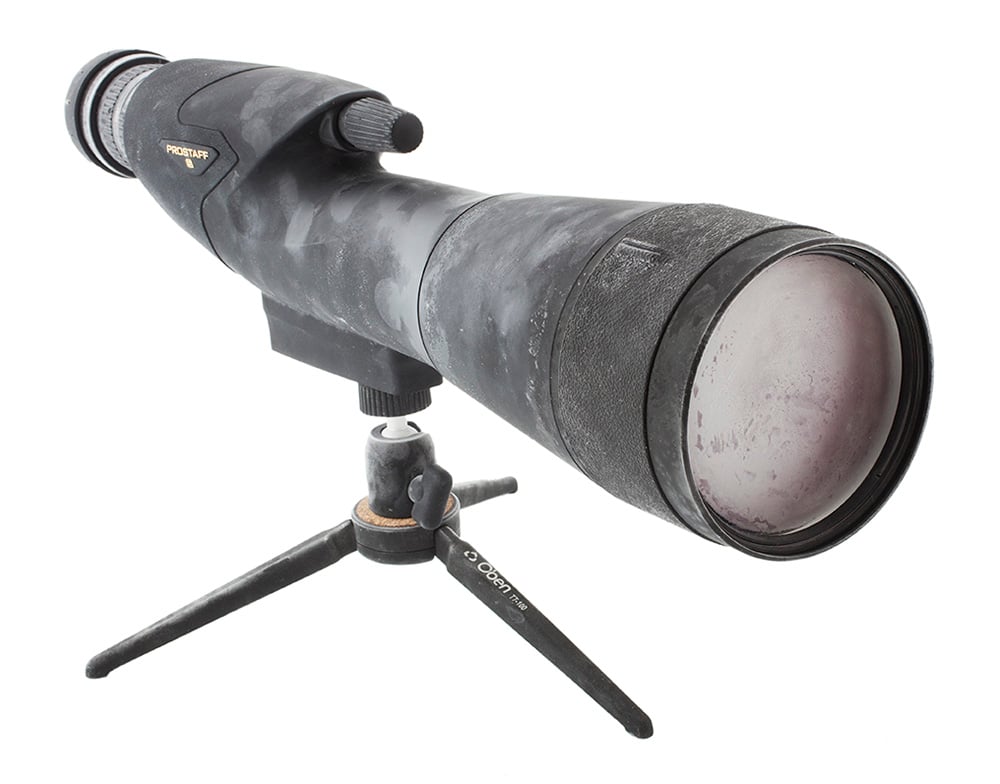 Internal fogging is a completely different animal, though. Moisture—frozen or not—on the exterior can be wiped clean with a lens cloth, but interior condensation can render an optic useless for a long period of time. Once I cleared the ice, there was some internal fogging detectable on the middle of the objective lens, although it quickly disappeared. I've seen optics three times more expensive flunk this simple test in much worse fashion, despite identical nitrogen claims.
The odds are you'd never subject your optic to this kind of torture, but there are field applications. Birders, for example, might be traveling in an air-conditioned vehicle and suddenly see something they want to glass. Good luck if you're carrying cheap optics. The Nikon cleared fast enough that this is of no concern, even if you're making ice cubes in your SUV's back seat. Hunters often face the inverse situation, in which they enter a warm and relatively humid tent (because there's three guys snoring in there) after a sub-zero outing. While fast glassing of wildlife isn't a concern here, the waterproof rating is as the frost melts—Nikon's entire PROSTAFF line is waterproof.
All of this is well and good, and O-rings in its construction pretty much made the hazard tests a foregone conclusion, but it's of no use if the optic doesn't perform well. Resolution testing began with the U.S. Air Force 1951 chart. The military may have abandoned the protocol for a variety of reasons, but the groups of fine lines in descending width provide a glimpse of optical quality. Compare two scopes at the same time, in the same light, and the one that reads the smallest box of bars wins. Adding to the Nikon's challenge was the fact that this testing took place after the freezer treatment and rain.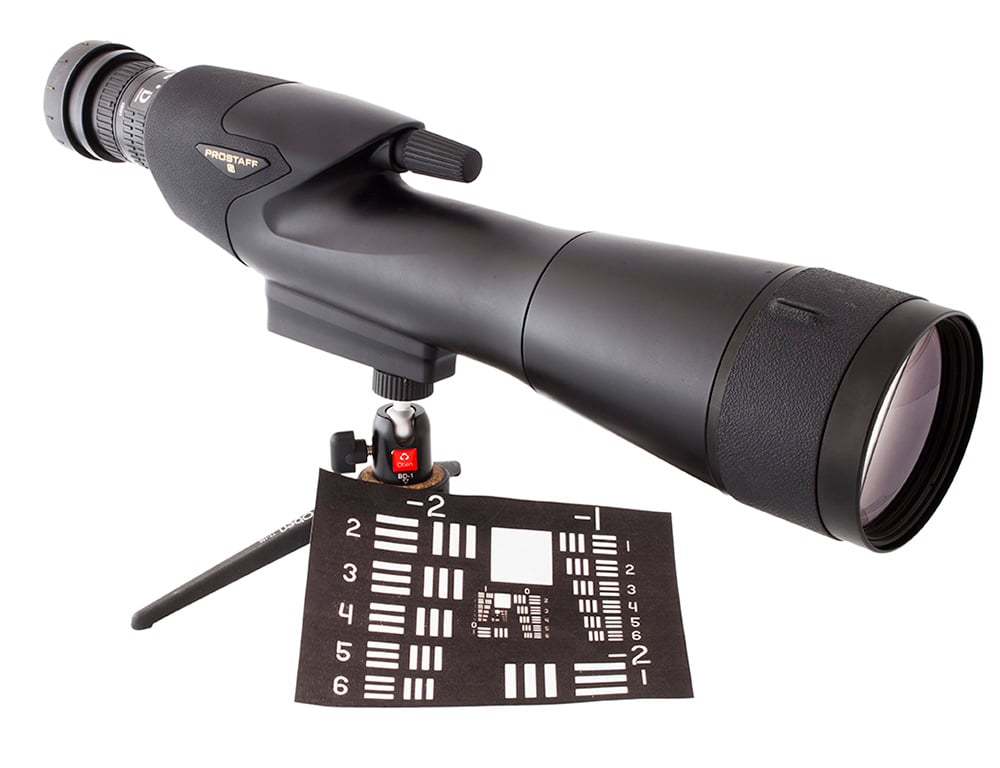 I was able to clearly read and count one smaller test grouping than with either of my older scopes at an identical magnification (at 50 yards). I wasn't surprised one of my personal optics was sub-par, but the other had a price point similar to the Nikon PROSTAFF—years ago.
That was in bright light. Things changed noticeably at sunset with the chart in shade. My cheap scope was barely clinging to the largest rectangles and the other scope was gaining on it fast, while the PROSTAFF's multi-coated optics lost only one group. The Nikon continued to gather useable light after the other scopes surrendered to darkness.
Field of view is a generous 104.8 feet at 1,000 yards (20 power). Chromatic aberration, that annoying inaccurate fringe color that can appear next to high-contrast objects, was not there in bright light or after sunset. It was slightly noticeable when twilight was imminent at 60x with the Air Force resolution chart. The fact the image was still bright enough to pick it out, though, is a testament to this optic's quality.
A second resolution check took place on an overcast day with 87-percent humidity at 100 yards. The numbers on a bright yellow, construction-style retractable tape measure hung on a wall were readable at 60 power. I could also see the half-inch marks. Quarter-inch hash marks were caterpillar fuzzy, but there was no annoying blending of red letters and yellow background.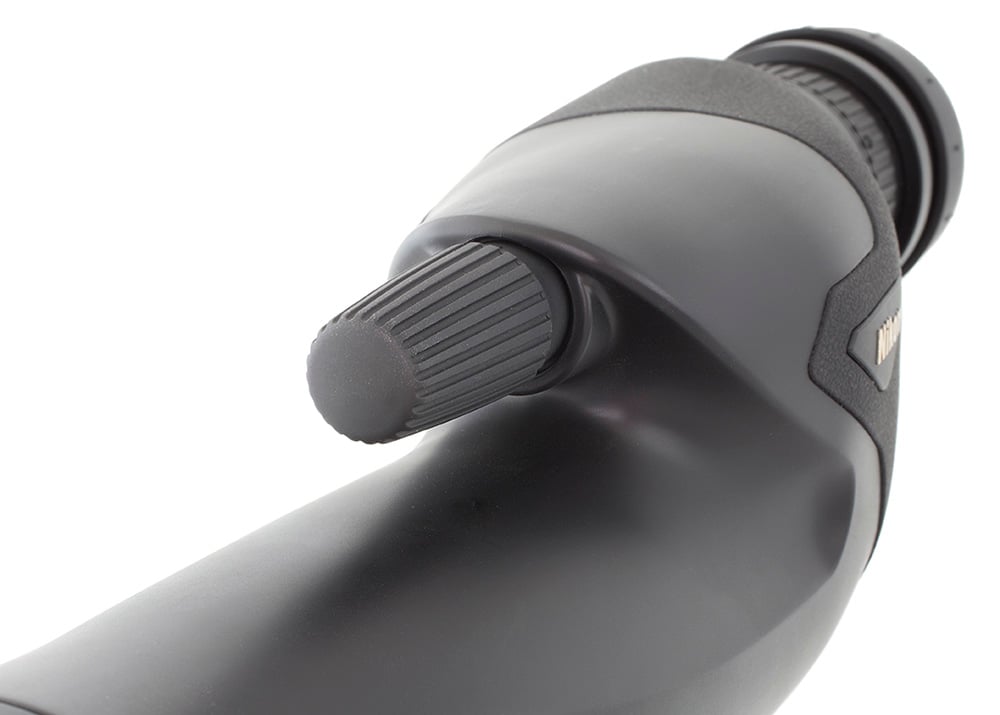 The company hasn't overlooked much. The focusing knob is high enough above the main tube to allow gloved use and its grooved texture ensures a solid purchase in the cold or wet. Photography enthusiasts will be glad to know the scope is digiscope ready—with the addition of an optional digital camera bracket—and the turn-and-slide eyecup provides enhanced eye relief for those who wear glasses. Lens covers and a carry case round out the kit. About the only complaint I have is the fact that the magnification knob, which is located on the eyepiece, doesn't have a speed bump to ease changes in poor weather. And, that's not much of an indictment.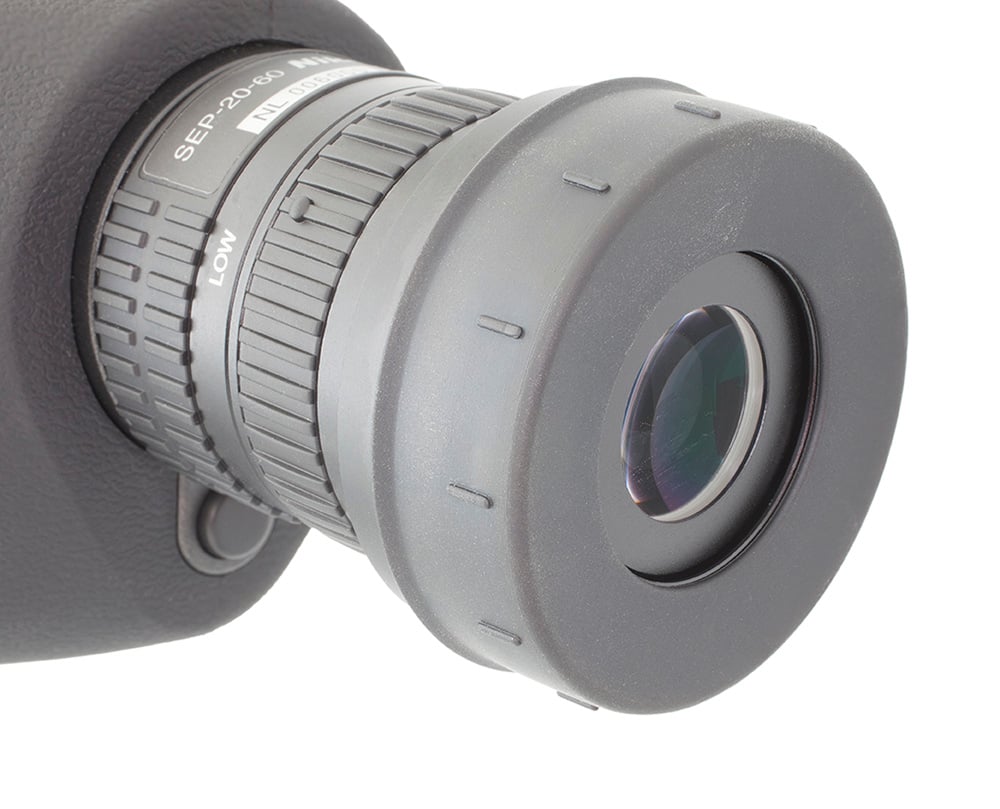 Overall optical quality can be summed up in one word—Nikon. No, this isn't the company's spotting scope flagship line, but it certainly holds its own against some of the pricier European optics I've tested.
---
Ready for more Nikon sport optics reviews? Check out our profile of the Nikon Monarch Gold Laser1200 Rangefinder.
---