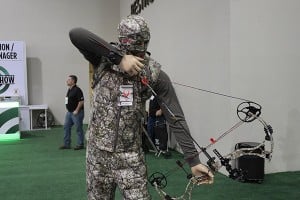 This week we've been covering a lot of new products on the SHOT Show floor for our sister site 1800GunsAndAmmo, but today we're going to take a look at some of the great new products from brands on Gritroutdoors.
Eberlestock
The big news at the Eberlestock booth is the arrival of their new and exclusive camo pattern, Doppel:Ganger. Something interesting happened as founder Glen Eberle was developing the pattern for the company's packs and bags. He looked into the top corner of the pattern, and he saw the image of a fierce cat jump out at him. Then and there the idea was born, the prowling cat was the doppleganger of the hunter and outdoorsman or woman in us all. For those not familiar with the concept of the doppleganger, it is the double or identical person of an individual, as in you may pass by your doppleganger, a person who looks just like you, on the street.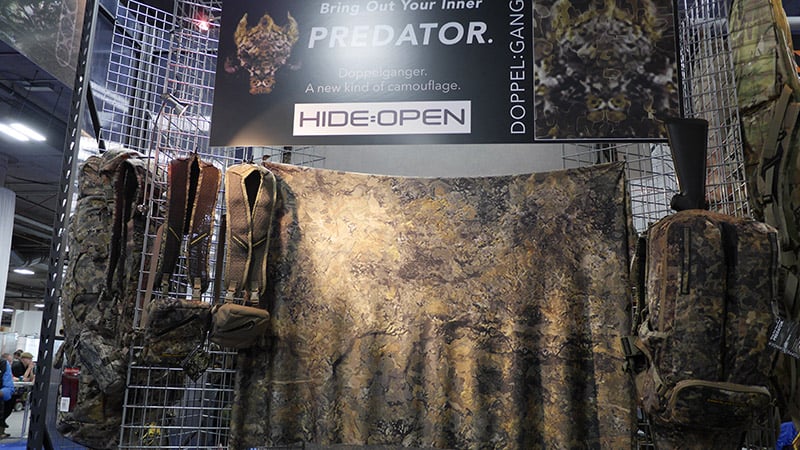 The pattern itself looks great and it's like nothing else in the extremely competitive camo market. The other motto of doppleganger goes like this – Hide:Open. The camo is designed to be used in any engagement distance, and it fools animal's eyes by causing them to focus on a certain detail in just one of the layers. We look forward to more bags in the Doppleganger pattern for 2017.

Leica
Leica has several new optics on display for 2017 at SHOT, and every single one offers the same excellent clarity and superior performance we've come to expect out of the Leica line. This year Leica has several new binocular offerings to highlight starting with the Noctivid 10×42. This premium binocular retails for $2600 and even the most demanding birders will be pleased with its performance. They have a stunning light transmission of 92% and they are built to perform extremely well at dusk so you can still pick out animals well into the evening.
Leica is showcasing their two editor's choice awards from Outdoor Life this year, the Trinivid HD 10×42 and the Ultravid HD Plus 8×32. Up first, the Trinivid 10×42 won the best full sized binocular award, and it is Leica's most affordable binocular at just $999. This binocular beat out more expensive binoculars in the same category, and it handles great and looks exceptionally clear for a binocular at its price point. The real standout of the two was the Ultravid HD Plus 8×32. It won the best mid-sized category, but it really performs like a full-sized binocular. The Ultravid feels like there is almost nothing in your hand, but as soon as you place them up to your eyes, it's astonishing how easy they are to use and just how clear and crisp they look. Hands down these are the best 8×32 binoculars we've seen at SHOT, but they do come with a higher price than the Trinivid at $1949.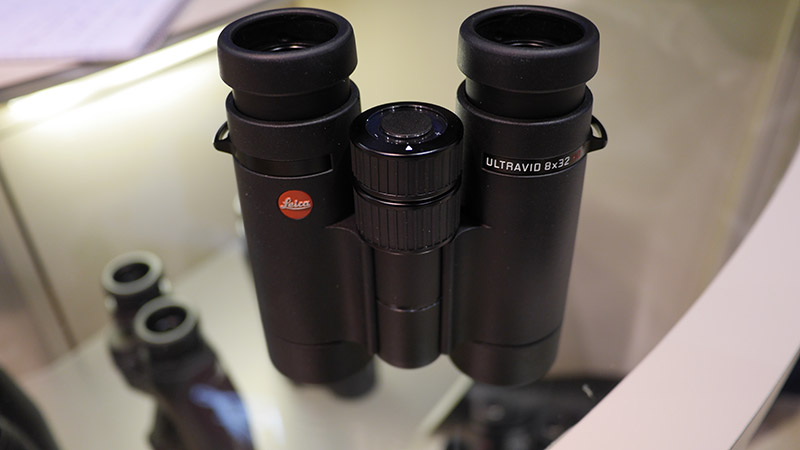 Finally, Leica is showcasing their new rangefinders at SHOT, the CRF-1600 and the CRF-2000. What's interesting about Leica's rangefinder line is how they market total ranging distance – they don't put a number on max range. This is a nice departure from "best case scenario" numbers generally present in other brands. Instead Leica simply states that if the target is large enough to be ranged and the user is capable of holding it steady, the rangefinder will return a reading. Certainly circumstances can cause a reading attempt to fail, but it's nice to see Leica's confidence in the capability of their rangefinders without inflating numbers. The top of the line model CRF-2000 is available for $799, which is an excellent price for a top rangefinder model.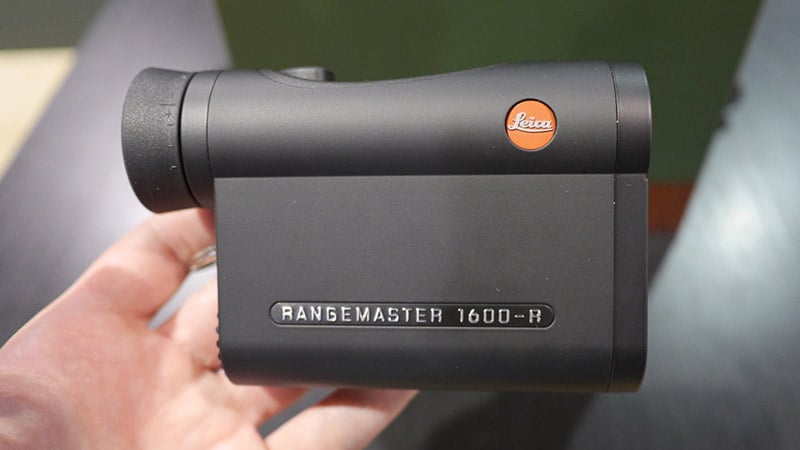 Badlands
Badlands has several new bags and packs available in various established patterns like Serengeti, Gunmetal, Blaze Orange and RealTree. However the big development that catches your eye is Badlands' exclusive camo pattern Approach. You can get it in all their new packs and several established models as well, and it's available in all their clothing as well. In a flooded market with nearly endless camo choices, the Badlands approach pattern is unique and stands out well. We look forward to taking a closer look at some of their new packs and apparel this 2017.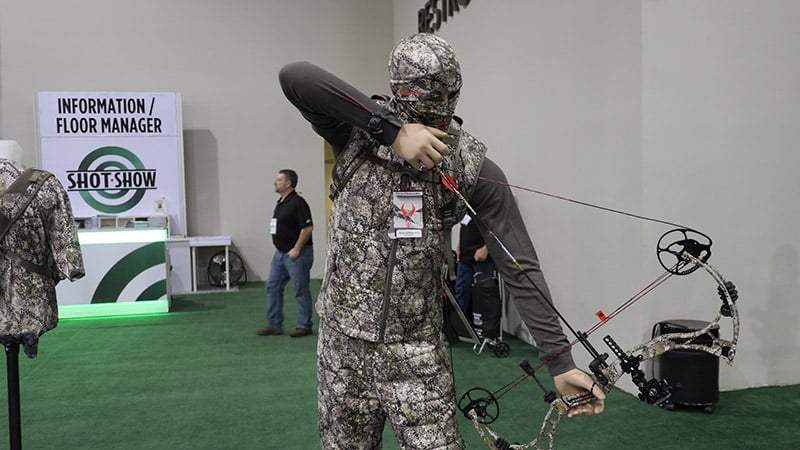 First Lite
First Lite has several new apparel items coming later this year, but what caught our eye was the warm weather capable Sawtooth Jacket. This lightweight full zip combines normal outerwear insulation with Merino insulation to offer the best of both worlds in a light, warm weather hunting or active jacket. Inspired by similar hiking / outdoor zip jackets, the Sawtooth is stylish and would look great both worn casually and on a warm weather hunt. The Merino insulation is concentrated on the back and in a hood. First Lite has figured out that when you wear a pack on a hot hike or hunt, your back is the place where you're most likely to sweat. Since the Merino is loaded on the backside of the jacket, it helps fight this uncomfortable effect and keep you dry when you're hiking hard. The Sawtooth is available in solid colors at $200 and First Lite camo patterns at $225.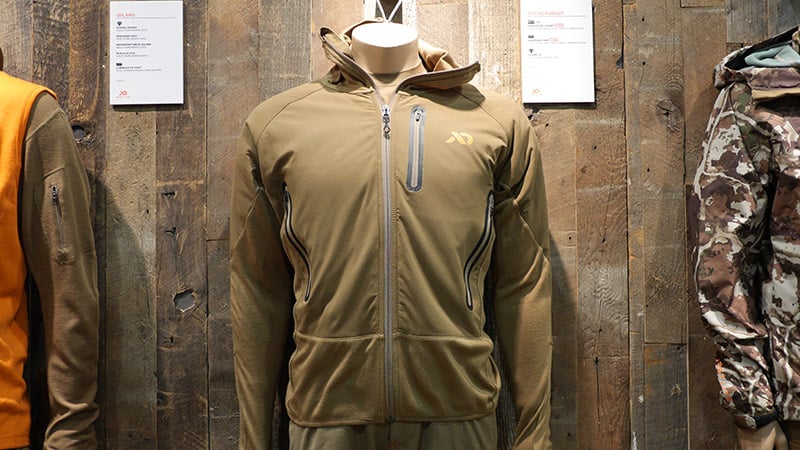 Muck Boots
Finally, we stopped by another of our favorite hunting and wet weather boot brands, Muck Boots to finish up SHOT Show. The big news around Muck is the addition of Vibram soles to their already popular wet weather boot models. Launching this fall is Muck's most appealing entry, the Woody Arctic Ice boot. Muck realized that the most ER visits result from slips and falls, and this is especially prevalent in the winter time. Hunters face even more perils as they're in the field, and Muck wanted to design a boot that fights this common injury. The Woody Arctic features two different types Vibram sole. In the center of the boot sole are Vibram's new Arctic Grips designed to grip wet ice. On the outside are Vibram's Icetrek lugs designed to grip cold, dry ice. The combination of the two ensures you'll get grip in tricky winter conditions. The boot has plenty of insulation with 8mm of neoprene so you'll stay warm in winter conditions as well. The Woody Arctic Ice Boot retails for $200.