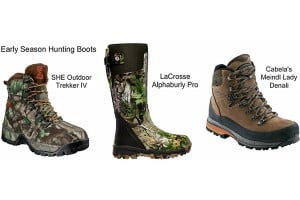 With the various popular boot manufacturers that offer a selection of women's hunting boots in today's market, it is easy to get overwhelmed or be indecisive in making a selection.
After reading Part 1 of this series, armed with knowing what features to look for in a hunting boot to perform well for the intended purposes, finding the perfect boot is the next step. Let's take a look at a few of the women's hunting boots available from some popular manufacturers. Keep in mind that you should look for the features important to your use and invest the most you possibly can for that product, or even splurge.
Early Season Boots
When selecting a hunting boot for early season, you need to keep in mind what temperature range you will be hunting in. It will be important to look for uninsulated hunting boots or those with less insulating properties and superior breathability. Waterproof boots will also be important early season in regions where wet weather is common.


SHE Outdoor Trekker IV
The 100% waterproof, 7" SHE Outdoor Trekker IV is designed with durable suede leather and 900 Denier nylon uppers for durability and wear resistance. The aggressive slip-resistant outsole and shock-absorbing EVA midsole make this an ideal boot for a wide variety of terrain. A moisture-wicking lining keeps feet dry and comfortable for any type of hunting. The SHE Outdoor Trekker IV is available in TrueTimber HTC Green in sizes 6 to 10.
LaCrosse Alaphaburly Pro
The LaCrosse Alaphaburly Pro is a non-insulated, scent-free rubber and neoprene boot that is flexible but tough. It has a thick cushioning EVA midsole with Active Fit technology narrowed ankle pocket grip, and the neoprene adjustable gusset makes the boot among the most comfortably fitted rubber boots for women. The neoprene gusset accommodates different calf sizes and makes it easy to slide the boot on and off. Unique tread pattern gives you the traction to move through demanding terrain while furrowed edges shed mud and muck. This boot is rated for temperatures from 70 to 0 degrees Fahrenheit with an embossed lining to allow for air circulation in warmer weather. The LaCrosse Alaphaburly Pro is available in Realtree Xtra Green in sizes 5 to 11. The Alphaburly line also offers an 800 gram and 1,600 gram boot.
Cabela's Meindl Lady Denali
The Meindl Lady Denali definitely does not lack in detail. The revolutionary Fit IQ system with strategically placed memory foam custom fits the shape of the wearer's foot. Durable full-grain nubuck uppers with waterproof, breathable GORE-TEX membranes and moisture-wicking Air-Active® footbeds offers comfortable extended wear in any temperature. A Polyurethane/EVA midsole absorbs shock while the Vibram® rubber outsole has ground-grabbing traction. Full-length nylon insole boards offer stability and support on any terrain. The DIGAfix® lacing system and innovative tongue design keep the boots snug around the insteps, locking the heel in place and adding comfort when flexing the boot. The entire boot has a rubber rand around it for additional protection from rocks and wear. This is a German-made boot and is perfect for the ladies with very narrow heels. The Cabela's Meindl Lady Denali is available in Nubuck brown leather in whole and half sizes 6 to 10.
Mid-Season Boots
Mid-season boots are the most popular category among hunting boots because the mid-range insulation can be tolerated on warmer days and can also be comfortable in cooler weather. They would not be ideal for extreme cold weather sedentary hunts but the type of sock the wearer chooses can make the boots work on cold weather stalk hunting. If using mid-season boots for extremely cold temperatures, overboots can be used. Overboots are can be carried to the stand and then slipped over the hunter's boots for extra warmth.

Irish Setter VaprTrek™
Built for comfort in the field with 400 gram PrimaLoft® Gold Eco Insulation, UltraDry™ waterproofing, a lightweight RPM™ sole with ScentBan™ Technology, the 8" VaprTrek™ is the perfect high-performance boots for mid-season for the avid female hunter. The CuShin™ comfort tongue technology offers a four-way flexibility of the boot tongue minimizing pressure on the shin. The Armatec™ protection works well against abrasion resistance and helps preserve and lengthen the life of the boot. The Irish Setter VaprTrek is available in Mossy Oak® Break-Up Infinity® in whole and half sizes 5 to 11. The Irish Setter VaprTrek™ is also available with no insulation for early season.
Kenetrek Mountain Extreme 400
The Kenetrek Mountain Extreme 400 is a surprisingly lightweight rugged terrain boot perfectly built with a slightly slimmer design and narrower heel. The 2.8 mm top grain leather on top of a stiff nylon midsoles and high traction K-Talon outsoles makes for the perfect spot-and-stalk boot high country or mountainous terrain. A rand completely around the exterior footbed protects the boot from water and abrasion adding to the life of the boot. The breathable, waterproof Windtex membrane and 400 gram Thinsulate insulation will keep feet warm and dry on any length of hunt. The Kenetrek Mountain Extreme boot is available in whole and half sizes 6 to 10.
LaCrosse Women's Silencer
The LaCrosse Women's Silencer is built for spot and stalk performance with a lightweight Trillium low profile lug outsole for superior traction. The 800 gram Thinsulate Ultra and Dry-Core lining keep feet dry and warm. The suede leather and 1,000-Denier nylon upper with a padded collar ankle cushioning offer durability and comfort. The LaCrosse Women's Silencer is available in Mossy Oak® Break-Up Infinity® in whole and half sizes 5 to 11.
Late-Season Boots
Late season hunting, in most regions, requires the heaviest of all insulation for obvious reasons. Keep in mind that these boots will probably not be a good all-season boot and often some of the higher insulated boots are not designed for comfortable long distance walking. Usually, when a hunter will be more active on hunts, the highest amount of insulation is not required.

Cabela's Women's Inferno™ 2000 Pac Boot
The 12" Inferno™ 2000 Pac Boot offers superior comfort and warmth without the bulkiness. It is constructed with 2,000-gram Thinsulate Ultra Insulation. The 100% waterproof 4Dry-Plus™ lining with moisture-wicking technology keeps fee dry. An aggressive rubber outsole allows for superior traction in snow, mud or rocky terrain. The Inferno has full-grain leather and nylon uppers, lightweight camo-wrapped EVA midsoles for extra cushioning and support, and abrasion-resistant toe and heel rand for protection will make these your favorite cold weather boot. The Cabela's Women's Inferno™ 2000 Pac Boot is available in Realtree AP™ in sizes 6 to 10.
Danner High Ground
The 8" Danner High Ground is built on a women's specific streamlined last that provides a narrower heel and lower volume fore/mid-foot. An EVA midsole provides added cushioning and the cushioning antimicrobial polyurethane footbed with open-cell construction allows for air circulation. The ultra durable, oiled nubuck leather and lightweight 900 Denier nylon incorporated with 1000-grams of Thinsulate Ultra insulation offers a lightweight boot with ample warmth and protection in cold climates. The 100% waterproof and breathable GORE-TEX lining keeps feet dry and warm. The Danner Talon outsole is similar to a hiking base and will perform well in rugged conditions. The Danner 8" High Ground is available in Realtree® Xtra® in sizes 5 to 11.
Girls With Guns Arctic Hunter Mid-Length Boots
Girls With Guns Arctic Hunter Mid-Length Boots by The Original Muck Boot Company are extreme condition hunting boots with an insulation comfort level to tackle temps to -40° F. The slimmer foot design does not take away from the comfort of these boots. The extended rubber exterior and 5 mm CR Flex-Foam upper leg allow ample room for tucking in pant legs. The interior of the boot is lined with soft fleece for superior warmth and an EVA comfort insole. The slip-resistant rugged outsole makes the boot ideal for any type terrain; wet or dry. The Girls With Guns Arctic Hunter Mid-Length Boot is available in Mossy Oak Break-Up in sizes 5 to 11. This style is also available in a full-height boot.
A hunter's selection of boots can be the difference in being able to stay the extra time in the stand or go that extra mile for a successful hunt. Simply choosing what is on sale, the newest fad, or what you think looks nice on the page of a catalog or in an ad can be detrimental to your selection. Taking the time to do the research, trying on various boots in local sporting goods stores and selecting the proper quality boot with the features you require will bring many hours of performance on the hunt.
Endorsement Disclosure: Per the guidelines of the Federal Trade Commission, the products reviewed or mentioned within this writing is an endorsement and the writer may or may not have been compensated by "in-kind" payment to review the product. Logos and photos are the sole property of the rightful owner and used within this writing solely for the promotion of products herein as requested by the product's manufacturer or in efforts of product exposure for the manufacturers.