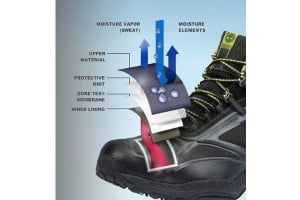 When it comes to selecting hunting boots, several factors are important but none more critical than proper fit. Hunting boots are the foundation of the entire body structure in motion. Before you ever start your search, you should consider two things: the type terrain in the area you plan to hunt and the climate for the seasons you will be hunting. It is important that a hunting boot keeps your feet warm in frigid temperatures but also is breathable once the day warms up.
Hunting boots fall into three categories: early season, mid-season and late season. There are three main purposes: upland, high country and multi-purpose. There are specialty boots as well, such as snake boots and wader boots for waterfowl. If you will be using the same hunting boots for all of your hunting, make sure you choose your boot taking all factors into account. A spot and stalk hunt in a mountainous area is going require different features than a boot for late season hunting from a treestand or a boot for mid-season hunting marshlands.
It is understandable that a variety of brands will fit differently, but you will also find that various styles in the same brand will fit differently even in labeled the same size. It is more important to get the correct fit than to get fixated on the size you normally wear. Don't expect your running or CrossFit shoe to fit like your hunting boot. Women typically have higher arches and narrower heels so often men's boots are not a good choice for women hunters.
There are several important features to look for in quality hunting boots: Waterproofing, insulation, midsole material, outsole tread and features that extend the life of the boot.

Waterproofing
GORE-TEX is among the most popular of waterproofing in hunting boots. GORE-TEX is a waterproofing layered synthetic fabric membrane designed into the interior of a variety of brands of hunting boots and the lining is breathable and repels water. 4MOST DRY-PLUS is another breathable water-resistant solution used in Cabela's brand products. 4MOST DRY-PLUS 100% waterproof technology incorporates a durable lamination locking out exterior moisture, transferring the moisture outward while remaining breathable and comfortable in wet conditions. This advanced system also incorporates taped seams, ensuring complete waterproof protection. Both of these waterproofing methods are popular for their breathability and comfort in cold and hot weather.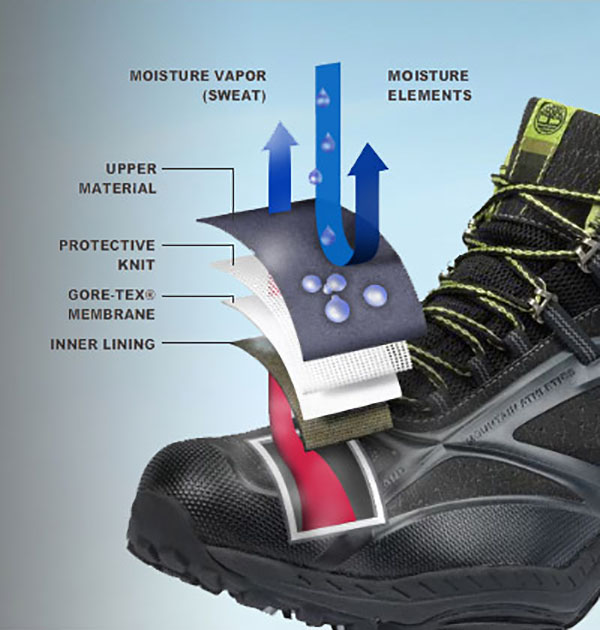 Insulation
Thinsulate is the trademark of synthetic fiber insulation by 3M Corporation, which is commonly used in mid-season and late season hunting boots. Thinsulate is a dense lightweight material allowing for a more streamline fit in boots with the ability to hold in body warmth. When deciding how much insulation you will need, it is imperative to know that insulation in boots is measured in grams per square meters of fabric. The amount of insulation you need depends on the season, the type of hunting, and your activity level. If you're sitting in a stand or a duck blind in cold temperatures, you will need a significant amount of insulation because of the lack of warm blood circulation to your feet. However, the constant movement required on a stalk hunt will naturally create heat, keeping your feet warm, requiring less insulation. It is common for different individuals to have a predisposition to either hot or cold feet which require different boots for similar conditions among those individuals.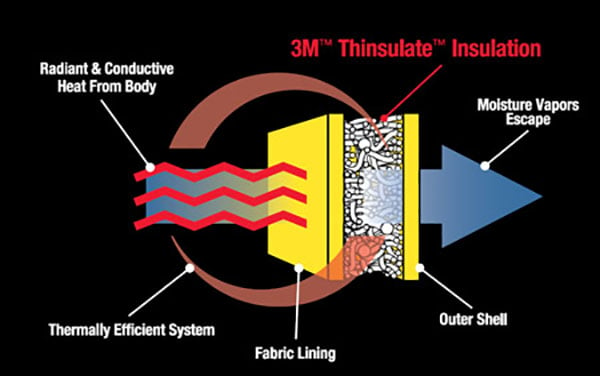 Thinsulate is classified into three functional levels:
Uninsulated to 200 grams: These boots are best for early season and high activity levels.

400 grams to 800 grams: This is the most popular category of hunting boots with insulation levels that cover most fall hunting situations.

1000 grams and up: These boots are designed for colder, winter weather and more sedentary activities.
Midsole
The midsole of hunting boots is more important than most consumers pay attention to. Ethylene-vinyl acetate (EVA) midsole is an impact resisting, stress absorbing polymer that is the material used in some boots between the outsole and upper. EVA midsoles offer cushion and support for the feet and ankles which is an important feature for upland/stalk hunting where you will walk long distances or highland hunting where you will spend hours on rugged terrain.
Outsole
If you are looking for an all-purpose hunting boot, a less aggressive sole may be suitable but if you are going to be hunting rocky, hilly or mountainous terrain a lug or cleat sole will suit the purpose better and make it a lot easier on the hunter. Vibram (Vee-Bram) is a brand of lugged boot outsoles that is popular in hunting boots. Vibram soles provide excellent traction on the widest range of surfaces. Vibram soles are durable and abrasion resistant making them popular for highland hunting or where lugged soles are ideal for the terrain. There are a variety of styles available from Vibram, from a less aggressive tread to a more aggressive lug tread and a more flexible sole for flatter terrain to a stiffer more rigid sole for rocky terrain.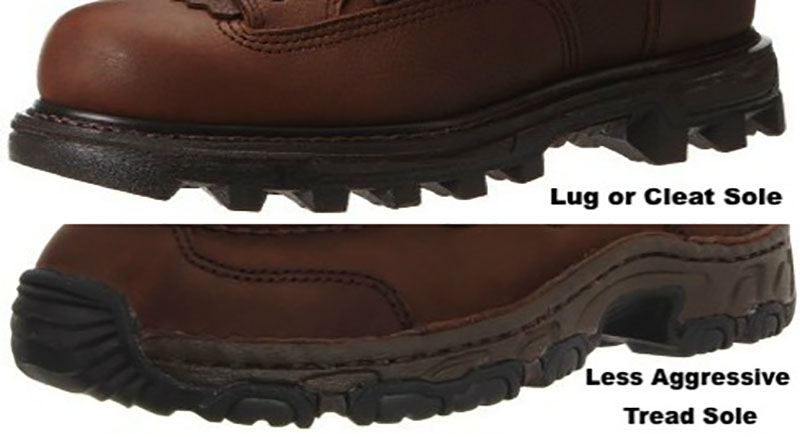 Rands
For protection and the extended life of hunting boots, some multi-purpose and high country hunting boots are designed with a toe rand or full rand; a rubber banding around the base or toe of the boot. This banding protects the boot leather and stitching from water and damage from rocks or rough terrain. Some boots will incorporate both, a toe and heel rand.
There are several things to remember when in search of new hunting boots. Since it is common for feet to swell during the day, you should try on boots in the afternoon when your feet and ankles will be holding natural water retention. You will need to bring the type of sock you will be wearing on the hunt when trying the boots on.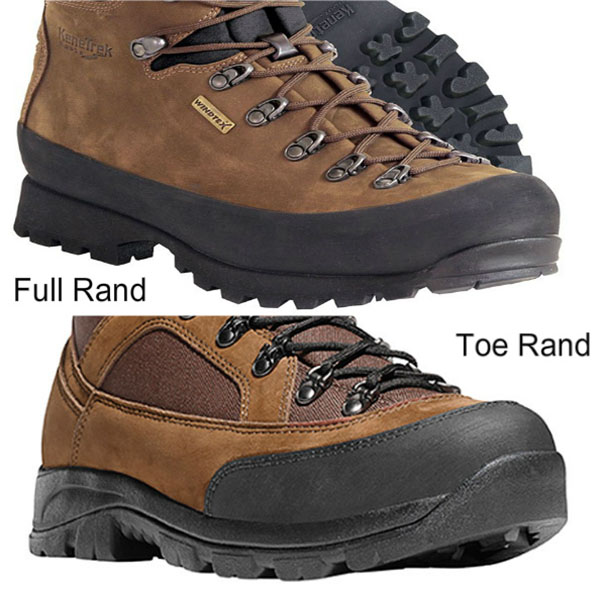 Socks
Socks are important to proper boot fit and performance. Wool socks or wool blend socks are always the best choice for wicking properties. Keep in mind that Merino wool socks and Alpaca socks are not quite as thick as virgin wool socks so they are more popular in early to mid-season. You can find a variety of socks at nearly all sporting goods stores, some designed specifically for the type of hunting you will be doing. For instance, if you require a thicker sock for stand hunting, there are socks with a thicker foot bed for warmth and thinner ankle and leg banding to accommodate swelling from hours of sitting. If you will be stalking, you can find socks with thicker toe box and heel area for comfort and protection against heel abrasion. Synthetic blend or 100% polypropylene sock liners are helpful in wicking moisture away from feet and protection from friction.
Fit
When trying on boots in the store, pay mindful attention to the fit. You can test a few things in-store to make sure you have a snug fit through the ankle, heel, and forefoot with plenty of toe room. Make sure your toes have wiggle room, space to spread out and at least a thumbs width from the end of the boot to your longest toe. This toe room is important in preventing toes from touching the front of your boot when going downhill; if the toes touch the front of the boot, this can cause bruising of the toes or toenails which will quickly become an issue. The extra room will also allow for natural foot swelling. To test toe box room, you can find a low, hard surface such as a baseboard in the store to kick lightly. Two gentle kicks should be possible before your toes touch the front of the boot. If the store has in incline/decline ramp, you can walk that ramp to ensure you have enough toe room. Take a few minutes to wear the boots around the store to make sure that there is not ankle or heel slippage, causing friction that will ultimately cause blistering. A small imperfection in the store could be greatly magnified in the field or on the hunt, so really pay attention to the fit and feel of the boot.
Some boots do not require much of a break-in period but more supportive, stiffer constructed boots will require more time to form to your foot, become pliable and be comfortable for wearing on the hunt. It is a good idea to wear your new boots as much as possible before hunting in them. The leather will stretch to accommodate snug areas and the sole/foot bed will conform to the shape of your foot. In rubber boots, the foot bed with conform to your foot.
A quality, well-fitted hunting boot is essential to your hunt. Don't jeopardize the success of your hunt by choosing a boot solely on brand, current fad, a suggestion from another hunter or solely on a sales person's recommendation; choose a boot because it fits properly for you and is built to perform in the terrain you will be hunting and in the conditions you plan to hunt.
Endorsement Disclosure: Per the guidelines of the Federal Trade Commission, the products reviewed or mentioned within this writing is an endorsement and the writer may or may not have been compensated by "in-kind" payment to review the product. Logos and photos are the sole property of the rightful owner and used within this writing solely for the promotion of products herein as requested by the product's manufacturer or in efforts of product exposure for the manufacturers.