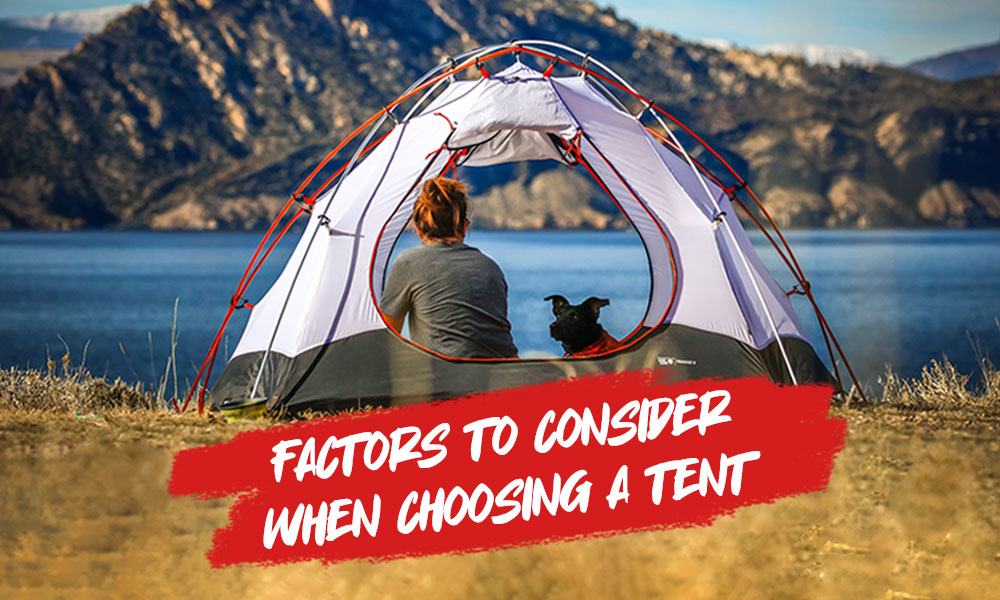 Last Updated on
Whether you're a seasoned camper or a first-timer, you know that one of the most important pieces of camping gear is a reliable tent – it can make all the difference in your enjoyment during your trip.
We'll guide you through the essential factors you should consider when shopping for a camping tent. From size and capacity to weatherproofing and ventilation, we'll help you pick the ideal tent for your next outdoor adventure. Let's get started!
Table of Contents
Camping Tent Capacity
Weight & Materials
Tent Seasonality
Setup/Take-Down Time (Collapsibility)
Breathable & Waterproof Tents
Floor Area
Storage Pockets
Conclusion
FAQ
Camping Tent Capacity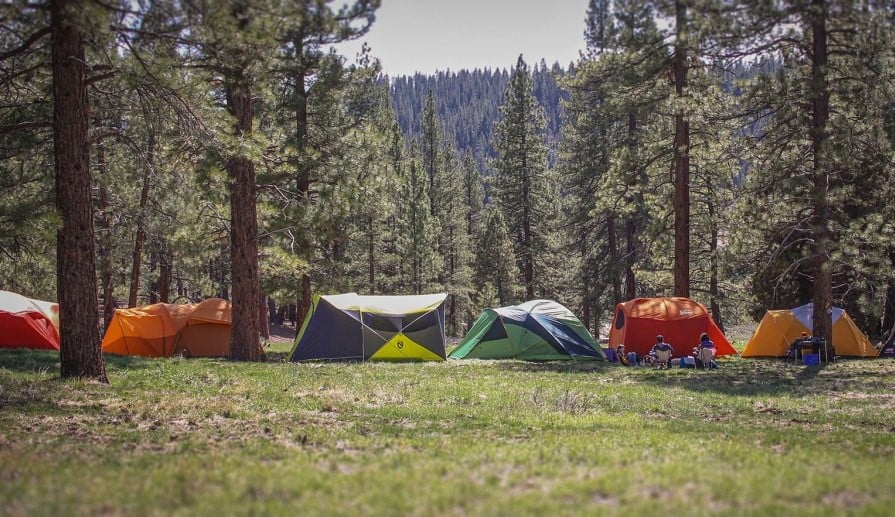 The size of a camping tent matters because it can affect how comfortable your camping experience is. If the tent is too small, you may not have enough room to move around or store your gear, while if it is too large, it may be difficult to heat or cool. Additionally, if you are camping in a group, you should make sure the tent is big enough to fit everyone comfortably.
Tents come in a variety of sizes for different uses. Family camping tents, also known simply as group-size tents, are the largest and can typically fit 6-8 people, but you'll also come across tents designed to accommodate up to 12 personas. These are great for car camping trips or weekend getaways with friends and family.
Car camping tents are smaller than family-sized ones but still provide plenty of space for up to 4 campers. These are perfect for weekend car camping trips with a small group of friends.
Lightweight backpacking tents are the smallest and lightest option designed to accommodate one or two people and fit easily into a backpacking backpack. These are ideal for hiking trips when weight is at a premium.
If you're a solo traveler looking to stay light on their feet, single-person minimalist tents, bivy sacks, hammock tents, and bug shelters are all ideal options. Bivy sacks are even smaller and more lightweight than a tent, providing a waterproof 1-person shelter for those looking for an even more minimalist camping experience. Hammock tents are great for those who don't like sleeping on the ground.
Finally, bug shelters are extremely lightweight and simple and feature a mesh top shielding from bugs.
Weight & Materials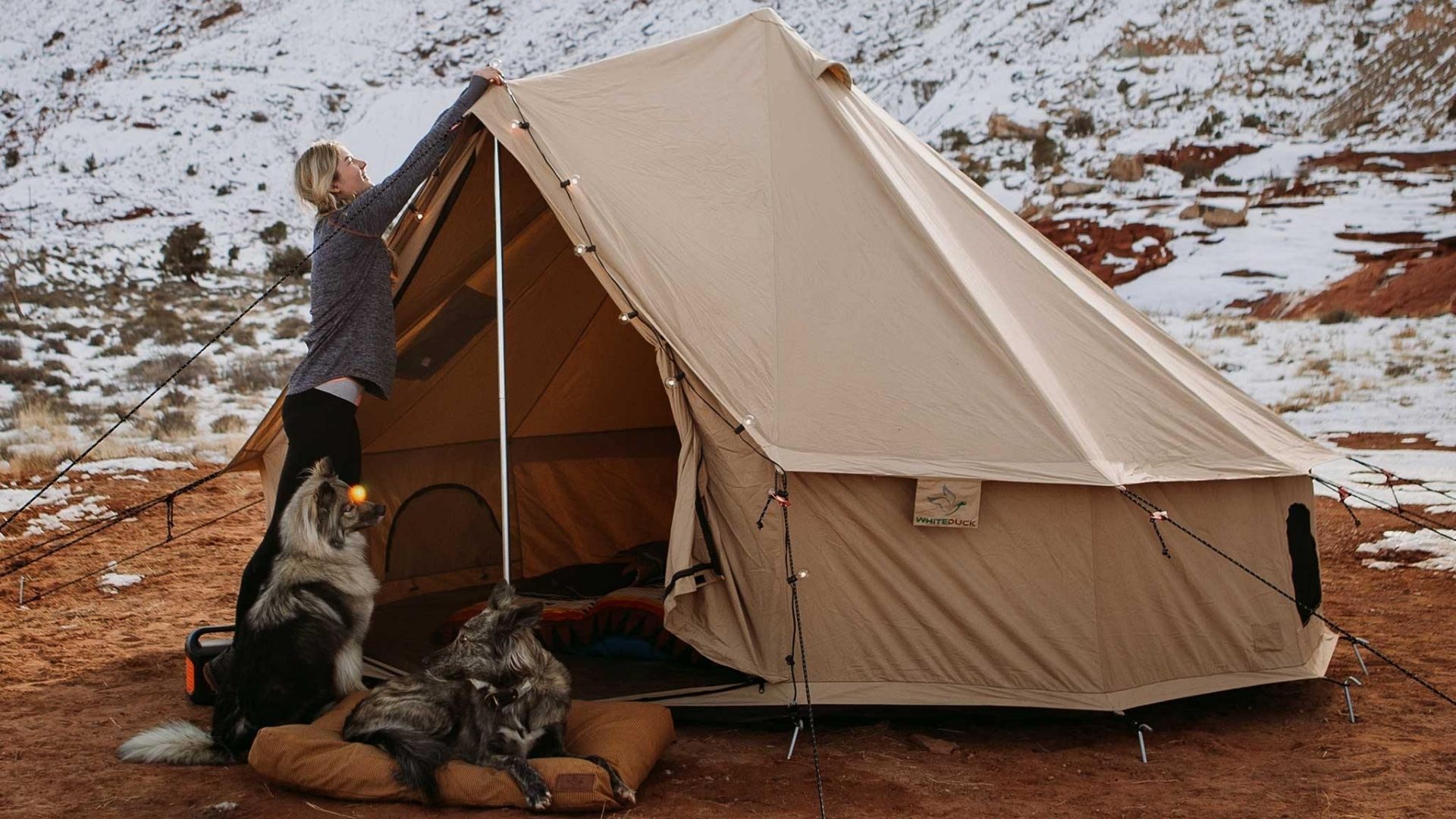 Denier is an important factor to consider here. It's a unit of measurement used to measure the thickness or tightness of a woven fiber. A higher denier means more fiber strands are used. Typically, it results in a stronger, more durable fabric. It also means that a higher-denier fabric is heavier.
When it comes to camping tents, a higher denier may mean a heavier tent, but it also means the tent is more durable and able to withstand wear and tear. When choosing, consider the balance between weight and durability.
Generally, you'll come across polyester, nylon, Dyneema Composite Fabric (DCF), and cotton canvas.
Nylon is also lightweight and durable but is susceptible to damage by exposure to harsh UV. Polyester is a lighter-weight, UV-resistant material, making it a great choice for hot climates and mountaineering at high altitudes. However, it's less abrasion resistant. So you'd better pick a tent made with a higher-denier fabric. DCF is an ultralight waterproof material that is perfect for those looking for a lightweight camping tent. Finally, cotton canvas is a heavier-duty material that is both waterproof and breathable. Pay attention, though, that DCF and cotton canvas tents come with a heavy price tag.
Tent Seasonality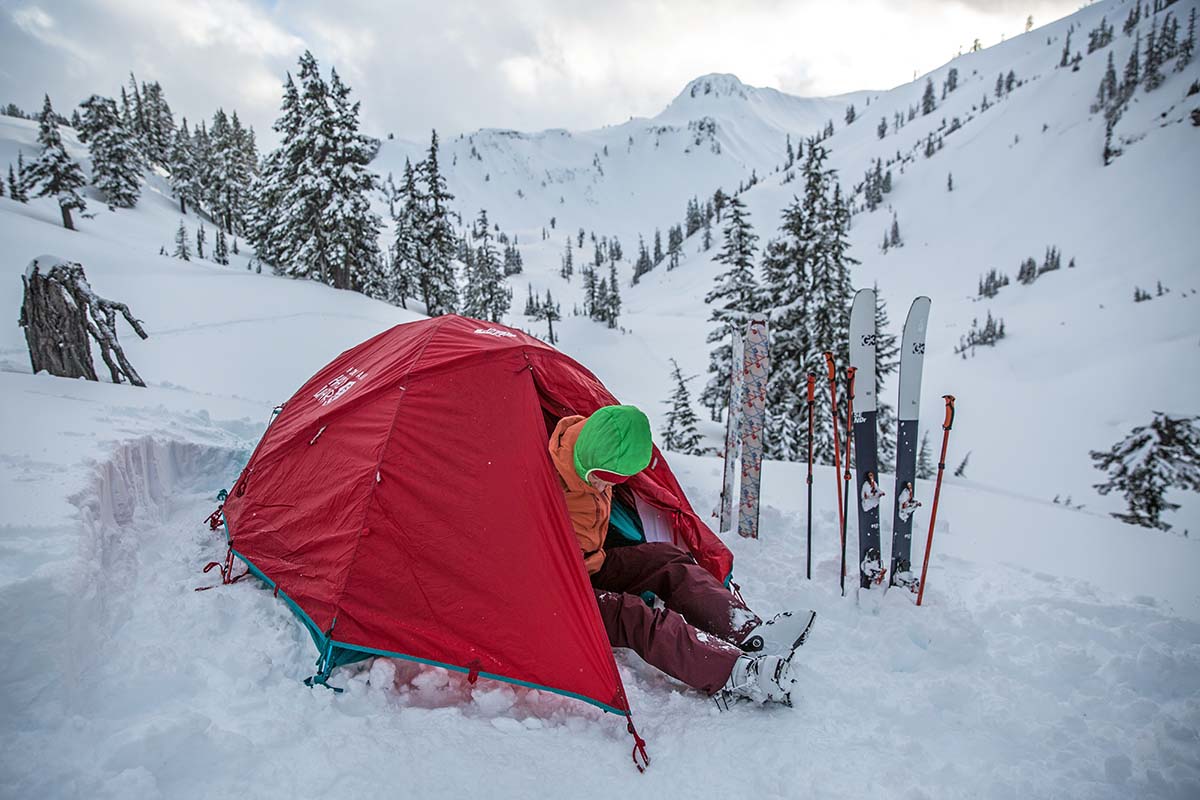 When choosing a camping tent, seasonality is another important factor to consider. A 3-season tent is the most popular choice for most campers, as it is designed for milder weather conditions. These tents are lightweight and provide good ventilation, but while they provide good shelter during transitional months, they are not suitable for extreme winter.
Four-season tents are. A typical 4-season tent is designed to withstand harsh weather conditions like snowfall and high winds. These tents are much heavier and provide superior insulation and protection from the elements.
Setup/Take-Down Time (Collapsibility)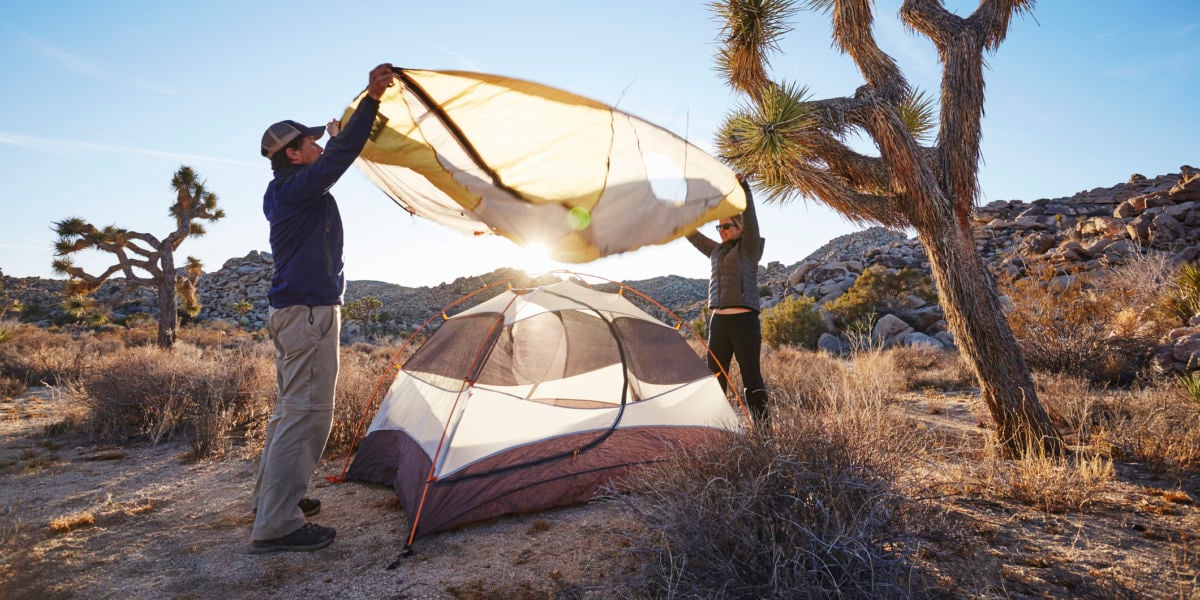 The collapsibility of a tent may not be an issue for you, but some camping types do require a shelter with a minimal setup/take-down time. Luckily, the camping industry has some options, like a quick set-up camping tent, better known as an instant tent or a pop-up tent. These have poles pre-attached to the tent material, due to which they can be set up and collapsed in a matter of seconds. The overall construction is lightweight. The drawbacks of pop-up tents include a high cost, hard-to-replace parts, and poor wind resistance.
Breathable & Waterproof Tents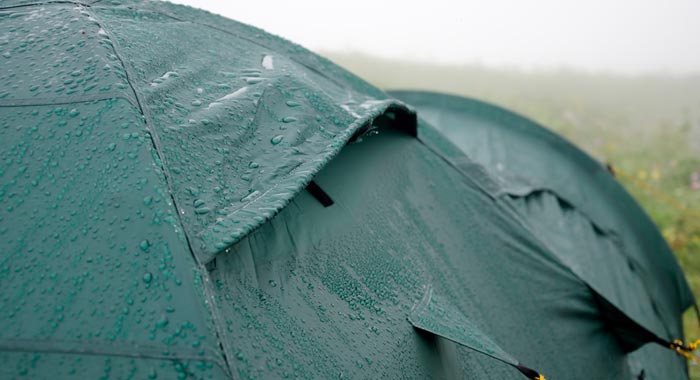 Ideally, you want a breathable and waterproof tent: breathability to reduce condensation and waterproofing to keep you dry in rainy or wet conditions. When shopping, look for a double-layer camping tent with a waterproof outer shell and a breathable inner layer. This design allows moisture to escape from the inside while preventing water from coming from the outside. Additionally, look for features such as taped seams and waterproof zippers. If you want a waterproof camping tent with superior ventilation, look for a design with more mesh panels.
Also, pay attention that nylon and polyester are not waterproof fabrics. Nylon and polyester are waterproof thanks to a special coating that wears off over time. On the other hand, DCF and cotton canvas are inherently waterproof.
Floor Area
Some camping tents come with footprints designed to provide a barrier between the tent and the ground to protect the tent's bottom from wear and tear and help keep out moisture and dirt.
Some tent footprints can also provide extra padding to make the camping experience more comfortable.
Storage Pockets in Tents for Camping
With enough storage pockets and loops, you can easily keep your tent organized and clutter-free. Pockets give you a place to store items like flashlights, phones, multitools, knives, and other small items, while loops are perfect for hanging lights.
Conclusion
When shopping for the perfect camping tent, there are several key factors to consider. Firstly, the capacity of the tent should be appropriate for your needs. It's important to consider the number of people and make sure there is enough room for everyone. Secondly, you should think about the climate and weather conditions you'll be camping in. It will help you decide if you need a more waterproof or more breathable tent. Finally, you need to consider the price and overall quality of the tent, as well as features – loops, pockets, footprints, etc.
GRITR Outdoors has a wide selection of tents in various sizes, shapes, and colors, so be sure to find the best camping tent for your next camping trip. From lightweight tents to waterproof dome tents, we have something for everyone. Also, don't be shy to explore other camping gear: sleeping bags, bear sprays, and many more.
FAQ
What is the best sleeping bag for camping?
The best sleeping bag for camping depends on several factors, such as the weather conditions, the type of camping you will be doing (car, backpacking, etc.), and personal preferences.
How does the shape of a sleeping bag affect its performance?
Mummy bags are more form-fitting and warmer than rectangular bags. Rectangular sleeping bags are more spacious and allow for easier movement.
What temperature rating should I look for in a sleeping bag?
Choose a sleeping bag with a temperature rating of 10 degrees lower than the coldest temperature you will be camping in.
What is the best sleeping bag down fill?
Factors to consider when selecting a down sleeping bag fill include temperature rating, weight, and amount of loft. Some popular fill options include 900-fill, 800-fill, and 750-fill down.
What type of sleeping bag is best for cold weather?
Down sleeping bags are the best for cold weather. They are lightweight and compressible, making them easy to store and transport, and they provide the most insulation in cold temperatures. Synthetics are more affordable but don't insulate as well.
Are there any special considerations when buying a sleeping bag for children?
Make sure the bag is the right size and shape for your child's body. Look for sleeping bags with adjustable straps. Consider the temperature rating of the bag and make sure it is suitable. Look for bags made with kid-friendly material.
How should you store and care for a sleeping bag to ensure it lasts?
Store in a ventilated, breathable storage bag when not in use. Make sure to air the sleeping bag out after each use to prevent mildew. Use mild detergent for washing. If your sleeping bag has a down filling, use a dryer on low heat with dryer balls or tennis balls to fluff up the down and help it keep its loft.