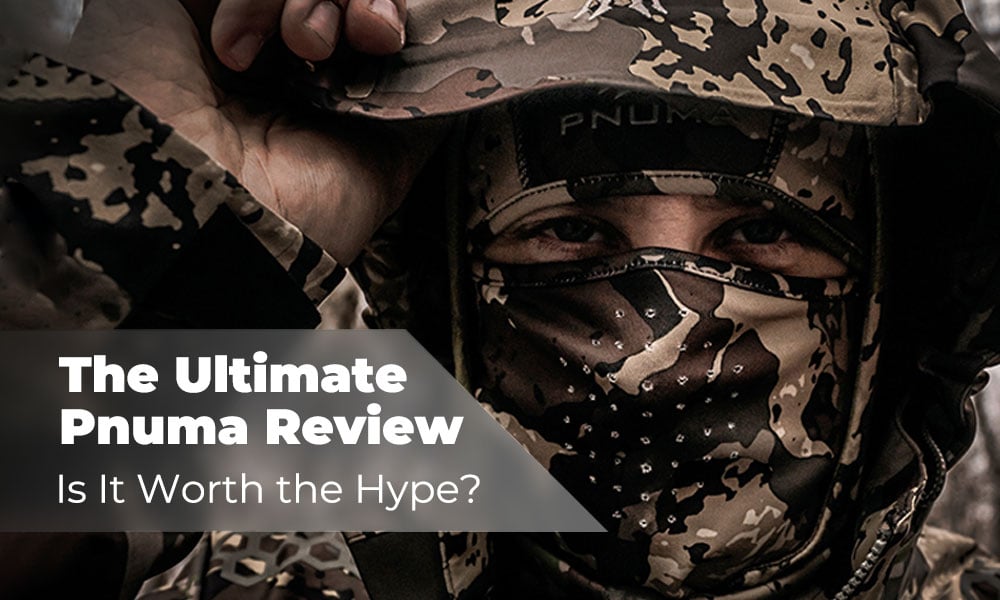 Last Updated on
With so many brands claiming to be the best, it's often hard to know what's real and what's just good marketing. Since Pnuma has taken the industry by storm lately, we set out to answer the question on everyone's mind: is Pnuma really worth the hype? In this Pnuma review, we'll take a closer look at its products and technology and provide our opinion. So, let's get started!
Table of Contents
About Pnuma
Phuma Hunting Gear Review
– Pnuma IconX Heated Core Collection
– Pnuma Waypoint Jacket & Pants
– Pnuma Selkirk Jacket & Pants
Conclusion
FAQ
About Pnuma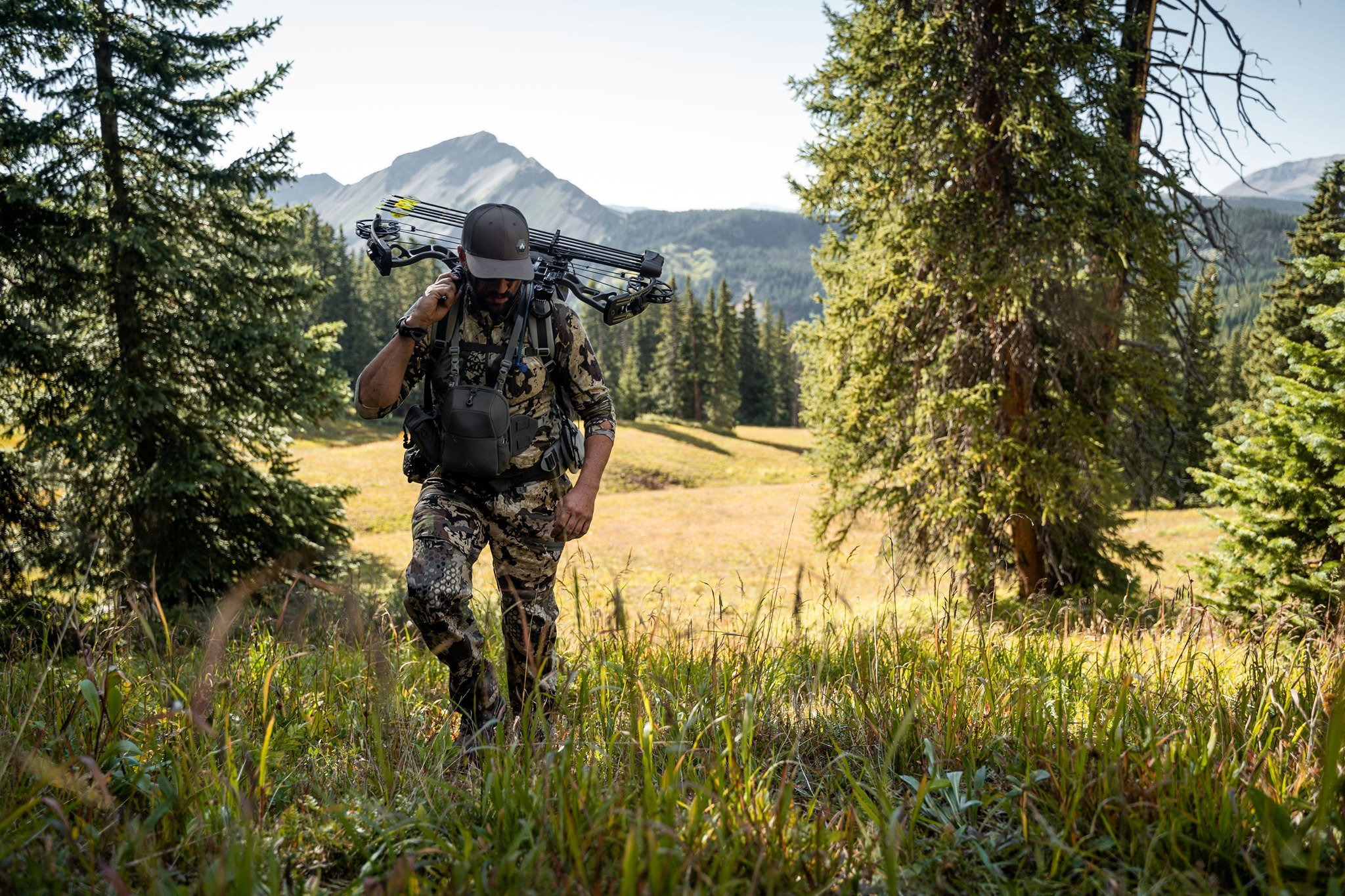 Founded by Scott Schultz in 2016, Pnuma Outdoors was born out of his passion for hunting and his desire to create high-performance outdoor gear that could withstand even the harshest conditions.
Scott developed a deep appreciation for the outdoors when he was a kid. His passion for big game hunting developed in his youth when he shot his first deer with a bow. Since that fateful day, Scott has been hunting a lot. But he wasn't entirely satisfied with the quality of hunting gear available at that time. Dreaming of crafting apparel that could keep up with the demands of serious hunters like himself, Scott traveled around the world, and each trip sparked new ideas. For 20 years, he designed, built, and marketed hunting clothes until he decided to launch his own brand. It was the birthday of Pnuma.
In a matter of a few years, Pnuma Outdoors has earned a reputation for producing some of the highest-quality purpose-driven technical hunting garments available today. Now, let's dive into the world of Pnuma to see: is it real or just good advertising?
Phuma Hunting Gear Review
Pnuma IconX Heated Core Collection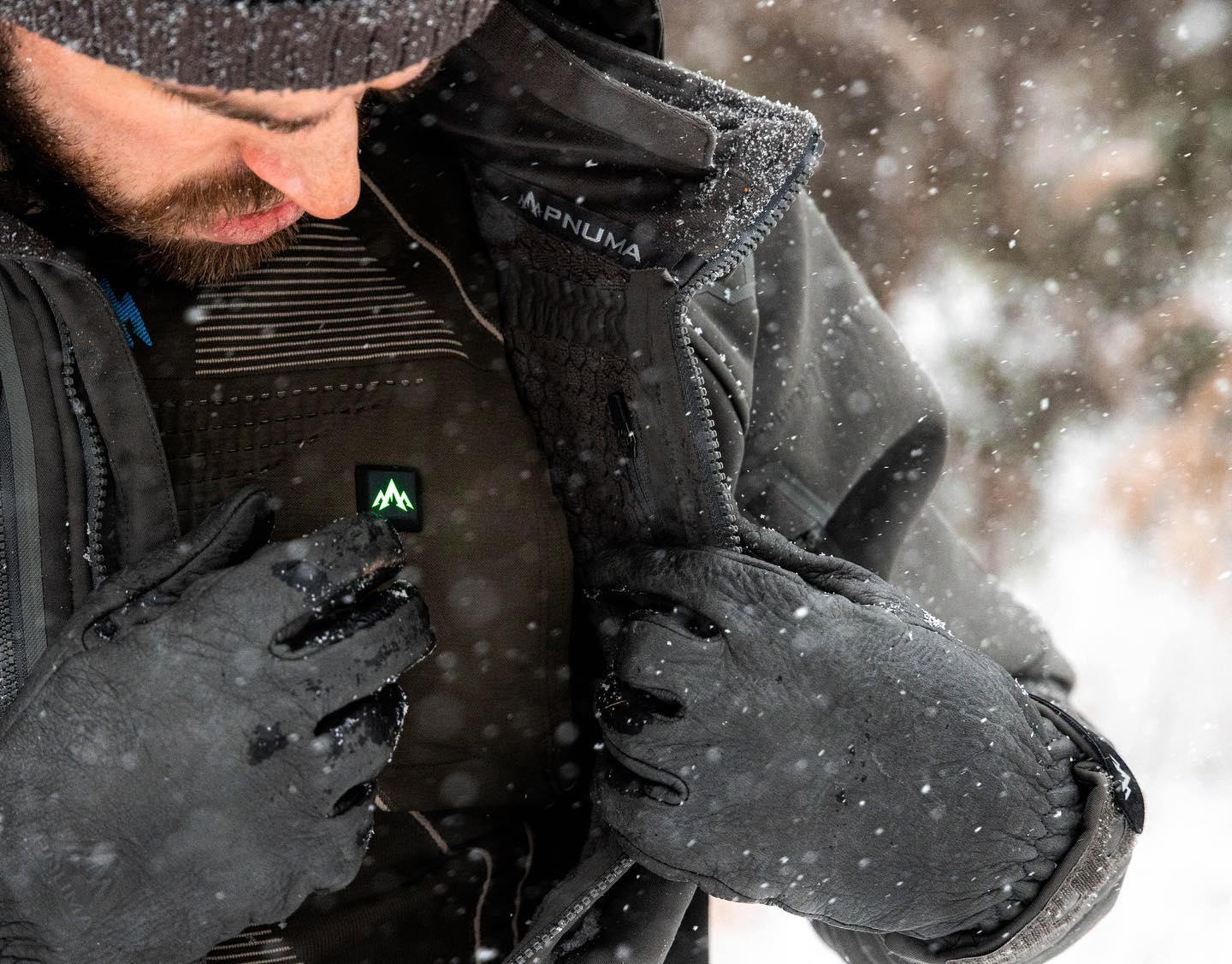 We begin with one of the most innovative collections in the Pnuma lineup – the Heated Core.
Late-season big game hunters face some of the harshest weather conditions imaginable, including high winds, deep snow, and freezing temperatures. These extreme conditions can make hunting a challenging and even painful experience. Treestand and blind hunters must contend with cold temperatures and biting winds while sitting still for hours, while spot-and-stalk hunters may have to endure long hikes through deep snow drifts in search of their prey.
When the Pnuma Heated Core saw the light, it was a revolution. Indeed, the concept of heated clothes isn't innovative. What is innovative is how Pnuma realized it.
The two common problems associated with heated hunting garments are that they are heavy (because of the batteries and heating elements) and often don't distribute heat evenly. Pnuma developed the Heated Core series (consisting of a vest, long-sleeve shirt, and long johns) with these problems in mind. Its Heated Core garments provide true next-to-skin warmth while being lightweight and athletic-fit.
The carbon-fiber heating elements are strategically placed where your body needs them most: chest, kidneys, and base of the neck in the vest and shirt, and lower back and tops of thighs in the pants. With three heat levels, the battery lasts 6 hours on the low and 2-3 hours on the high. The high setting is around 100 degrees, which is useful for hunters sitting still at below-freezing temperatures.
It's also very easy to use these garments. Each has a small pocket where you plug in the battery. Then, you press the logo button, and the garment heats up in a matter of a few minutes. The button also has a three-color LED heat indicator.
By the way, there's also a USB output that you can use to charge your phone in case you're getting low.
Though heating is the core feature of the Pnuma heated vest, shirt, and pants, it's not all. Even when not used purposefully, they are athletic-fit base layers that provide excellent muscle support and use a high-performance moisture-wicking fiber infused with antimicrobial odor control.
Overall, the Pnuma IconX Heated Core is an excellent choice for hunters who want to stay warm and comfortable in extreme weather conditions. The innovative heating technology, well-built design, and convenient features make the Pnuma Heated Core collection the best.
Pnuma Waypoint Jacket & Pants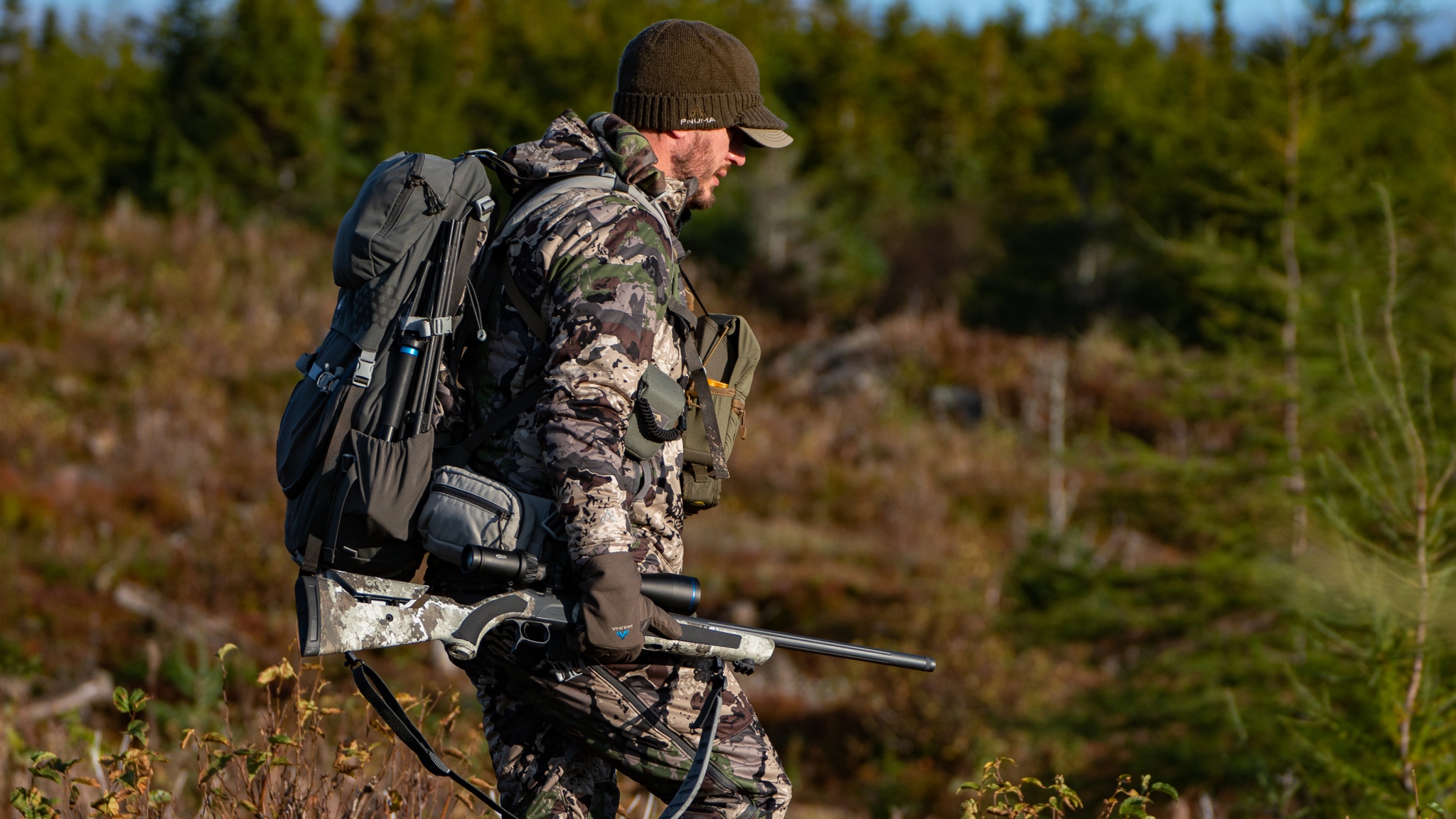 What about non-heated Pnuma clothing? Well, there's plenty to discover. Let's take a look at the Pnuma Waypoint jacket, for example.
The jacket is perfect for mid-season and late-season big-game hunts. At temperatures of down to 40 degrees, you'll be comfortable wearing just the Waypoint combo and a base-layer shirt. It's warm, breathable, and deadly quiet due to the softshell made with micro-brushed tricot similar to low-nap fleece. (The Waypoint pants also feature rubberized caps for additional quietness.)
The shell is impenetrable to 50 mph wind gusts and treated with the 3M Scotchgard DWR coating for water-resistant performance. (For more efficient water protection, heavy-duty YKK zippers are stitch-sealed and tape-sealed). Often used in camping gear, the coating provides long-lasting protection against rain, sleet, and snow, helping water bead up and roll off. The Scotchgard also maintains fabric breathability – it won't trap moisture inside the jacket.
By the by, the Waypoint also features venting zips forward of the jacket's arms and at the pants' crotch for enhanced breathability and thermal regulation to prevent overheating when your hikes get intense. The crotch zips are designed to be invisible, so they look like seams.
The jacket-and-pant system boasts ten zip pockets strategically placed for easy access. The pants have five pockets (in addition to the two regular ones), while the jacket has two chest pockets, one arm pocket, and two hand pockets. A 3-way adjustable hood can be unzipped if you're layering up. And, specifically for treestand hunters, there's an integrated safety harness port between shoulder blades.
The pants feature zips that go from ankle to thigh for easier on/off with the hunting boots on and an elastic waistband with a nice rubberized surface to ensure your shirt stays tucked in.
On the jacket's shoulders and elbows, you'll see protective overlays that not only slow down the wear in the areas that experience the most abrasion and stress but also provide a non-slip surface for backpack straps. Additionally, the pants have molded, removable EVA knee pads for additional protection when stalking your prey. 
Under the softshell, the Waypoint features the proprietary mid-weight grid fleece lining concentrated on the body core, which allows for more mobility and layering options.
The Waypoint is a ready-to-go system for mid/late-season big game hunters requiring versatility, adjustability, and quiet, weather-resistant performance. The Waypoint is not waterproof, though. So if you're looking for a genuinely waterproof hunting system, you should consider the next Pnuma wonder.
Pnuma Selkirk Jacket & Pants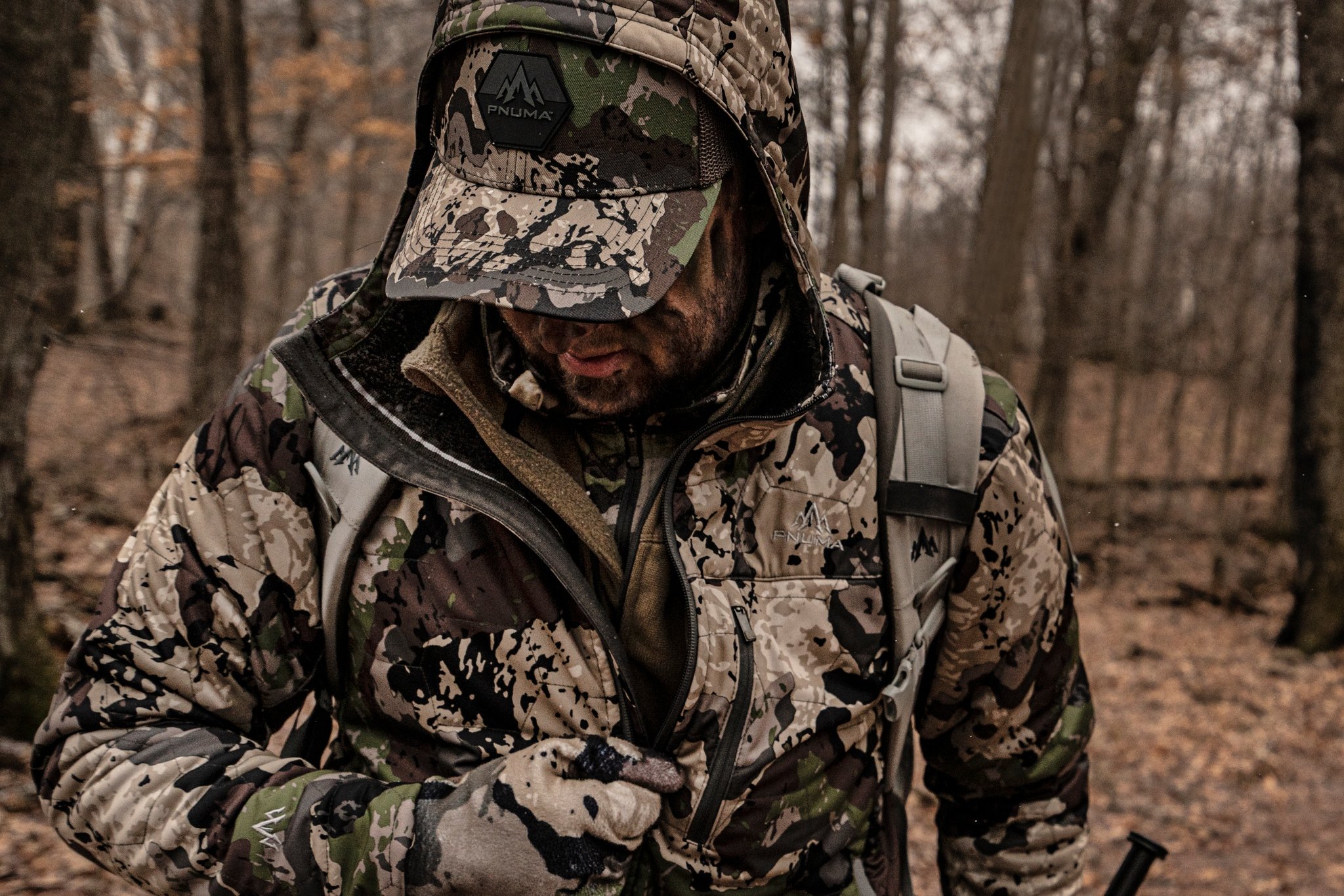 The Selkirk is one more technical hunting clothing system Pnuma proudly offers to passionate hunters. At first glance, it looks just like the Waypoint. Besides, they share most of the features. Both are built with a quiet softshell fabric treated by the Scotchgard DWR water-repellent coating and use mid-weight grid fleece. Both have venting zips, protective overlays, and safety harness ports. So, what's the difference? It's the Porelle Extreme membrane.
This membrane is the most breathable waterproof membrane ever. We know that from the Moisture Vapor Transfer (MVT) rating. It's a measure of the ability of a fabric to allow water vapor to pass through it. Basically, it shows how many grams of vapor escaped from the inside during 24 hours. The higher the rating, the more breathable the fabric.
So, before the introduction of the Selkirk with its Porelle membrane, the maximum MVT rating in the absolute majority of hunting garments was 50,000g. Pnuma reached an incredible 120,000g.
So what it means to you is that, with the Selkirk, you get a 100% waterproof system with exceptional breathability. So once you layer smartly, you're unlikely to get all hot and sweaty during your high-intensity hikes.
The Selkirk also differs from the Waypoint in that the hood can't be unzipped (it's for additional waterproofing), and there are no EVA knee pads and venting zips in the pants.
So, if you are the kind of extreme hunter who can't be stopped even by super harsh weather, the Pnuma Selkirk jacket and pants combo is the way to go. Unlike the Waypoint designed to protect you from mild and even steady rain for a couple of hours, the Selkirk will keep you dry for the whole day, no matter the conditions and your output.
Conclusion
After extensively reviewing Pnuma products, we can confidently say the hype is real. Pnuma's commitment to quality, innovation, and customer satisfaction is evident in everything they do, from its cutting-edge technology to the fact that it offers a lifetime warranty on its products. So, whether you're a hunter, hiker, or angler, Pnuma performance clothes will exceed your expectations.
At GRITR Outdoors, you'll also find other Pnuma camo clothes, gear, and accessories, such as backpacks, gun cases, and replacement batteries for your Heated Core outfit.
FAQ
What makes Pnuma products stand out in the hunting gear industry?
Some of Pnuma hunting camo technologies include the Porelle Extreme membrane with a 120,000g MVT, heated elements that distribute heat evenly, muscle-supporting base layers, grid fleece lining focused on the core, and many more.
Is Pnuma only for hunters or can hikers and other outdoor enthusiasts benefit from their products as well?
While Pnuma does have a strong focus on hunting gear, they also offer a variety of products that are suitable for hikers, campers, and anglers.
What kind of products does Pnuma offer?
Pnuma offers a wide range of outdoor gear, including hunting apparel, base layers, mid-layers, outerwear, clothing accessories, backpacks, and gun cases.
Is Pnuma gear high quality?
Yes, Pnuma is known for its high-quality products that are designed to withstand the toughest outdoor conditions.