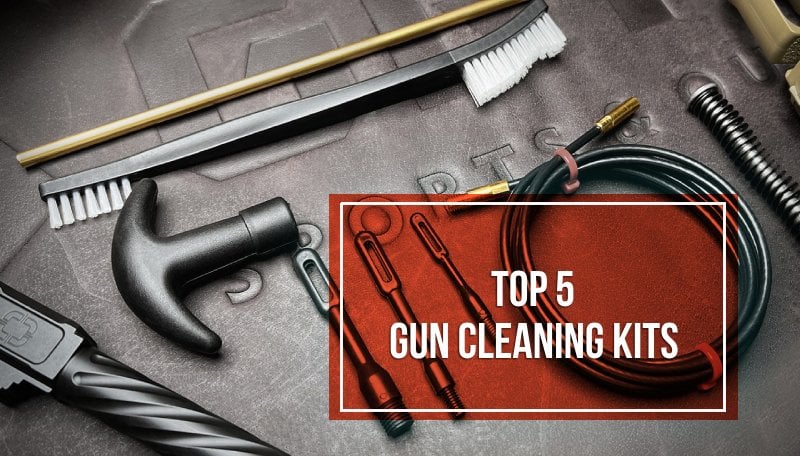 Last Updated on
Have you ever opened up a gun cleaning kit, only to find it lacking the very tools you need for a thorough and efficient clean? You're not alone. It's a common grievance among firearm enthusiasts – kits that promise the world but fall short on delivery. This guide will delve into the best gun cleaning kits and break down what tools each has and what they are used for.
Best Gun Cleaning Kits – Quick List:
Pistol, Rifle, Shotgun Cleaning Kit by GRITR
Universal Gun Cleaning Kit by Browning
Handgun Cleaning Kit by Otis
Shotgun Cleaning Kit by Beretta
AR-15 Rifle Cleaning Kit by UTG
GRITR Multi-Caliber Pistol, Rifle & Shotgun Cleaning Kit
The GRITR Multi-Caliber Pistol, Rifle & Shotgun Cleaning Kit is a comprehensive solution designed for virtually all calibers of pistols, rifles, and shotguns. This universal kit offers a wide range of tools, ensuring your firearms stay in top-notch condition regardless of their type or size.
A standout feature of this kit is its durable EVA zippered case. Not only does it provide secure and protective storage for your cleaning tools, but it's also neatly organized for quick and easy access. The compact means it won't take up much room, making it a perfect fit for your hunting backpack, range bag, or even the trunk of your car.
The GRITR Cleaning Kit comes with clearly labeled tools, each corresponding to a specific caliber number. This thoughtful detail makes it incredibly simple to select the right tool for the job, even if you're not a seasoned gun owner.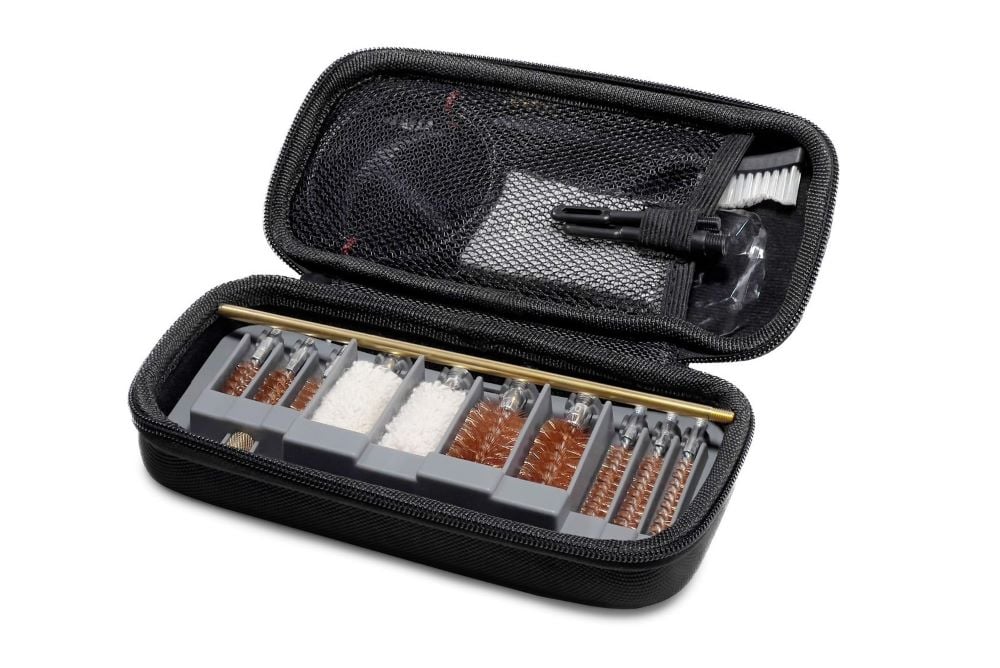 What's in the box:
T-Handle

43″ Coated flexible cleaning cable

7.5″ Brass cleaning rod

Double-sided nylon cleaning brush

Nylon slotted tips: 12GA, .22 cal (223/5.56), .30 cal

Phosphor bronze cleaning Shotgun brushes: 12GA, 20GA

Phosphor bronze cleaning Rifle brushes: .30 cal, .27 cal, .22 cal (223/5.56)

Phosphor bronze cleaning Pistol brushes: .45 cal, .40 cal, .38 cal/9mm

Cotton mops for 12GA and 20GA shotguns

Cleaning patches

Brass adaptor for shotgun bristles/mops
All items are packed neatly in an EVA carrying case.
It would be a basic multi-caliber cleaning kit if not for some features. With phosphor bronze bore brushes, you can do a thorough cleaning of your firearm without causing any scratches, scuffs, or chips to its finish. The mops for 12ga and 20ga shotguns are made of 100% cotton, ensuring scratch-free cleaning. When used with a lube or solvent, they are great for polishing and drying. You can attach mops and brushes to either a 42-inch flexible cable to clean long-barrel guns or a 7.5-inch brass rod to clean handguns – both can be attached to a T-handle for comfort. Next, the kit comes with three nylon slotted tips intended to be used with patches to clean and lubricate tight spaces. It also includes a versatile dual-ended nylon brush designed to preserve the gun's smooth operation without inflicting any harm. The larger end is perfect for scrubbing larger surface areas, while the smaller end allows for meticulous cleaning in those hard-to-reach spots.
All in all, this kit from GRITR is definitely the best gun cleaning kit. It boasts a compact case, meticulously organized storage, and clearly labeled tools making it an efficient and user-friendly solution for gun maintenance. It caters to a wide range of firearms, offering versatility that is hard to match. However, it's important to note that the kit does not include any solvents and lubes. Additionally, there is no designated storage space for these items. Therefore, users will need to source these cleaning essentials separately and find alternative storage solutions.
BROWNING Universal Cleaning Kit
The Browning Universal Cleaning Kit is a well-thought-out kit designed to cater to the needs of those who own several guns in various calibers. The kit's compatibility spans a wide range of firearms, from .22 pistols to 12ga shotguns.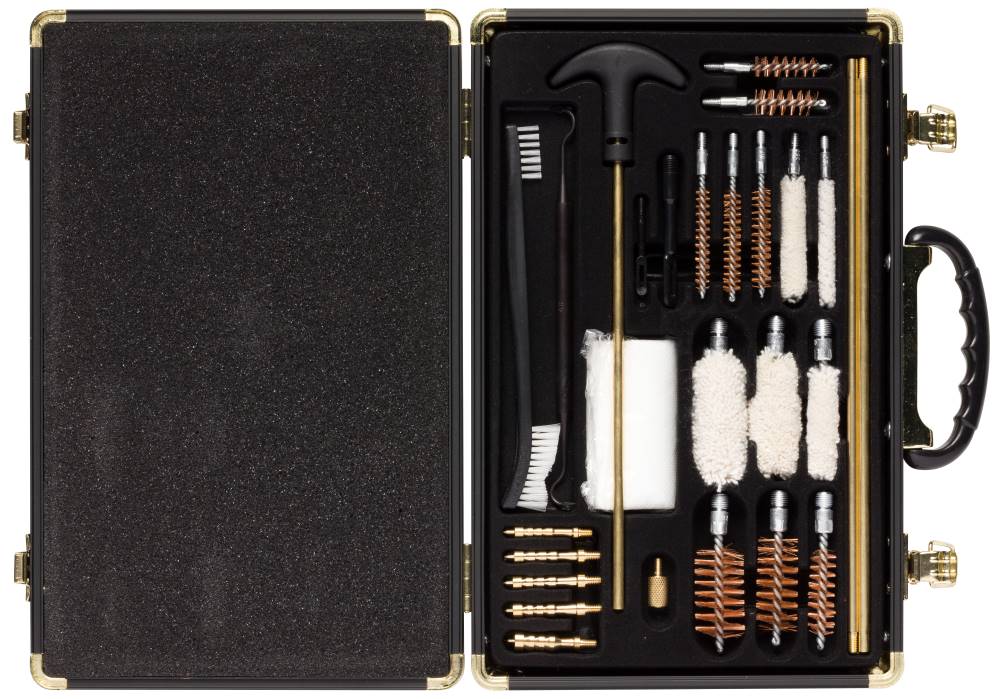 What's in the box:
3-piece T-handle brass cleaning rod fits .22 caliber and larger
5 brass jag tips
2 nylon slotted tips: .22 and 12 ga.
Brass accessory adaptor
8 phosphor bronze bore brushes
5 cotton bore mops
Non-woven cleaning patches
Nylon detail cleaning pick
Double-ended nylon brush
All items are packed neatly in a hard case.
The rods are made from brass, not steel, ensuring they will clean your firearm with no damage to the finish.
As you can judge from the included tools and accessories, this gun cleaning kit from Browning is tailored for those who own a really large gun arsenal in different calibers. The kit is portable but not compact, meaning if you're looking for a smaller kit to bring on the field or at a shooting range, this might not be for you. Plus, the kit lacks cleaning and lubricating solutions and doesn't have any room for any.
OTIS Universal Handgun Professional Cleaning Kit
Not everyone has a vast collection of firearms. Some people simply stick to one trusty handgun, taken to the range for occasional practice drills. For these shooters, a dedicated handgun cleaning kit, like the Otis Universal Handgun Cleaning Kit, compatible with .22-.45 caliber pistols and revolvers, is what they need.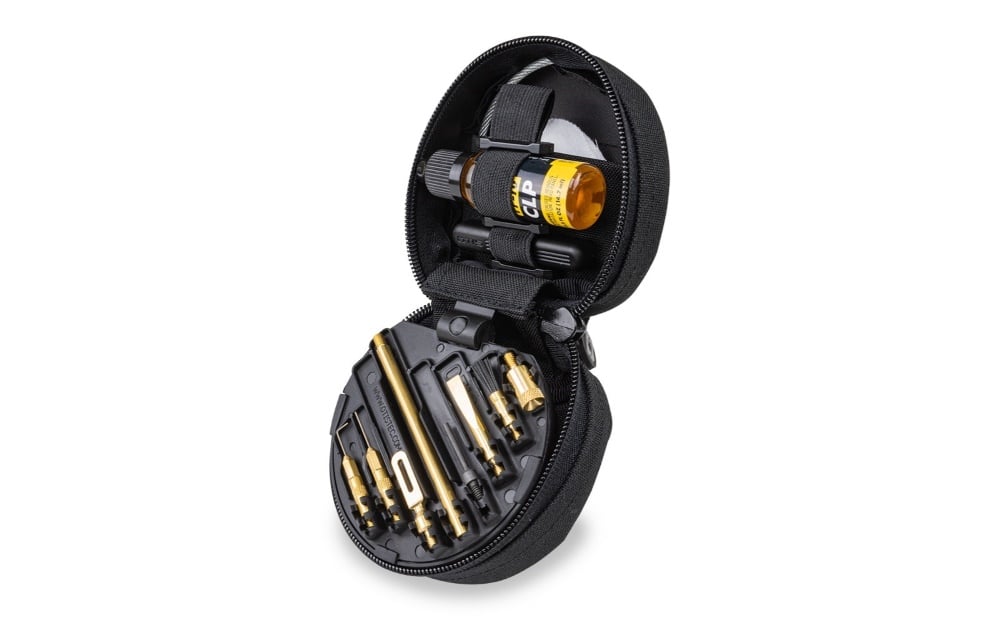 What's in the box:
100% cotton 2" & 3″ panoply patches (10 each)

Small & large slotted tips

Bore brushes (marked): .22 cal, .38 cal/9mm, .40 cal & .45 cal

8″ and 12″ aircraft grade Memory-Flex cables (slotted tip permanently affixed on 8″ cable)

Obstruction remover (doubles as a t-handle base for included female rod handle)

Pin punch, end brush, scraper, straight & bent pick, and short AP brush

Chamber flag

0.5 fl. oz. Shooter's Choice FP-10 Lubricant Elite CLP
All items are packed neatly in a 4″x4″x2.5″ soft pack case.
One of the standout features of the Otis kit is its unique cotton patches. These create swabs that provide 360-degree coverage, ensuring comprehensive cleaning from breech to muzzle.
To address the challenges of outdoor shooting, the kit includes an obstruction remover. This versatile tool can knock out mud, snow, and stuck casings that could impact your firearm's performance.
For more precise cleaning, the kit offers an array of tools: a pin punch, an end brush, a scraper, straight and bent picks, and a short AP brush. These tools are ideal for reaching those intricate parts of your firearm.
The kit comes with a super-efficient FP-10 Lubricant Elite CLP from Shooter's Choice. CLP means cleaning, lubrication, and protection, so it's a 3-in-1 solution that removes carbon, lead, and powder fouling, reduces friction and wear, and protects against rust and corrosion.
In conclusion, this is the best gun cleaning kit that stands out as an excellent investment for any handgun owner. The soft pack case is not only lightweight and portable but also allows for excellent organization of the cleaning tools.
If you're hesitant about purchasing a universal kit, consider its long-term benefits. In the future, you may want to switch your pistol for another caliber or add another one to your collection.
BERETTA Field Pouch Shotgun Cleaning Kit
If you're in search of a streamlined yet all-encompassing cleaning kit for your shotgun, particularly for sporting clays training, the Field Pouch Shotgun Cleaning Kit by Beretta is the perfect fit. This kit is filled with a variety of cleaning tools designed specifically for 12 Gauge shotguns.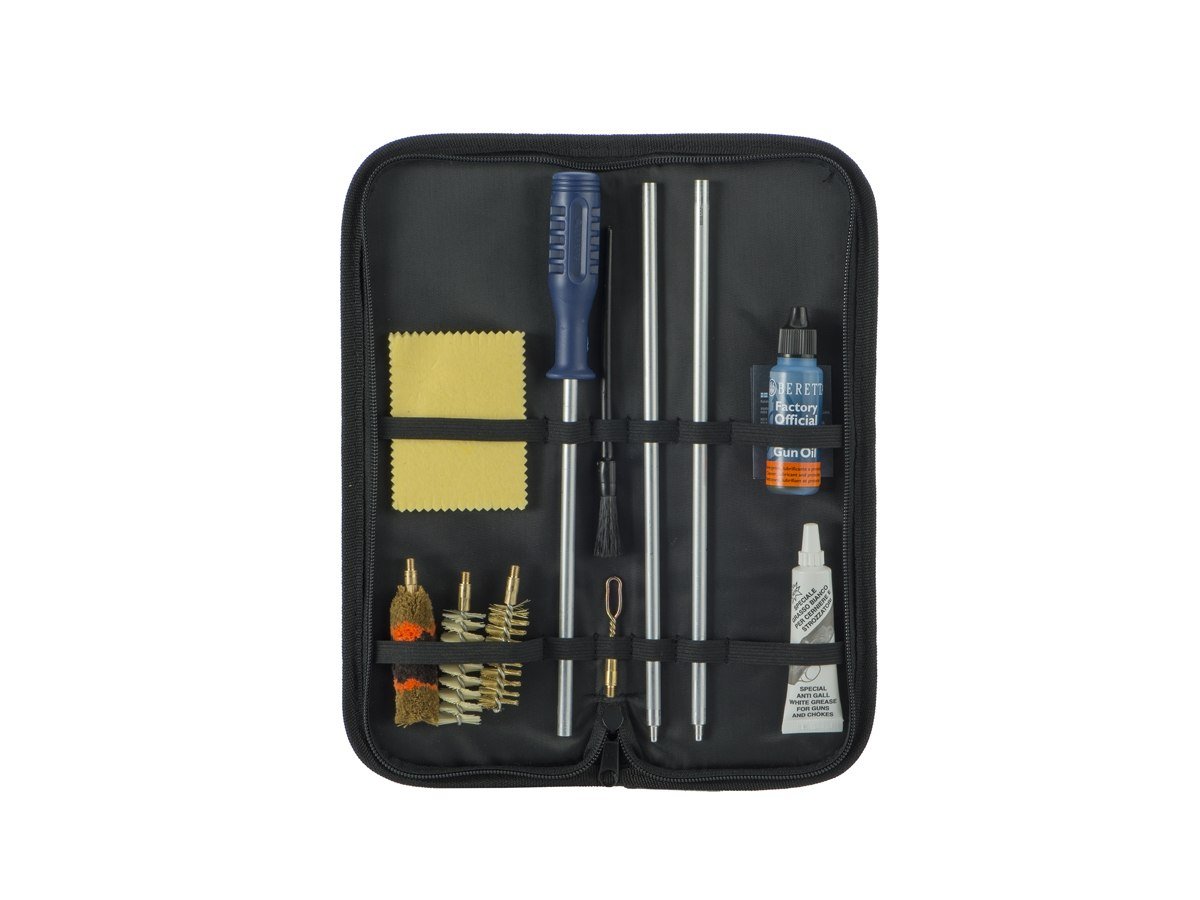 What's in the box:
Full aluminum rod in 3 pieces

Ergonomic and anti-slip handle

Wool brush with Beretta Iconic shoulder strap

Helical steel brush

Brass brush

Loop cleaner

Brush with a black handle

Cleaning patches

CLP Gun Oil

White grease
All items are packed neatly in a zippered pouch.
As you've noticed, the kit includes CLP gun oil and grease. CLP oil is ideal for general cleaning after use to remove residue and protect against corrosion. On the other hand, grease is used for heavy-duty lubrication, particularly on parts that have high friction. It stays in place better than oil and provides long-lasting lubrication.
The kit also includes steel and brass brushes. The steel brush is tough on stubborn residues and ideal for initial cleaning, but it should be used sparingly as it can be abrasive. Meanwhile, the softer brass brush is perfect for regular cleaning without worrying about damaging your shotgun's finish.
To sum up, this is the best gun cleaning kit for those looking for basic travel solution. It includes two lubricants, meaning you don't have to worry about buying them separately.
UTG AR15 Cleaning Kit
When shooting semi-automatic rifles like the AR-15, meticulous maintenance is not an option but a necessity. These rifles, with their intricate assembly of parts, are prone to malfunction if not kept clean, potentially causing damage to the firearm or even personal injury.
This AR-15 cleaning kit simplifies the process remarkably, making it easy for even beginners to get started. Yet, we advise you to check out a couple of instructional videos on AR-15 cleaning.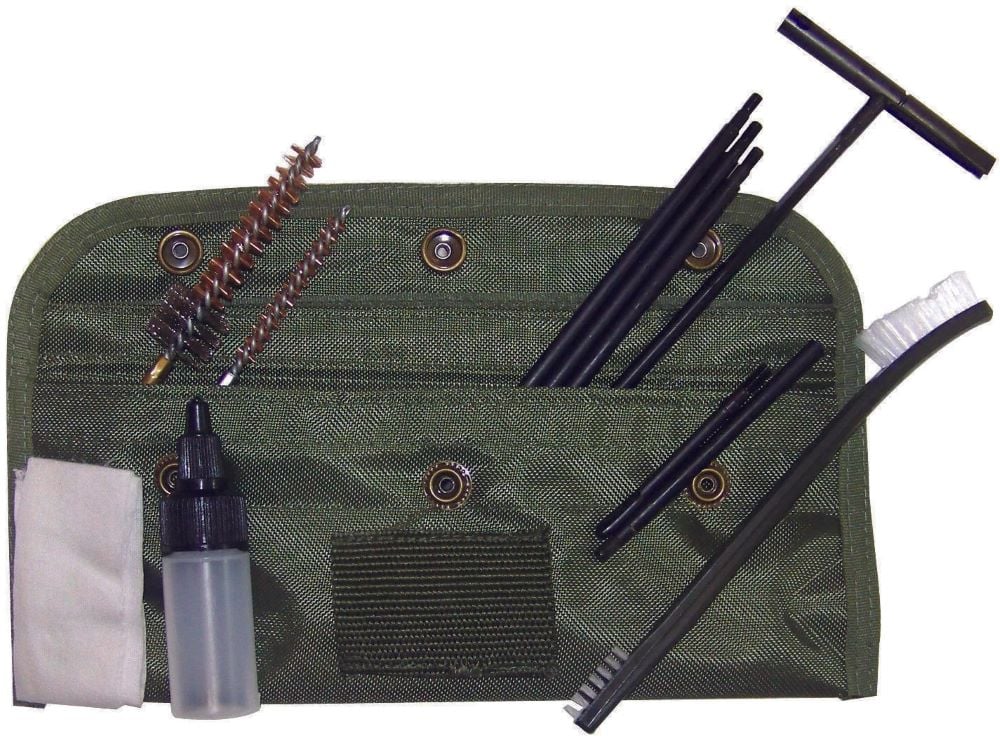 What's in the box:
5-piece rod (Includes loop)

Adaptor

Bronze bore brush

Chamber brush

Dual-ended nylon brush

Gun oil

Cleaning cloth

Standard 8-32 threads for any compatible components
All items are packed neatly in a lightweight nylon bag with hook-and-loop closure. The pouch includes a belt loop and alice clip for attachment to the belt or web gear.
At first glance, the UTG AR15 Cleaning Kit may seem quite basic and limited. It's not designed as an all-encompassing solution for all your firearm cleaning needs; instead, it focuses on being the perfect companion for your AR-15-style rifle.
The compact size means the kit can easily accompany your rifle wherever it goes. Its contents are extremely practical for field use, especially for clearing barrel obstructions or the star chamber of an AR-15. Finally, the Break Free CLP is a really nice bonus.
Once you start using the UTG AR15 Cleaning Kit, you'll quickly come to appreciate its utility. It's akin to having a compact tool kit specifically designed for your rifle.
FAQ
What basic tools a gun cleaning kit should have?
A basic gun cleaning kit should include a rod, patch holder, cleaning patches, gun brush, bore brush, jag, and gun oil or solvent.
What is a jag in a gun cleaning kit?
A jag is a tool that fits on the end of your cleaning rod. It's designed to hold the cleaning patch firmly against the bore, allowing for thorough cleaning.
Why are cleaning tools made of brass?
Cleaning tools are often made of brass because it's a soft metal, meaning it won't scratch or damage the steel parts of your gun during cleaning.
How often should I clean my gun?
The frequency of gun cleaning depends on usage. If you use it regularly, cleaning after each use is recommended. Otherwise, cleaning every 3-6 months should suffice.
What happens if you don't oil your gun?
If you don't oil your gun, it can lead to rust and corrosion, which can damage the firearm and affect its functionality and safety. It can also increase wear and tear, reducing the lifespan of the gun.