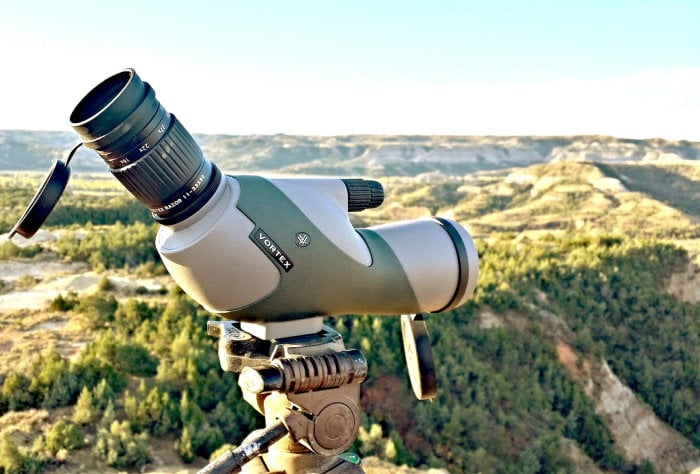 Last Updated on
The lack of variety is a problem of the distant past. Modern people face a different issue – the abundance of choice. How can a humble person distinguish between hundreds of items with similar names? One needs to become an expert to figure out all the differences. Feel unsure about mastering every single sphere of life? The same goes for us. What we can do, however, is help you to navigate in our field of expertise – hunting optics.
Everyone has probably heard about binoculars and telescopes, but the world of optics is way more diverse than that. Spotting scopes are the middle ground that comprises the best features of their better-known relatives. Long-range spotting scopes are an excellent tool for observing wildlife, the night sky, birds, and other kinds of targets. A true asset for every nature enjoyer.
If you are a hunter, tracking your prey across long distances, spotting scopes will show you what their two-eyed cousin cannot see. Birdwatchers will also find this device useful, as it allows you to get the closest look without disturbing your feathered friends. If the stars are your passion, you can get the benefits of a telescope with lesser weight and more portability. Whatever your purposes are, a long-range spotting scope is always a valuable addition to your fieldset.
Important Characteristics
Magnification
You will probably know the distance you'd want your optics to cover. Binoculars are better at closer distances, with a standard magnification ranging between 8x and 10x for regular models, and 10x and 12x for hunting ones. Those are lighter, more portable and compact than spotting scopes. However, many of them can be pricier, as producers need to use a higher-quality glass to fit in a smaller body without it affecting the zooming ability.
Spotting scopes, on the other hand, can boast a magnification range from 12x up to 80x, which is 8 times as much as binoculars'. Moreover, spotting scopes can provide you with any level of zooming within their magnification limit, so you won't be stuck with only one mode. Scopes can cover the longest ranges, so consider getting one if you're planning on hunting in open areas.
Objective Lens Diameter
The bigger the lens is, the wider your field of view gets. Bigger lenses also let in more light, while respectively affecting the weight and cost of the scope. If you are planning on using a tripod, the weight won't be a problem for you. Otherwise, consider getting a scope with a smaller lens diameter, those will offer higher portability and weigh less.
Weight
Weight might be of little concern for those using scopes from their vehicles or carrying numerous hiking supplies. But if you are going to hunt in a mountainous area or climb a peak to observe the stars, you might want to carry as little weight as possible. Light scopes with smaller objective diameters will weigh less than 3 pounds, their bigger variants weighing 5 pounds and more. Don't forget to consider the tripod's weight to ensure the most informed and reasonable decision.
Price
For some people that is a real deal-breaker. We all want better quality for a lower price, but reality tells us that those two factors have a different dependence. Lower price doesn't necessarily mean lower quality. But if you've decided to purchase a quality spotting scope, be ready to spend at least a few hundred dollars. Such scopes can hardly be considered a frequent purchase, and making a one-time worthwhile investment will save both your money and nerves.
We've made a list of the 5 best spotting scopes for 1000-yards hunting available on Gritr Outdoors highlighting their pros and cons.
LEUPOLD SX-2 Alpine HD 20-60x60mm Angled Spotting Scope (180143)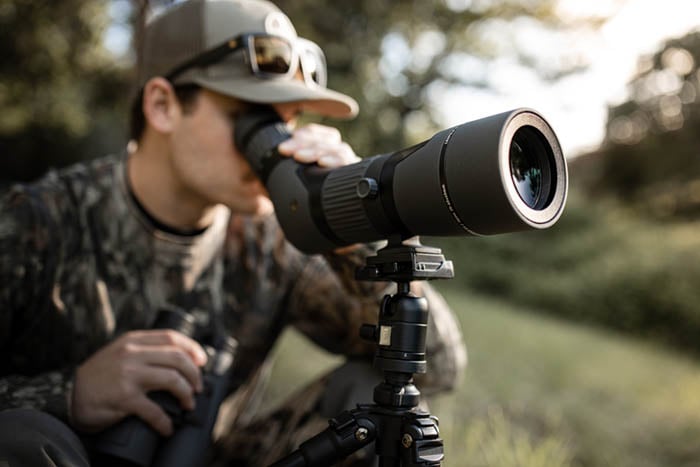 Magnification Range: 20-60x
Objective Lens Diameter: 60mm
Weight: 60 oz.

Built for the harshest conditions, this angled spotting scope bears the mark of Leupold's quality. 60mm scratch and smudge-resistant objective lens allows for HD magnification and comfortable all-day glassing. Built around Leupold's Advanced Optical System, it offers tried and true light transmission. Like all Leupold spotting scopes, it's both fog- and waterproof and protected against extreme climate exposure. This is the cheapest scope in our compilation and thus it's heavier than its counterparts, but the price-to-quality ratio will undoubtedly leave every owner delighted. For only 343.07$ you will get a long-range spotting scope from one of the oldest and most seasoned manufacturers in the world. Magnified image clarity makes Leupold SX-2 Alpine HD 20-60x60mm Angled Spotting Scope an honorable member of the spotting scopes' family.
LEUPOLD GR 10-20x40mm Compact Spotting Scope (120374)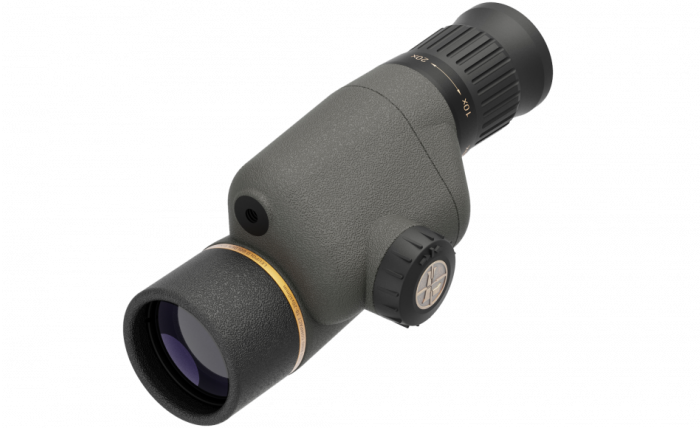 Magnification Range: 10-20x
Objective Lens Diameter: 40mm
Weight: 15.8 oz.
Another creation of the renowned Leupold & Stevens, the main advantage of this spotting scope is its weight. Weighing less than a pound, it has managed to accommodate the truest focus and maximum brightness for image clarity, contrast, and color fidelity. When binoculars are not enough and the idea of carrying heavier optics makes you lose all enthusiasm, this is your lifeline. While having a relatively small magnification range, this Leupold spotting scope makes up for it by portability and decent image quality. It's light enough to use without a tripod, another benefit that light-travel enjoyers would appreciate. Great eye-relief and comfortable design are a cherry on the top. This Gold Ring Compact Spotting Scope is worth every cent you are going to spend on it.
VORTEX Viper HD 85mm Straight Spotting Scope (V503)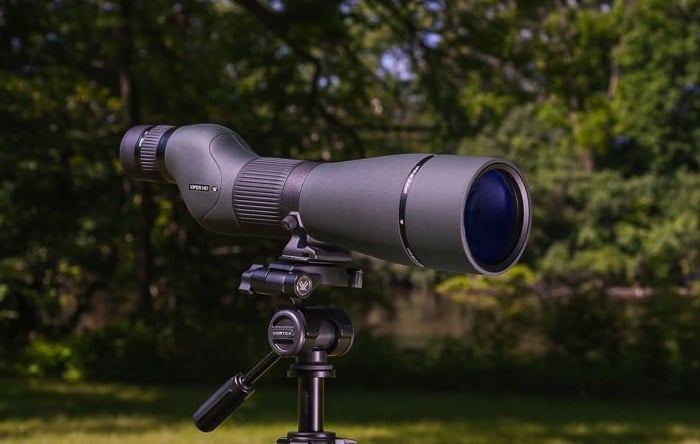 Magnification Range: 20-60x
Objective Lens Diameter: 85 mm
Weight: 76.4 oz.
This high-end spotter boasts the biggest lens diameter in our compilation, making it a worthy opponent to many of the 4-figures scopes. With its HD optical system, you'll spot the smallest details at a distance of up to 1000 yards, even in low-light conditions. The 85mm lens adds additional weight to the scope, but image quality and light intake fully compensate for this minor inconvenience. Vortex spotting scopes are among the best spotters currently produced. Packed with features for incredible glassing and high-end optical performance, the Viper HD Spotting Scope provides a quality that a few higher echelon scopes do. You won't find a better scope for the same price.
NIKON MONARCH 20-60x82mm ED Straight Body (16100)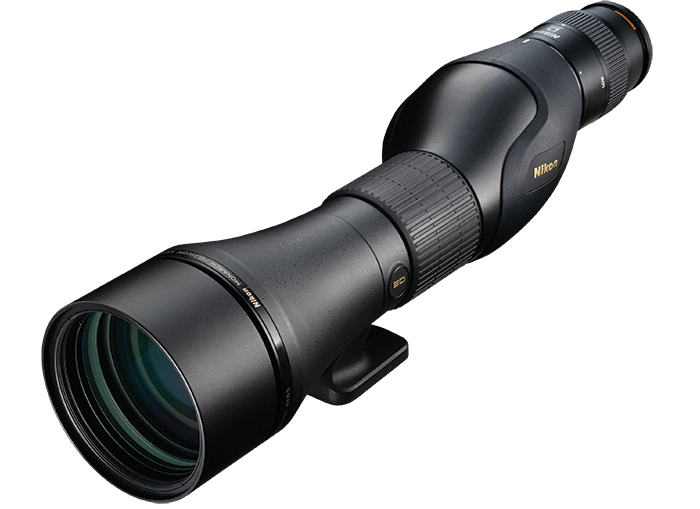 Magnification Range: 20-60x
Objective Lens Diameter: 82 mm
Weight: 58.2 oz.
Even though hunters may not be so picky about color accuracy and chromatic aberration, Nikon makes its scopes as diligently as their cameras. They have made their name producing high-quality camera lenses, and since the lens is also the main functional component of the scope, Nikon spotting scopes are everything a hunter might ask for. Nikon's innovative Field Flattener Lens System ensures the sharpest images throughout the entire field of view. Having the same magnification range and slightly smaller lens diameter as the previous scope, Nikon Monarch is 1.3 times as light as Vortex Viper, which makes it more advantageous for light-packers. Such lightness comes with a higher cost, but if you are familiar with other Nikon products, you know that their devices are worth the money paid.
ZEISS Conquest Dialyt 18-45x65mm Straight Body Spotting Scope (528007)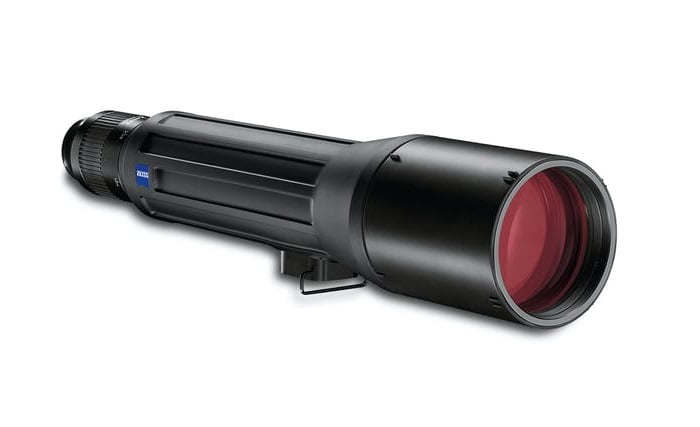 Magnification Range: 18-45x
Objective Lens Diameter: 65 mm
Weight: 42.2 oz.
The lightweight and compact design make ZEISS Conquest Dialyt a perfect hunting companion when every carried pound counts. A sealed, alloy housing filled with nitrogen prevents condensation from forming inside the scope, reducing the cold and wet weather's influence to zero. Special T* coating guarantees a brilliant high-contrast image even in low-light conditions. Zeiss spotting scopes are rightfully treasured by many hunters for uncompromising reliability and compact format. This is the priciest scope in our compilation, but the weight-to-magnification ratio makes up for the cost.