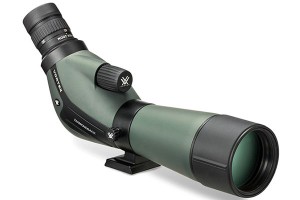 It's pretty much a given that you're not going to find a cheap spotting scope on the market today, or at least not one that is worth taking a chance on for your spotting needs. However, you don't necessarily have to spend $2000 on a spotting scope either, especially if this is your first spotting scope purchase. Of course, you're going to get superior glass and quality in those higher end spotting scopes, but we all have to start somewhere. Here are five suggestions on affordable spotting scopes you should invest in when you're not quite ready for top tier optics.
Hawke Vantage 24-72x70mm
First up is the Hawke Vantage 24-72x70mm Spotting Scope, and it offers the best value of the five spotters listed here, but it is not without its drawbacks when compared to others on the list. The Vantage uses a BK-7 prism as opposed to the BAK-4 prism, and without getting into too much detail, the use of BK-7 prisms generally results in slightly less light transmission and a slightly dimmer image. BK-7 prisms can also cause some dimming around the exit pupil, or roughly defined, the image you see through the scope when you're at the appropriate eye relief. That said, BK-7 prisms are better suited for spotting scopes than they are for binoculars, and the impact of lost light transmission is less in spotting scopes that use BK-7 prisms.
Currently listed at $169.99 on gritroutdoors.com, the Hawke Vantage is still a steal as far as affordable spotting scopes go. The Vantage sports fully multi-coated optics, a pull out sunshade, a fold down eye cup,  and nitrogen purging for waterproof and fog proof performance. All the basics are here, and the Vantage has a wide variable magnification range as well as the largest objective lens size of all five models listed.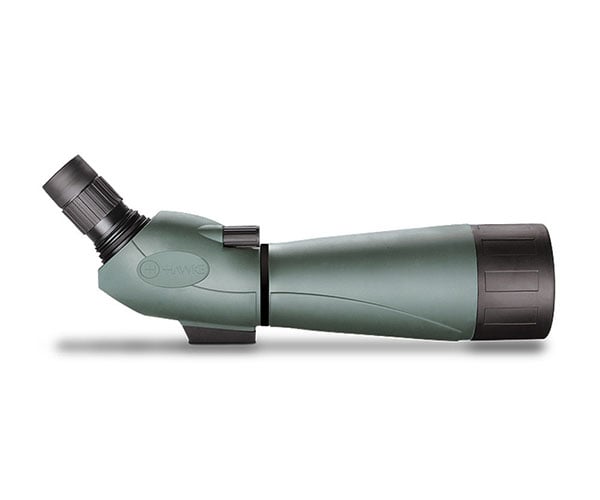 Additional Specs: Magnification range: 24-72x, Field of view: 82 – 42 ft., Eye relief: 18 – 13 mm, Close focus: 29.5 ft., Length: 15 in., Weight: 36.9 oz.

Wins In: Magnification range: 24 – 72x
Bushnell Trophy XLT 15-45x50mm
The Bushnell Trophy XLT 15-45x50mm Spotting Scope is similarly priced to the Hawke Ventana at $209.71, but at first look it is easy to see that the magnification range is significantly less than what the Ventana offers. The Trophy XLT also has an objective lens that is smaller than average at 50mm. However, the pros of this scope come in an upgrade to BAK-4 prisms, a smaller body and less overall weight. While the Trophy XLT might not be suited for a high country hunt where long vistas are common, it is more than suited for smaller scale landscapes and a day at the rifle range. It's compact package and straight angled eyepiece also make it perfect for a family vacation centered around wildlife viewing or sight seeing, at its $200 price point makes it an easy entry for those who don't own a spotter yet.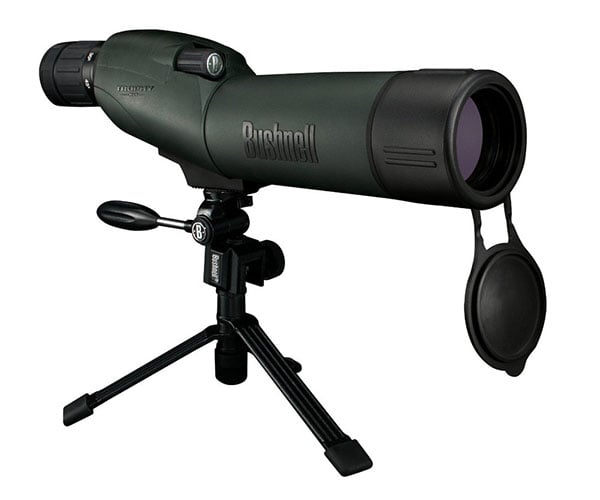 Additional Specs: Magnification range: 15-45x, Field of view: 150 – 76 ft., Eye relief: 18.1mm, Close focus: 32.8 ft., Length: 13.2 in., Weight: 31.7 oz.
Wins In:  Field of view: 150 – 76 ft. (note field of view is better at scope's lower power)
Leupold Ventana 15-45x60mm
The Leupold Ventana 15-45x60mm Spotting Scope comes in at the same magnification range as the Bushnell Trophy XLT, but a larger objective lens at roughly the same weight and size, along with the Leupold name, makes this spotting scope preferable for most. Fully multi-coated optics and waterproof and fogproof resistances are present in this model as you would expect, and the integrated sun shade found in the Ventana but missing in the Trophy XLT is back in this model. The Ventana does represent an additional investment when compared to the two previous models, but at $269 on Gritroutdoors right now, the additional cost may be worth it for those who plan to hunt or wildlife watch in areas where the 45x max magnification is suitable.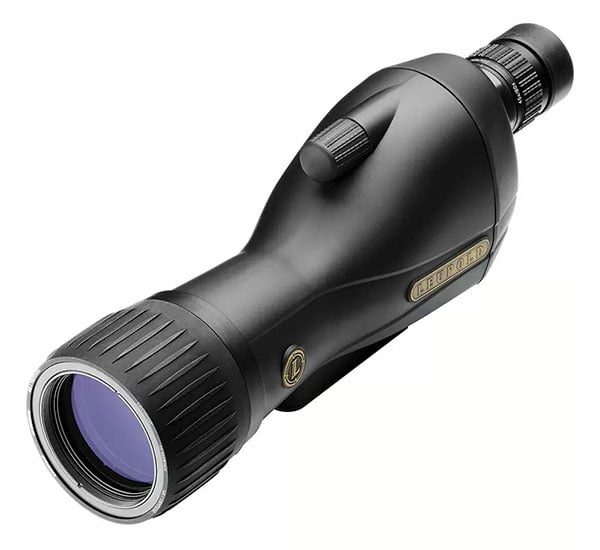 Additional Specs: Magnification range: 15-45x, Field of view: 121 – 63 ft., Eye relief: 20 – 21.5 mm, Close focus: 13.8 ft., Length: 13.5 in., Weight: 30.6 oz.
Wins In: Close focus: 13.8 ft.
Vortex Diamondback 20-60x60mm
The Vortex Diamondback 20-60x60mm Spotting Scope represents a significant upgrade from the three previous models in most categories. The 20-60x magnification is a standard setting suited for both long range and smaller landscapes, and the 60mm objective lens is the most common size you'll find in spotters with ample light gathering ability. Even with the larger magnification range, the Diamondback spotting scope still weighs in similar to the other three listed above at 33.8 ounces. Big game hunters serious about getting a spotting scope suited for their needs should probably start here, but at $399, the Vortex Diamondback is significantly more expensive than everything except the Nikon ProStaff 5. Those long range hunters on a tight budget may want to turn to the Hawke Vantage for a lower price price, but if you can afford it, the Diamondback will perform at a higher level, and you can consider it a step up from entry-level.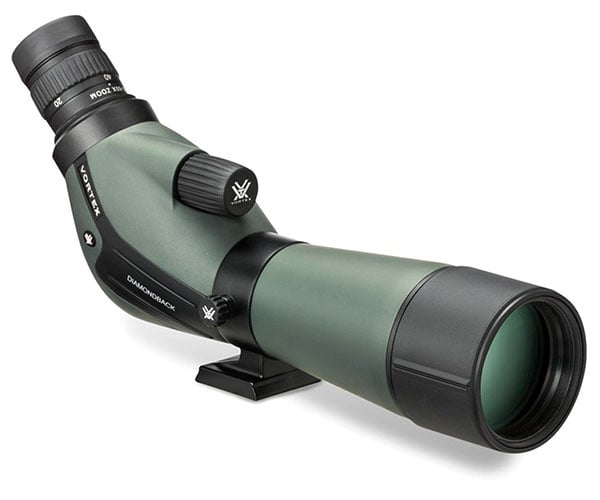 Additional Specs: Magnification range: 20-60x, Field of view: 114 – 51 ft., Eye relief: 17-14 mm, Close focus: 20 ft., Length: 14 in., Weight: 33.8 oz.
Wins In: Field of view (at max magnification): 51 ft.
Nikon ProStaff 5 16-48x60mm
Nikon is well known for their spotting scopes, but you won't find a low priced entry-level model in their line. However what you will find in models like the Nikon Prostaff 5 16-48x60mm is a spotting scope with superior glass, a bright picture and an extremely lightweight body. The ProStaff 5 also sports an added feature that most other spotting scopes in their class do not have: the ability to mount lenses with digiscoping compatibility so you can record images through the scope. The price point of the Nikon ProStaff 5 represents really the end of what you could consider an affordable spotting scope at $469.95, and the magnification range isn't as substantial as others with a max of 48x, but those who want a scope both for spotting and photography will find that the ProStaff 5 is the best place to start. One other note, with all the quality found in this scope, it's also remarkably light when compared to the other scopes at a mere 26 ounces.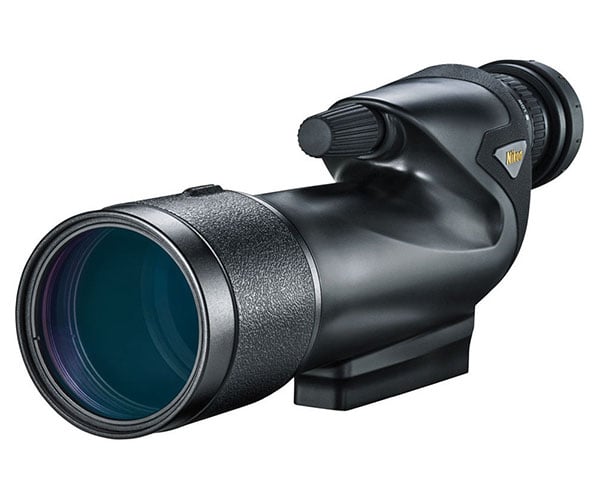 Additional Specs: Magnification range: 16-48x, Field of view: 136.2 – (not listed) ft. , Eye relief: 16.5 mm, Close focus: (not listed) ft., Length: 11.4  in., Weight: 26 oz.

Wins In: Length: 11.4 in., Weight: 26 oz., Eye relief: 16.5mm
Note: prices listed are subject to change on gritroutdoors.com.