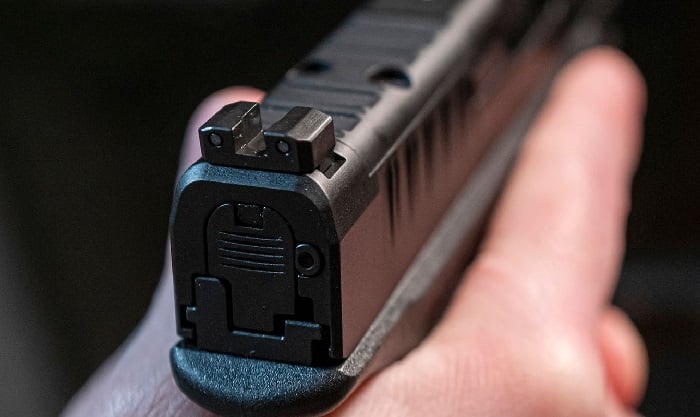 Last Updated on
Iron sights tend to be overlooked these days, as some people find them obsolete. These devices certainly can't boast magnifying abilities that rifle scopes have, they lag behind reflex sights on assisting the target acquisition process. Nonetheless, things are not looking dire for iron sights, they have their appreciators among all categories of shooters. Even though much simpler in design and functionality than reflex sights and scopes, iron sights still have advantages that their more advanced colleagues cannot beat. Today iron sights work as well as a century ago, and that stability is worth relying on. 
Iron sights often come in-built on several types of firearms, and thus can be used as a backup option should anything happen to your scope or a more advanced sight. Iron sights also come separately, and there are many companies that produce all sorts of aiming devices. Among those, some manufacturers specialize solely in sights. Ameriglo is one of these companies. They are dedicated to providing people with the possibility to protect themselves by producing sight for self-defense firearms. Ameriglo offers a variety of pistol sight options, such as fiber sights, painted dots, plain metal sights, AR15 sight upgrades, and red dot sights. What they are particularly famous for, though, is their tritium-illuminated night sights.
Ameriglo sights are exclusively designed and produced in America. They help pistol owners to aim with confidence in a wide range of situations, be it everyday carry, home defense, competitive, or long-range shooting. 
There are several sets of iron sights that Ameriglo produces. Among them are trooper sets, spartan sets, cap sets, Defoor ADC sets, protector sets, ghost ring sets, and specialty sets. What we are going to focus on today is a representative of classic tritium sights sets.
Just as the name implies, Ameriglo Classic 3 Dot Green Tritium Night Sight Set is created specifically for use in low-light conditions. Regular iron sights are not visible in the dark or poorly lit places, which are frequent conditions for hunting or self-defense situations. To address this deficiency, sight designers introduced several contrast enhancements. All of them are displayed in the set's name.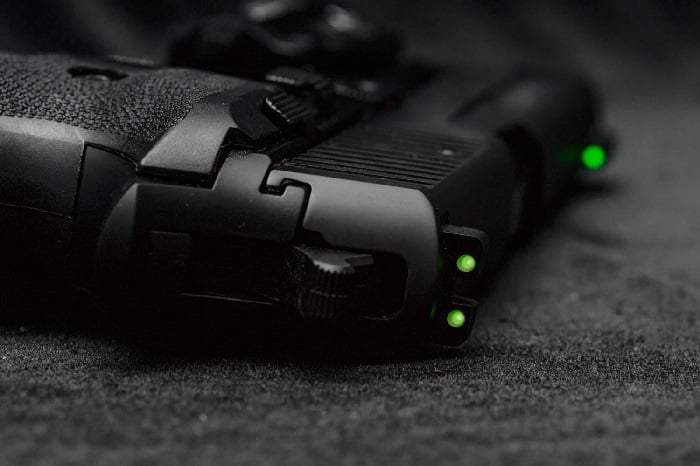 Three-dot means that notable white dots are painted on the sight parts: one on the front closer to the top of the blade, and two on both parts of the rear sight notch. These white circles are more visible in low light conditions and generally make sighting much easier and target acquisition much faster. Two rear circles draw your eyes' focus on the rear sight and allow you to swiftly notice the front piece and place it on the target. Often sights are further highlighted with a thick, bright outline around the front or rear circles. 
Green Tritium is another upgrade that enhances your accuracy in low light conditions. During the day such sights function as regular three-dot sights, but at night they uncover their true potential. The main element of Green Tritium sights is a glass tube filled with phosphorescent materials and a little amount of tritium. Tritium radioactive decay releases electrons which react with fluorescent elements, making them glow. This technology is perfectly safe as the amount of tritium is insufficient to cause any damage to users. The main benefit of green tritium sight is their independence from any sort of charging – they don't need batteries to run and don't even need to be switched on. It is a great advantage in situations when every second matters. Green tritium sights will last more than a decade before starting to fade, so it's a long-lasting investment.
Night is, naturally, placed in the title to denote the time of day when this sight will be most beneficial, Classic goes for design, and Ameriglo is for the manufacturer. Now you know everything there is to know about this sight set.
Every firearm model is unique in terms of accessories. There is no sight to fit them all, and frankly speaking, it is not that convenient to have only one set of sights for several guns. Ameriglo is producing sights for the most prominent members of the firearms-producing community. You can find Ameriglo Classic 3 Dot Green Tritium Night Sights for Walther pistols, Smith & Wesson pistols, Sig Sauer pistols, Springfield Armory pistols, and Glock pistols.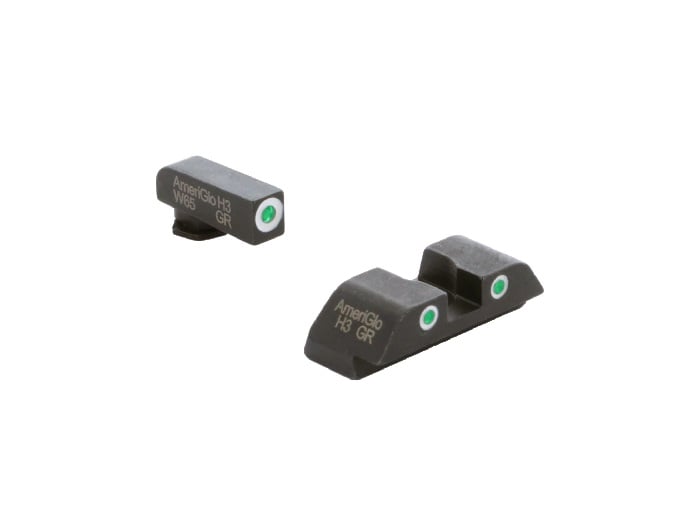 Ameriglo Classic 3 Dot Green Tritium Night Sight Set For Sig Sauer is designed for use as a backup iron sight for pistol-mounted red dots, as well as a stand-alone night sight set. Following the general line of the series, this set is beneficial for nighttime and low-light use. White outline front and rear sight pieces allow for faster daylight target acquisition.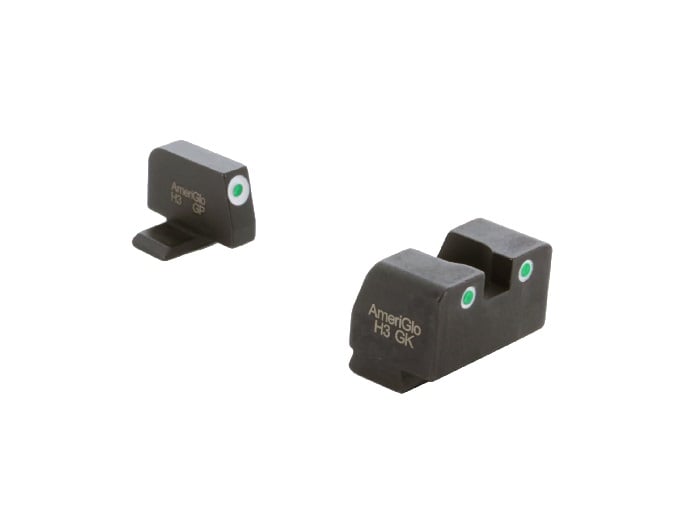 Ameriglo Classic 3 Dot Green Tritium Night Sight Set For Glock Gen5  is suited specifically for Gen 5 Glock 17, 19, 19X, 26, and 45 models. This sight set comes with a traditional 3-dot sight picture with a green tritium lamp in the front piece and two green tritium lamps in the rear sight. They are distinguished representatives of Ameriglo night sights. 
Gritr Outdoors offers you a wide choice of Ameriglo classic series 3 dot sights fit for the most widely used firearms models.