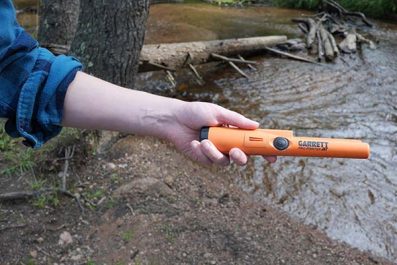 Last Updated on
By David Link
It can be a mess when you put the metal detector down and start to dig for items, but not with the Garrett Pro-Pointer AT.
Few companies provide a comprehensive line devoted solely to the growing pastime of metal detecting, and you could argue that no one does it better than Garrett. From sand scoops and digging tools to powerful detectors and all-in-one kits, there's little to the sport of metal detecting that Garrett doesn't cover. While we tend to focus on primary full-sized units, accessories can make or break a detecting outing and mean the difference between an interesting new find and an empty-handed dig. No accessory is more important than a pointing device, and any serious enthusiast is wise to add one to their kit early in the game. The Garrett Pro-Pointer AT is among the best on the market, and the "All-Terrain" spec is a worthwhile upgrade for any savvy prospector. Let's take a closer look at this premium accessory for any prospecting kit.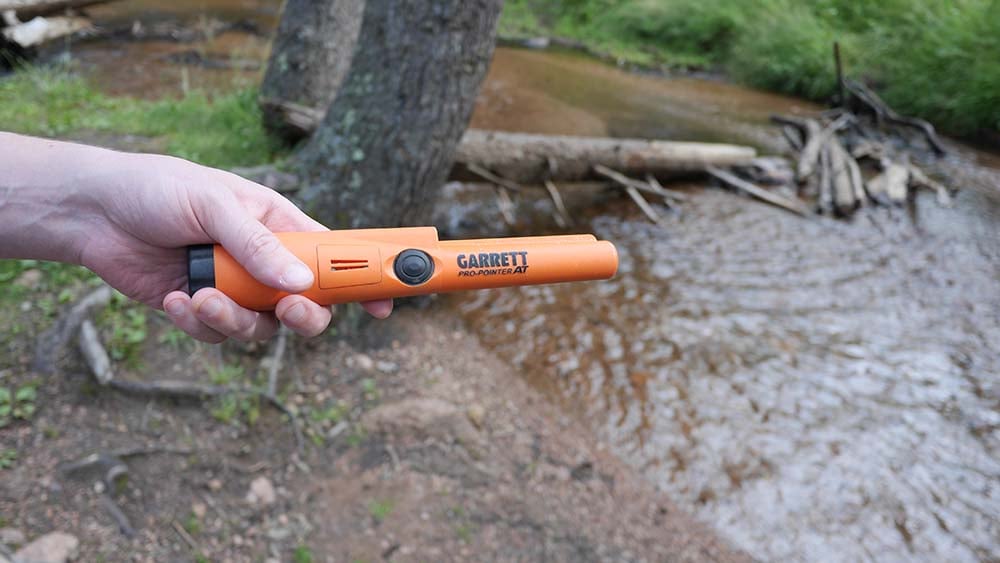 Garrett Pro-Pointer AT Basics
Simply put, the Garrett Pro-Pointer AT helps you identify objects that otherwise may be lost in a prospecting dig. The Pro-Pointer is dust proof and waterproof (up to 10 ft.), which means it is extremely useful when retrieving items from rivers and lakes or muddy territory. The basic digging operation goes like this. First you locate a potential find with a metal detector. Next you dig a small prospecting hole based on the depth indicated by your metal detector. Digging is best accomplished with a Garrett digging tool or similar product. Once the target hole is dug and the item isn't easily found, you can turn to the Garrett Pro-Pointer AT to locate the object with audio and/or vibration detection cues. This works both in dry digs as well as underwater digs.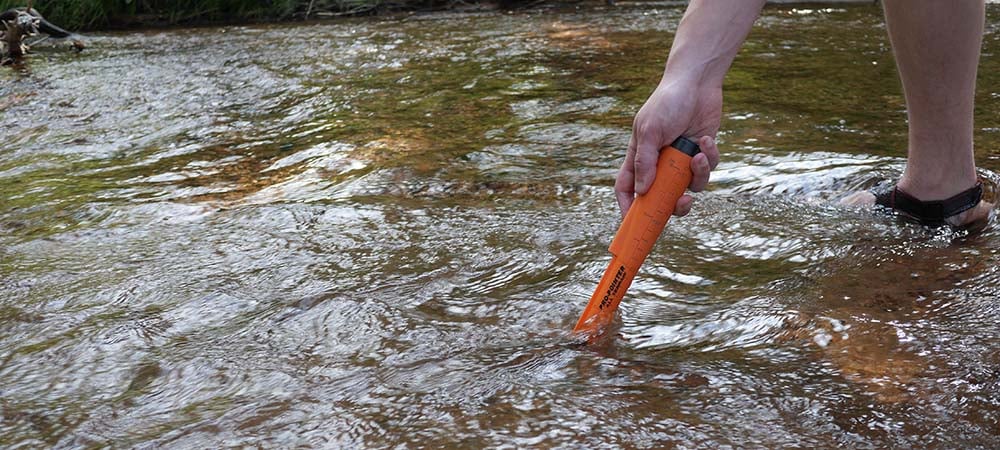 Specs
Bright Orange Color – The brightly colored device is hard to lose in the field.
Waterproof Construction – The Pro-Pointer AT is fully submersible underwater and can reach a depth of 10 feet.
Onboard LED Light – The LED light is mounted halfway up the device and helps the user spot items in water or in low light conditions.
Maximum Sensitivity – The Pro-Pointer AT features the most sensitivity out of any model thus far and can pick up even small items like gold nuggets.
Vibration And Audio Location Cues – The Pro-Pointer AT ensures you'll find the object you're after with both audio and vibration cues (or just vibration cues if desired).
Simple One Button Operation – An easy to operate one button interface allows users to toggle On/Off, Stealth or Alert Mode, Retune and sensitivity adjustments. The button is oversized so it can be used with gloves or larger hands.
Power Off Feature – After 60 minutes the device automatically powers off to save battery life.
Lost Pro Pointer Alarm – After 5 minutes of no action or button presses, an alarm chirping sound is emitted so you can find the Pro-Pointer AT is misplaced or lost.
Ruler On Side Of Device – An etched ruler in both inches and centimeters provides a reference point on depth when digging.
Attachment Loop – A metal threaded loop provides optional attachment of a lanyard for carrying.
Adjustable Holster – A rugged nylon holster with adjustable Velcro attachment loop is included for easy pack or belt carry. As a bonus, a metal button on the holster alerts the used if device is holstered while still on.
In The Field
Without a doubt the biggest advantages of the Garrett Pro-Pointer AT come with its compact size and waterproof functionality. It is easily mounted on your belt loop so you can turn to it whenever you put your primary metal detector down. Once you get the hang of cycling the Pro-Pointer's different settings, you'll have no problem adjusting it in the field. In a nutshell the settings go like this. Press the button quickly to turn it on. Then press and hold the button for two seconds to enter selection mode. You can tell the Pro-Pointer AT is in selection mode by the blinking LED light. Quickly press the button to cycle between six different modes. There are three modes with vibration-only and three modes with audio and vibration cues. Each of the three levels offers varying degrees of sensitivity from low to medium to high. This provides a wealth of adjustment options in a simple one button interface.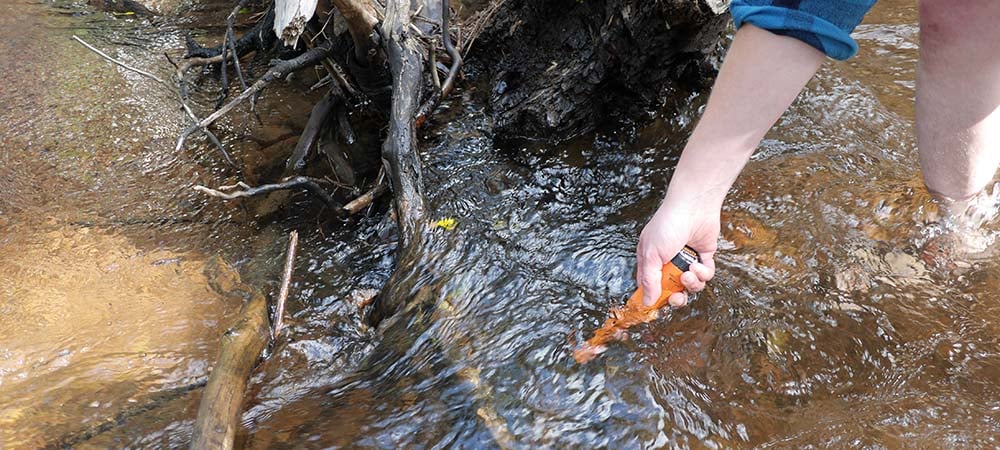 Moving on to general operation, this device is extremely easy to use and fun to test in the field. Essentially you can just turn it on and get to detecting. Garrett has really put some thought into this latest version of their Pro Pointer series, and it's far more resourceful than it initially looks when you pull it out of the box. The ability to detect small objects is huge in this device, and it is best performed by holding the tip of the pointer just to the side of your search area.
My experiences with metal detecting usually work like this. I'm able to identify the general area where the metal object is pinged, but actually retrieving that object can be a bit of an adventure in itself. I get the digging tool out and slowly work the target area to look for the object in question. However the dirt, mud and sand easily obscures the search area, and if you're not careful, you can lose the initial spot you had on the target area before you started digging. The Garrett Pro Pointer AT is a huge help in circumstances like this, and it can turn a ten to twenty minute dig into a simple retrieval action.
Better yet, the complete waterproof construction makes prospecting in rivers more enjoyable than ever. Personally I love dusting off the wading sandals and getting into a river not knowing quite what I'll find. I do know that rivers can hold some pretty great treasures if searched correctly. The Garrett Pro-Pointer AT makes those dreams of a big find more realistic now that you can get into the riverbed without worry of damaging your pointer. I look forward to more prospecting adventures with this device, and I know the pinpoint sensitivity and easy Retune function increase my chances of success.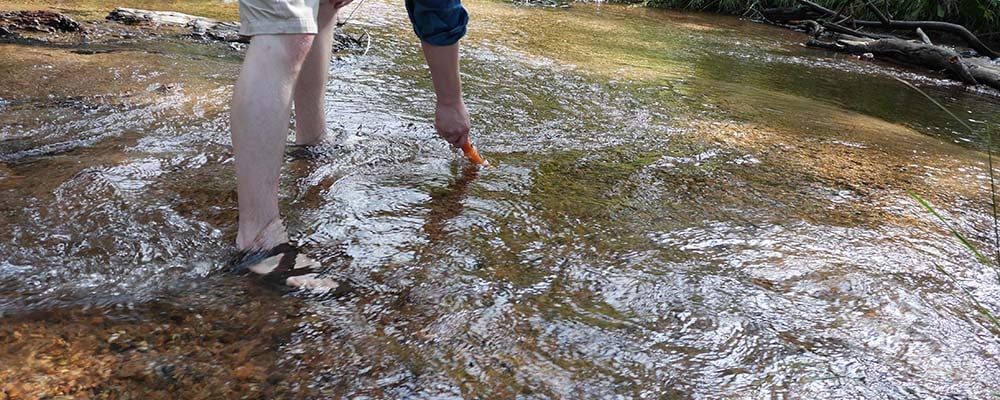 Around The House
Once you get past all the great functionality this device offers in the field, it's worth noting that it can be very helpful around your home as well. There are a few scenarios where the Garrett Pro-Pointer AT can be an lifesaver. First, are you doing a home improvement project or hanging a picture? The Pro-Pointer AT can help you locate items like metal studs, metal pipes or nails hidden in drywall. What if you lose an item like jewelry in a hard to reach place? Well the Pro-Pointer can help you locate it in tight quarters as well. Of course these are not the primary use sfor this device, but it's certainly worth noting before you buy.
Garrett Pro Pointer AT Review
Simply put, you need to get a Garrett Pro-Pointer AT if you're at all interested in prospecting or metal detecting. Sure the first step is the metal detector itself (prospecting just with the Pro-Pointer AT would be pretty hard on your back), but this device is an easy sell after you have your metal detector up and running. It's versatile, powerful, lightweight and easy to carry. Simply put, this device needs to be on your belt loop whenever you head out into the field. Using the Pro-Pointer AT is just another reminder that when it comes to comprehensive metal detecting and prospecting tools, no one does it better than Garrett.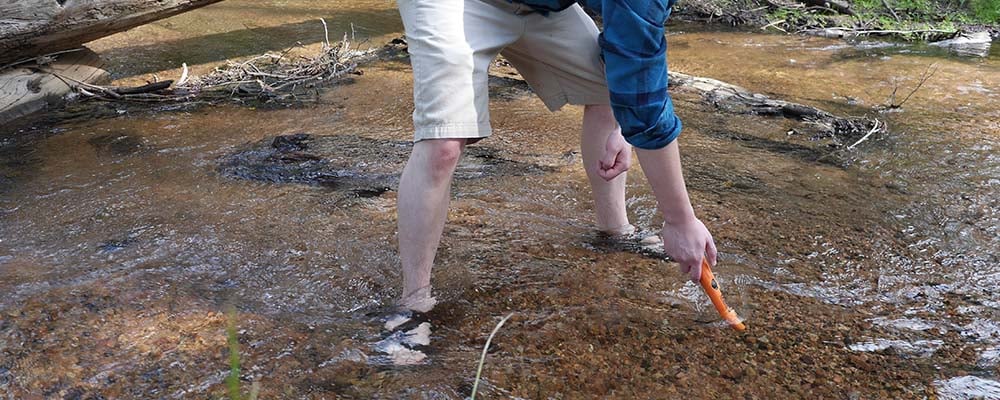 I always like to offer some disadvantages when I look at a product, but honestly there isn't much here to be disappointed about. The Pro-Pointer offers easy operation (once you read the instruction manual), streamlined function and pinpoint sensitivity. Both beginners and pro prospectors will love this device when they try it. Enough said!