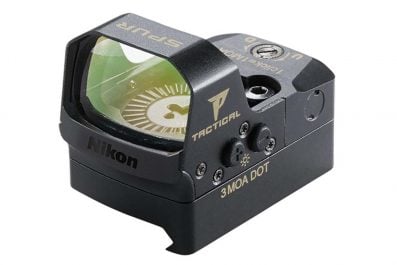 The best reflex sight for the money.
Let's take a step back and consider, what purpose does an optical sight serve? We all understand their importance when hitting a distant targets. But what about targets at closer range? Let us treat the challenges of close and mid-range shooting with some respect. Of course, it is easier to hit the same static target at 100 yards than it is at 500 yards. That is if the target is kind enough to stand still. Even the best sharpshooters tend to miss when not given the time to properly aim, and traditional iron sights, for all their ruggedness, require patience.
With iron sights your eye, the front sight, the rear sight and the target must all be aligned along a single line. This leaves you with only one narrow position for your eye. Any movement up, down or sideways breaks the line and leaves you guessing where exactly your projectile will hit. Telescopic sights on the other hand provide long-range accuracy that no other optics will. The drawback is their field of view is limited, and this makes telescopic sights obsolete at close range.
Where Reflex, Or Red Dot Sights Come In
Reflex sight technology is based on light reflected off a curved surface creating a virtual image at an infinite distance. In other words, instead of a line it offers you a corridor within which the virtual reticle is constantly aligned with your eye, pointing at the target. That means more flexibility to aim and position your eye. There is no time wasted on aligning iron sights, which equals more comfort and faster target acquisition.
Developed in 1900, the technology would wait for its combat debut until 1918, when it was first used in German fighter planes. At the time it was too bulky and power-demanding for firearms, but by the late 1930s, it had become the number one aiming device for fighter aircrafts and a popular option for naval guns, anti-aircraft guns and basically all weapons that require fast target acquisition rather than long-range accuracy.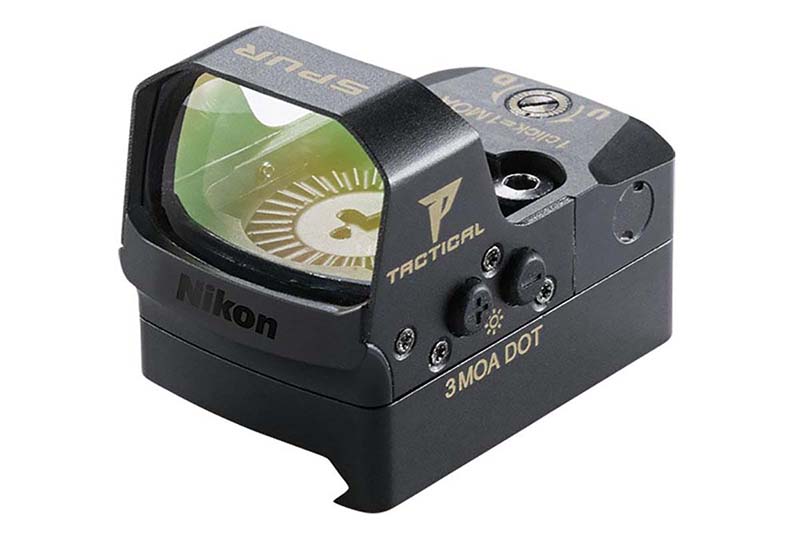 Reflex Boost
The first thing you'll notice using a red dot or reflex sight is simplicity. Aligning the front and rear iron sight pieces is hard when you're under stress or in a hurry. With the Nikon 16532 P-Tactical Spur, you won't have to. Even when you make a sharp turn in the field and have to acquire a target in a fraction of a second, the golden rule is:
As long as you can see the reticle, it shows exactly where the weapon is pointed.
The name "reflex sight" comes from the reflector technology, but it also perfectly reflects the main feature of the sight. With it, you can unfold your reflexes to a new level. After its invention in 1900, the red dot sight wouldn't become suitable for hand-held weapons for quite a few decades. Although the benefits were obvious, the sights were large and energy-hungry, especially with the weakness of then-contemporary batteries.
That has changed over the years. Today, the Nikon 16532 boasts not only reasonable size and light weight, but extreme dependability in all environments.
About Nikon
Although the principle of reflex sight is relatively simple, it requires truly exquisite production quality to make a precise and reliable reflex sight. That quality is rooted deep within the Nikon's century-long history of developing binoculars, riflescopes, cameras, rangefinders and many other types of optical devices. Today the very name became synonymous with good optics.

The Best 3-MOA Red Dot Sight
The Nikon P-Tactical Spur 3 MOA Dot Reflex Sight possesses every indication for you to know you're holding something of exquisite quality in your hands:
Shockproof
You cannot have a reflex sight that isn't resistant to shock. The Nikon 16532 P-Tactical Spur is constructed out of aluminum alloy is rugged beyond belief and can take the recoil of a heavy rifle round or an accidental impact and still offer accurate aim.
IPX7 Waterproof
The submersion tightness of the Nikon Spur is 3 feet. You won't want to take it with you on a dive, but it's more than adequate protection for a splash while crossing a river.
3 Minute of Arc Reticle
Choosing the right reticle thickness is important. Too thin makes it harder to keep track of the sight in bright backgrounds. Too thick sacrifices precision and makes it hard to acquire smaller targets, which is bad for obvious reasons.
3 MOA is the benchmark for most intermediate sight reticles. It is easy to keep track of even if your eyesight's not perfect, and yet compact enough to cover only a 3-inch diameter at 100 yards.
10 Brightness Levels
There are 10 settings of reticle brightness, two of them night vision compatible, that enable you adapt to any weather or time of day. Higher brightness will ensure that you can see the reticle in bright daylight, while lower settings will feel more comfortable in darker surroundings and save battery life.
15,000-hour Battery
Speaking of battery life, the times when it was the limiting factor for compact red dot sights are long gone. Today the Nikon 16532 boasts incredible endurance. It can run for 15,000 hours or 625 days, which is more than a year and a half of continuous use. This one is bound to serve you all the way through competition or hunting season.
Wide field of view and unlimited eye relief
The Nikon Spur's optics offer incredible convenience. It does not contrast the surrounding field of view due to its 1x magnification, and the superimposed reticle allows you to aim with both eyes open, staying aware of your surroundings.
Compact Reflex Sight
The scope's thin aluminum body makes it extremely light. You might not even feel the 1.1 ounce of precision when it's mounted on a fully loaded firearm.
Affordable Price
Red dot sights have experienced enormous progress. From bulky and energy-hungry devices only suitable for aircraft and cannons, they have become small, elegant optics that offer exquisite precision and run for thousands of hours on one battery. Such progress makes these optics not only better, but also cheaper. Now you can enjoy this affordable reflex sight for just above $200.
Fully Multi-coated Optics
Fully multi-coated optics with TRUCOLOR coating minimize the bluish tint typical in competitor reflex sights and offer clear natural view. TRUCOLOR also increases dot brightness.