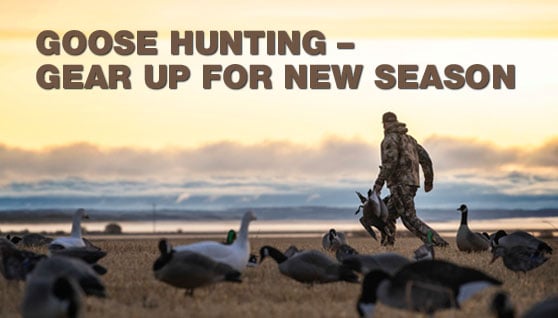 Last Updated on
Waterfowl hunting is believed to be one of the most gear-intensive outdoor pursuits, requiring guns, ammo, camo clothing, decoys, calls, and other tools. That's why sometimes it can be a little frightening for newcomers. But if you're an experienced hunter, you know that specialized equipment is a must. Here we'll try to cover the essential gear and help you get prepared for the goose hunting season.
GUNS AND AMMO
Needless to say that two basic gear items for any hunting are a shotgun and ammunition. Waterfowl hunting requires tough and most reliable shotguns as you often need to hunt in harshest weather conditions. So when looking for a gun, consider several facts.
Goose guns should be rustproof to stand out through wet weather. For this reason, gun barrels and receivers are applied with special coating by manufacturers. Internal components are also covered with a corrosion-resistant barrier that helps prevent rust and extends the life of the shotgun.
Choose a gun that has a non-slip stock with a textured coating. It delivers superb gripping power which is perfect for wet, cold conditions. Also, make sure the gun is glove-friendly and possesses an oversized trigger guard and an easy-to-reach safety. These two features provide safe and functional operation while wearing gloves. A baked-on camouflage finish will be a plus, too.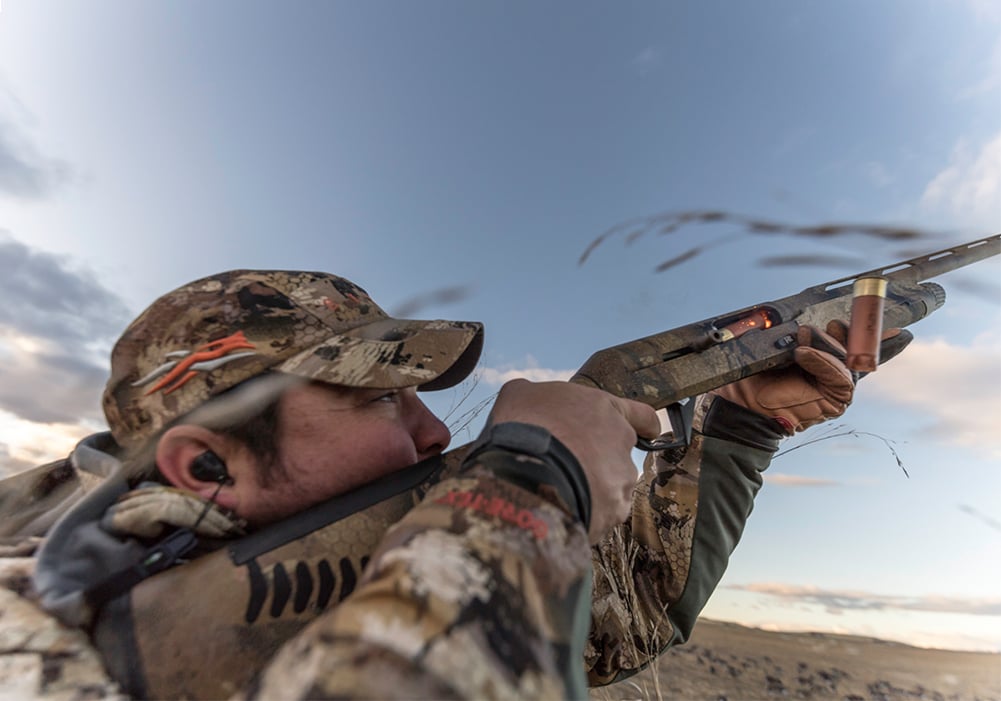 Many hunters use their 12-gauge duck or pheasant gun that works fine in the goose fields as well. Others choose 3.5"-chambered shotguns to accommodate those larger shells, but 3- or even 2-3/4" -chambered ones work just fine. Most goose hunters use steel or other non-toxic shell loads. BB, BBB, or T shots are recommended.
CONCEALMENT
Concealment is an essential part of a successful hunt. Hunting geese requires more detail to camouflage than hunting deer or elk. Birds live at high speeds which makes their eyesight excellent and extremely sharp. That's why you need complete camouflage from head to toe.
Start with good camo clothing. Give preference to marsh and waterfowl camo patterns that feature tall grass, reeds, and cattails you'd find near a swamp. The key to concealment is to blend in with your surroundings, so mind the location and time of year to make sure your camo matches the hunting area.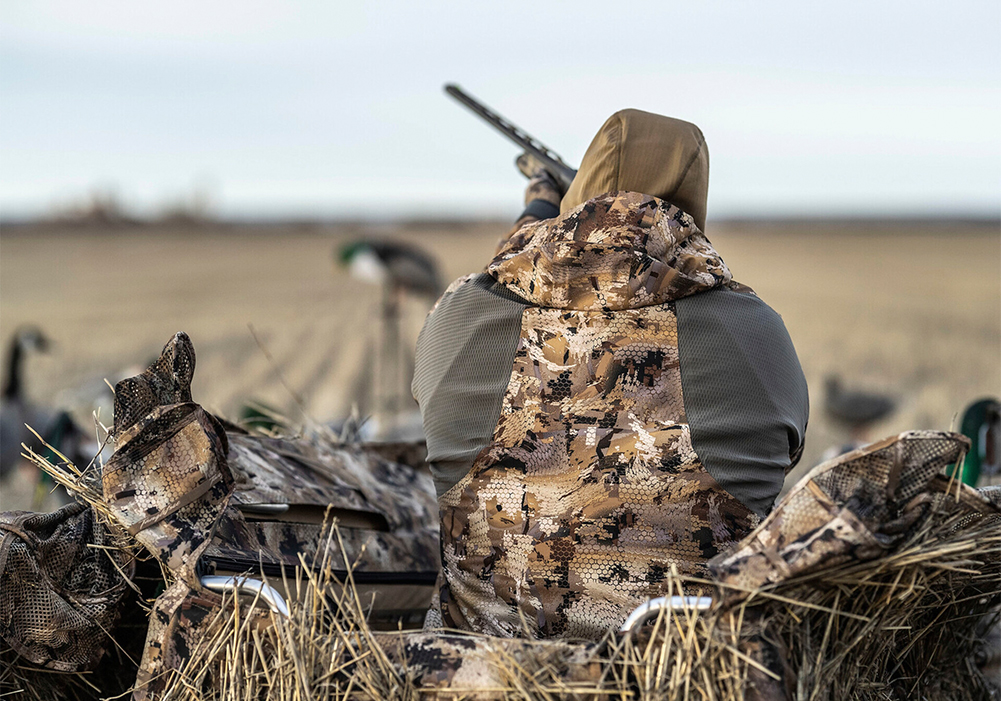 Geese hunting season is often associated with rough weather, so make certain your outer layer will protect you from the elements. Choose windproof, waterproof and insulated hunting jacket and bibs or pants that will keep you warm and dry in case of inclement weather conditions. SITKA hunting clothing will be a perfect choice to fulfill these requirements.
If you're hunting geese in swamp and marsh areas, waders are an absolute necessity. The BANDED RedZone 2.0 Insulated Waders are lightweight, breathable, and waterproof providing superior comfort and all-conditions performance from Banded Gear.
Don't forget about your face as it reflects sunlight and you risk being noticed. Cover it with a facemask to stay properly concealed. If you don't like the fabric touching your face, you can apply face paint. Use black paint to cover your cheeks, nose bridge and underneath your eyes. Also, use hunting gloves to reduce reflectivity and up your chances for a shot.
BLIND BAGS
If you are a waterfowl hunter, you know how important a good rugged blind bag is. Nowadays, there is a huge selection of blind packs, and you are free to choose from brands, different sizes, materials, camo patterns. They are available with various pockets and compartments, waterproof properties, included LED lights, and even more. It won't be a trouble to choose the bag to your needs and liking.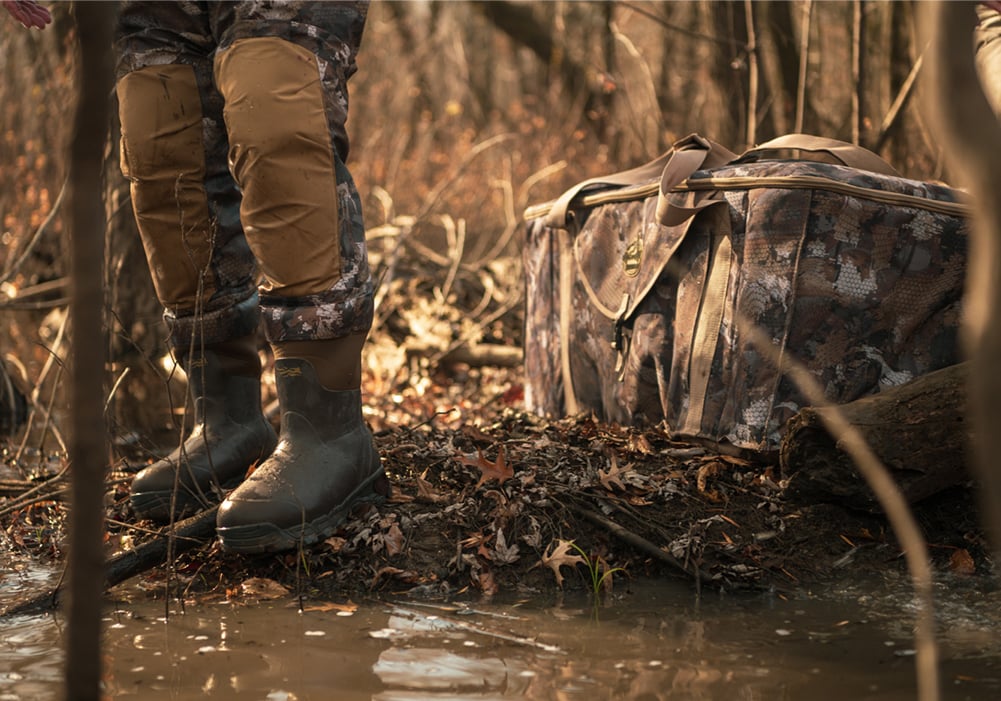 BANDED Air Elite MAX5 Blind Bag is great for waterfowl hunters, as it is durable, waterproof and keeps all your essentials safe and in one place.
DECOYS
You can't go wrong with goose decoys as one of your hunting investments. Today there is a wide range of waterfowl decoys for hunters. All of them are used to attract geese creating the feel of reality that gives birds the confidence to land in exactly this spread. Modern decoys are very lifelike and are available in many options including full-body decoys, shells, windsocks, or silhouettes.
If you are headed for a hunt over water, get a few dozens of floating decoys and fit them with a rugged decoy cord and heavy weight. Also, add in a few field decoys, which you can place on a shoreline. For field hunting, you'd better purchase a good selection of full-bodied decoys. The size of the spread depends on the situation. If you hunt family groups of locally nesting early-season geese, two or three blobs of six to eight full-body decoys to reflect that situation will be enough. But when chasing larger flocks of migrant birds, much more decoys are needed.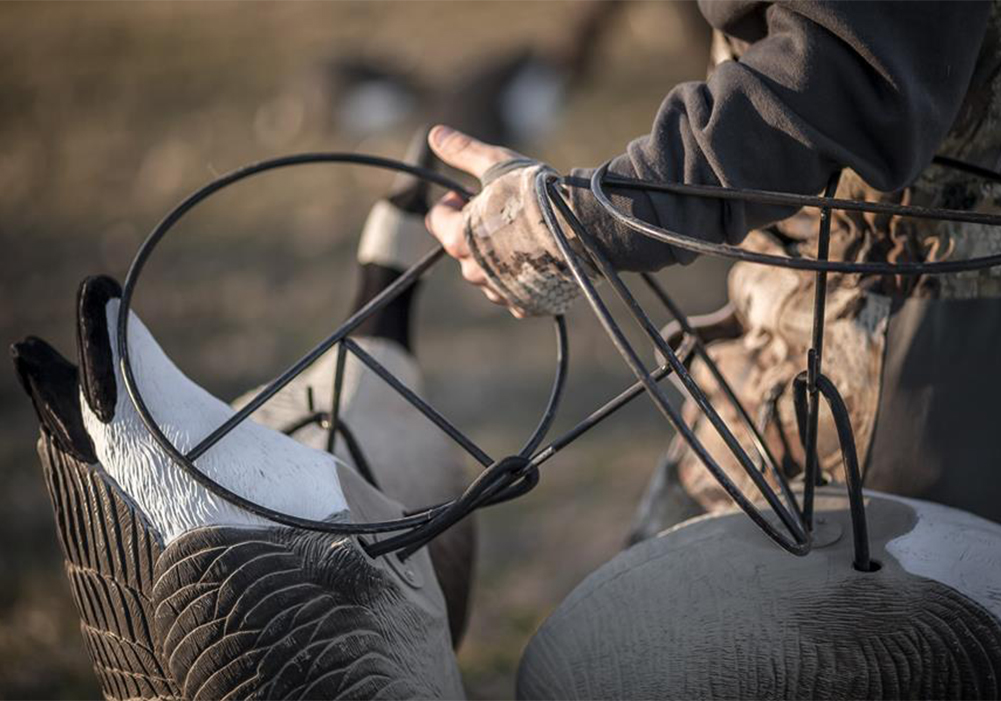 Whatever the size of your spread, the composition of your spread is also important. It should consist of up to 70/80 percent feeders to imitate feeding birds and 20 percent "active" decoys such as lookers to mimic alert geese, and loafers to resemble birds sitting or preening.
One more great option for waterfowl hunters is silhouette or windsock decoys. These aren't as realistic as full-bodies, but they are lightweight, easy to carry, and can benefit as well. You can also use goose flags, which are just plastic flags that resemble wings imitating flying and landing geese. It often grabs the attention of birds at a distance.
GAME CALLS
Another element of goose hunting equipment is a game call. Most geese are very talkative and respond readily to vocalizations of their own kind. For this reason, hunters use specialized goose calls to mimic birds and attract them closer.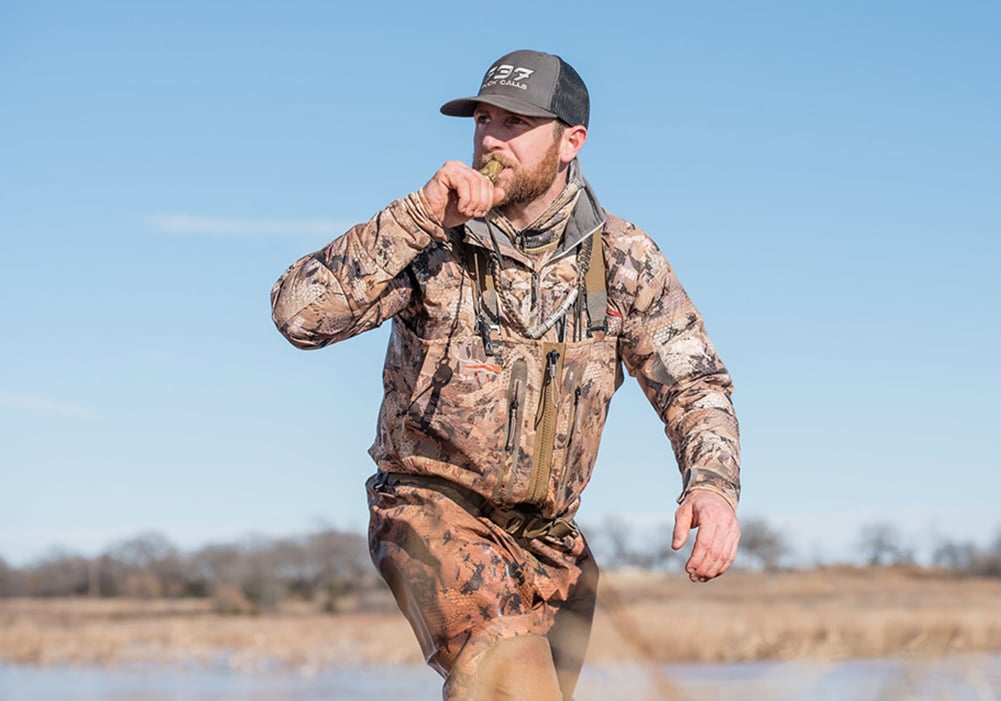 Canada goose calls come in three basic types: resonant-cavity, flute-style, and short-reed. Resonant-cavity calls are probably the easiest to use but are limited in the range of produced sounds. Flute-style calls deliver a broader range of sounds that are more realistic. Short-reed calls require more practice to operate properly, but they produce a vast range of goose vocalizations. There are also specialized calls for light or white-fronted geese, and electronic calls perfect for conservation-order hunting.
Describing geese vocalizations and explaining their meanings in writing will hardly help you much. So check out the many video and audio tutorials where someone uses a game call, explaining the process. Thus, listening to explanations and hearing the resulting sound, you'd better understand the techniques.
Explore a selection of HAYDEL'S Goose Calls on our website.
GOOSE 2021-2022 SEASONS AND BAG LIMITS
Besides gearing up for a hunt, it is extremely important to comply with license requirements and know season dates, and official requirements. Specific dates for goose hunting seasons and bag limits vary annually and depend on a state and an animal. Check your state's official websites for waterfowl hunting season dates, limits, and regulations for details.
Below provided the information about Texas.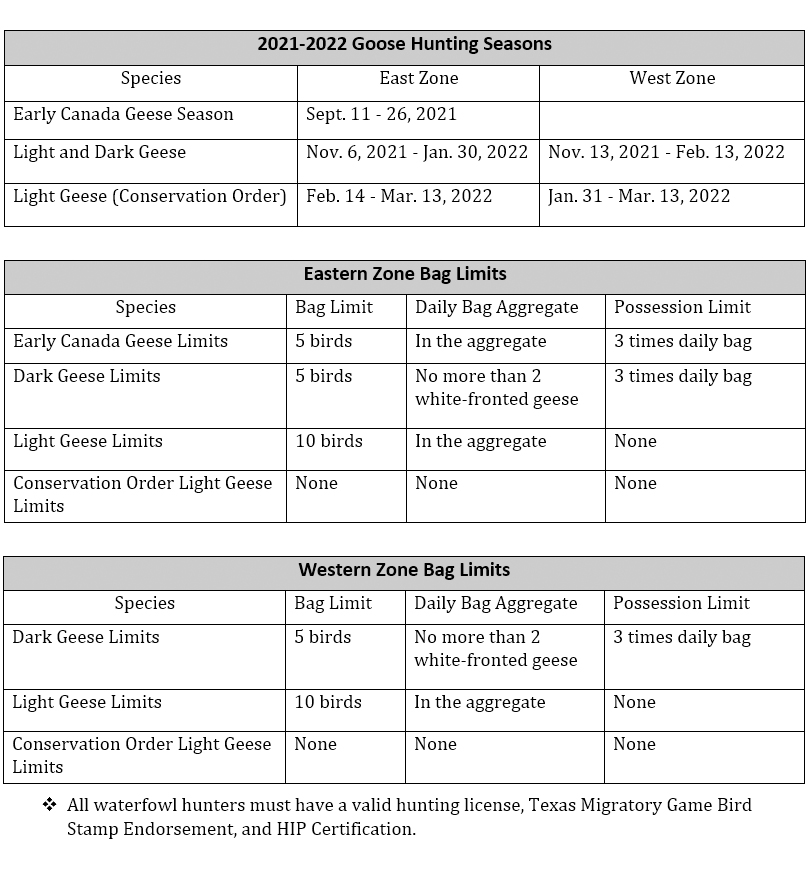 CONCLUSION
Becoming an experienced hunter is not an easy task, it can take years to learn, practice, and master. But having the right hunting equipment is the first step to success. Think of your gear carefully up to every detail as it can make or break your hunting experience. When being patient, properly equipped, and headed for triumph, you will definitely be a proud owner of the fattest goose by the end of your hunt!