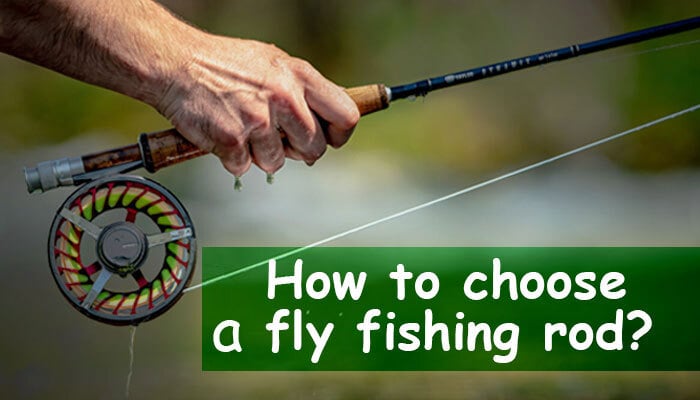 Last Updated on
The first thing any person thinks about before starting fishing is choosing a rod. A fly fishing rod is made specifically for this type of fishing. A spinning rod for fly fishing is unacceptable since fly fishing requires a certain casting technique.
Fly fishing is one of the most aesthetic, and sophisticated types of fishing. It was almost always presented as fishing for the elite. Fly fishing differs from other types of fishing and it requires the correctly selected rod.
Material
Bamboo is distinguished by its high elasticity. Rods are made from high-quality Vietnamese bamboo. Such models have the correct conical shape, that's why fishing with a bamboo rod is a great pleasure
Fiberglass is the cheapest material. At the same time, individual manufacturers produce high-quality and practical rods at affordable prices for every fisherman.
Carbon fiber is incredibly lightweight. This is perhaps the most widespread and universal material.
A very important part of the rod is its handle which can make up almost 10% of its entire length. Usually, a handle is made of cork, which allows the rod to lie comfortably in the hand without slipping. That's why rods with such handles are suitable for freshmen.
Action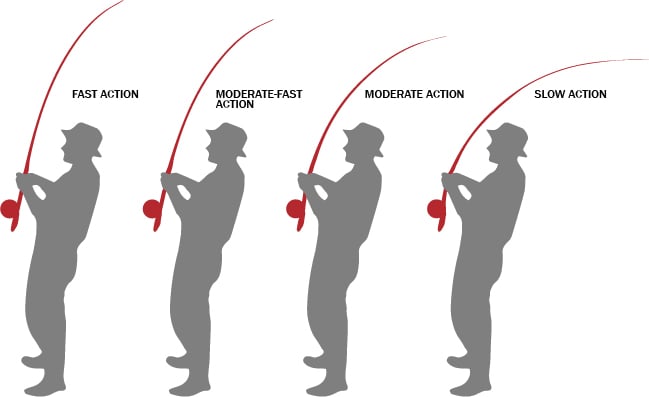 Action is the rod's ability to store energy and transfer it to the line. At the beginning of the century, all rods were divided into three types of action: fast, moderate, and slow. Now there are four major types:
Fast action. The bending of this type of rod occurs in the upper quarter of the blank. This helps in casting the line during windy weather. These models are very convenient for long casts.
Moderate-fast action. These models bend in the upper third of the rod. They are convenient for casting with a narrow loop or fishing at a short distance. Such rods have one important advantage: they cope well with the wind. Moderate-fast action rods are the most suitable option for beginners. 
Moderate action. This rod is capable of bending from tip to midpoint. It differs from other actions in softness. It is suitable for short-distance fishing. The moderate rod action is the most versatile. It can be used in light windy conditions. 
Slow action. Slow action means a rather low line speed. The lower the line speed, the more targeted the cast. Rods of this action are considered the best for short casts. It is very difficult to work with them in strong and even medium winds. Such rods are not suitable for beginner anglers. 
Rod Weights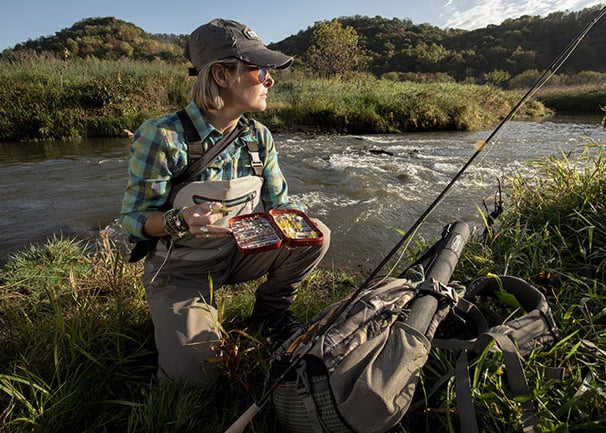 The weight of fly rods is measured using a wt system. It's called the AFTM (Association of Fishing Tackle Manufacturers) number.
1wt – 2wt. They are used for casting the lightest fish. Their length is no more than 6 ft and such rods are used for fishing on small rivers or ponds.
3wt – 4wt. Rods of this class do not exceed 8 ft in length. Their use allows you to perform fairly long casts, but the casting technique plays an important role.
5wt – 6wt. This versatile rod has been successfully used by both beginner fly fishing and experienced anglers. There is no limitation in the use of baits.
7wt – 9wt. Rods of this class allow long-range casting of streamers or any other heavy lures. They can be used in large rivers, reservoirs, and in the sea.
10wt -14wt. Fishing with such a rod allows you to catch very large sea fish.
TOP 3 of the best fly fishing rods
There are many top manufacturers making good fly fishing rods.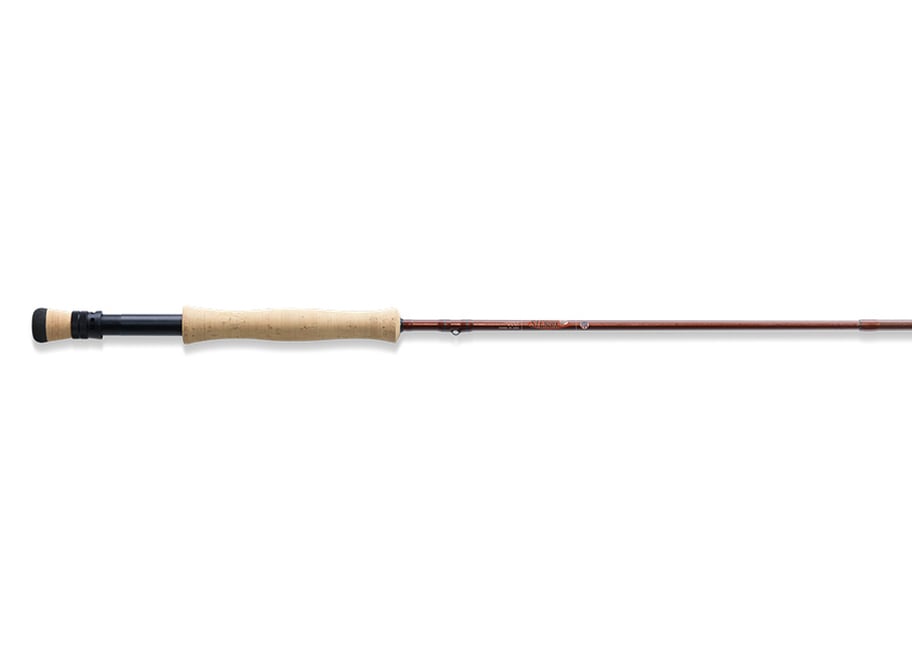 The St. Croix brand is one of the brightest representatives of the elite rod class. It was the St. Croix who developed a line rating. The first ultralight rods were introduced by St. Croix. All fishermen who value quality and reliability buy rods from this top American brand.
St. Croix Imperial fly rod is lightweight, sensitive, and very reliable. Due to the ergonomic shape and premium cork on the handle, the angler never gets tired even after fishing all day. The rod is made of both high-strain SCIV graphite and premium quality SC-II graphite for maximum strength. The rod is well-known for its durability and excellent sensitivity.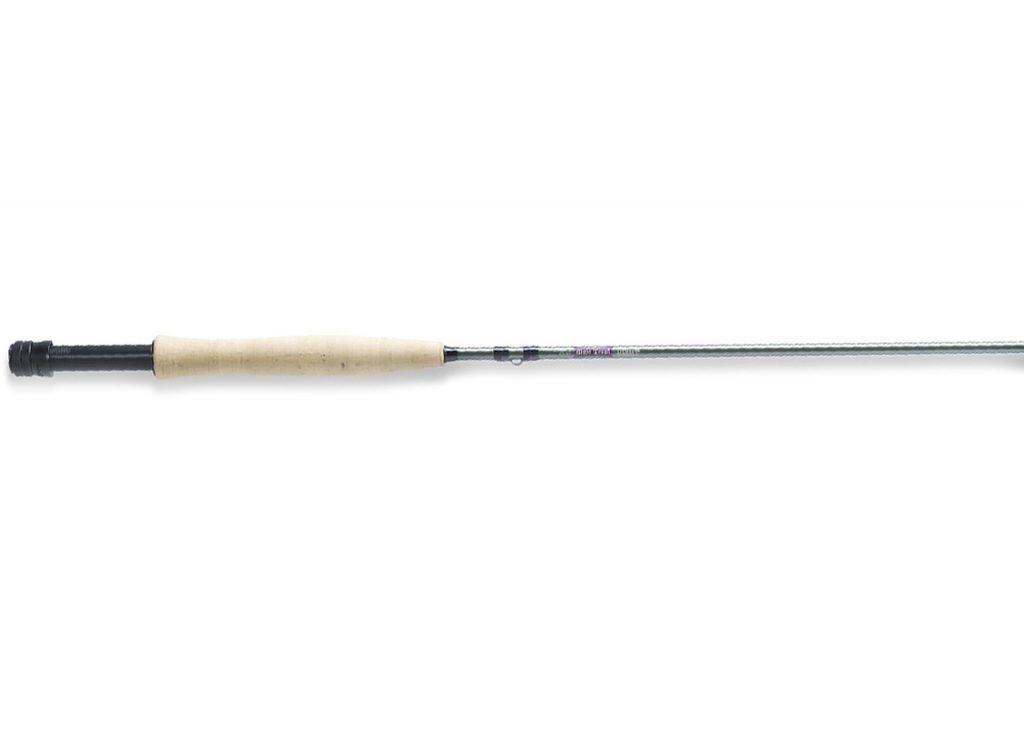 ST CROIX Mojo Trout fly rod is made of high-quality SC-II graphite, which is a material with increased strength properties. As a result, the rod is characterized by lightness, slenderness, and excellent sensing. The fly rod from the American company has a number of advantages:
lightweight
high-quality reel holders
comfortable premium cork handle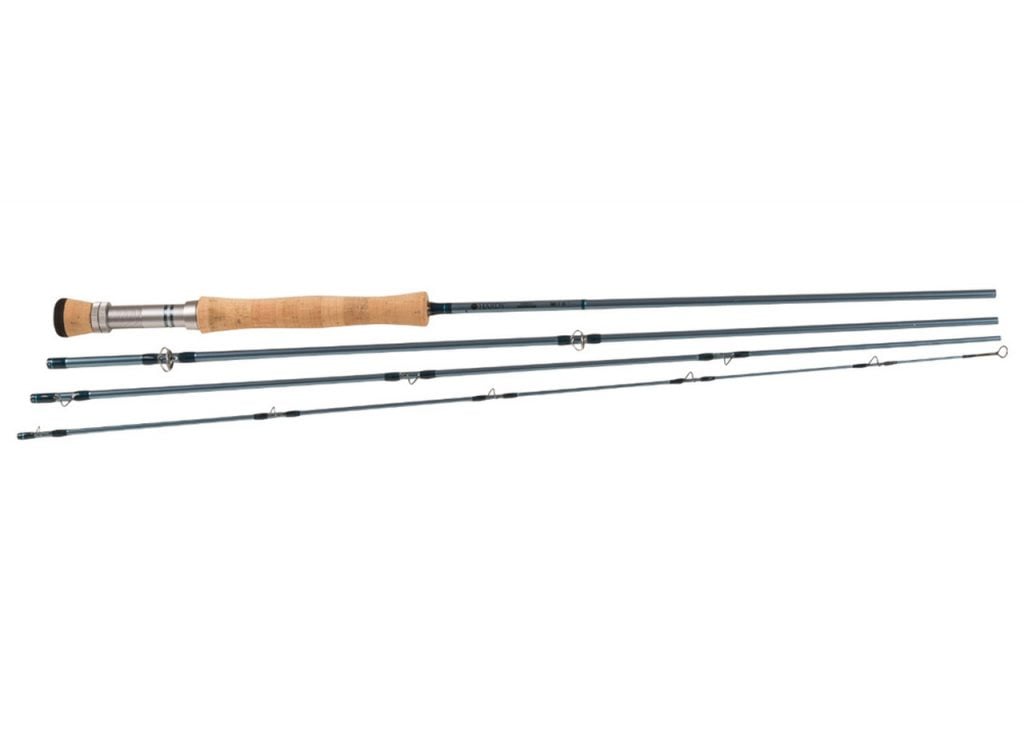 Hardy was a family business from 1872 to 1967. Regardless of the end of family ownership, the company continues to value its traditions. Their rods are made of a unique and patented material such as Sintrix. In comparison with carbon fiber, Sintrix is more lightweight and more durable.
Hardy Demon fly rod is made of Sintrix 330, which increases strength and performance. A wood handle provides hand balance while fishing. This rod offers lighter weight and faster recovery than other Hardy rods. Moreover, it's supplied with a custom aluminum tube for storage.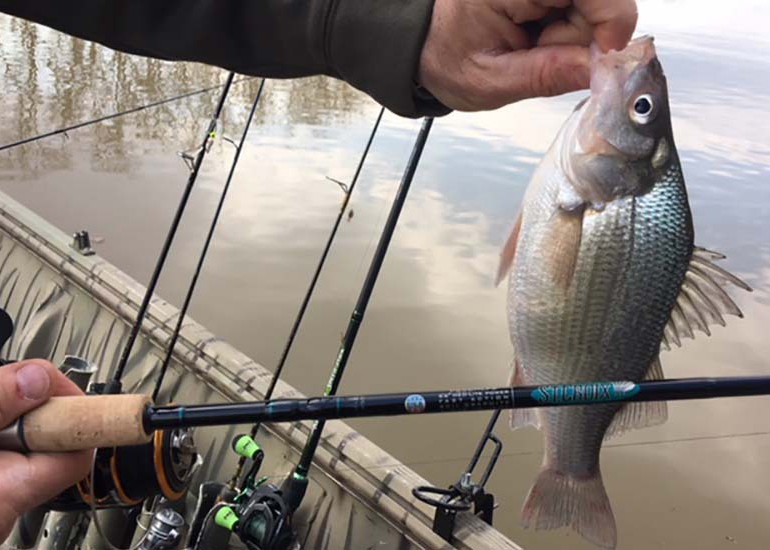 We've analyzed how to choose a specific fly fishing rod, and what you need to consider while choosing it. After surfing GRITROutdoors.com, comparing all your wishes with the proposed options, you will be able to buy the right rod, which will help you to achieve the best results.