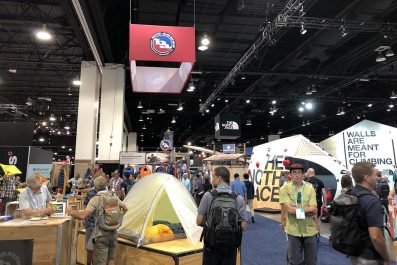 For the second time since the move from Salt Lake City to Denver, thousands of attendees and exhibitors converged upon downtown Denver for the Outdoor Retailer Summer Market. This industry-only convention showcases the best new products in categories like hiking, camping, fitness, and outdoor lifestyle. The new location and large capacity of the Colorado Convention Center also attracted new exhibitors from both Colorado and around the country. The Gritroutdoors staff was on the show floor to cover exciting new products from the brands we carry and investigate great new brands that you'll soon see available on our website. Let's take a closer look at some of our favorite brands at Outdoor Retailer Summer Market and what they have in store for fall 2018 / and early 2019.
Garmont
For those of you unfamiliar, Garmont is a leader in hiking, mountaineering and tactical boots, and they design excellent urban / travel styles as well. The biggest announcement for OR Summer Market was the re-introduction of the Garmont tactical line. Garmont tactical boots are best-sellers in Europe, but new added styles and a renewed approach by Garmont to market tactical styles alongside their outdoor boots in the US will surely drive sales for the tactical line. Garmont has even announced the addition of a new facility in Virginia that will manufacture tactical boots for potential US contracts. We'll have more details on the tactical line as it becomes available in the US.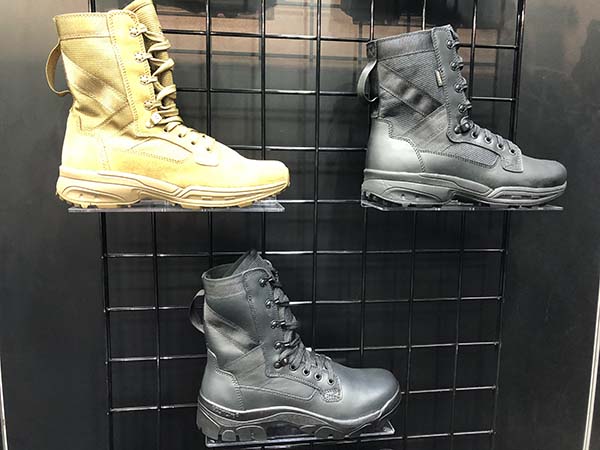 Moving on to outdoor styles, the Garmont Sticky Stone GTX and Sticky Cloud were of particular interest, and new higher ankle styles were introduced at OR for both men and women. This approach shoe utilizes a sticky, flexible sole from Vibram and it employs two different densities on the sole – a firmer sticky compound on the heel with a more flexible compound on the toe and middle sole. These styles are excellent for any users who find themselves scrambling up boulders or hiking on loose, rocky terrain. The Sticky Stone GTX starts at $190 while the Sticky Cloud comes in at $160.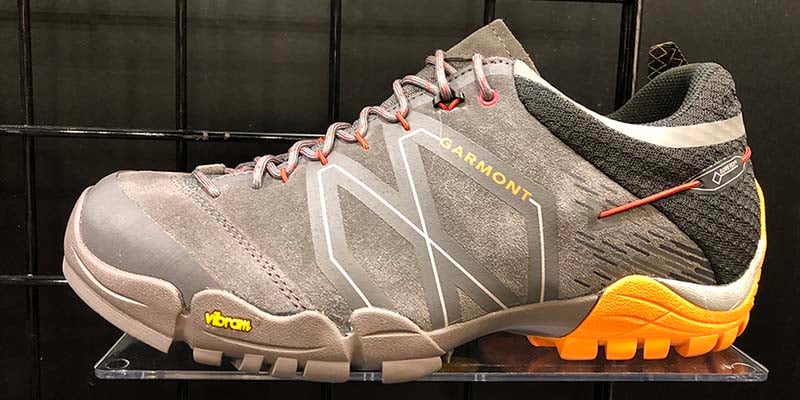 Another popular Garmont boot with added styles announced at the Outdoor Retailer Summer Market was the Vetta GTX. This variant of the popular Dragontail series is a serious approach boot with substantial lugs for rugged terrain. The Vetta GTX also sports higher ankle support over the Dragontail's lower cut athletic styling. The Vetta GTX comes with a price of $220.
SOG Knives
Recently, SOG Knives has been touting their great Q Series Baton line, and it's been a hit for consumers of all types. At Outdoor Retailer Summer Market, SOG has shifted gears by announcing some new multi-tool designs and a clever new full-sized folding knife. Up first, the SOG PowerPint and PowerLitre are compact multi-tools that offer a lot of resourceful tools in a small package. The PowerPint offers 18 tools at a weight of just 4.2 oz., and needle nose pliers and fully serrated and straight edge blades highlight the tool list. The PowerLitre offers 17 tools at 4.6 oz., and the addition of a corkscrew with wine bottle opening leverage is a unique feature not found on most multi-tools.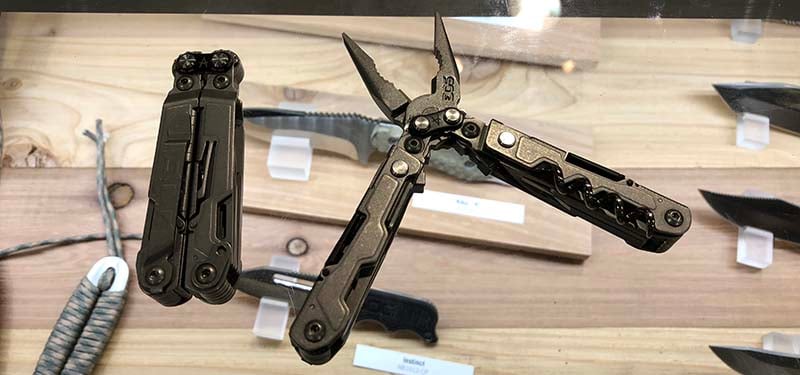 Next, the Terminus XR is a fresh new folding knife design coming to market in January 2019. Composed of BDZ1 steel similar to D2 steel, this stylish, lightweight knife offers a sliding crossbar lock that is released by a thumb latch on the handle. More details are sure to come on this knife, but the price point has been announced at a stellar $69.95.
Finally, another unique addition to the SOG line comes in the Parashears folding scissors concept. This tool is designed with first responders and backcountry medic kits in mind, and it offers the same compound leverage power drive found in the PowerPint and PowerLitre models. The feature set includes rugged, functional scissors, carbide window breaker, folding seatbelt hook, integrated tweezers and several integrated screwdriver bits. When not in use, the SOG Parashears fold back down into a tight, compact package for storage. The official release date has not been announced, but SOG is planning on hitting the market around the first quarter 2019. They have established the price at $59.95.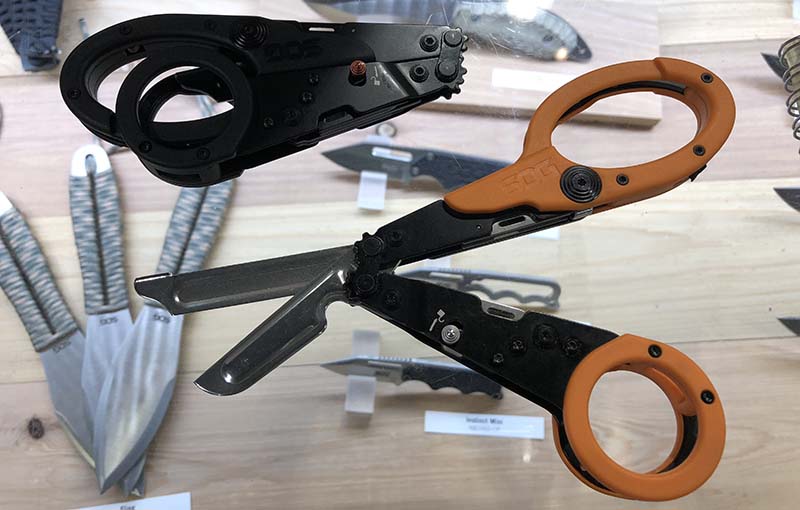 Topo Athletic
Topo Athletic is known for their trail running and athletic shoes, and this year a particular model caught our attention. The Topo Athletic Hydroventure is touted as the world's lightest waterproof trail running shoe. Topo employs eVent DVdryLt technology to ensure a breathable yet waterproof barrier for the shoe, and a roomy toe box ensures you run naturally with your feet spread out in the shoe. A rock protection plate in each sole keeps your foot protected from sharp rocks that can weak havoc on the bottom of your feet when you tackle trails. This is a shoe well worth investigating for runners who tackle wet, messy trails but want to keep their pace up. The Topo Athletic Hydroventure retails for $130.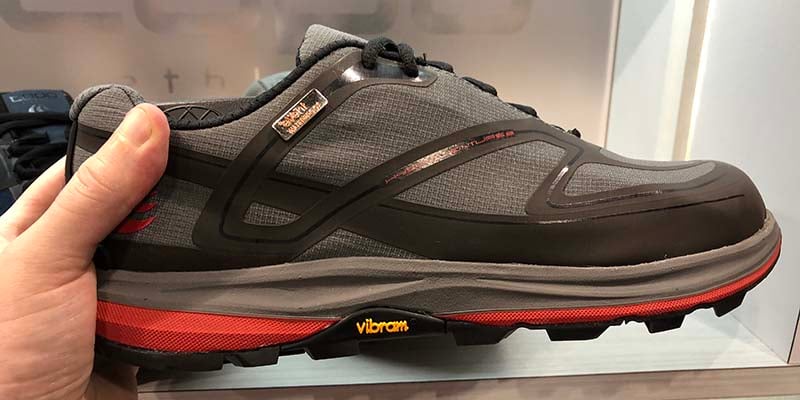 Boker
Another excellent outdoor knife brand on display was that of Boker, a German-based manufacturer that specializes in a variety of knife designs. On display for OR Summer Market 2018 was several new knife models either just released or soon to be released later this year. Two EDC knife models stole the spotlight in the Boker Mini-Ka and Boker Credit Card Knives. These models are compact and designed for EDC pocket or wallet carry, and both come at extremely affordable prices. First, one of our favorites from the show was the Boker Mini-Ka, a knife you didn't know you wanted until you see it. This ultra-small flip out knife can be carried on a key chain or with the integrated belt clip, and the 1 inch blade made from 420 steel is functional enough for many EDC tasks. The Mini-Ka clocks in at just 1.1 oz., which means you'll hardly feel it in your pocket. All in all this is an excellent new offering from Boker retailing at $72.95.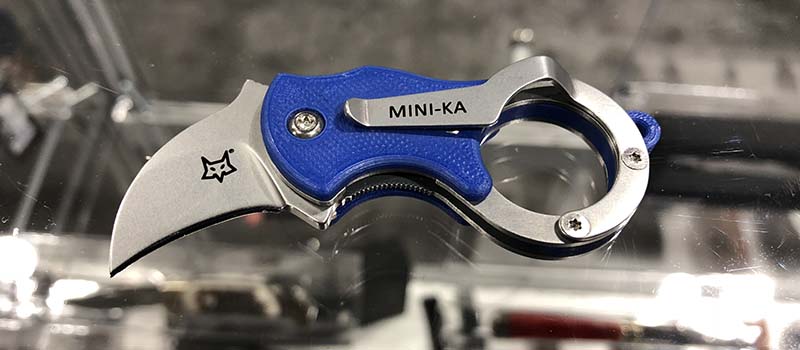 Up next is the Boker Credit Card Knife, which in itself isn't new, but at OR this year Boker has announced several new colors in the line. This simple but functional knife can act as a money clip or attach to a wallet or pocket with the integrated belt clip. Overall thickness in this design is not an issue with just .75 inches overall thickness when the knife is closed. You can also remove the belt clip to reduce it to just 3mm overall thickness. Made from 440C blade steel, a titanium-frame ensure this knife is rugged enough for EDC use. The best part may be the price, and the Credit Card knife comes in at just $39.95!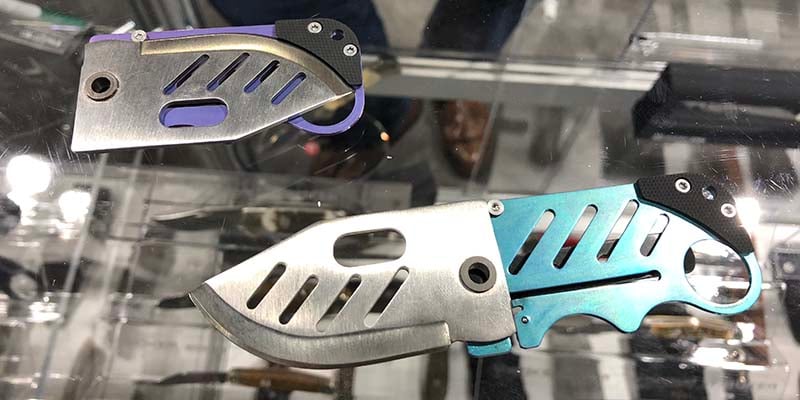 One last knife we'd like to highlight is this year's Blade Show Knife Of The Year winner, the Boker Suru. This knife checks all the boxes for a quality full-sized EDC knife with M390 blade steel and aluminum scales. Boker and their designers have worked hard to cut weight in this knife, and it shows as soon as you pick it up. Titanium screws and belt clip aid in weight reduction and really make a difference. Fresh of its win at the Blade Show, the Boker Suru launches August 18th and costs $229.

Big Agnes
Big Agnes had one of the busiest booths at OR Summer Market, and it was positioned next to the popular North Face booth and right in front of one of the primary entrances into the show floor. This lead to some pretty hefty crowds gathering around Big Agnes, which was showing off their unique tent, sleeping bag and sleeping pad designs. Our favorite was the award-winning Big Agnes Carbon Fly Creek 2 tent that weighs just 1 lb. 2 oz.! This compact two person tent is a serious backpacker's dream, and with the sleeping bags and pads displayed inside the tent, total weight accumulated to an astounding 4 lbs. 9.2 oz. The rain fly is especially interesting as it appears like its made out of a "plastic wrap-like" material, but rest assured this tent cuts weight while remaining rugged enough for field use. This tent is definitely a hit for those who count every ounce in their camping kit.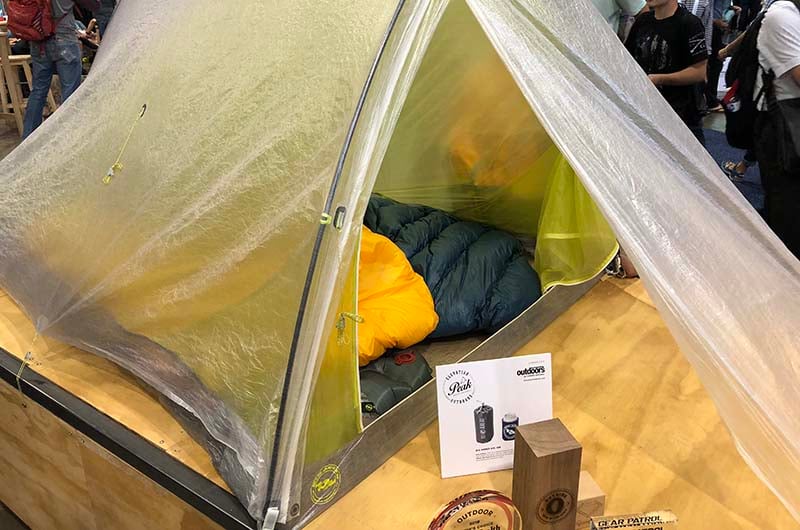 Bonus Coverage – Outdoor Retailer Summer Market
There was a lot to see and do around OR Summer Market aside from checking out new products for the brands we carry. Taste tests of all sorts of survival and energy food brands were available, and coffee tastings were offered for those in need of a perk during the show. Those in the mood for something stronger could stop by Colorado Whiskey tastings and beer happy hours sponsored by numerous brands. After 4pm each day, the show floor was transformed into a party atmosphere with live music, charcuterie and cheese tastings, and giveaways both large and small. Needless to say, the vibe of OR is unlike that of any other industry convention and is one focused on celebrating the outdoors and the gear that helps us enjoy it. We'll back later this year with more coverage of OR Winter Market in November 2018!