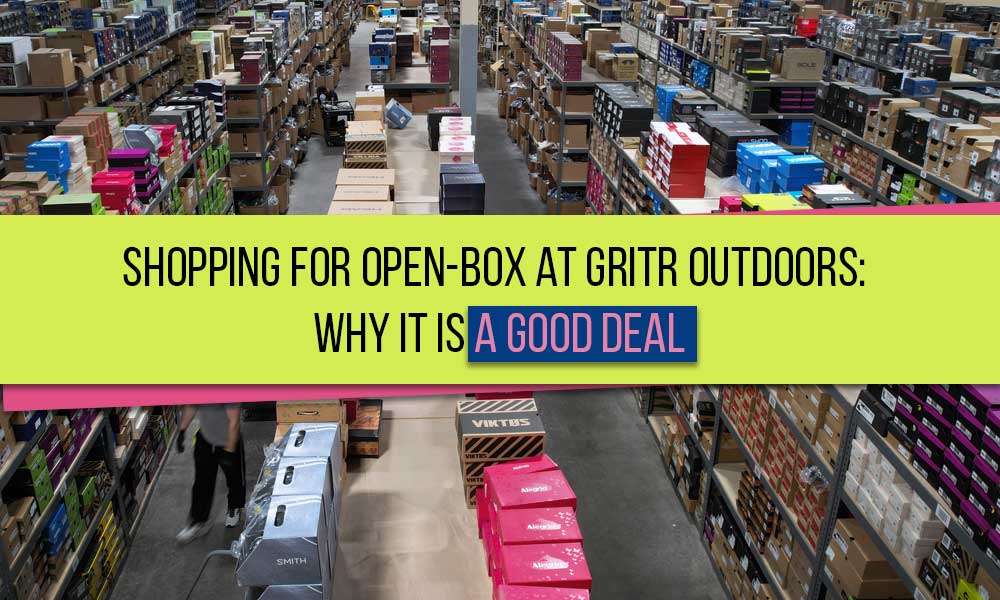 Last Updated on
If you've been with GRITR Outdoors for some time, you may have come across items on sale. Nothing extraordinary, right? All retailers put products on sale from time to time to stimulate sales and improve customer experience. Also, on the menu, you'll find a page containing rebates and deals with considerable discounts for a brand's items, coupon codes, and other sweeteners. And if you really enjoy shopping at our store, you can become a member of our Rewards Program and get a guaranteed discount for all products, regardless of whether they are already on sale. But then we have something else – Open Box.
From the customer's end, an open box is one more way to get something at a discounted price. But some people are suspicious of this type of deal. So, we're writing this post to tackle all questions regarding these items for you to make an informed decision. We'll explain what open-box means and why you should consider buying an open-box product at GRITR Outdoors. Enjoy reading!
What Does Open-Box Mean?
When you see a product marked as open-box, it simply means that the package was open, and now the item is retailed with a discount. That's it. Do you see why open-box goods have a mixed reputation? Customers are suspicious of goods with insufficient data, specifically, the information regarding why exactly the item appeared to come in retail again.
Well, the reasons vary greatly. But while some specifically cautious buyers assume the worst, the return case can be trivial. Let's imagine the following situation. It's Black Friday, and a person, carried away because of all the hype and hoopla, purchases an item they don't really need. The person understands that when they open the box. The item doesn't see any use and is returned in like-new condition. But its original package is 'damaged', so a retailer marks it as open-box and lowers the price.
However, the opposite situation is also possible. Different retailers have different return windows, but usually, it's at least two weeks. We'll discuss GRITR Outdoors policies a bit lower. So, a person may be using an item for a week or longer and then decide to return it because, for example, they don't like it as they thought they would, or they found that same item sold at a lower price. At this point, the item this person had ordered saw some use, but you'll never know the intensity.
In the first case, you'll have more trust in an open-box item, but the discount will be greater in the second case.

How It Works at GRITR Outdoors
First of all, where to search for open-box products on our website? You can stumble across them mixed with regular products when browsing categories or click on the Open Box tab on the main menu to open the page with open-box items only.
When on the page, you'll see that all items are marked either as Damaged Package or Great Condition, Limited Use. The damaged package status implies an item returned in like-new condition, meaning the previous buyer never got to use it in a real-life situation. Great condition, limited use implies that an item saw some real-life use, but the signs of wear are not apparent.
According to our return policy, the customer can return their buy within 30 days from the day of delivery. If they receive it in a damaged condition and return it, we obviously won't put it in retail again. And if they want to return the item for any other reason, they must send it in like-new condition, in the original packaging, with all original contents included. The original buyer must submit the reason for the return as well. Also, we usually ask them to provide photos.
When we receive the returned item, it's inspected for compliance with our return conditions. Based on the results, we set a new discount price.
So, at this point, you know that:
The original buyer must comply with our return conditions;

They must provide the reason for the return to start the procedure;

We inspected all returned items.
When we prepare an open-box product page, we upload five photos of that particular item. Four of them are taken to fully demonstrate the condition for you to visually inspect the item for possible damages and signs of wear. The fifth photo depicts the package. If still unsure, you can contact our support team and ask them to provide more information and pictures.
What is Our Return Policy Towards Open-Box Products
If that meticulous approach doesn't inspire trust, maybe our policy will. Unlike with some other retailers, our return policy covers open-box products. That means you can return an open-box item just like any unused product bought from us if it doesn't meet your expectations and complies with our return conditions. The manufacturer's warranty doesn't expire.
Why Choosing GRITR Outdoors Open-Box Deals
Obviously, the main benefit of buying an open-box item is the price. These items are considerably cheaper than unused ones. As you see in this picture, you can get these cool leather Merrell boots with a waterproof membrane at a 58% discount.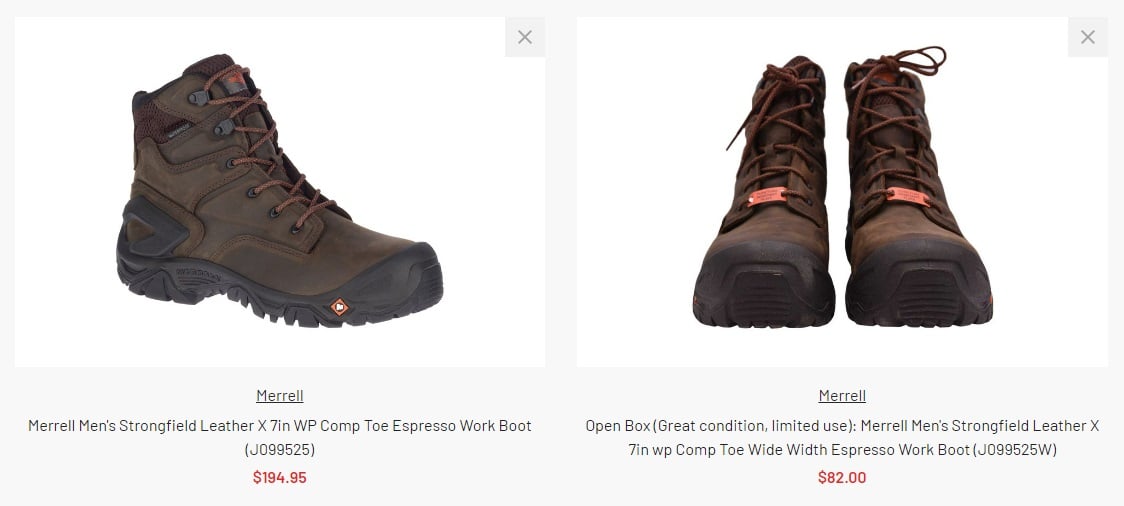 So, let's sum up what exactly you get when picking up an open box on GRITR Outdoors:
A

generous discount

on a quality item;

Little to no wear

;

Manufacturer's

warranty

;

All the original accessories and documents that come with the item;

Full service & support. We don't discriminate against returned products and treat them as unused ones. In particular,

you can return an open-box item within a regular course of action

.

No pig in a poke because we provide all the necessary information for you to make an informed decision.