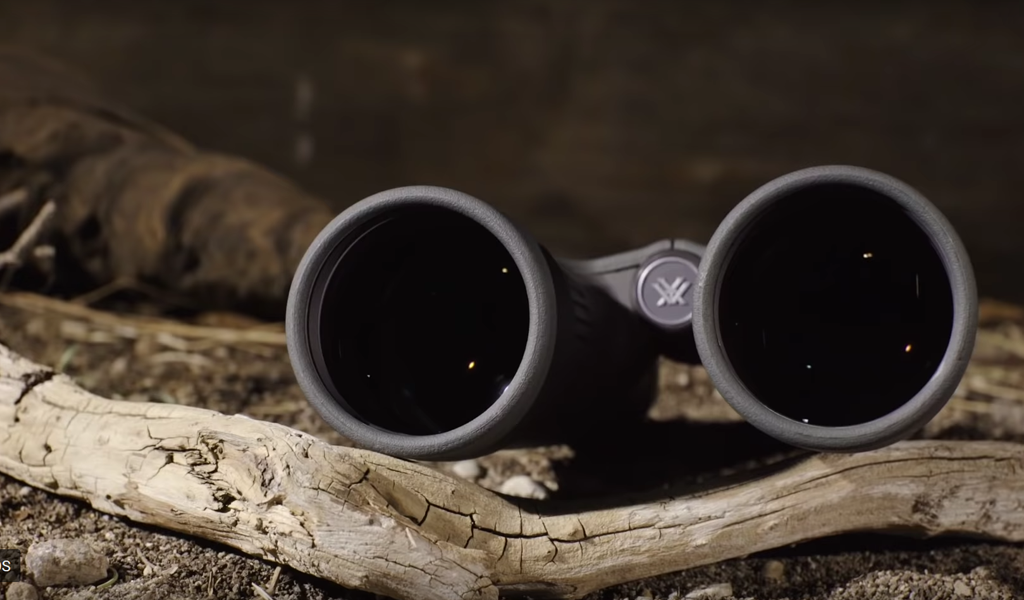 Vortex Razor UHD Binoculars – flagship binoculars by Vortex
Having two eyes is how you can perceive depth and distance. This is a small difference in terms of what you can or cannot see but a huge one in terms of your viewing experience. Let's run a quick experiment. Pick a view with objects at various distances. Now try observing with one eye and with both eyes open. It's the same picture but with one eye it is exactly that: a picture. There's no volume, no layers of distance. As you open your second eye, the image comes to life. Suddenly there's atmosphere and focus. Now you can see layers of distance. This may take a few attempts, but you will see the difference.
Renaissance scientists of the 17th century saw it, too. Right after the invention of a telescope, there were attempts of aligning two of them together. Even back then binocular vision seemed to have its perks.
The image quality in early binoculars would be terrible. Image blurred; proportions distorted… Furthermore, they were bulky and terribly unreliable.
Modern binoculars outclass earlier ones in every way. They're smaller, lighter, sturdier and clearer, all at the same time. You can carry a pair of binoculars with you and yet be light on your feet. You can have magnification that was once available only in stationary devices and casually wear it around your neck.
Good news for hunters and outdoor enthusiasts. We're taking a closer look at Vortex Razor UHD, the flagship binocular line by Vortex.
Vortex Razor UHD Binoculars: Construction
The Vortex Razor UHD are positioned as hunting binoculars. It sets a few standards. They should be compact and rugged. Able to withstand a lot of punishment and still offer all their optical performance. We couldn't find a lot of specifics about the materials used in the main body, but Vortex has always been famed for the ruggedness of their optics. Moreover, they back their binoculars with a lifetime warranty.
Roof Prism Binoculars
A prism is used to turn, erect or refract the image. Or, as in most binoculars, to fit a longer light path into a shorter body. Roof Prism is one of the two most common prism designs, the other being the Porro prism. Compared to the Porro, Roof prism is narrower and allows for a more compact construction with simpler, sturdier main body.
Waterproof Integrity
O-ring seals keep moisture, dust, and debris out. Tight sealing not only helps waterproof the binoculars but allows to fill the internal space with something other than regular air.
Argon purging
Rapid Temperature changes can cause fogging or even damage from thermal shock. Razor UHD's internal spaces are filled with argon. The inert (chemically passive) gas filling with no humidity resists internal fogging and allows for a more gradual heat transmission. This makes all the difference when you get out of a car into the frost or start a fire in your camp.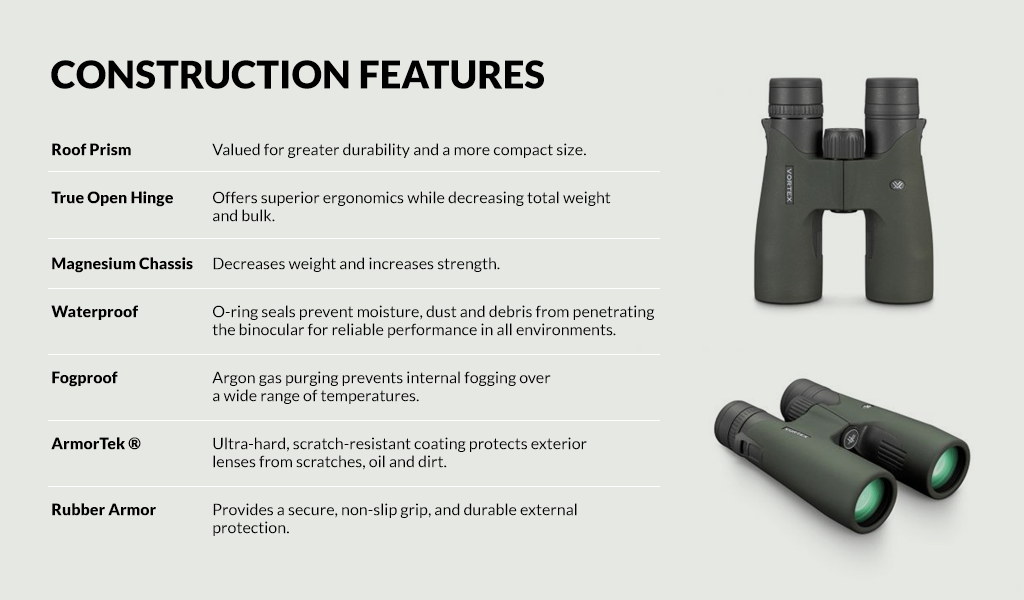 Vortex Razor UHD Binoculars: Visual Experience
XR Plus Full Multi-Coatings
You'd be amazed at how many optical surfaces binoculars contain. Prisms, numerous lenses… that's a lot of pieces of glass, each with at least two optical surfaces the light passes. Now imagine one of those surfaces has slight imperfections, so small you won't even notice them unless you know where to look. Now imagine there's a dozen such imperfect surfaces in the light's path, each multiplying the distortion and loss of light. Let's just say you don't want that if you plan to view small details from afar.
That's why each optical surface requires such extensive care. Not only should it be perfectly smooth but also treated for lower reflections. And whoever's responsible for coatings at Vortex has done their homework.
This coating is applied to the Roof prism to enhance resolution and contrast.
XR Plus Full Multi-Coating
Coating applied to external optical surfaces where distortions and loss of light are most significant. This offers peak clarity and great performance in low light.
Not a type of coating but rather a method of application. This cutting-edge process improves the coatings' durability.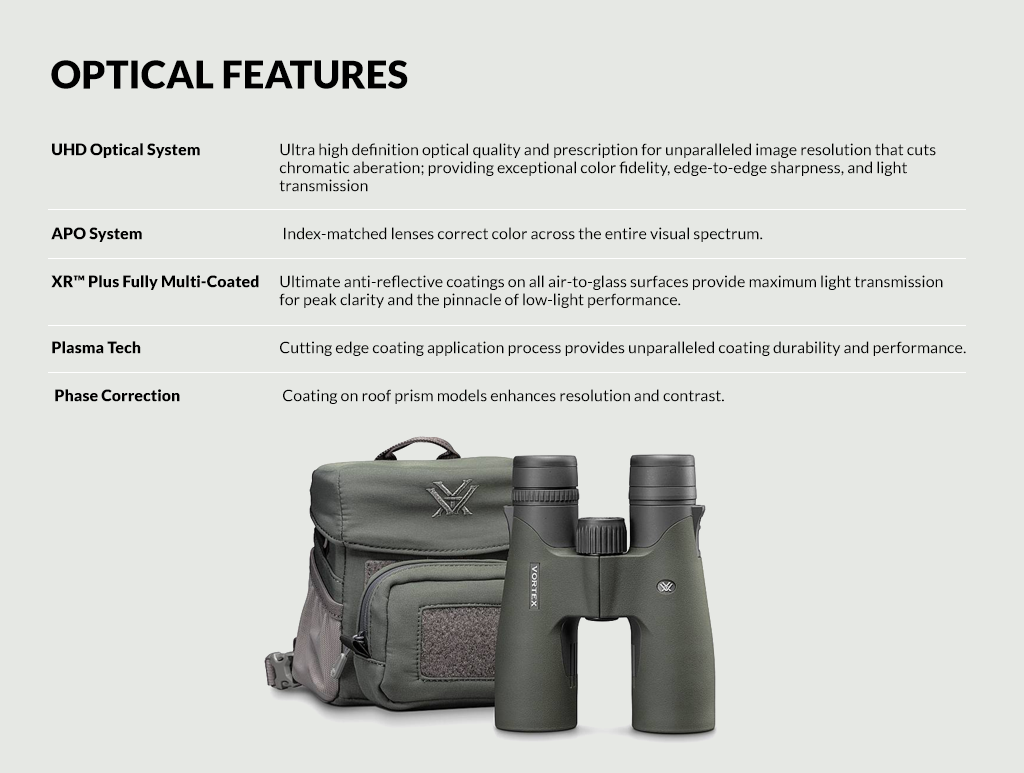 Vortex Razor UHD Models
The Vortex UHD Binoculars come in the following versions:
As you can see, the line has binoculars for all demands. They differ in power, lens diameters and size. That means a totally different viewing experience.
The 8x model is light and compact. It is your bro whenever mobility is more important to you than extreme magnification.
The 18x, on the other hand, is way heavier, and lets you see the smallest details incredibly far away. Most people don't quite picture how powerful 18x is. You will likely need a tripod to get a steady picture with such power. But you can rest assured no hunting scenario will surprise you with a distance the 18x56mm Razor UHD is too weak for.
All Razor UHDs have the same width of the middle part, the one you get a grip of when using binoculars. This means you can pick whatever power you need and know your Razor UHD will sit firmly in your hands.
Overall User Experience
Vortex positions its optics as rugged rather than clear, but we were still impressed with the image quality. The picture is incredibly clear, with no edge distortions. There are binoculars with slightly brighter light transmission, true, but those come at an even higher price and don't necessarily have the same durability Vortex is famous for.
All in all, the Razor UHDs pack the best of what you expect from Vortex. Clear, rugged and, as they say nowadays, very user-friendly. AND coming in different powers and sizes.
Don't forget to shop gritroutdoors.com for the new Vortex Razor UHD Binoculars and many more great pieces of optics!
You may be also interested in Vortex Crossfire 8×42 Binocular Review