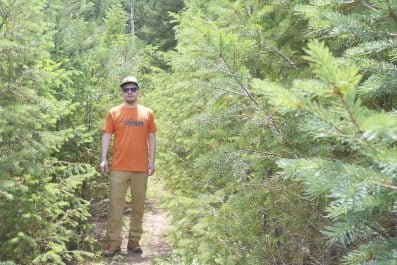 By David Link
As I am gearing up for my upcoming backpacking fishing trip, space is of the essence. After all I'm trying to fit a backpacking stove, food, tent, sleeping bag and pad, water filter, UV pen, fishing tackle, first aid kit, and clothing into a 60 liter pack. I don't have space to pack a couple pairs of jeans in case a fast moving rainstorm soaks me while fishing on the banks. I need performance garments that will keep me comfortable and protected from the elements. For this reason I've chosen Sitka Gear TTW (training, travel and workwear) clothing for my backpacking trip. Particularly today I'll be focusing on a core garment for the trip, the Sitka Gear Territory Pant. Let's take a closer look as to why I've selected the Territory Pant for my needs.
Sitka Gear TTW Line
As an avid outdoorsman, I need garments that perform in the field. When I first moved to Colorado many years ago, I was a "financially challenged" writer who would wear old jeans and tennis shoes on hikes and camping trips. Should I get wet in the field or fatigued on a long hike, I would usually pay for it afterward. As I started to invest in outdoor gear (it is a process for everyone, and it doesn't happen overnight), I realized the value in quality equipment and apparel versus the cheap stuff you find at big box stores. Sitka Gear has realized this as well, and they've become world famous for just this reason. Aside from their top tier camo lines, the TTW line has something that everyone, not just hunters, will love. It is a line designed around the concept of producing better garments for grueling travel and demanding work and play. Just the kind of stuff you want to invest in, no joke.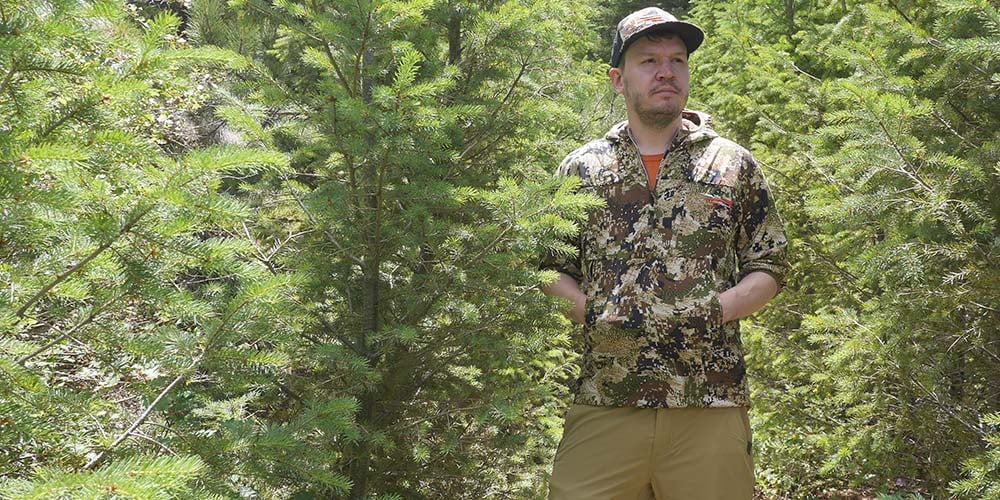 Sitka Gear Territory Pant Basics
Do you remember many years ago when companies sold outdoor pants with zips halfway down the pant leg so you could turn pants into shorts on the fly? Yeah interesting idea I suppose, but they looked terrible. The Sitka Gear Territory Pant is definitely -not- like those. Built with rugged 4-way stretch nylon material, the Territory Pant dries fast and withstands abuse from nearby rocks and brush on the trail. Oh and of course they look great with a t-shirt or hoody. The Territory Pant is currently available in two colors, clay and shadow. It is the long version of the Territory Short, which I recently reviewed here.
Specs
Durable 88% nylon / 12% spandex 4-Way stretch material.
Water repellent finish with quick drying action.
Slash pockets with abrasion-resistant knife sheath on each side.
One back zip pocket for wallet or other items.
Gusseted crotch and articulated knees for wide range of movement.
Available in clay or shadow colors.
Field Testing
I've worn the Sitka Gear Territory Pant for a good period of time now, and that's part of the reason I'm packing it for my upcoming trip. I trust these pants and they are extremely durable, which is a must since they will be the only pair of pants I pack. As a nice bonus, the nylon spandex blended material seems to stay fresher than other materials, so you can get away with wearing them a few days no problem. The front button and zipper are all quality made, so you don't have to worry about them failing in the field and letting you down.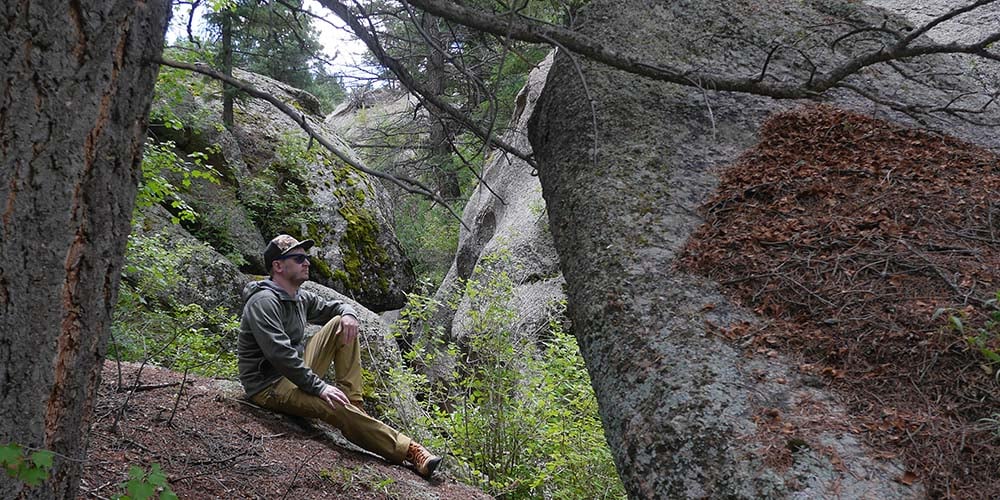 One huge aspect I've noticed in these pants is just how well they perform in hot temperatures. The fabric breathes much better than denim or other fabrics out on the market, and I don't feel near as "swampy" in these pants as I would something else on a hot day. This is key if you're looking for a do-it-all field pant. You can really hike and climb obstacles in these with the gusseted crotch and articulated knees, which is certainly important in an outdoor pant.
Another nice feature in the Territory Pant that you don't see in other outdoor pants is the abrasion resistant knife sheath. This is an idea I've just recently seen rolled out into outdoor apparel, and it is certainly one I can get behind. Whereas the Sitka Gear Territory Short suffers in its ability to carry a folding knife securely, the Territory Pant is triumphant in this design. The abrasion-resistant finish will keep any knife tight in your pocket and will also protect against any wear and tear sustained by drawing and replacing a knife. After all, you don't want your pants tearing at that critical point, especially if all your gear comes spilling out afterward.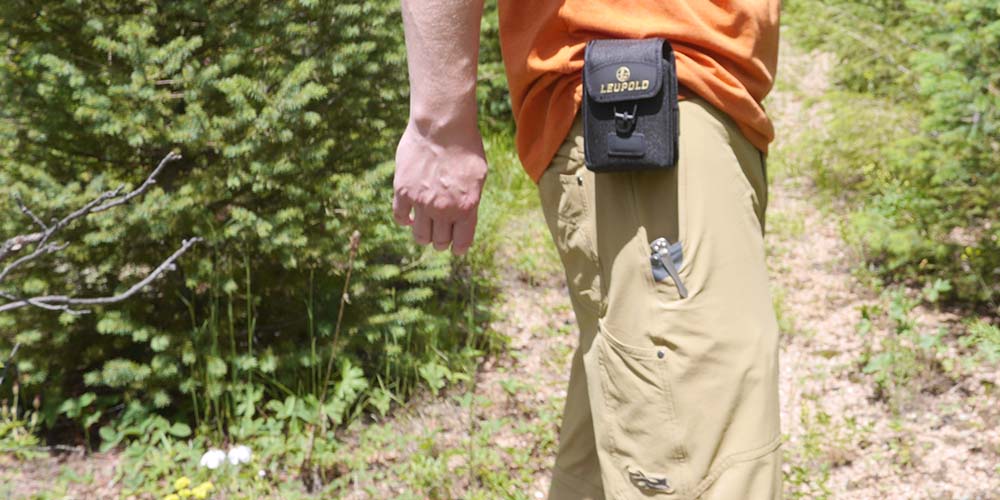 Determination
I don't make it a secret that I'm a huge fan of Sitka Gear. Their attention to detail in each design is impressive, and you'll absolutely never pick up a Sitka garment and think that it is cheap or inferior. That said, I still believe the perfect piece of gear has yet to be designed, and there are a few nagging things I'd like to comment on quickly. First, I think the slash pockets are a bit too long on the garment, and I'd like to see them tightened up a little higher. I love the abrasion-resistant knife sheath, but it does feel like it's pretty low down my leg. I want to hide my knife close to my body, not show it off to the entire world. Secondly, these pants are a bit baggy in my opinion, and they don't quite match that athletic fit I rave about in other Sitka articles. Don't get me wrong, some people like that fit, but it would be nice to see a slim option in these pants. I'm not talking style-wise, but instead just when you're trudging through the bush it's nice to have a tighter pant design that will snag less.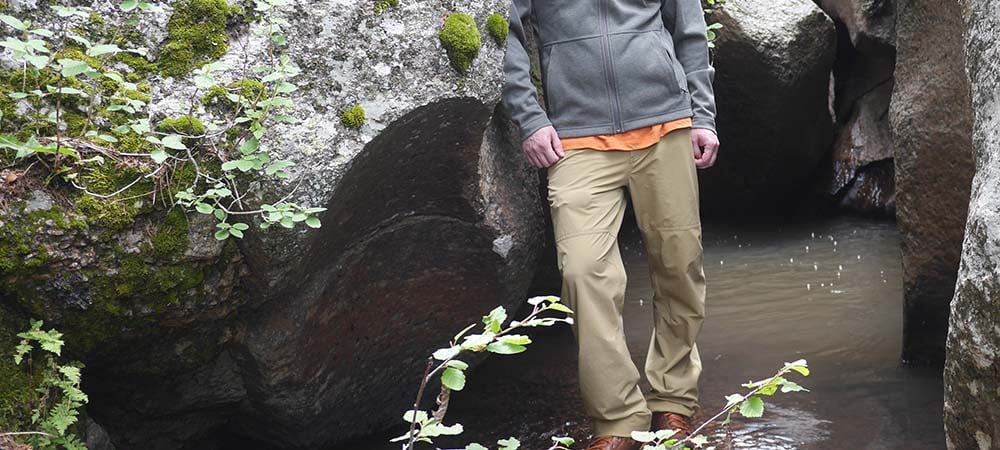 These two points aside, the Sitka Gear Territory Pant absolutely crushes any other outdoor pant I've currently tested. They are well built, they shed light water and dry fast, and they have several great features packed into the garment. You could wear these around camp, on a hike or scouting mission, to the airport on a travel hunt, or for errands around town. As long as you follow the care instructions, they'll last for years. The price point can be a little steep for pants as it is with any Sitka Gear, but remember you're paying for quality and longevity. You can absolutely find a cheaper outdoor pant, but you'll probably have to buy two to last you as long as this pair. At $119, it's a great investment backed by a long legacy of Sitka excellence. Pick up a pair in your size and color at GritrOutdoors.com today.