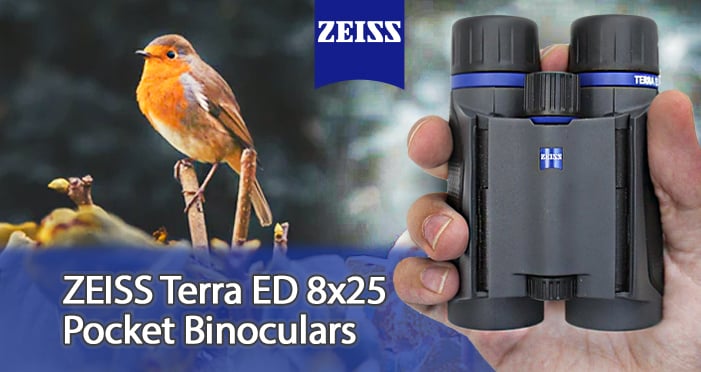 Last Updated on
Every hiker, bird watcher and traveler faces a real challenge when choosing the right binocular that would have good optics and would be compact enough to carry around while hiking, travelling or whatsoever. The most effective binoculars are always big and rather heavy. Such binos usually have large high-quality lenses that can sometimes be too delicate for long distance transportation. Your gear needs to be lightweight and durable to survive the challenges of the outdoor conditions and in this article, we would like to tell you more about ZEISS Terra ED Pocket Binocular 8×25, its features and benefits.
Zeiss Optics: Passion for Performance
ZEISS has been on the leading edge of optics development for over a hundred and sixty years now. Just as nature is constantly evolving, ZEISS is always developing and striving to set new standards with technical innovations.
Terra is a line that combines the benefits of quality German engineering and design with the performance and features you have come to expect from ZEISS.
Straight to the point, if you are looking for a lightweight companion to take on the trail, to the game or on your vacation, you must check out ZEISS Terra ED Pocket Binocular. The name itself suggests the purpose of pocket binoculars – they are perfect for those times when you require a closer look but don't want to schlep heavy gear.
Terra ED Pocket Binocular Performance Review
As ZEISS Terra ED Pocket Binocular weights just 310 grams, it can be easily transported and stored in your pocket or backpack thanks to its folding design.
As you know or you may not, there exist three hinge designs for pocket binoculars. They must fold to occupy less space and still be usable with normal-sized hands. They are hinges on both sides, one hinge on one side and one hinge that is centered between the two barrels. With its double hinge design the Terra ED' bridge folds at 2 different places bringing the barrels closer together and making binoculars more compact and "pocket-friendly".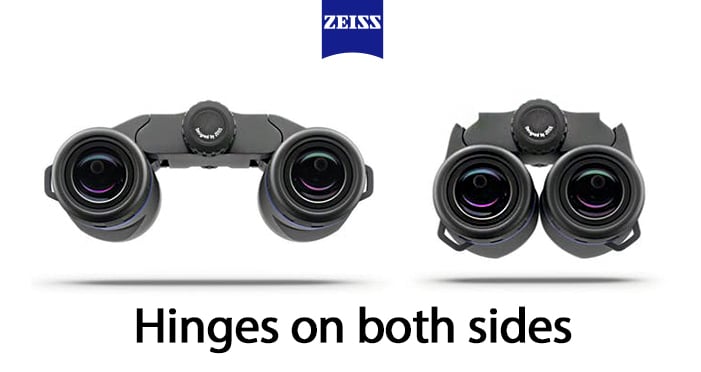 A clear view, whatever the weather
No matter what the weather is, you will be able to observe nature with ZEISS Terra ED Pocket Binocular as it is waterproof and fog proof. This binocular is also nitrogen-filled to prevent internal fogging. In addition, ZEISS developed a special LocuTec coating for the lenses that encourages water to bead up and roll off keeping the lenses clear. Operating temperature range of -20 to +63°C and the waterproof casing make Zeiss Terra ED Pocket Binocular a reliable companion even in extreme conditions.
Despite its size Terra ED Pocket Binocular glass still provides a sharp clear image with tremendous contrast and color rendition.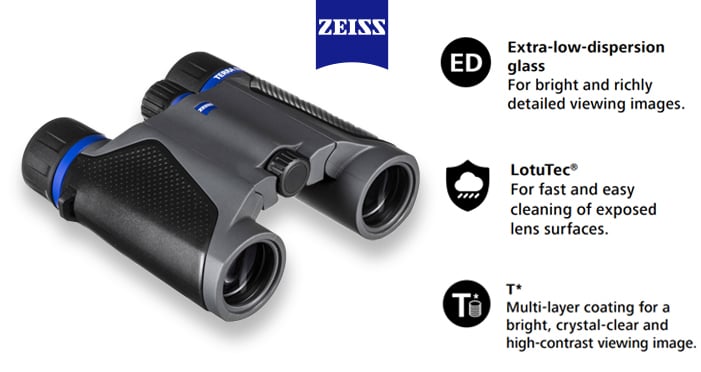 ZEISS Terra ED Pocket Binoculars has eyecups that twist up and down smoothly allowing to set the right distance from the eyes to the eyepiece. Though the eyecups have no detents, they have enough friction to hold their settings. The eye relief on the 8×25 is adequate for eyeglass wearers.
Terra ED has one of the widest fields of view and one of the closest minimum focus distances among other pocket binoculars. Smooth focus wheel makes objects easy to find and focus on quickly enough. It is easy to use because it is located just nicely for your finger to fall on to it naturally.
Above all comfortable observation is more than just a matter of lenses. Ergonomics plays a very important role as well. This binocular maintain the virtues of full-sized binocular in a pocketable size. It has a nice rugged textured rubber armoring, allowing you to use it when wearing gloves.
This binocular has all the performance you would expect from ZEISS. For value and quality it is pretty hard to beat.
Probably you will be also interested to read more about optics manufactured by Zeiss. Find the article about Zeiss monoculars HERE.