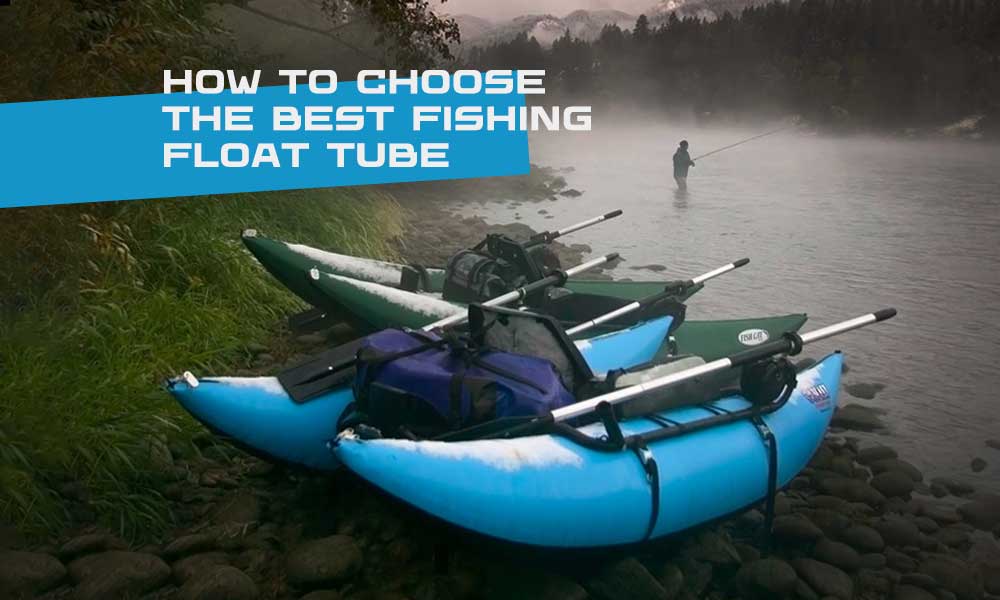 It must have been at least once that you thought about the possibility of fishing from the middle of the lake or river, no boat under your feet, the water within arm's reach. Fishing from the shore does have its advantages, but, as with everything else, it poses certain limitations. If you are unwilling to part with the idea of fishing with your feet in the water, yourself in the middle of the river, there's just the thing for you. Fishing float tubes are becoming more and more popular among anglers for the new opportunities they bring and the comfort they offer. Sometimes, fishing spots are just too picturesque to stay on the shore. If you're looking to join the ranks of float-tuber anglers, your first order of business should be researching and selecting the best fishing float tube. In this article, we will be exploring how to find it.
Table of Contents
Explore Different Types
Consider Comfort Level
Portability and Storage Space
Durability and Quality
Maximum Load
Float Tube Review: Outcast Fish Cat Scout
Conclusion
FAQs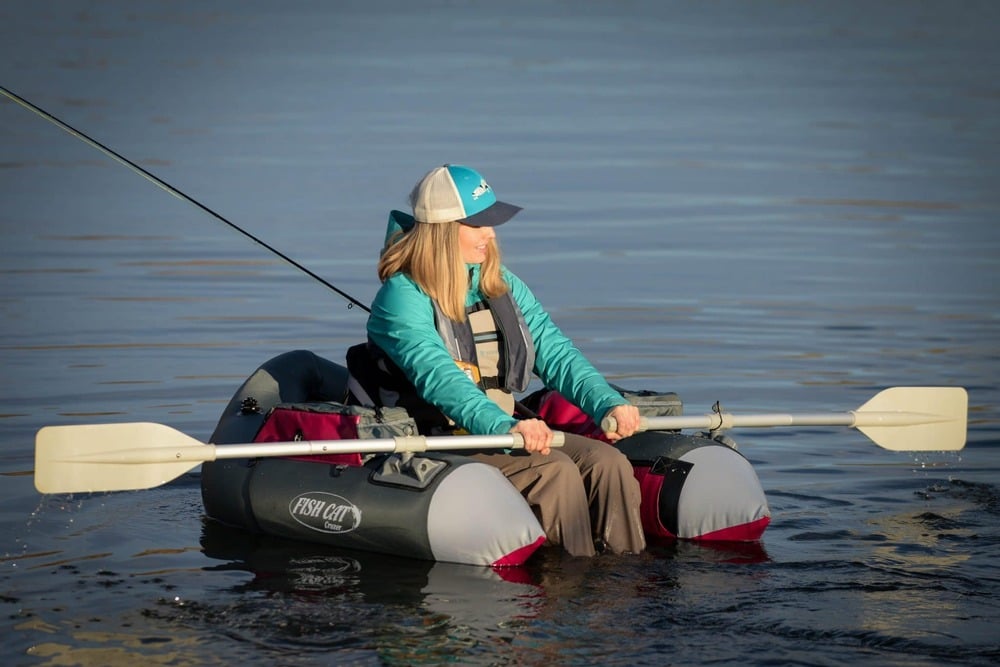 Understand the Different Types of Float Tubes Available
Round float tubes are the most traditional type out there as they were the first design introduced. They look like inflatable donuts and can sometimes be confused with pool floats. This type tends to be lighter than other tubes but doesn't boast superior maneuverability. Because of their shape, such float tubes might be harder to guide as they create more drag and need the angler to apply more force to move. Their symmetrical design makes them very stable, but they offer less storage space than other types. Nowadays, this type is the least popular and is rarely used by anglers.
Teardrop float tubes outrun their rounded colleagues soon after their introduction. These crafts feature two tubes on both sides of the angler, a seat and an inflated teardrop section behind the seat. Teardrop float tubes provide better maneuverability and a higher storage capacity than round tubes. However, they can also be slightly heavier than round tubes, due to the additional foam padding throughout the body. Both types are not recommended for large water bodies prone to swift weather changes.
Pontoon float tubes take after renowned catamarans, with two tubes at either side of the angler and a seat in between them. Seats in pontoon float tubes are placed at a higher level, which means you'll have more visibility using this one. Pontoon-style models tend to be heavier but that also makes them more stable and resistant to changes in water. They generally come with removable fins which can help with steering in open waters or navigating obstacles like fallen trees or rocks. Due to their form, such boats are easy to steer, which makes them another popular choice among anglers.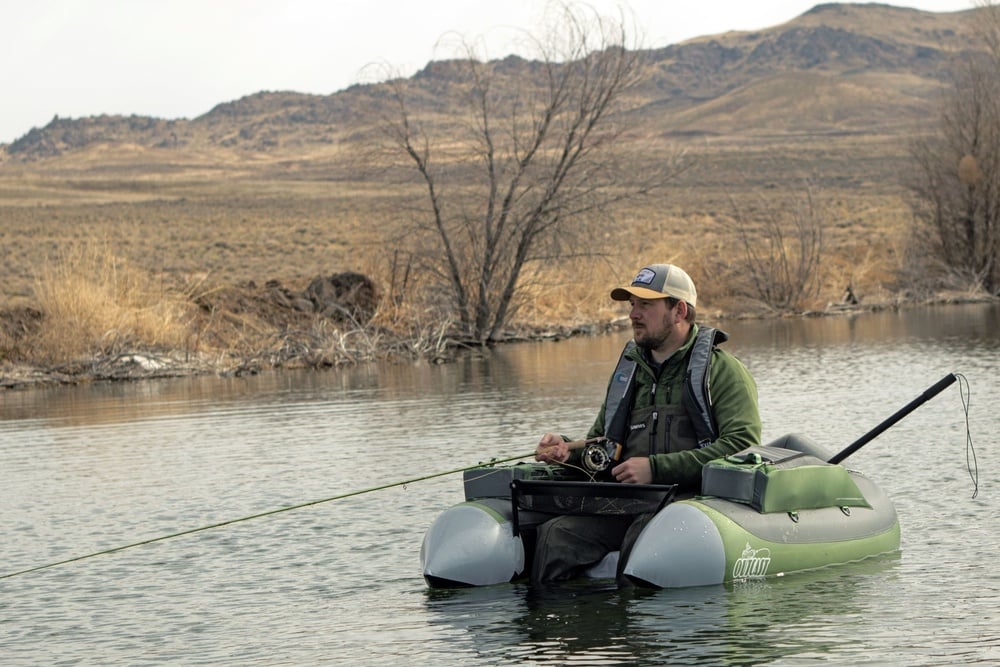 Consider Your Comfort Level 
There is not a single case where personal comfort doesn't deserve to be a priority. After all, you'll spend many an hour sitting there, and that time should be spent with comfort. 
One of the most important comfort features of fishing float tubes is the padded seat. The seat should be adjustable so you can find the perfect position for your back and legs while fishing. Many float tubes also feature adjustable backrests, allowing for even greater customizability of your seating position.
Another comfort and, honestly, performance feature of fishing float tubes is a stripping apron system. You need a place on your floating tube to pile the fly line when casting or pulling lest it should get tangled up and become nonfunctional. A stripping apron might either come preinstalled with the float tube, or you can acquire it later.
Many fishing float tubes have footrests that can be adjusted for maximum comfort while paddling or kicking around in the water. These footrests help keep your feet from slipping off the tube while providing support for your lower body as you move around in the water. If it suddenly occured to you that you are not particularly fond of getting your feet wet, here's our guide to choosing SUP boards.
Finally, there is traveling comfort. Some float tubes have no features that might make it easier for an angler to travel. In such cases, kicking remains the primary means of propelling yourself into the water. But that doesn't need to be the case. Outcast Sporting Gear designed a float tube, Fish Cat Cruzer, with two-piece oars and oar locks for much more comfortable water traveling. This feature is not particularly unique, and there are other float tubes that have the same element. However, we do recommend getting a float tube with oars. It might be less portable, but it gives more control over the way you float.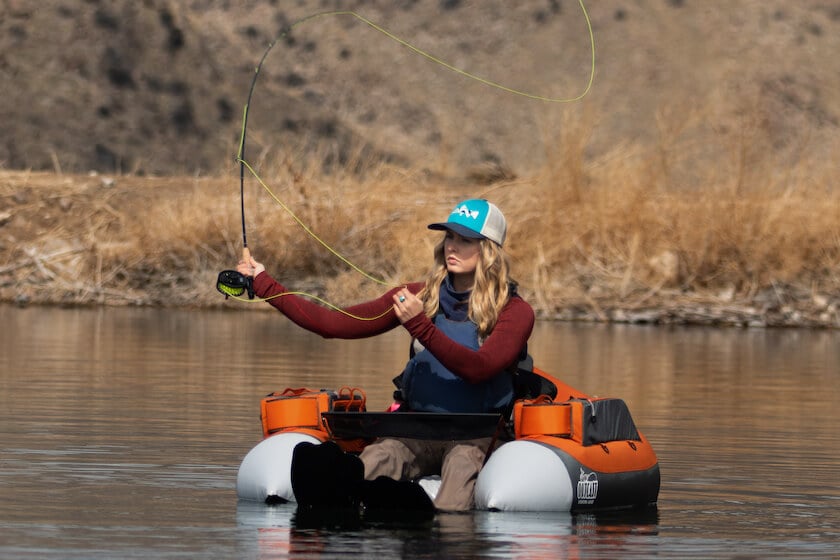 Think about Portability and Storage Space
Fishing float tubes are undoubtedly more portable than regular boats. However, they still need to be somehow delivered to the water. Fishing float tubes that lack any rigid parts are highly packable so transporting them shouldn't be a problem. Even if there are some rigid elements, transportation is rarely problematic. Due to their inflatable nature, fishing float tubes tend to be lightweight and thus are easy to carry. Many tubes have built-in carry handles that make transportation even easier.
The chances are you'll need to take a bunch of items with you on the tube. For that reason, it's also important to decide what storage capacity you expect from your float tube. Different types of float tubes boast varying storage capabilities. Generally speaking, more storage space is always better than less — even if you don't plan on using all the available space for now, you might need it in the future.
Most fishing float tubes offer ample storage compartments and pockets for storing tackle boxes, bait buckets, and other small items that you might need while out on the water. For example, Outcast's Super Fat Cat float tube features two compartments spacious enough to hold all fishing necessities and even more. Remember: if the tube can't hold everything you need, you probably need another one.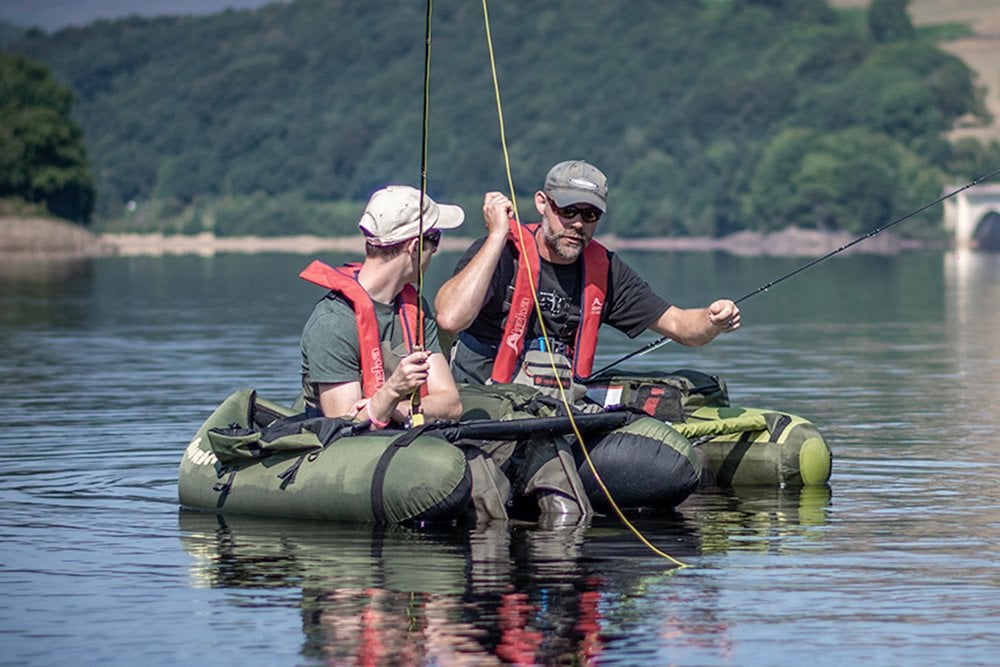 Examine the Tube's Durability and Quality
The durability and quality of the float tube is arguably the most important factor you should pay attention to. After all, it is the only thing that keeps you and all your equipment from exploring the blue depths. Fishing in a float tube is not always about drifting in the middle of the lake. Sometimes, you might need to maneuver and you'd want your tube to be able to take a hit or two.
Of course, simply touching and pressing against the bladders will probably provide little information on the tube's robustness. Pricking it to check whether it's durable enough is not the best option either. You check such characteristics as the quality of hull stitching and hull fabric. Double stitches are more reliable than single ones, and thick hull fabric ensures the tube can withstand attacks from rocks, sticks and whatever it is that threatens its integrity. Some float tubes feature PVC bladderless construction that brings their robustness to the next level.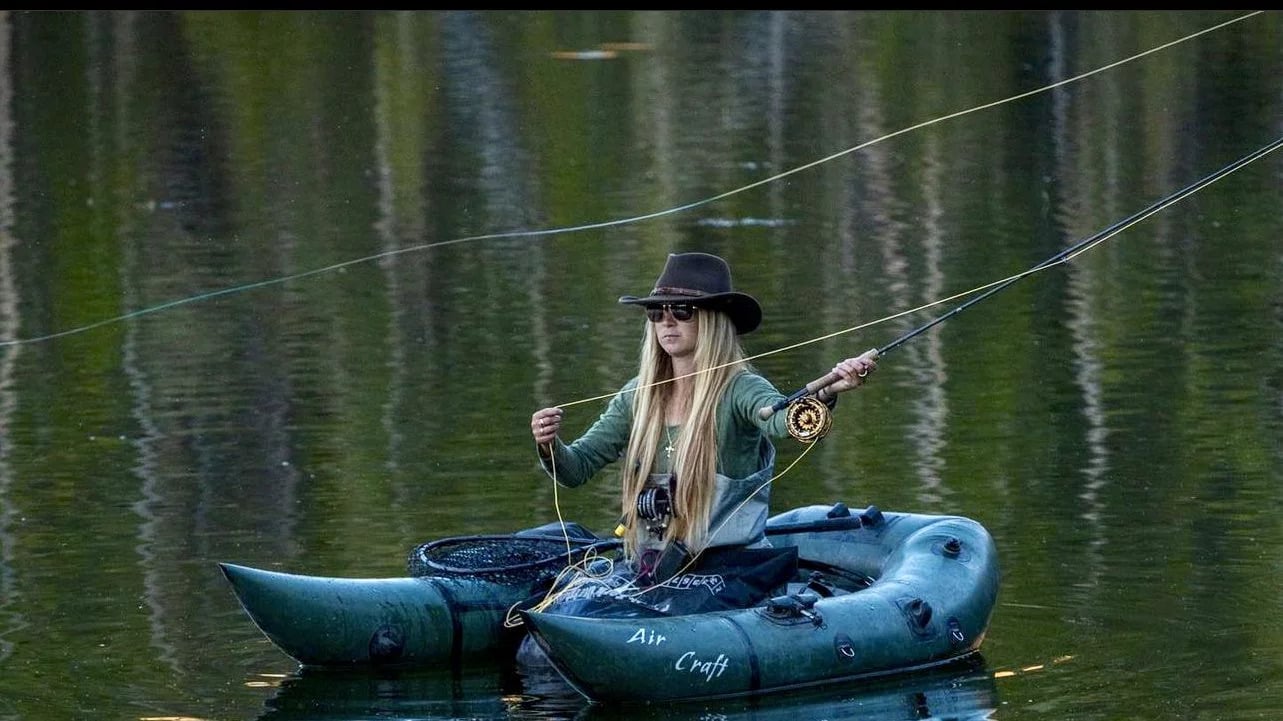 Check Tube's Maximum Load 
You may load a float tube with as much fishing equipment as you want, only to see it slowly going down as you kick your way further into the lake. If you don't want to repeat Titanic's fate, you should consider the tube's load capacity. This will determine how much weight the tube can handle, including the angler and any gear they are bringing with them. Float tubes typically have a maximum capacity of between 250 and 350 pounds, depending on the model. 
For those who are looking for a more stable ride, there are also pontoon-style float tubes available. These offer more stability than traditional float tubes and can support up to 500 pounds of weight, again, depending on the model. They also provide more room for storage, allowing anglers to bring along additional gear such as tackle boxes or coolers. Pontoon-style float tubes are ideal for larger anglers or those who plan on fishing in rougher waters.
A Float Tube Review: Outcast Fish Cat Scout
The Outcast Fish Cat Scout IGS Blue Floating Boat is an ideal choice for anglers looking for a reliable and portable float tube that can perform equally well in moving and still waters. Its U-shaped low-profile design ensures stability in active flow and still waters, while the 1000-denier PVC tubes ensure the tube can successfully confront the challenges the water has to offer. The integrated gear system allows you to add pockets, rod holders, and other accessories to further customize your boat. The boat also comes with a pair of 5-ft two-piece oars. The U-shaped design also provides storage space sufficient for bringing whatever it is you might need.
Overall, the Outcast Fish Cat Scout IGS Blue Floating Boat is a great option for anglers who want a reliable floating boat that can be easily transported from one place to another. Its features make it perfect for fishing in both still and moving waters, allowing you to enjoy your time out on the water without worrying about your safety or comfort.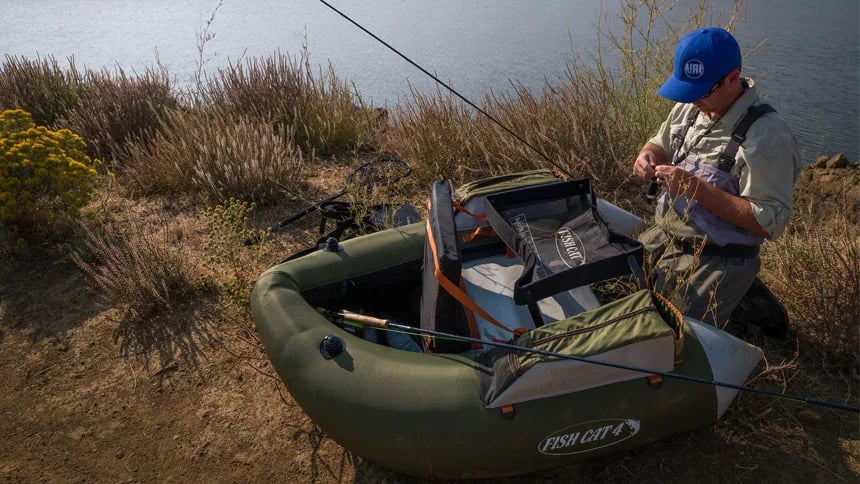 Conclusion
Float tubes are an excellent way to explore and fish in areas that may be otherwise inaccessible. They provide a lightweight and highly portable solution for anglers of all skill levels and can help you get to places no other type of watercraft can. In order to ensure you get the most out of your float tube, it's important to consider all the above factors before making a purchase. You'll want to pay close attention to its durability and quality, as well as its maximum load capacity. With the right float tube in hand, you can explore hidden coves, deep waters, and off-the-beaten locations where bigger boats can't go.
FAQS
What is a fishing float tube?
A fishing float tube is an inflatable vessel that is used for fishing (fly fishing more often than not) in lakes and ponds. It is designed to provide anglers with a comfortable and stable platform to fish from, while also allowing them to move around the water. Float tubes are typically made of durable materials such as PVC or neoprene, and feature adjustable seats, backrests, and footrests for added comfort. They can be inflated manually or with an electric pump and come in a variety of sizes and styles to suit different needs.
Is fishing from a float tube safe?
Float tubes are completely safe to fish from. Otherwise, they wouldn't be allowed for fishing. They provide buoyancy and stability, allowing you to move around without fear of tipping over or sinking. Float tubes also come with safety features such as safety belts, footrests, and backrests to ensure your comfort and security.
How do you fish from a float tube?
What are the benefits of fishing from a float tube?
Float tube fishing offers anglers a unique way to fish by bringing them from the shore directly into the water. Float tubes also provide access to tough spots of the water that other fishers cannot reach and can be used to cover more ground with the addition of a small trolling motor. Furthermore, they are quieter, more portable and cost-effective than other boats. 
What should you take with you when fishing from a float tube?
First, there are essentials you cannot do without: a life jacket and a tackle box. Then go things that are nice to have: dry bags for snacks and water. A standard float tube doesn't boast too much free space, and much of it will probably be occupied by fishing necessities.