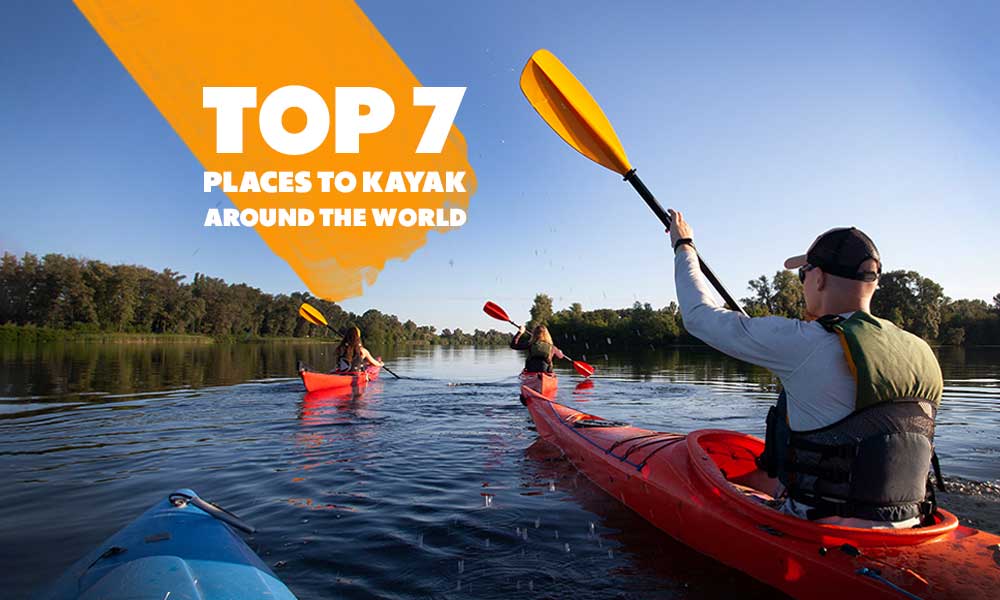 Last Updated on
We know that land covers only 29% of our planet. And yet, one cannot live long enough to explore even a third part of the place we call home. But attempts are nonetheless worth making, for it abounds in a menagerie of places, mesmerizing and awe-inspiring, whose beauty carves into your memory to never fade away. Some of such sights are to be seen while traversing the land. Others will only lift their veil for travelers who choose the way of water. Kayaking grants a truly unique opportunity to witness the natural wonders of the planet, inaccessible in any way other than rippling the watery waste with a tiny watercraft. It also offers a different perspective on more regular and mundane places, allowing us to uncover the hidden layers of these paintings. In this guide, we'll take a peek at the best places to kayak all over the world. We'll pay a visit to 7 different countries and open 7 windows with different vistas resting behind them.  
Best Places Shortlist
    Ha Long Bay, Vietnam
    Patagonia, Chile
    Vancouver Island, Canada
    Napali Coast, Hawaii, United States
    Galápagos Islands, Ecuador
    Ningaloo Reef, Australia
    Norwegian Fjords, Norway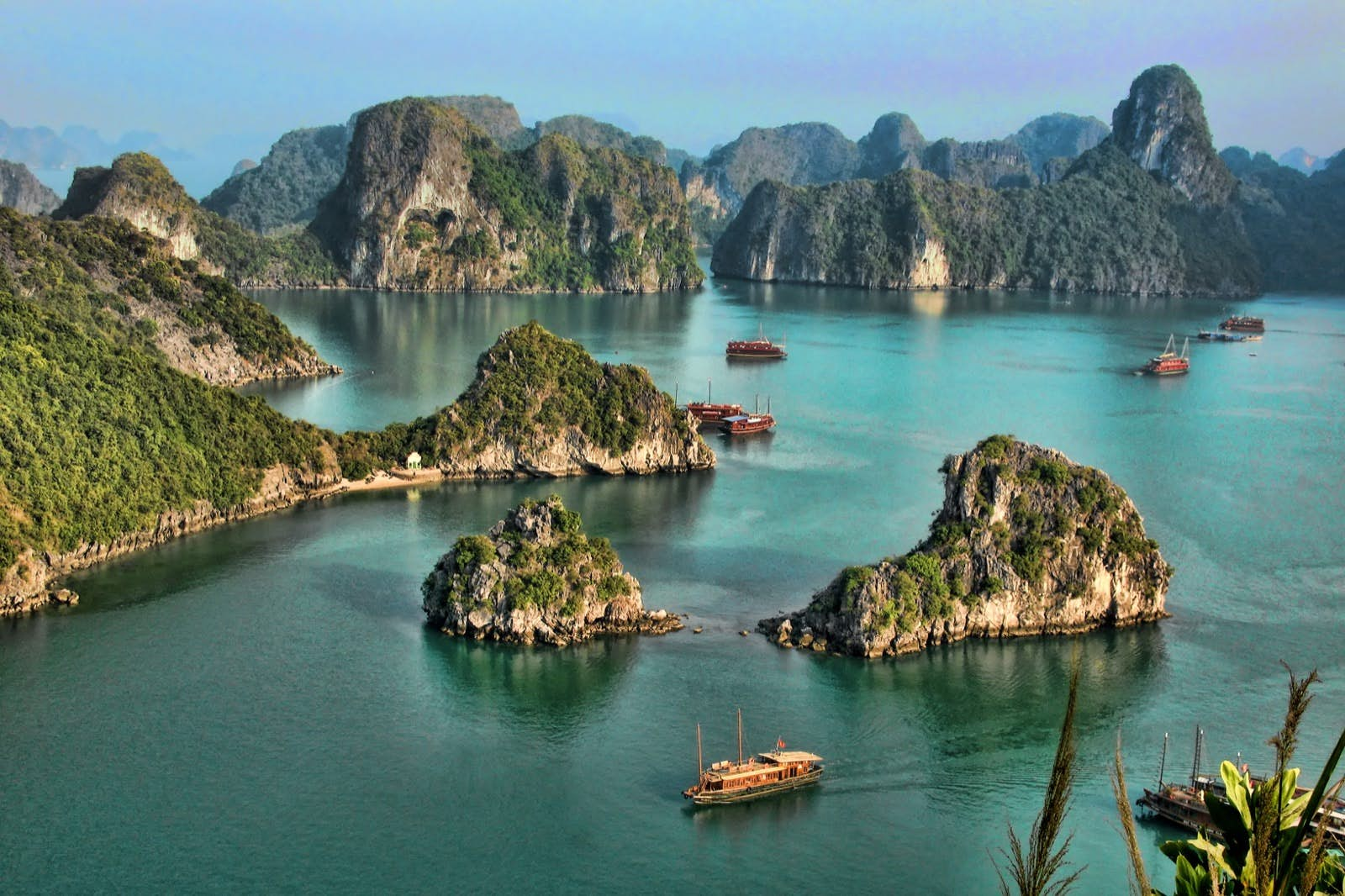 Ha Long Bay, Vietnam
The first window opens into a seemingly boundless bay of Ha Long, dotted with numerous isles and limestone karsts, protruding from the water like the teeth of a mighty dragon. The "descending dragon" bay is rightfully listed in the UNESCO World Heritage Site list and is one of the most popular tourist destinations in Vietnam. Some of these dragon teeth are crowned with a luscious sprinkling of jungle flora. Others, nude, hollow fangs, beckon tourists with caves, drilled into them by the relentless tides and torrents. Maneuvering around these karsts and isles opens countless opportunities for beauty beholding and life contemplating. 
However, you don't necessarily need to aimlessly kayak your way around the bay, given that some areas are protected. There are several popular tourist destinations within the bay, even though cleaving water expanses while witnessing a scattering of nature jewels doesn't sound too boring either.
One of the most popular local spots for kayaking is Luon Cave, located on Bo Hon Island, "the island of amazing things". Once hidden below the water column, it now carefully guards the fossil shells of oysters and crabs, forever encased in the mighty cliffs. Another great spot to visit while kayaking is Cap La Island, known for its diverse wildlife, lush vegetation and atmosphere of ever-lingering tranquility. There are also numerous fishing villages in the vicinity: Vung Vieng, Cua Van, Ba Hang, and some more. By visiting any of them you'll get a chance to meet the locals, get acquainted with their culture and ask what it feels like to wake up every day, seeing one of nature's marvelous gifts to the planet.  You might even try out fishing yourself – local species will surely be different from what you have at home. Fishing float tube will allow you to angle right in the middle of this celebration of life. Here's a guide to choosing fishing float tubes, should you be interested.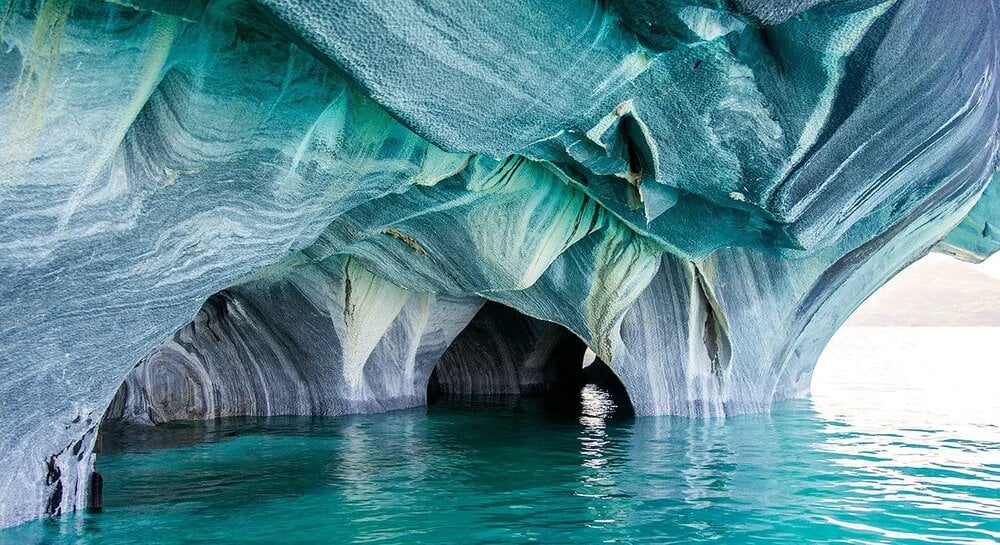 Patagonia, Chile
The second window opens into a family of glaciers, some towering above the water shoulder-to-shoulder, and some protruding from it cautiously one by one. Though these icescapes are indeed one of the most notable kayaking sites of Patagonia, they are definitely not the only ones. The eastern waters are much warmer, especially in summer, when a branch of the southern equatorial current embraces the coast. The western waters remain mostly unchanged in their cold demeanor but don't confuse their cool spirits with inhospitality.
The Lake Districts offer a wild and adventurous kayaking experience with their crystal-clear waters and rugged mountain peaks. Kayakers can also paddle around the famous Perito Moreno Glacier or explore Lapataia Bay in Tierra del Fuego National Park. For those looking for a full-day activity, La Leona River is perfect for kayaking and offers stunning views of the surrounding landscape. Other popular sites include Serrano River at Torres del Paine National Park and Marble Cathedral.
The latter site is especially worthy of your attention, for the experience of visiting it is comparable to blissful revelation. Though this wonder of nature's architectural mind received its name thanks to the shape of the caverns, resembling real cathedral ceilings, the spiritual enrichment the place can provide shouldn't be neglected either. Only accessible by a kayak or a boat, this isolated chapel has many a story to tell, given you comprehend it without pictures or words.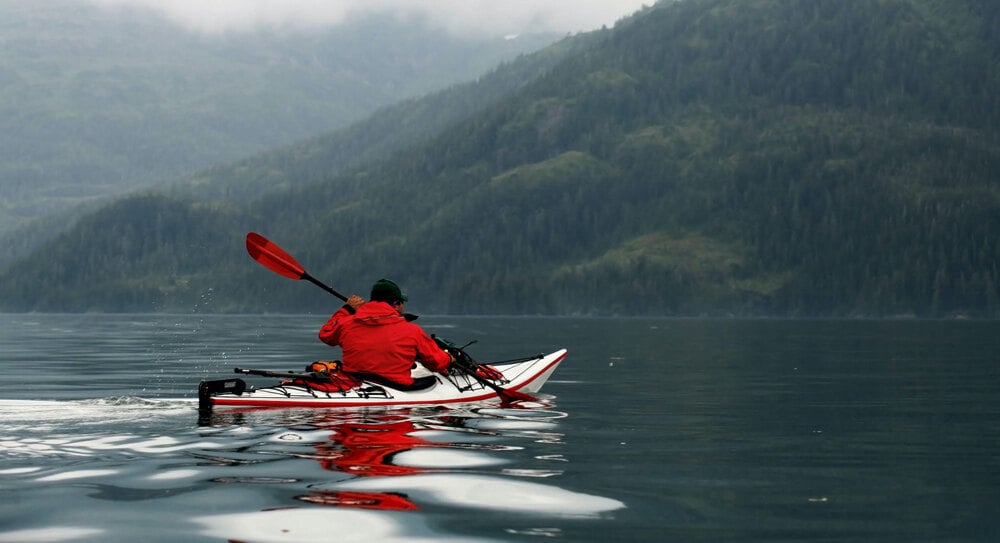 Vancouver Island, Canada
The third window opens into an island that guards the border between the U.S. and Canada. Nowhere else in the Great White North will you find a place with a milder climate. Naturally, it isn't the climate alone that entices people to visit this place. The landscape is nothing short of stupendous, and the abundance of inlets and archipelagos won't leave even the most sophisticated kayakers wanting more. If you are ready to risk having your breath taken away and returned only upon departure, you'll have ample opportunities to make memories that will last a lifetime. 
Victoria Harbour is one of the most popular spots for kayaking on Vancouver Island. Here you can take in stunning views of the city skyline while paddling through calm waters. You'll also have plenty of opportunities to make new acquaintances in the face of local wildlife representatives. Seals and river otters are a most sociable lot that will gladly keep you company on your trip.
The Broken Group Islands are another great spot for kayaking on Vancouver Island. This archipelago consists of over 100 islands located off the west coast of Vancouver Island near Ucluelet. The diversity of sheltered coves and bays teeming with wildlife makes this site an excellent kayaking destination.
Johnstone Strait separates the northeast coast of Vancouver Island from the mainland. The best part is that the spectacular vistas of British Columbia are not the main attraction of this channel. The plentiful salmon population turned this place into an orcas' summer house that they diligently visit between mid-July and September. Those magnificent creatures, one of the smartest representatives of the animal world, are the true reason to come here.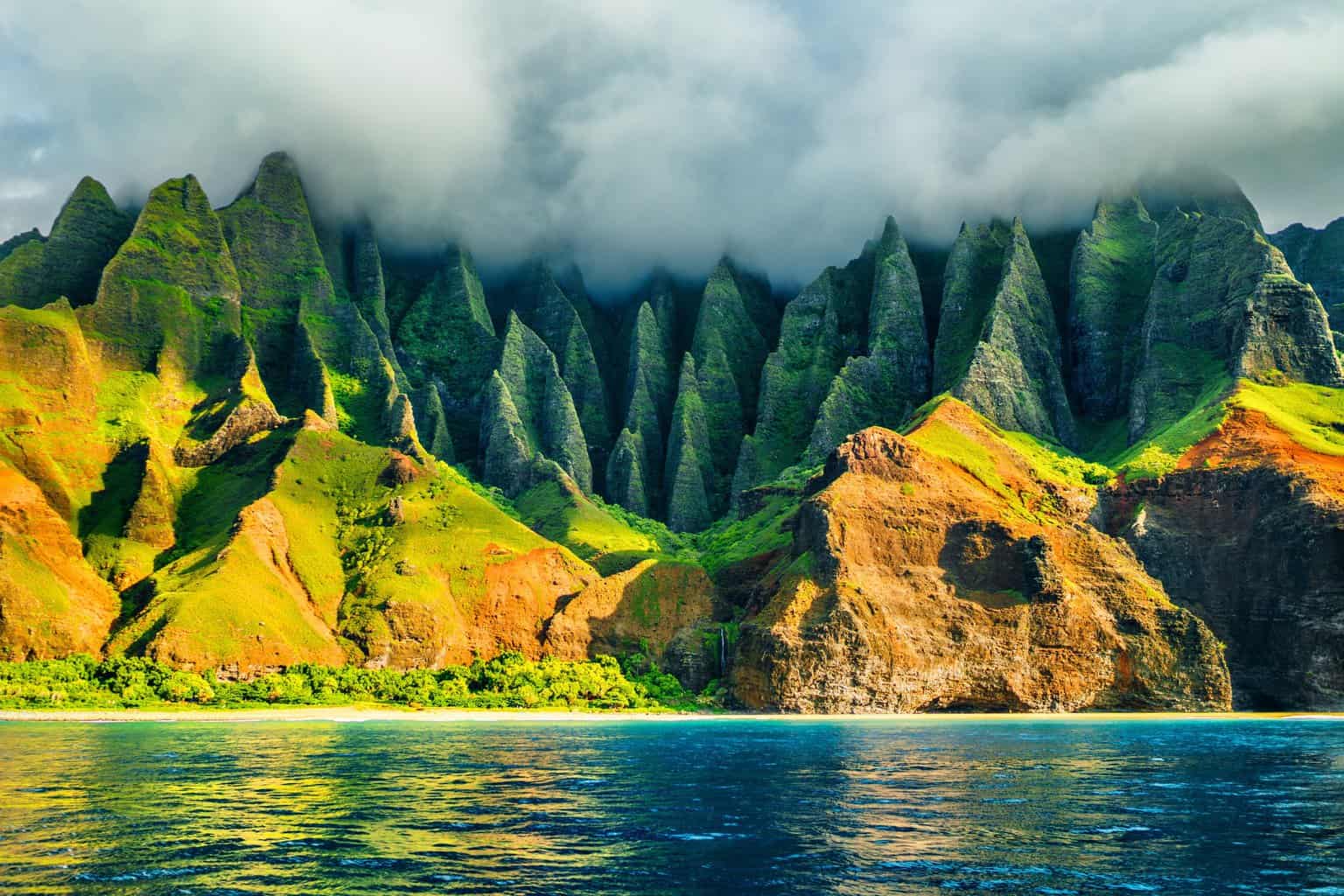 Napali Coast, Hawaii, United States 
The fourth window opens into a stretch of pointy, vegetated cliffs biting into puffy clouds. This place could have been anywhere, but a single sound of a ukulele immediately spills the beans: Hawaii, what else could it be? Spanning 17 miles along the north shore of Kauaʻi island, Napali Coast is mostly untouched by civilization. Thus the only ways for people to behold its beauty firsthand are on foot, by water or by air. Kayaking perfectly fits into this picture, allowing you to paddle your way into the shadows of the towering cliffs, embellished with spots of emerald-green vegetation. Truth be toddled, kayaks are not the only means to get here by water. Standup paddleboarding is an equally excellent opportunity. If you are open to trying out new watercrafts, here's our guide to choosing SUP boards.
One of the most popular spots on the Napali Coast is Hanalei Bay, which offers breathtaking views of the surrounding mountains and coastline. Places like that are numerous across the coast, of course, this one has a unique touch to it. Here, you can take in the beauty of the bay while paddling around its many coves and inlets. 
Another great spot to explore is Kalalau Beach, located at the end of the coast. This beach is known for being torn out directly from the fairytale, for the views you'll see here won't seem real even if you look with your own eyes. Crystal clear waters and white sand beaches make it a perfect spot for snorkeling, should you want to indulge yourself in such an activity. The hike to Kalalau Beach is pretty demanding, so kayaking gives you an excellent opportunity to pay a visit to this earthly paradise.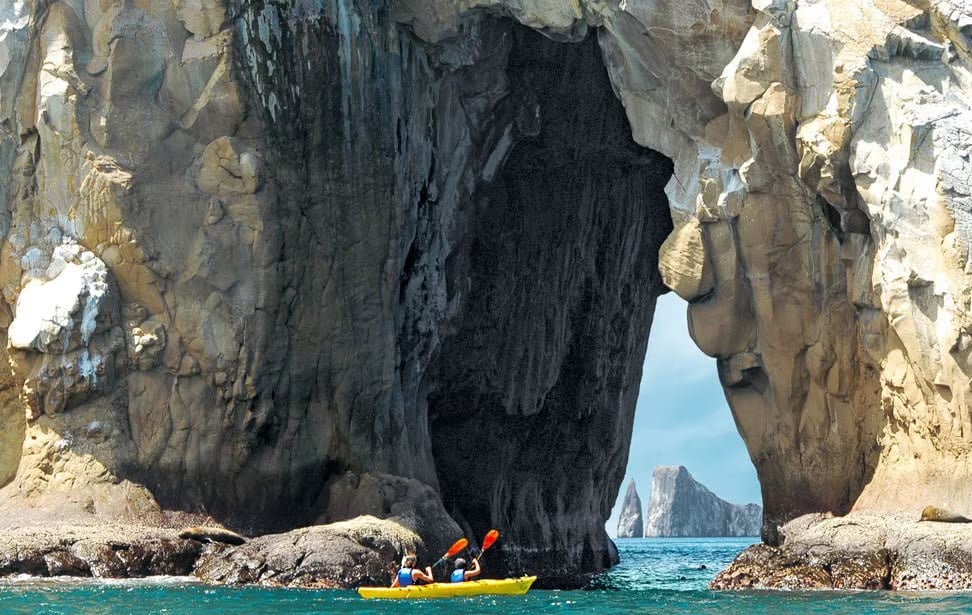 Galápagos Islands, Ecuador
The fifth window opens into a group of tropical islands known as the premier location for wildlife observation. If you want your kayaking trip to be not only about exploration and landscape beholding but also about getting acquainted with tropical endemic marine life, Galapagos Islands are just the place for you. The kayaking tour won't include any rivers or lakes – Galapagos are known for their sea kayaking tours. You can choose between land-based tours and cruise tours that include kayaking as one of the activity options. The former allows access to spots inaccessible for motorboats while the latter grants access to more remote destinations.
The type of your kayaking tour is really of secondary importance when it comes to wildlife observation. Wherever you go, the great blue always holds an extraordinary spectacle. You can witness seabirds pirouetting their way from the sky-blue expanse into the sea-teal one, sea turtles making their way through the turquoise waters with enviable grace, sharks guarding the territory they deem their homes – the list goes on and on. Summer visitors might catch their luck and see some of the humpback whales, passing Galapagos Islands on their migration route.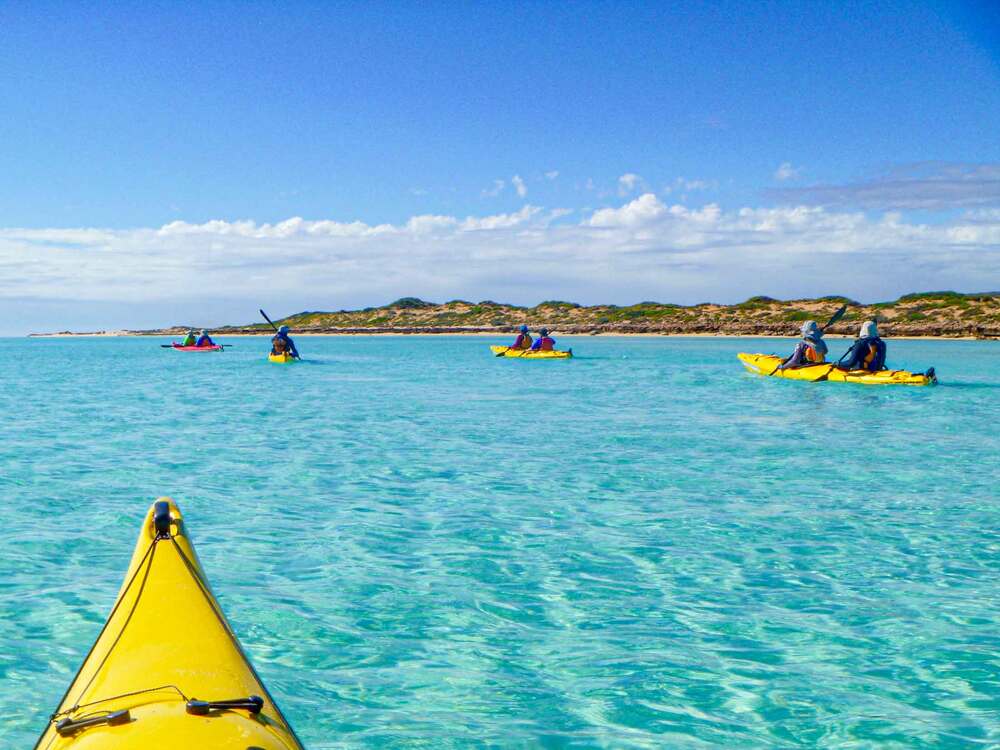 Ningaloo Reef, Australia
The sixth window opens right into a wide snout of a whale shark, somewhat confused, but always looking inquisitive. Ningaloo Reef boasts a big aggregation of whale sharks, not the biggest in the world, but how many do you really need to see to enjoy the process? In addition to that, Ningaloo Reef (another World Heritage Site on our list) serves as home to an incredible array of other marine life, including sea turtles, manta rays, and 300 different species of coral. Kayaking on the reef allows you to get up close and personal with the marine life and explore the amazing underwater world, maybe taking a picture or two, given you have an underwater camera.
Kayakers can paddle out to the reef to see the colorful coral gardens and the abundance of marine life that call these waters home. It's a great way to experience the reef without having to dive or snorkel, although nobody would stand in your way if you wanted to try. The relatively calm waters of the Ningaloo Reef make it an ideal spot for kayaking, even for beginners, and it's a great way to explore the smaller coves and inlets that might be inaccessible by boat.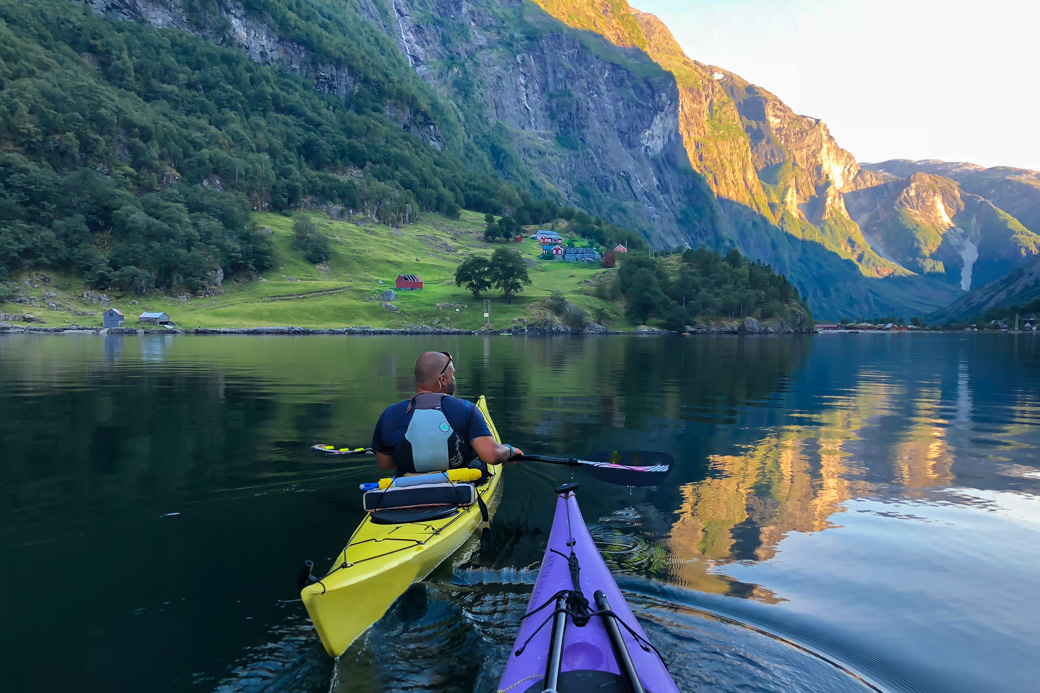 Norwegian Fjords, Norway
The last window opens into the fjords, living proof that once this place was buried below a thickness of the ice. Though many countries can boast having fjords on their premises, Norwegian ones are probably the most widely known ones. They conceal some of the most stunning scenery in Europe and there is no better way to witness it than to kayak amidst the fjords. From the Nærøyfjord to the Sognefjord, kayakers can explore a variety of different areas and take in all of the breathtaking views. Whether you're looking for a peaceful paddle or an adrenaline-filled adventure, there's something for everyone in these fjords.
For those looking for a more leisurely experience, guided tours are available to explore the fjords at a comfortable pace. You'll be able to slowly take in all of the natural beauty while learning firsthand about the geological history of Norway along the way. For those who want an adrenaline rush, there are plenty of opportunities to go whitewater rafting or sea kayaking through some of Norway's most challenging rapids.