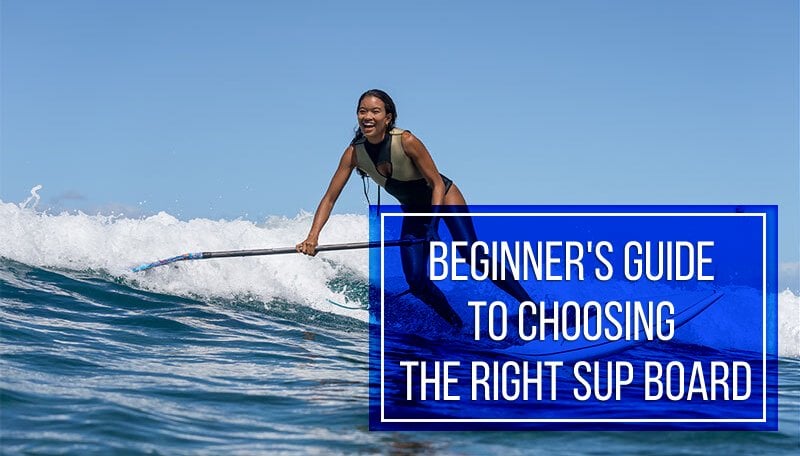 Last Updated on
Inquisitive minds of humanity came up with numerous ways to explore water expanses that cover the majority of our planet. To explore the depths or stay dabbling near the surface, to dive or to paddle – choices are plenty. Our recent article covered the best places for kayaking, and today, we'll elaborate on different means of water travel. If you are not too passionate about getting wet but still want to traverse azure fields and follow rapid, foaming roads, then standup paddleboarding might be just the thing for you. Being an offshoot of surfing, standup paddleboarding is steadily climbing the wave of popularity, with more people joining the ranks of SUP enthusiasts every year.
There are several key elements one simply cannot do without while pursuing this water sport. Board is the central piece that brings together other elements to create a holistic tool for conquering water, be it still or flowing. When you've only dipped your toe into SUP and started thinking about getting a board of your own, it's easy to get inundated with all the information the Internet has to offer. To lift some weight off your shoulders, we've compiled a comprehensive beginner's guide to choosing SUP boards. In this article, we'll cover all the things you need to consider when choosing your first SUP board.   
Table of Contents
  SUP Hull Shapes
      Planing Hull
      Displacement Hull
  SUP Construction Styles
      Solid SUP Boards
      Inflatable SUP Boards
  Physical Dimensions
      Length
      Width
      Thickness
  Weight Capacity
  Fin Configuration
  Conclusion
  FAQs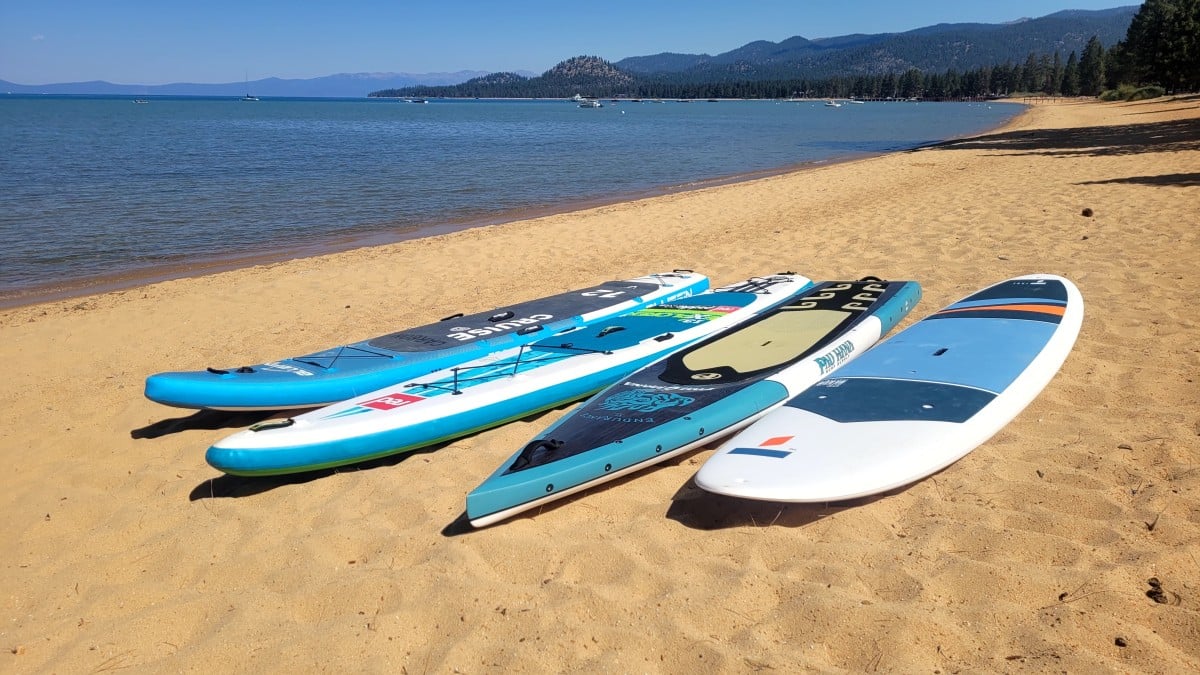 SUP Hull Shapes
When it comes to standup paddle boards (SUPs), the shape of the hull is one of the most important characteristics that affect its performance on the water. The two most popular SUP hull types are planing and displacement.
Planing Hull
A planing hull takes after traditional surfboard designs, being flat and wide. Such a form makes it an excellent choice for recreational paddling, yoga, whitewater paddling and, unsurprisingly, surfing. It rides on top of the water, facilitating stability and making it easier to manage your paddle board. This type of hull is great for beginners because it boasts superior stability.
Displacement Hull
Displacement hulls have a sharper look, with pointy bows and narrower designs. This type cuts through the water, pushing it along the sides of the board, which makes displacement hull SUPs much faster than planing ones. They are ideal for racing or touring as they can move faster through choppy waters. However, they are less stable than planing hulls and require more skill to maneuver correctly. As such, we recommend acquiring some expertise in SUP before trying displacement hulls out.
SUP Construction Styles
SUP boards might be made from a wide variety of materials, but when it comes to construction styles, there are only two major types: solid and inflated.
Solid SUP Boards
Solid SUP boards are, well, solid. They always retain their shape and can't be deformed other than by external forces. They can be made of fiberglass, epoxy, carbon fiber, or plastic. Despite being made of such sturdy materials as fiberglass and epoxy, these boards are nonetheless lightweight because they have an EPS foam core. Carbon fibers are lighter and more durable than the previous two but are also more expensive. Plastic paddle boards are the most affordable but can't boast superior performance. 
The reasons to opt for solid boards are numerous. Firstly, they offer performance superior to that of inflated boards. They move at higher speeds, are easier to maneuver and require less effort to be propelled. Secondly, they are more precisely measured and are available in a wider range of sizes. Such boards also boast greater stability. However, they are not the most comfortable to store and transport if you don't have a place for them.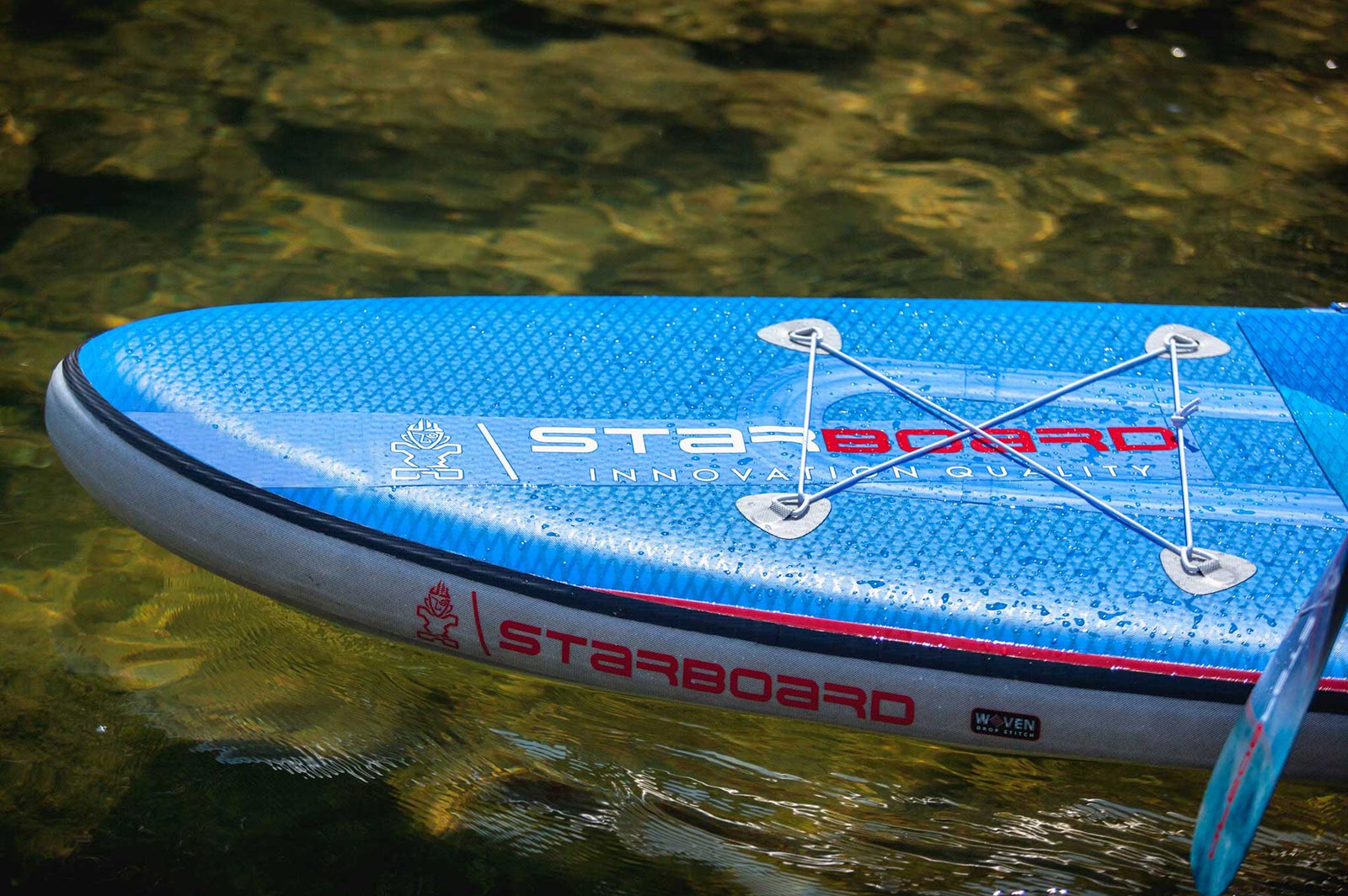 Inflatable SUP Boards
Inflatable SUP boards, also known as iSUPs, are the second option you have. They are made of durable materials such as PVC and feature drop-stitch construction. Such boards often come together with inflating pumps and storage bags. Don't be deceived by the inflatable nature of these things: such paddle boards feel pretty sturdy once they're fully inflated, just like fishing float tubes. 
There are several cases when inflatable boards outshine their solid siblings. Such boards are much more packable and travel-friendly, as they can be deflated and rolled compactly for easy storage and transportation. Dragging a solid board for a prolonged hike doesn't sound too appealing, but this is not the case with an inflatable board. Additionally, they tend to handle drops and hits better than solid boards, which makes them preferable for whitewater paddling. 
Starboard is a brand known for producing boards for all kinds of water activities. Be it a solid or inflatable SUP, their quality is nonesuch.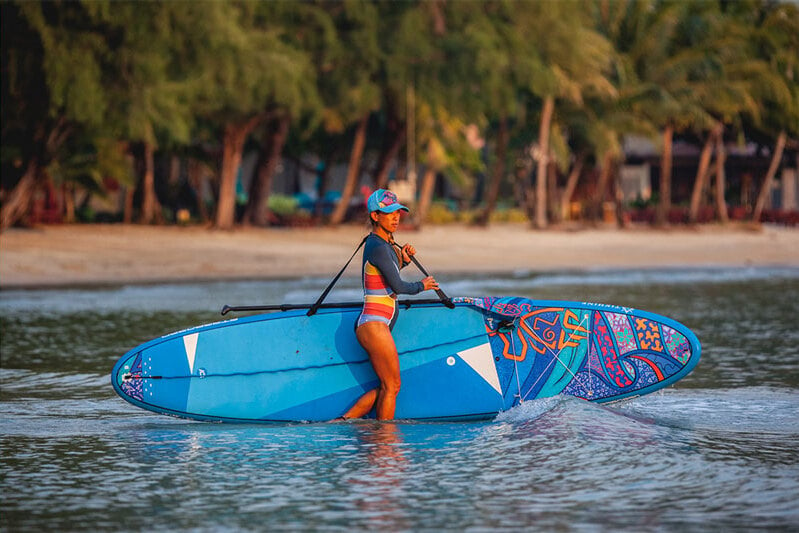 Physical Dimensions: Length, Width, Thickness
Shape and construction type are both extremely important factors that determine how the board behaves on water. However, they are not the only ones having a say in this. SUP board's dimensions are equally vital for defining the board's capabilities. Here's how differences in length, width, and thickness set one board's abilities apart from the other's.
Length
The general tendency is easy to follow: longer boards are faster and more efficient, while shorter boards are more maneuverable. That applies to all boards, whether they belong to the same length range or not.
Short boards, usually measuring 8-10 feet, are great for surfing. These boards offer excellent maneuverability and are perfect for performing tricks on the waves. Due to natural reasons, shorter boards are also more comfortable for kids to master.
Medium boards, measuring 10-12 feet, are ideal for all-around use. They provide a good balance between speed and maneuverability and can be used for a variety of activities such as cruising, fishing, racing or exploring.
Long boards measure 12-14 feet and offer excellent stability and speed. These boards are great for long-distance paddling or touring, as they allow you to cover large distances with minimal effort. Whereas short and medium boards tend to feature plain hull designs, long boards predominantly have displacement hulls.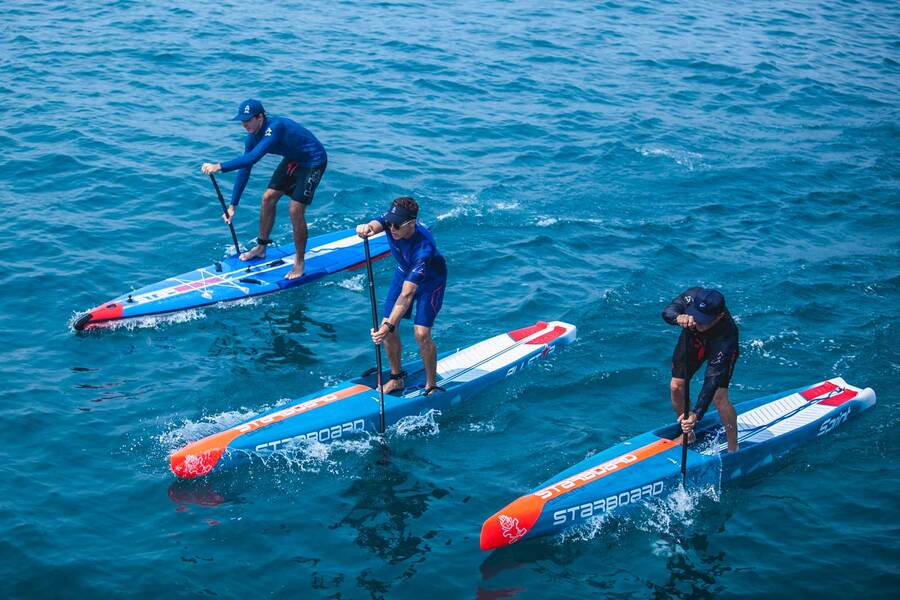 Width
SUP boards typically range from 26 inches to 36 inches in width, with the most popular sizes being between 32 and 34 inches. The width of a SUP board affects its stability, speed, maneuverability, and storage capacity.
A wider board offers more stability than a narrower one. That makes such boards ideal for beginners who are just getting used to paddling or for those who want to use their board for activities such as yoga or fishing. Wider boards also tend to be slower than narrower ones due to increased drag in the water.
Narrower boards are faster but less stable than wider ones. They are better suited for experienced paddlers who want to cover longer distances quickly or participate in races. Narrower boards can also be easier to store since they take up less space than wider ones.
When choosing a SUP board, it is important to consider the type of paddling you plan on doing and your skill level. For beginners or those looking for recreational use, a wider board is usually more preferable due to its increased stability and ease of use. Experienced paddlers may prefer a narrower board that offers greater speed and maneuverability while sacrificing some stability.
The final factor to consider is your body type. If you are on the smaller end of the spectrum, you might have an easier time managing a narrower boat. You'll have an easier time finding your balance there, and boards that are too wide are difficult to paddle. If you lean on the bigger end of the spectrum, go for wider boards for the same reasons. 
Thickness
The most popular SUP boards are usually between 4 and 6 inches thick, with 5 inches being the preferred choice for many paddlers. That is because a thicker board provides more stability for a given board width, allowing riders to stay balanced and upright while paddling.
If two boards are of the same length and width, one that is thicker will be able to support more weight. Thus, if you want your board to withstand more weight, opt for thicker options.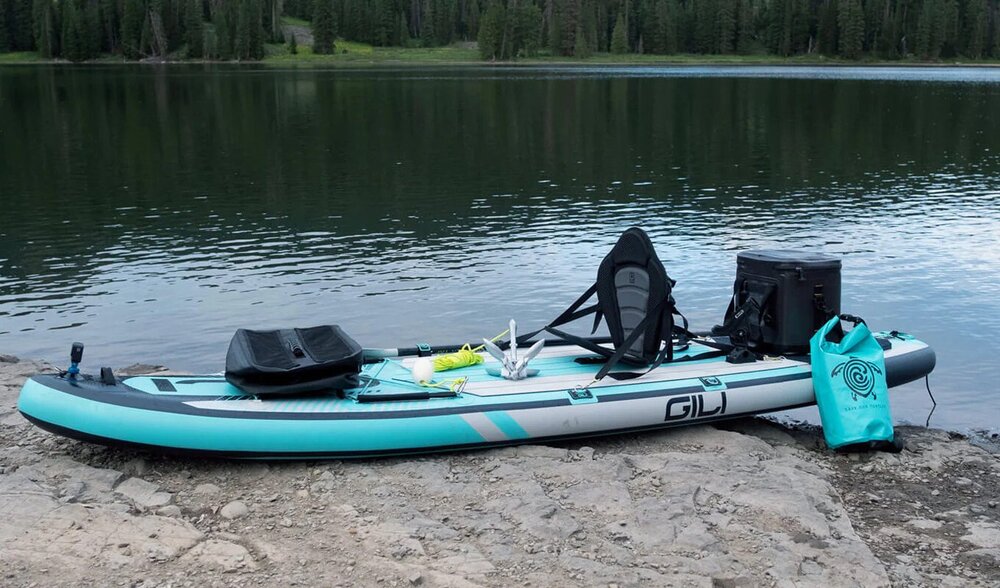 Weight Capacity
Apart from physical parameters, there is another factor that should be taken into consideration. Weight capacity, the maximum amount of weight the board can effectively support. It is determined by all three physical characteristics we mentioned before. The maximum weight limit of a SUP board can range depending on the model. If you load it up to the limit, the board will ride lower in the water. You won't go to the bottom, but your paddling will become much less efficient. 
As a rule, planing hulls are more forgiving when it comes to weight, and displacement hulls are more sensitive. But it's not only about putting too much weight on the board. If you are too light for the board and can't make it sink enough, it will become heavy to control.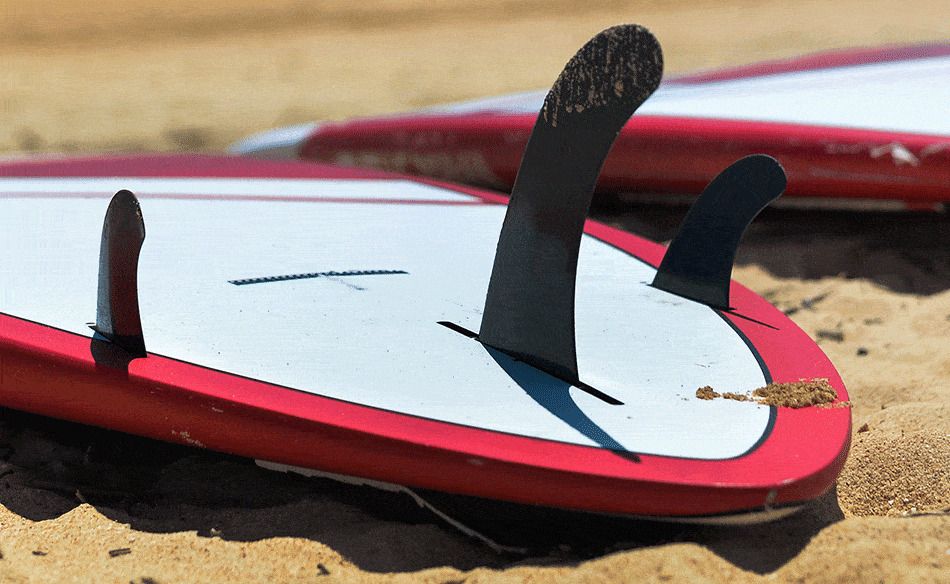 Fin Configurations
Fins are (usually) removable accessories that affect the way your SUP board performs. Fins help with stability, tracking, and maneuverability. The right fin setup can make a huge difference in your SUP experience: bigger fins give you more stability, while smaller ones make it easier to maneuver. 
The most common fin configuration for SUP boards is the single fin setup. This setup offers good tracking and stability. It is best suited for flatwater paddling or long-distance touring.
The thruster fin setup consists of three equally sized fins, with one of them centered near the tail of the board and a pair of fins of the same size positioned on either side. This setup provides excellent control and maneuverability and is suitable for a wide variety of paddling styles.
The 2 + 1 configuration is also popular among SUP riders. In this setup, one large fin is flanked by two smaller fins on either side. This setup is most suitable for surfing, but can also be used for other styles of paddling.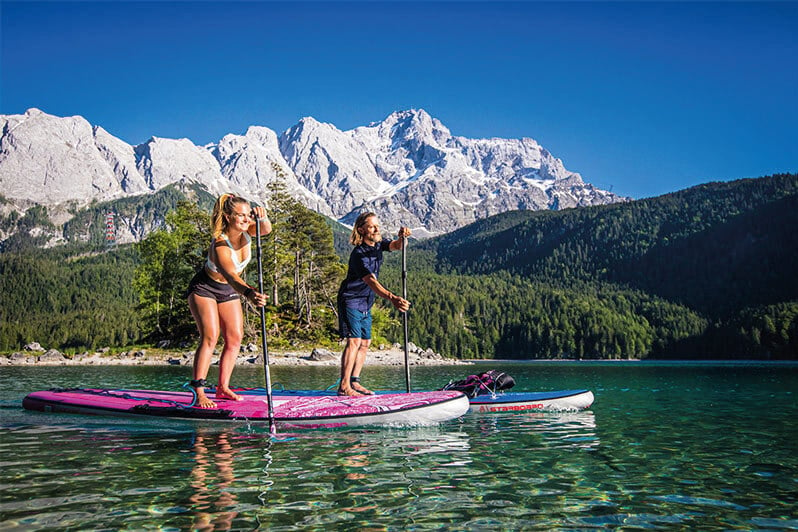 Conclusion  
Choosing a suitable SUP board is no rocket science, yet there are several factors that should be taken into consideration. Various physical parameters like shape, dimensions and construction style are all pivotal factors in defining the board's performance. If you know in which way they may alter it, then you can choose one that will suit your needs.
FAQs
How do I choose a good paddle board?
To choose a paddle board most suitable for your needs, you need to consider several things. First, choose a board that can effectively support your weight: too little weight capacity is as bad as too much. Second, consider your proficiency level. First-timers will find it easier to manage a solid planing hull SUP board with more surface area.
How is a paddle board different from a surfboard?
The main difference lies in the way these boards communicate with water. SUP boards are designed to glide on the surface, while surfboards are meant for conquering the waves.
Are there any safety concerns when using a SUP board?
The two main safety rules with SUP boards concern PFD and leashes. It's pivotal for you to wear a personal flotation device, as with any other water activity. You should also use a leash to tether yourself to your SUP board lest it should float away in case you drop from it. 
Is SUP easy to learn?
Standup paddleboarding is relatively easy to get a hang of, however, as with every other sport, acquiring proficiency takes time. It's worth mentioning that standup paddleboarding is not a singular activity: you can use a SUP for casual flatwater paddling as well as for surfing. Those are two different activities that require two different sets of skills.