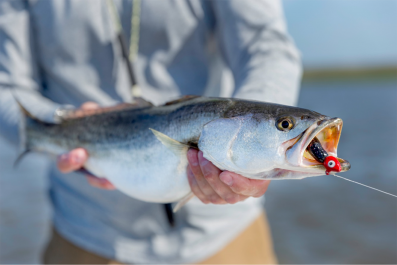 If anybody knows me personally, they know speckled trout are my favorites. I routinely go out of my way to catch speckled trout even when other species may be biting better. And the fall season is prime time for targeting speckled trout along the eastern seaboard.
Speckled trout are eating a wide range of forage this time of year, including small fish and their favorite of all, shrimp. The eastern seaboard hosts large populations of pink, brown, and white shrimp. Everything likes shrimp and it's by far the preferred forage species for speckled trout. Anglers can use both live shrimp and artificial shrimp to effectively catch speckled trout during the fall months during the run.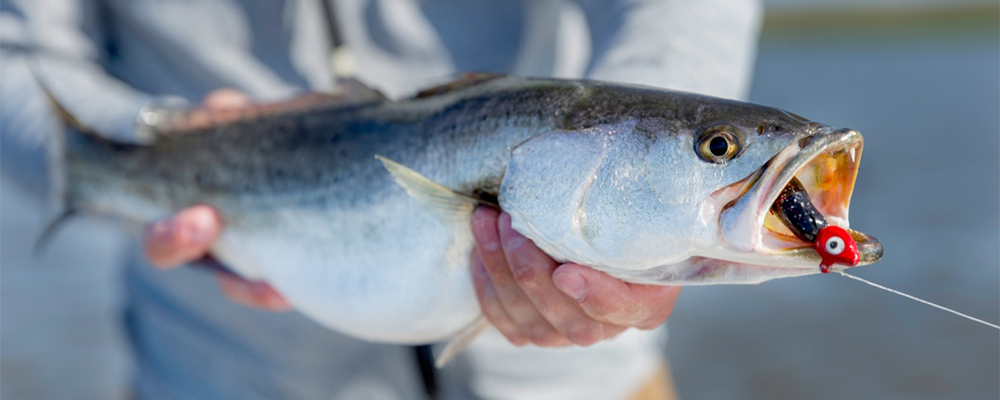 While some speckled trout are year-around residents, a large migration of specks invade Carolina estuaries during the fall months when the water temperatures reach the 60's. And luckily, they are traveling in large schools this time of year that makes it easy to load up a cooler when they are located.

Speckled Trout Havens
When they arrive, they stop at various places from the rock jetties armoring the inlets to the main creek mouths inside the estuaries. Trout will set up along current breaks near structure in waters from three to 20 feet in hopes of snagging an easy meal.
My favorite trout spots are typically along some type of structure with a deep channel at least six feet deep nearby, including: oyster-lined creek mouths, rock walls, inlet jetties, or the oyster-armored creek channels within close vicinity of the ocean. Trout will find places to feed where the current is broken from an undulation in the estuary bottom, marsh point, oyster mound, or any kind of a man-made structure.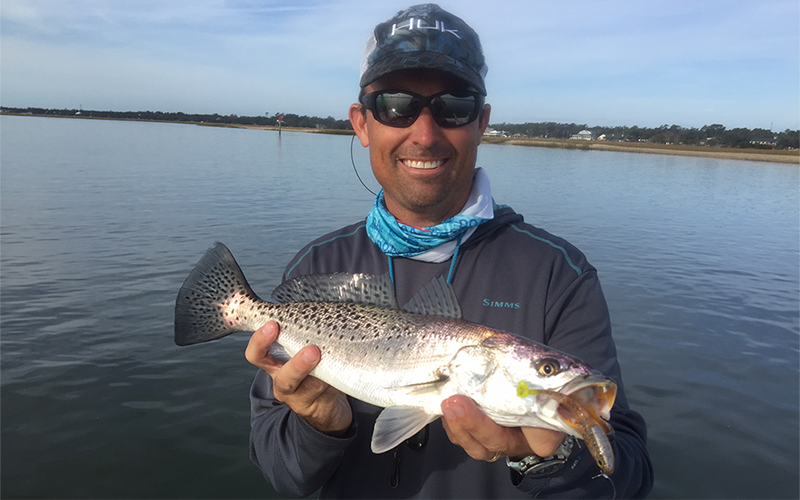 Best Speckled Trout Baits and Lures
Again, trout are in the feeding mode during the fall season and are ready and willing to eat a wide variety of groceries. Many anglers prefer to use live bait, and shrimp are the most popular live bait for speckled trout. Anglers can either net live shrimp or purchase from local bait shops. Most anglers will typically rig a live shrimp suspended under a variable-depth, sliding bobber. Trout are typically staging in their ambush positions near the bottom and waiting for bait to pass by in their radar. And when casting a live shrimp rig, it is nearly mandatory to have a long, medium-action rod with significant backbone to make accurate casts with compound gear, such as an adjustable-depth floating rigs.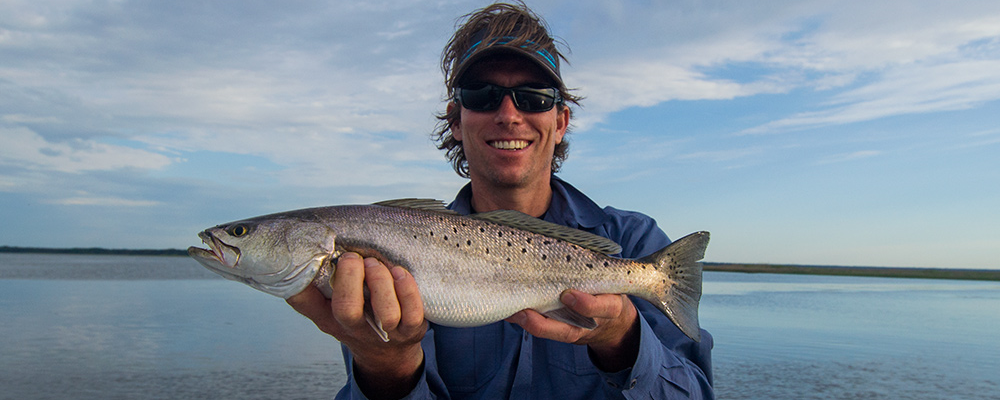 St. Croix offers an entire line of rods from ultra light to heavy action for both freshwater to saltwater applications. For casting live bait compound gear, the St. Croix Mojo Inshore Series would be hard to beat. Combining backbone and excellent fish-fighting power makes these rods a perfect match for casting live shrimp along the rock jetties or into a deep channel for oversized speckled trout. Both spinning and casting models can satisfy the need for this technique, but longer 7'6" rod versions are preferred in medium to medium-heavy action styles to gain distance and to allow solid hook sets. Even though the Mojo Series offers a high-tech graphite blank, sensitivity isn't as important when fishing with bait because the cork will serve as a visual indicator versus feel by the angler.
On the other hand, the other half of speckled trout anglers will leave the cast net at home and opt for artificial lure options with an ultra-sensitive graphite rod. Speckled trout essentially will strike about any lure that mimics the look and action of a succulent shrimp or small fish.
I am a speckled trout fanatic! I own about every lure there has ever been invented to catch speckled trout. But, I also use and catch plenty of speckled trout on a wide variety of lures that were created for largemouth bass. Speckled trout are hungry this time of year and they are ready to eat anything that looks appealing.
Nevertheless, my favorite lures for speckled trout are predominantly created for speckled trout and other saltwater uses. My all time favorite go-to lure are D.O.A. Shrimp. They are artificial shrimp embedded with real shrimp flavor and are killer for crushing a limit of speckled trout in a hurry. But, I also use a ton of other soft plastics threaded onto small jig heads that resemble small shrimp and baitfish. Additionally, MirrOlure's suspending, sinking and floating hard baits are in my top arsenal of lures for speckled trout. Speckled trout will hammer a bait hopped off the bottom in 20-foot of water or will crash on a cigar-shaped lure at the water's surface.
Tactic-specific Rods equal Better Fishing Experience
There are fisherman that fish and there are fisherman that catch. The fishermen that often catch more than others are using the right equipment. One of the most important aspects of successfully catching trout using artificial lures is in the angler's hand — the rod. Anglers who catch the most fish and win tournaments use high quality, sensitive rods specifically made to detect every nibble. Sometimes the trout bite is solid like a bulldog, but other times they barely tap it and anglers must be able to feel both bites and be able to act effectively.
A sensitive rod is made of ultra-lightweight materials, but has significant backbone to set the hook when needed. Rod manufacturers strive to make the best rods available to satisfy anglers every need and St. Croix's new rod of 2018 did just that. The new St. Croix Legend Tournament Inshore Series, in my mind, was made with my every wish in mind in a perfect trout rod. And others believe it to be the same because it won the best rod of the year at 2018 ICAST. The Legend series uses a high strain carbon fiber in an ultra-light package.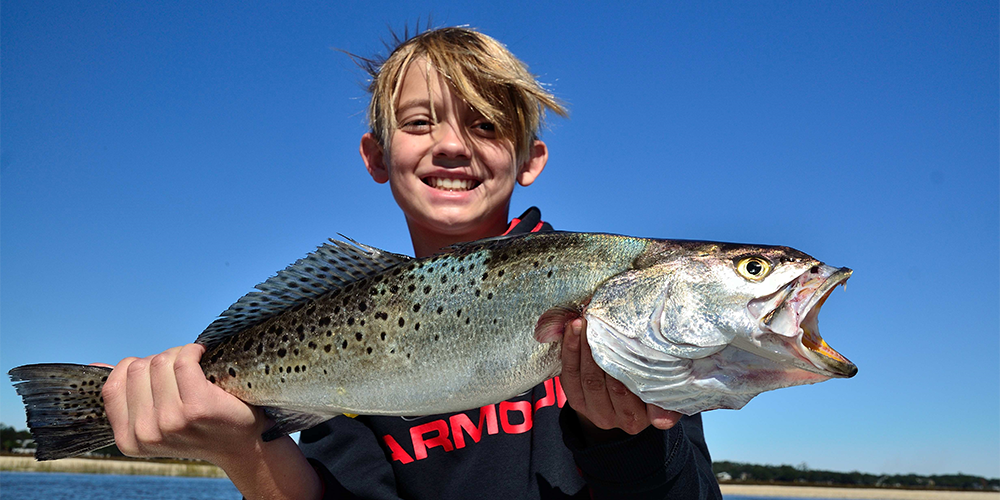 My favorite trout size and action is the 7-foot medium light and St. Croix's Legend Tournament Inshore Series in this model only weighs a scantly 4.7 ounces. St. Croix didn't hold back on this model. They used all of the advanced technology to make this rod the ultimate saltwater rod for inshore anglers to detect very bite, set the hook deep, and last a lifetime.
One of the best parts of speckled trout fishing in the fall is that everybody can bring home a limit of fish when they are biting. And the fall season along the Carolinas can be one of the best times of the year to be on the water with perfect weather and steady action.